the words From Wikipedia, the free encyclopedia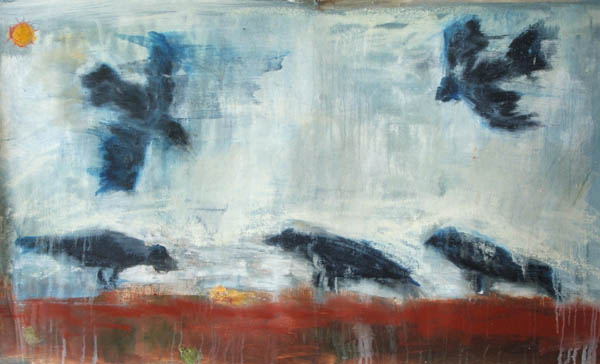 2007 painting (sold)
Crows, and especially ravens, often feature in European legends or mythology as portents or harbingers of doom or death, because of their dark plumage, unnerving calls, and tendency to eat carrion. They are commonly thought to circle above scenes of death such as battles. The Child ballad The Three Ravens depicts three ravens discussing whether they can eat a dead knight, but finds that his hawk, his hound, and his true love prevent them; in the parody version The Twa Corbies, these guards have already forgotten the dead man, and the ravens can eat their fill. Their depiction of evil has also led to some exaggeration of their appetite. In modern films such as Pirates of the Caribbean: Dead Man's Chest, The Omen II and Exorcist: The Beginning, crows are shown tearing out people's eyes while they are still alive.
In the Epic of Gilgamesh, the Chaldean myth, the character Utnapishtim releases a dove and a raven to find land, however, the dove merely circles and returns. Only then does Utnapishtim send forth the raven, who does not return. Utnapishtim extrapolates from this that the raven has found land, which is why it hasn't returned. This would seem to indicate some acknowledgement of crow intelligence, which may have been apparent even in ancient times, and to some might imply that the higher intelligence of crows, when compared to other birds, is striking enough that it was known even then.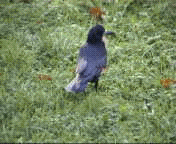 In occult circles, distinctions are sometimes made between crows and ravens. In mythology and folklore as a whole, crows tend to be symbolic more of the spiritual aspect of death, or the transition of the spirit into the afterlife, whereas ravens tend more often to be associated with the negative (physical) aspect of death. However, few if any individual mythologies or folklores make such a distinction, and there are ample exceptions. Another reason for this distinction is that while crows are typically highly social animals, ravens don't seem to congregate in large numbers anywhere but: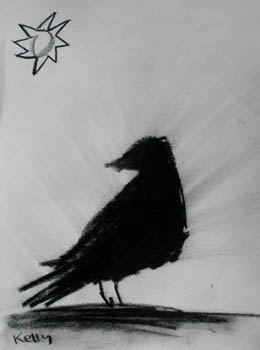 another crow drawing i sent to the MOMMA MUSEUM
Near carrion where they meet seemingly by chance, or
At cemeteries, where large numbers sometimes live together, even though carrion there is no more available (and probably less attainable) than any road or field.
Amongst Neopagans, crows are often thought to be highly psychic and are associated with the element of ether or spirit, rather than the element of air as with most other birds. This may in part be due to the long-standing occult tradition of associating the color black with "the abyss" of infinite knowledge (see akasha), or perhaps also to the more modern occult belief that wearing the "color" black aids in psychic ability, as it absorbs more electromagnetic energy, since surfaces appear black by absorbing all frequencies in the visible spectrum, reflecting no color.
According to the Bible (Leviticus 11:15), crows are not kosher.
Compendium of Materia Medica states that crows are kind birds that feed their old and weakened parents; this is often cited as a fine example of filial piety.
In Chinese mythology, they believed that the world at one time had ten suns that were caused by
10 crows. The effect was devastating to the crops and nature, so they sent in their greatest archer Houyi to shoot down 9 crows and spare only one. Also Chinese people believe that crows mean bad luck, probably due to the colour black. Having a "crow beak" is a symbolic expression that one is being a jinx.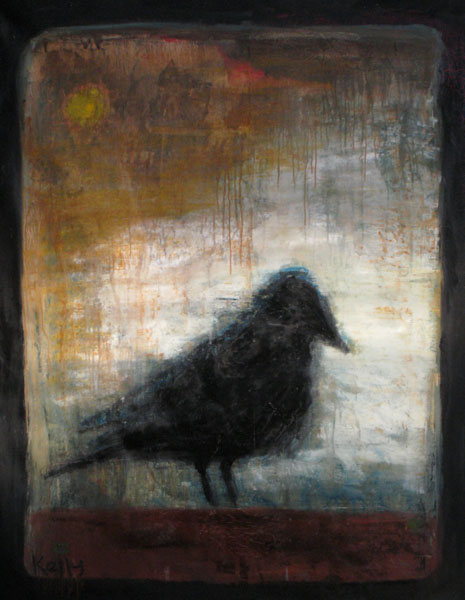 king crow 2007
a murder of crows
they look for
shiny things
to line their inner nest
and if the day
is bright with light
they can sea the glint
of the pretty things
in their high dark flight
swooping down
to claim
a crows treasure
a tidy mans
displeasure
km 2007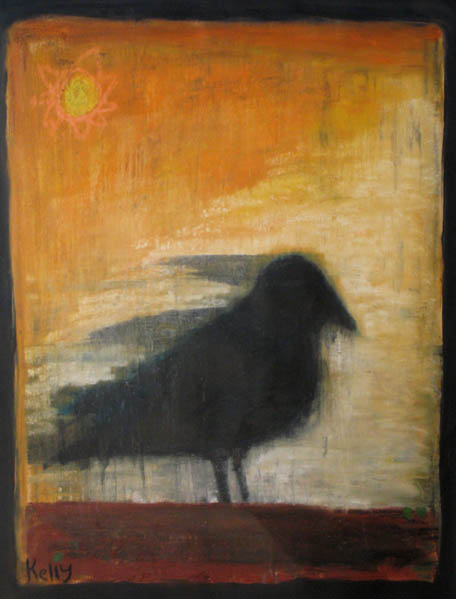 queen crow, 2007
A mature Common Raven is between 56 and 69 cm (22 to 27 inches) in length, with a wingspan of 115 to 130 cm (45 to 51 in). Recorded weights range from 0.69 to 1.63 kg (1.5 to 3.6 lb),[21] making it one of the heaviest passerines. Birds from colder regions such as the Himalayas and Greenland are generally larger with slightly larger bills, while those from warmer regions are smaller with proportionally smaller bills.[22] The bill is large and slightly curved. It has a longish, strongly graduated tail, mostly black iridescent plumage, and a dark brown iris. The throat feathers are elongated and pointed and the bases of the neck feathers are pale brownish-grey. Juvenile plumage is similar but duller with a blue-grey iris.[23]
Apart from its greater size, the Common Raven differs from its cousins, the crows, by having a larger and heavier beak, a shaggy throat, and a wedge-shaped tail.[24] The species has a distinctive, deep, resonant prruk-prruk-prruk call, which to experienced listeners is unlike that of any other corvid. Its very wide and complex vocabulary includes a high, knocking toc-toc-toc, a dry, grating kraa, a low guttural rattle and some calls of an almost musical nature.[25]
Common Ravens can be very long-lived, especially in captive or protected conditions; individuals at the Tower of London have lived for more than 40 years.[21] Lifespans in the wild are considerably shorter: typically only 10 to 15 years. The longest known lifespan of a banded wild Common Raven was 13 years.[26]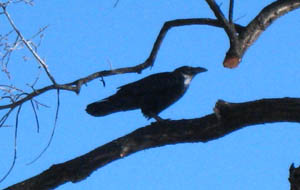 Ravens from Jan 3 2009
Common Raven
From Wikipedia, the free encyclopedia
The Common Raven (Corvus corax), also known as the Northern Raven, is a large all-black passerine bird in the crow family. Found across the northern hemisphere, it is the most widely distributed of all corvids.
There are eight known subspecies with little variation in appearance—although recent research has demonstrated significant genetic differences among populations from various regions. It is one of the two largest corvids, alongside the Thick-billed Raven, and is possibly the heaviest passerine bird; at maturity, the Common Raven is between 56 and 69 cm (22 to 27 inches) in length, with recorded weights ranging from 0.69 to 1.63 kg (1.5 to 3.6 pounds). Common Ravens typically live about 10 to 15 years in the wild, although lifespans of up to 40 years have been recorded. Young birds may travel in flocks, but later mate for life, with each mated pair defending a territory.
The Common Raven has coexisted with humans for thousands of years, and in some areas has been so successful that it is considered a pest. Part of its success comes from its omnivorous diet; Common Ravens are extremely versatile and opportunistic in finding sources of nutrition, feeding on carrion, insects and food waste, in addition to cereal grains, berries, fruit and small animals.
Some remarkable feats of problem-solving have been observed in the species, leading to the belief that it is highly intelligent. Over the centuries, it has been the subject of mythology, folklore, art and literature. In many indigenous cultures, including those of Scandinavia, ancient Ireland and Wales, Bhutan, the northwest coast of North America, Siberia and northeast Asia, the Common Raven has been revered as a spiritual figure or god.[2]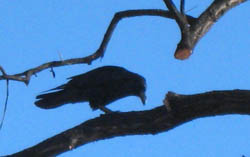 Common Ravens are omnivorous and highly opportunistic: their diet may vary widely with location, season and serendipity.[34] For example, those foraging on tundra on the Arctic North Slope of Alaska obtained about half their energy needs from predation, mainly of microtine rodents, and half by scavenging, mainly of caribou and ptarmigan carcasses.[35]
In some places they are mainly scavengers, feeding on carrion as well as the associated maggots and carrion beetles.[36] Plant food includes cereal grains, berries and fruit. They prey on small invertebrates, amphibians, reptiles, small mammals and birds.[37] Ravens may also consume the undigested portions of animal feces, and human food waste. They store surplus food items, especially those containing fat, and will learn to hide such food out of the sight of other Common Ravens.[30] They also raid the food caches of other species, such as the Arctic Fox.[38] They may also associate with another canine, the Grey Wolf, as a kleptoparasite, following to scavenge carcasses in winter.[39]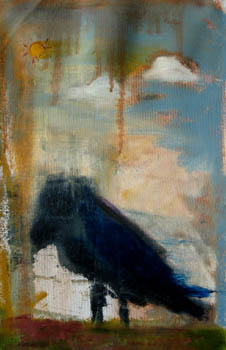 baby crow
2008
Common Ravens have been observed to manipulate others into doing work for them, such as by calling wolves and coyotes to the site of dead animals. The canines open the carcass, making it more accessible to the birds.[50] They watch where other Common Ravens bury their food and remember the locations of each other's food caches, so they can steal from them. This type of theft occurs so regularly that Common Ravens will fly extra distances from a food source to find better hiding places for food.[52] They have also been observed pretending to make a cache without actually depositing the food, presumably to confuse onlookers.[53]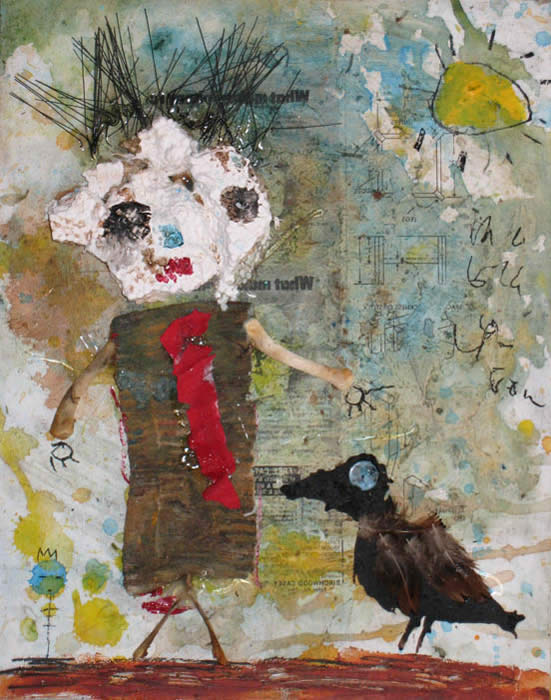 a boy and his crow --2008
an old Gaelic poem
As I was walking all alane,
I heard twa corbies making a maen:
The tane unto the t'ither did say,
"Whaur shall we gang and dine the day?"

"O doun beside yon auld fail dyke,
I wot there lies a new-slain knight;
And naebody kens that he lies there
But his hawk, his hound, and his lady fair.

"His hound is to the hunting gane,
His hawk to fetch the wild-fowl hame,
His lady's ta'en another mate,
Sae we may mak' our dinner sweet.

O we'll sit on his white hause bane,
And I'll pyke out his bonny blue e'en;
Wi' ae lock o' his gowden hair
We'll theek our nest when it blaws bare.

"Mony a ane for him makes maen,
But nane shall ken whaur he is gane.
Over his banes when they are bare,
The wind shall blaw for evermair."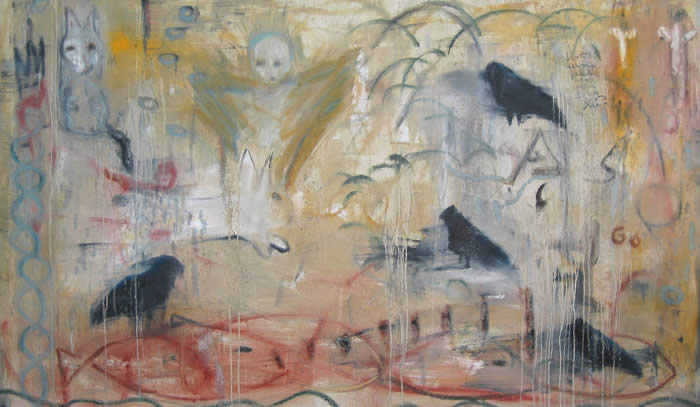 four crows
2008