Deer MOMMA
museum of moderns art...
The Museum of Modern Art (MoMA) is an art museum located in NEWYORK CITY, on 53rd Street, between Fifth and Sixth Avenues. It has been singularly important in developing and collecting modern art, and is often identified as the most influential museum of modern art in the world.
from the WIKIDPEDIA)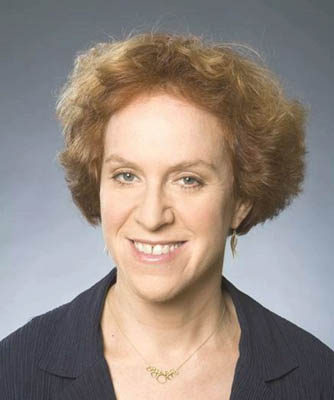 ms TEMKIN
her picture (eye didnt take it)

the chek is in the male!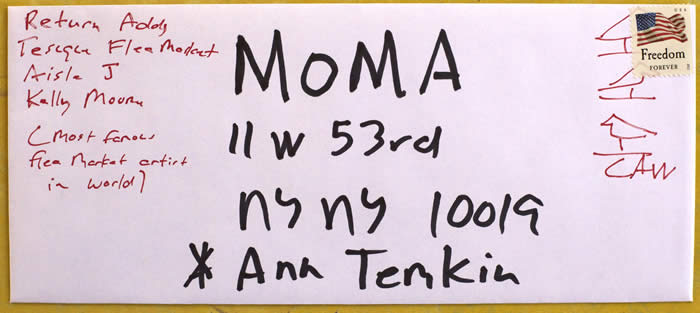 eye figur if she kan be bought
well
i got the mony why not try
the ole fashiond way!
hear is the lateest dada i found on the MOMA this year
""an online data and code hosting service, sits the entire MoMA collection: 123,919 pieces, including 1,656 sculptures, 28,411 photographs, 11,420 drawings, 1,936 films and — most important for our tour today — 2,229 paintings.""
*****NOTE ZERO FLEA MARKET ART!!!!******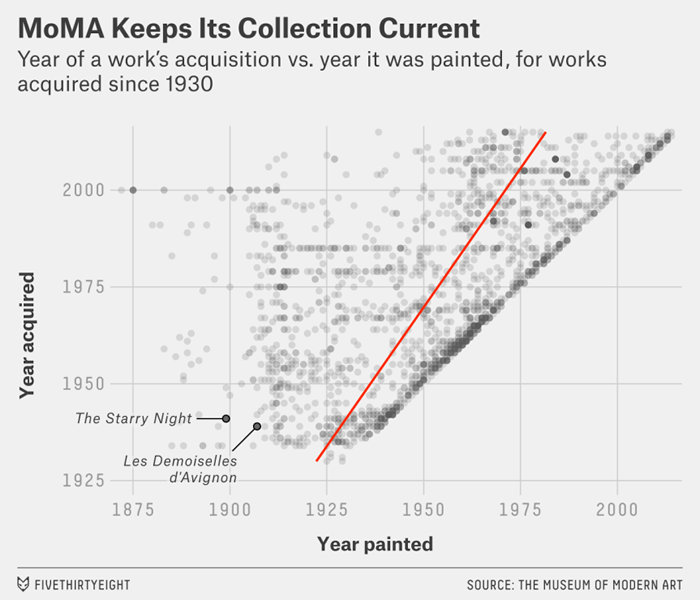 MEDIUM PAINTINGS SHARE OF COLLECTION
Oil on canvas 1,059 47.5%
Synthetic polymer paint on canvas 119 5.3
Oil on composition board 56 2.5
Casein tempera on hardboard 30 1.3
Ink and stamps on postcard 27 1.2
Oil on wood 21 0.9
Oil on linen 17 0.8
Casein and wax on mahogany 12 0.5
Oil on canvas, two panels 12 0.5
Paint on wood 12 0.5
****NOTE NO MULTICRAPPIA OR DARK BIRDS or DEAD COWBOYS or WILD HORSESESEES!!!!***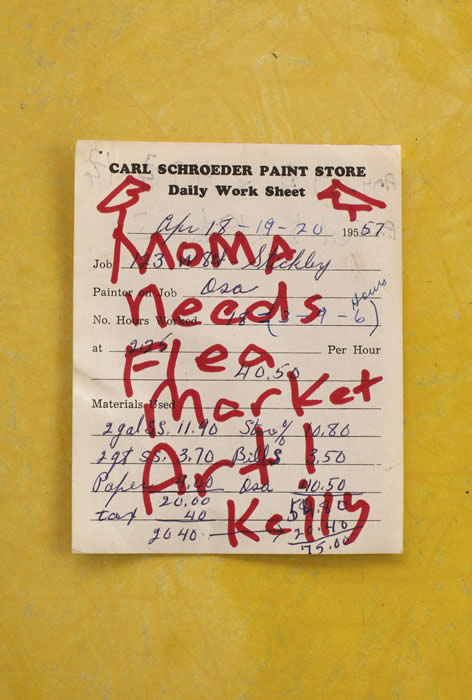 Maled to MOMMA SEPT 2015
ARTIST PAINTINGS
Pablo Picasso 55
Henri Matisse 34
On Kawara 32
Jacob Lawrence 30
Jean Dubuffet 25
Odilon Redon 25
Ben Vautier 24
Frank Stella 23
Philip Guston 23
Joan Miró 20
FLEA MARKET ART BY KELLY MOORE ---ZERO!!!!!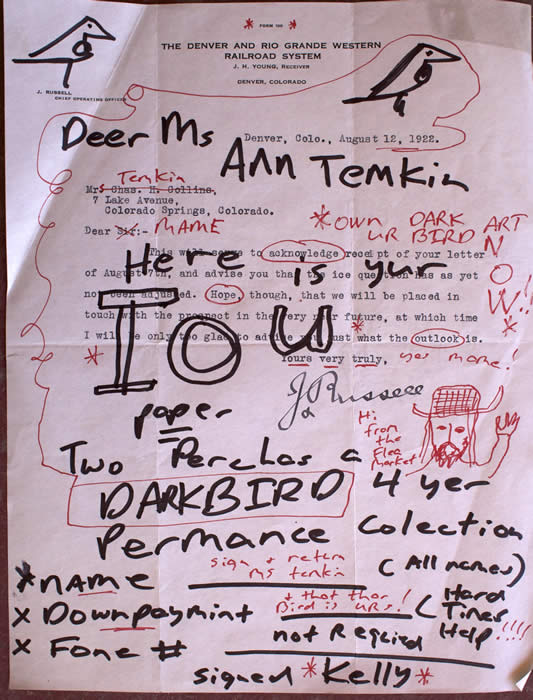 (JUST FILL IT OUT RITE LIKE)
every one needs hand up sometime
so eye figur ms Temkin can use myn IOU program
like ever bodiey else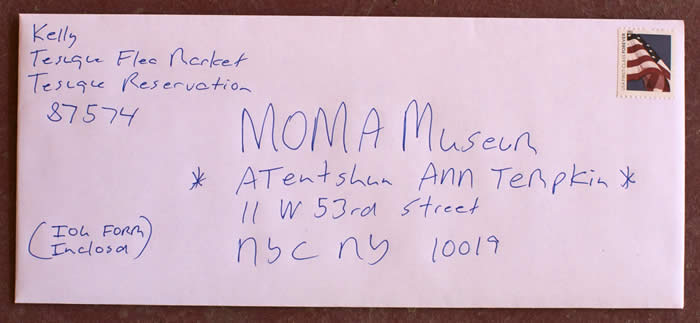 i went an done made plans
ms temkin thinkn that since eye
been rightin u for almost 10 yeras eye would have hit the jackpot
bye now but woe is me an disapointmentment reins on my head
cuz i am thinkn eye gota try hardr than i spected four my solo eggsubition
(eye spectd eye could cruse on talend alone
butt seems thay is thing calld proto kall im gona haveta learnve bout
so list en hear
im doublin down tryn to get in the moma museum of modern afore i git
in the grave yard whar thay aint no chance no more of me gittn a package
to u so hears a paint brush eye did a dawg paintinging wiht last week
that just mite tip the appel kart in my favor (good dawg art is hard to cum bye)
so just send my sololo invite to the flea market an i will
tale the boys to be alookn out fer ye
okie dokie?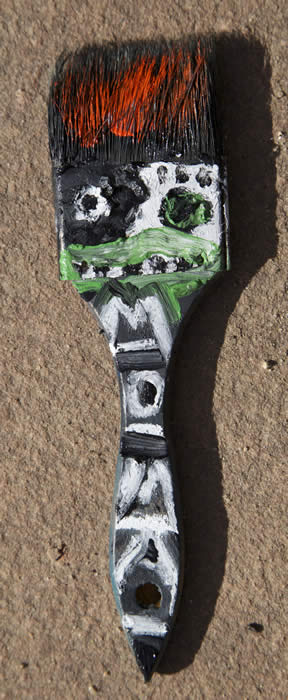 (MALED VIA POSTAL SERVISE FOR DADGUM SURE)
Paint Brush for ms TEMKIN CURATOR OF THEMODER ARTTS AT MOMA MUSEUM
OF THE MODERNS ART OF MUSEUM IN NEW YORK CITY WHERE THEY KEEPTHEM THAR PIKASSOS AN RIMBRANDS AN EYE HEAR THAY GOTS A WARHAUL TOO
last week
fancy MOMA museum of modern art
contacted me and asked
if i wanted to be part of a
group show of important
international artist
to which i replied
"im the greatest
flea market artist in the world
& u stick me willy nilly into a group
of fancy pants artist who paint abstracts
thinkn im as green as a tailgater
at his first flea market
on a cold spring morning?
no sirree
eye aint gonna be privy
to that
so when ur ready to give me my solo
u know where to find me
on AISLE J at the flea market
where eye will be paintin
dark birds every friday thru sunday
like i have been for the last 14 billion years"

oct twenty 13
aint heared from ms TEMKIN bout the solo
an was a feard she thought eye mite bee an alien
as eye am in new mexiko an four sure i do fly
round these har parts with the dark birds but we'uns
aint no aliens we'un is just dark birds
so i send her this har MEMO
that eye aint an alien
no siree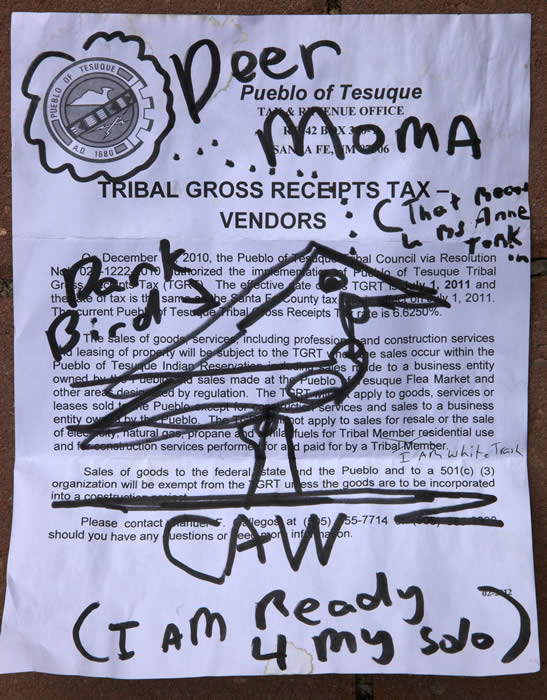 taxes is goin up (polyticks no doubt) so i need to git this moma thing rolln
fastr a biscuit goin down my huntn dawg after he eats a greasy fat rabit
so i sent it extree fast wit this hare new compny calld the fedxers
and thay have rased there prices from the uncle sams so we got two
git this moma ball roolnn fast as i am
headd for bankrupsy prety durn fast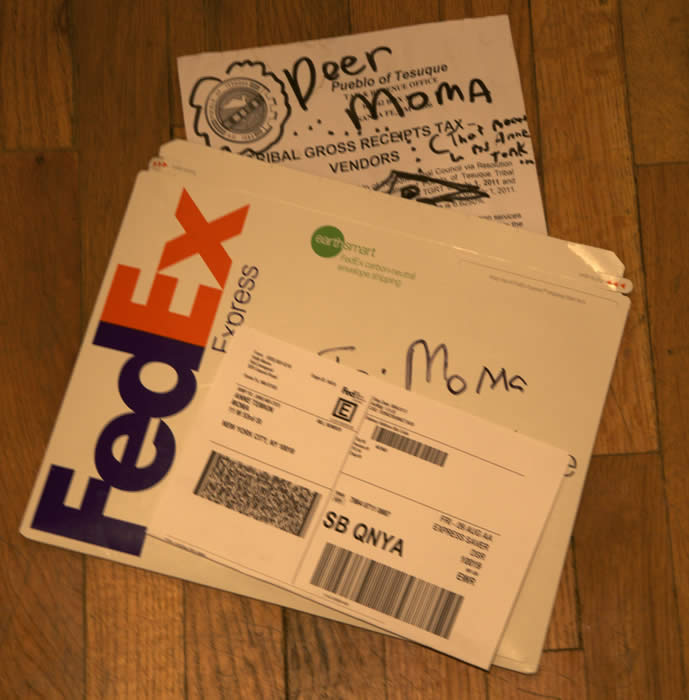 fast way to giter done
this weak i sent ms TEMKIN who is the
CURATOR OF FINE ARTS AT THE MOMA MUSEUM OF FINE ARTS
an invitation to com sea me at the African art village in TUcson during the
big GEM show where all the jewelrys peopls will be thar
so i hope she can come sea my new
drawns of dark birds and so fort as
im practcisng real hard for my solo at
the museum of the fine arts in fancy new yark city
yes i am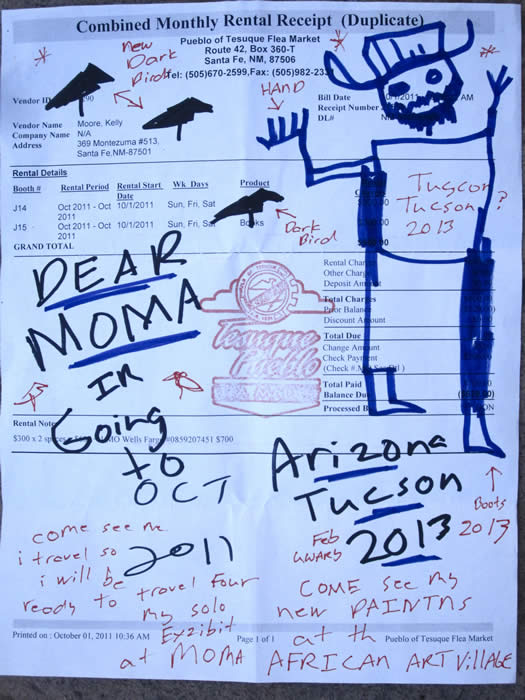 maild to her yes i did
so this weak it hit me like a sack o hammers
in my head that maybe the way
to momas heart was to invite ms temkin
to lunch at the flea market
as we got the bestest food at the tumbleweed cafe
and to top it off
IM PAYN HER WAY!!!!
so i maled here this here invite
and hope to be eatn a rez dawg with
MOMA VIP MS ANN TEMKIN REAL SOON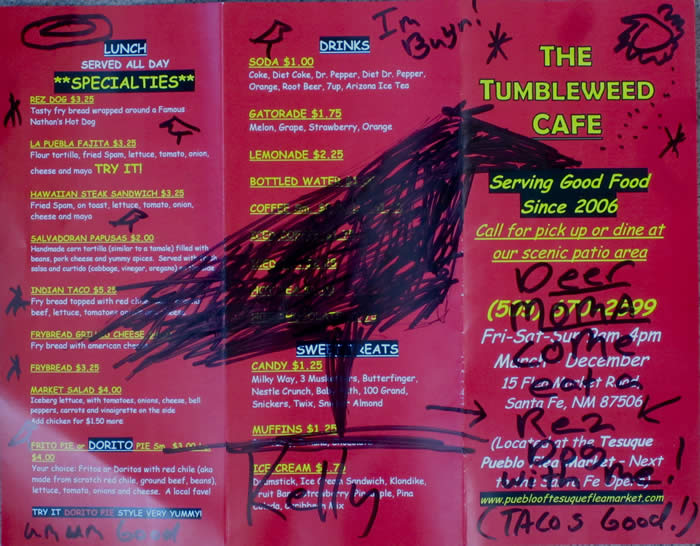 MOMA LUNCH INVITE MALED SETP 24 2012in the year of THE ASCENDED MASTERS ARRIVAL VIA THE MAYAN SPACESHIP
a recent note sent US MAIL to ms ANNE TEMKIN CUREATOR OF THE
MODERN ARTS IN FANCY NEW YORK CITY
JUST TO SHOW HER IM PRACKTISING AND STILL SHARP
AS KNIVE!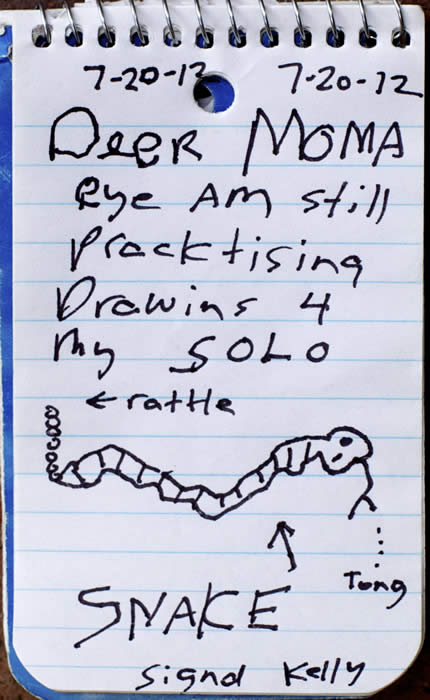 i sent MOMA MUESEUM a copy of this letr
as well as the fine folks at AMERICKAN EXPRESS FINANCEAL
a copy to let them know i am a good pardner and that
i know times is hard and maybe me givn them a lifeline
of credit could bale them outta hard times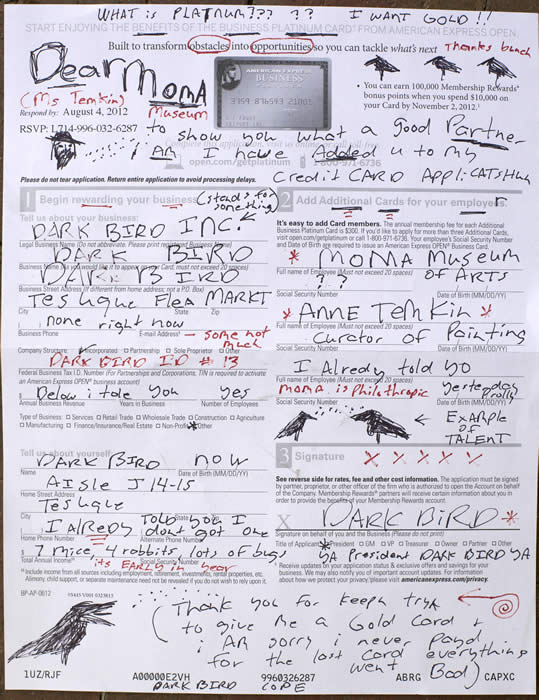 (MAILD JUNE 2012 CERTIFIED SIGNING REQUERED MAIL)
summer 2012 my application wiht MOMA AS
MY PARDNER IN ANTICIPATION OF OUR

OPENING NITE SOIREE WHEN WE MAY HAVE
TO BY REFRESHMENTS USN THE CREDIDCARD AMEX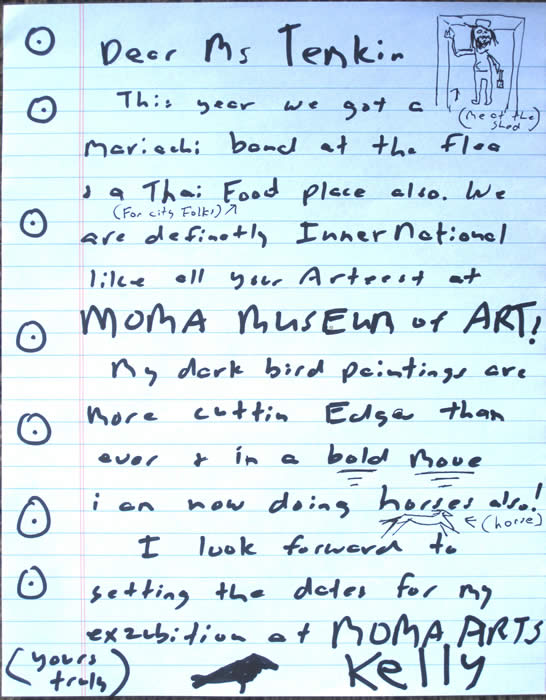 may 2011
my letter to MOMA MUSEUM
about my bold move in art.....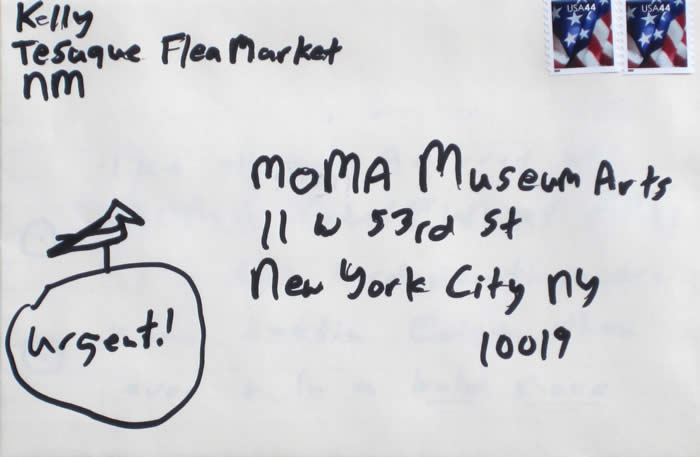 the envelope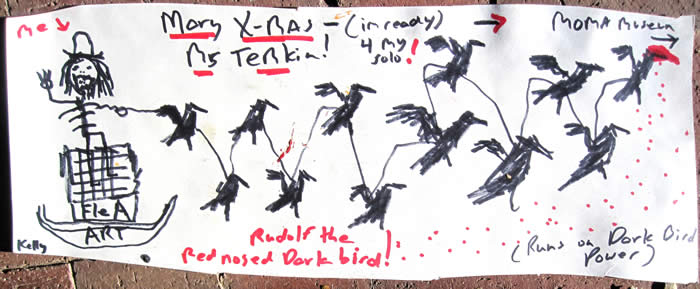 mailed nov 30 2010 via certified mail USPS
im feelin such joy this season i wantd
ms TEmkin to feel the spirit of them thar dark birds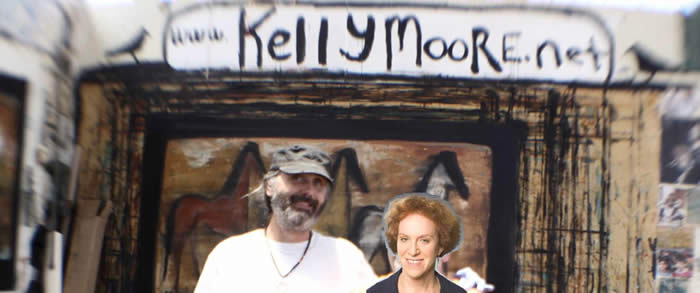 foto by kat livengood
finally !!!!
ms AnnTemkin curator of arts
at the MOMA MUSEUM OF ARTS IN NEW YORK CIYT
made it to the flea!!!!
dear momma museum of arts
geez am i embarrassd or what?
i am so naive....
my small hometown in the ozarks
(springdale arkansas chickn capital of the world accordn to don tyson)
dont got any museums of arts
which made me ignornt of how things
get done in the big city
so u can imagine my shock (SHOCK!!!)
when a fella with an art degree tould me
i wasnt playn the game rite
and that i had to follow
proper channels
and all them thar dark bird paintings
ive sent u (73 at last count!)
was going to naught....
so sure enough i lookd at your fancy website
and found you was real fond of money
uhhhh...i mean folks that gave alota money like
goldman sachs bank of america and jp morgan
(bless their hearts after the year thay had thay still enuf bail out mony
to be ur biggest donors!)
so from now on
so i can get closr to your heart
count me in as a player
as i am offishially sponsoring
MOMA MUSEUM OF ARTS with
this philanthropic action
and by the way
DEAR MOMMA
im ready for my solo
some of MOMAS BIG FRIENDS

Bloomberg
CBS Outdoor
Forbes
Goldman Sachs
Sotheby's, Inc.
The Wall Street Journal
The Bank of New York Mellon
Barclays Capital
Coller Capital
Condé Nast
Credit Suisse
Deutsche Bank
Experian CheetahMail
GLM
Hanjin Shipping
JPMorgan Chase
Paul, Weiss, Rifkind, Wharton & Garrison LLP
Sidley Austin LLP
Skadden, Arps
Tishman Speyer
UBS
Young & Rubicam Brands
American Express
Bank of America
BNP Paribas
Crédit Agricole Corporate and Investment Bank
Chieftain Capital Management
CIT
Citi
Colgate-Palmolive Company
Con Edison
The Estée Lauder Companies Inc.
Fujisankei Communications International, Inc.
HSBC Bank USA, NA
IBM Corporation
ING
Johnson & Johnson
John Wiley & Sons, Inc.
Gregory P. Joseph Law Offices LLC
Katten Muchin Rosenman LLP
Kramer Levin Naftalis & Frankel LLP
Liz Claiborne Inc.
Loews Corporation
Marsh & McLennan Companies, Inc.
The McGraw-Hill Companies
Mediabrands
MetLife
The Moody's Foundation
Morgan Stanley
The New School
NYSE Euronext
Opera Solutions LLC
Pearson Inc.
Pentagram Design
Pfizer
PricewaterhouseCoopers LLP
The Rockefeller University
Samsung Electronics America, Inc.
School of Visual Arts
Société Générale Corporate & Investment Banking
Sony Corporation of America
Syfy
Time Warner
Toyota
Verizon Communications
Wachtell, Lipton, Rosen & Katz
The Walt Disney Company
White & Case LLP
Willow Club
Ziff Brothers Investments
Arnhold and S. Bleichroeder Holdings, Inc.
Christie's
CreativeFeed, Inc.
First Manhattan Co.
The Guardian Life Insurance Company
Mercantil Servicios Financieros
Natixis US CIB
Omniture Inc.
Orrick, Herrington & Sutcliffe LLP
Protégé Partners
TIAA-CREF
Union Square Events
USM Modular Furniture
Xerox Corporation
AKRF, Inc.
American Century Investments
Bartle Bogle Hegarty New York
Bellmore Memorial Library
Benjamin Moore & Co.
The Bryant Library
CHAMBERS
Chilewich Sultan LLC
Chubb Group of Insurance Companies
D.A.P./Distributed Art Publishers, Inc.
Deutsche Telekom
Dynomighty Design
Easy Aces, Inc.
Elmont Public Library
Fidelity Investments
Friends of the Westfield Memorial Library
Fulbright & Jaworski LLP
FXFOWLE Architects, LLP
Harborfields Public Library
Hearst Magazines International
Hewlett-Woodmere Public Library
Hilton New York
Hines
Jericho Public Library
Kikkerland Design Inc
La Prairie
LIM College
The Litwin Foundation
Marubeni America Corporation
Mastics-Moriches-Shirley Community Library
The Pierre and Tana Matisse Foundation
McCann Worldgroup
MEAG New York Corporation
Mitsui Fudosan America, Inc.
Mizuho Corporate Bank, Ltd.
Nomura Asset Management U.S.A. Inc.
North Shore Public Library
NYKLine (North America) Inc.
Oceanside Library
Roche
Rogers & Goffigon Ltd.
Rolex Watch U.S.A., Inc.
Room & Board
S2 Design Group
Sachem Public Library
SHoP Architects P.C.
Shoreham Hotel
Siegel+Gale
The Fan Fox and Leslie R. Samuels Foundation, Inc.
The St. Regis New York
The Sumitomo Corporation of America
Surdna Foundation
Trespa North America, Ltd.
Violy and Company
West Hempstead Public Library

SO HERE IS MY OFFICILA SPONSORSHIP!!!!(deer momma please send receipt to flea market care of darkbird)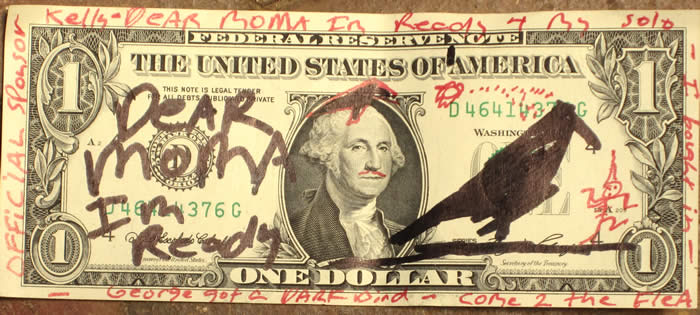 maild july 25 2010 signature requird to ms anne temkin curator of MOMMA MUSEUM OF MODERN ARTS!
may 25 2010
the thing about MOMMA im starting to understand
is that shes real picky
seems like she mostly wants folks that live in new york city
that have a degree that says thay are an artist
(MFA....manufacturd fine artist)
and that thay know the gallery folks
(u know who thay are...the gatekeeprs usually wear the pointy thin black glasses)
but my most recent lettr to ms ANNE TEMKIN
says it all
just because im at a flea market
dont mean im invisible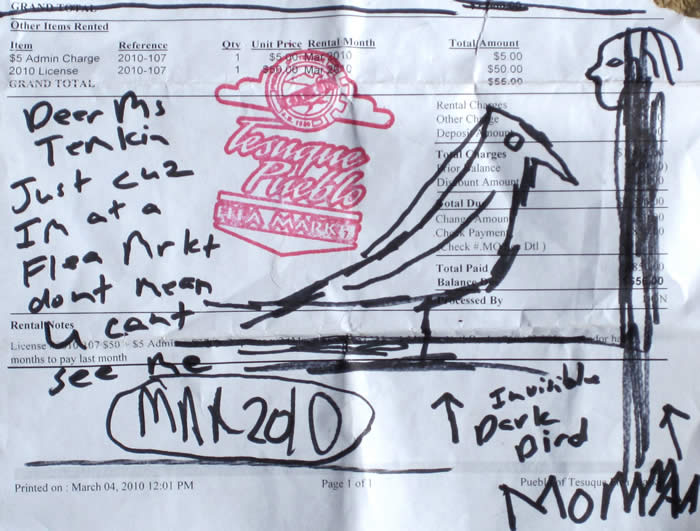 maild to the MOMMA MUSEUM (signature required MAY 24 2010)
mattr of fact
maybe i should be invisable
nowadays at MOMMA
if u take off your clothes and stand real still
in a nice room with good lights and airconditioning
and clean white walls
u are doin important art....
(yes in the newest exzibit by performance artist Marina Abramovicms TEMKIN chose standn buck nekkd over DARK BIRDS)
(wanna see something real performance art ms Temkin? come to the tesuque reservation and visit my shed
at the flea in mid april and watch me paint in 4 layers of clothes while it snows)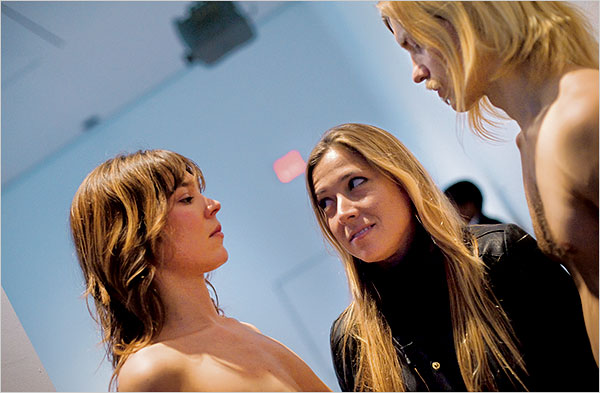 (HIGH ART @ MOMMA HAS GONE NEKKID)
april 25th 2010
i have been tould by educated artist
that i am dangerously close
to becoming a crappy folk artist
and not being
nearly "dangerous" enough to be
good contemptory art
so in order to show ms anne temkin just how
dangerous i am and i am letting her know
that i work in risky conditions at the flea market
where all sorts of varmits
that may or may not carry the plague (BLACK DEATH!!!)
routinely get into my shed
and crap all over everything....
therefore i am dangerous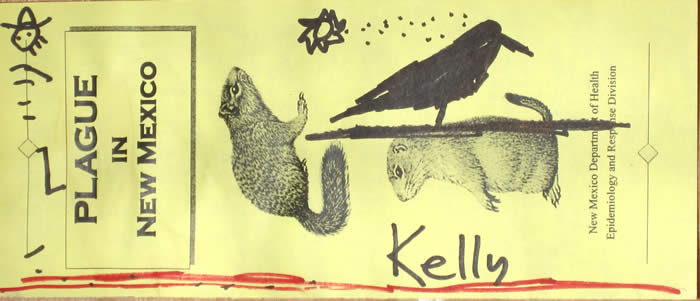 sent to MOMA museum curator of modern art ms ANNE TEMKIN april 25 2010
march 25 2010
my most recent thoughts on
sending ms Temkin my dark birds
for my solo exhibition at the MOMA MUSEUM OF ART
is that she may see them as devil birds
and i dont want her to get the feeling
these birds arent fine christian birds
so just to let her know thay is studyin the
left behind series of books
i sent her an example of my dark birds
gawd fearing nature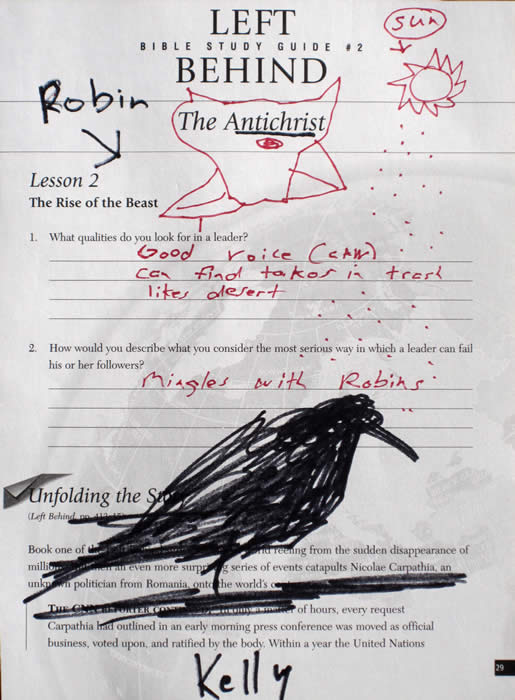 as i have not gottn
a thank u note from MOMMA MUSEUM
when i have sent them my dark birds for their consideration
i figurd i would get a signature required
on the last painting i sent to ms TEMKIN
and sure enuff it
looks like thay may be a usurper
out there gettn the ART before ms TEMKIN
has a chance to get her arty paws on it and determine
if i am bonified for a solo exhibition
at the MOMMA MUSEUM of MODERNS ART...
stay tuned for my next update as i run down the rascal
SIDY CONTE who appears to have sighnd for the darkbird....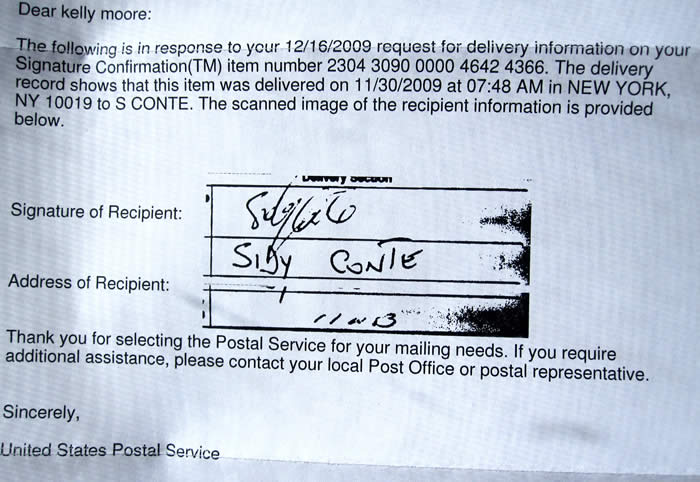 novembr19 2009 i sent ms Tempkin
this crow as an example of my ability to work in differnt sizes
(i sent one recntly that was 6 foot long and this un is 6 inchs long)
not to mentin i wantd her to sea the quality of my art supplys
which is real good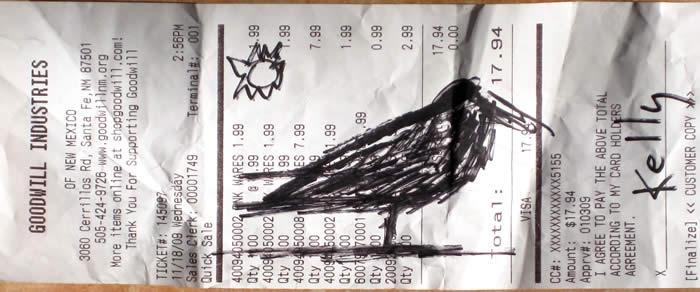 good lord i just found this quote from ms Temkin and realized the mothr lode of good luck has landed on me as i am clearly an innernational artist as i exhibt my paintings on the tesuque reservation which is clearly not part of the USA of america.....
"I plan to take a broader, more international view than we did in the past," said Ms. Temkin, 48, who arrived at MoMA in 2003 after 13 years as a curator at the Philadelpia museum of art"
and so today august 25 year 2009 i sent ms temkin my most favoriate dark bird paintin to raise my profile to innernational artist stature

this paintn is almost 6 foot long so i may havta to a biggr one to really git on the MOMMA RADAR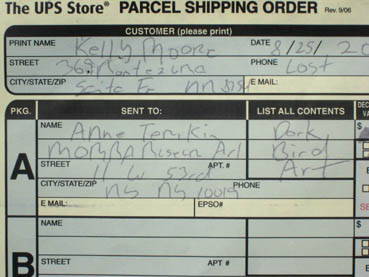 those folks at UPS sure think im important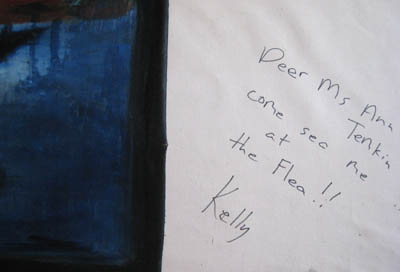 (personal invitation on bak of the dark bird paintin to ms Temkin to visit me at the flea)
an so it was today i sent another dark bird paintin to ms Temkin....
(another of my dark bird paintns in the permanaentntent momma collection)
((PS i wanna thank all u folks who have been thar this summr and askd to see the kelly moore dark bird collectshun))
(((art is all bout the sublime mystery of the universe so do be surprisd when thay seem dumbfoundeded by your questionts)))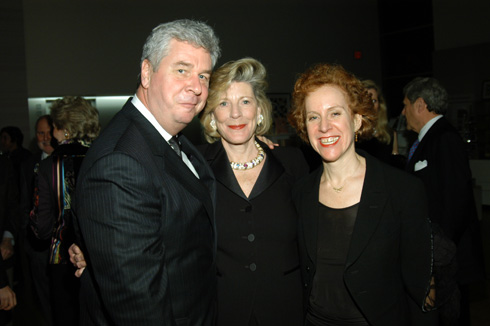 (found a new pixture of ms temkin....i feel certin if i could meet that fella on the left i could hit the big time)
accordin to the innernet ms Ann Temkin has got the MOMMA museum job of finding good paintings for there building whichis real big so im sure rite now in her office she prolly has one of mycrow paintings over her desks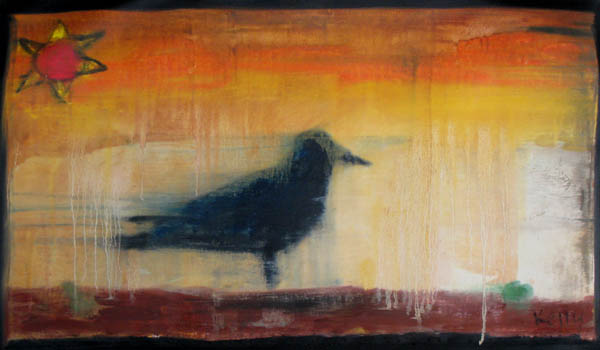 this month the june of 2009
i sent ms Temkin another dark bird
as that last thank u note from from the
grand momma museum warmd my heart up real good
so usin younins eyes look straight up and u will
sea that pixture of the dark bird and in some small way
we will all be sendin ms temkins our appreciations
for the warm welcome thay gave my paintins
to there permanents collectshuns last month
thank u agin ms tempkins and i hope u have a good summr vacation
and get a chance to ride bicycles in fancy new york city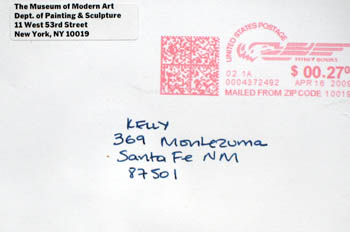 MOMMA wrote me back last weak
thanking me for my crow paintings
which i wil continue to send to MS Ann Temkin
until i am notified of my
solo MOMMA exhibitshun dates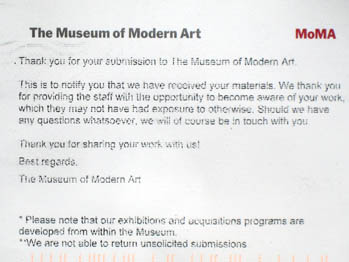 thay were so impressd
thay even included a personal note
on the back of teh postal card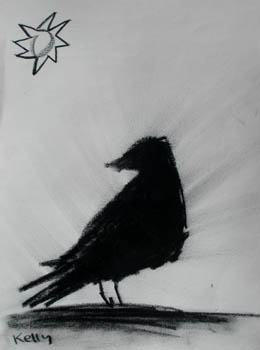 april 7 2009 dark crow for ms temkin
i sent certified to her so no one else
would take it two a gallery and make a killin on it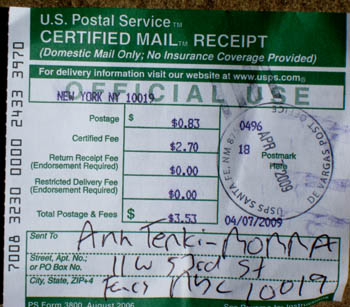 3.53 dolar just to git it thar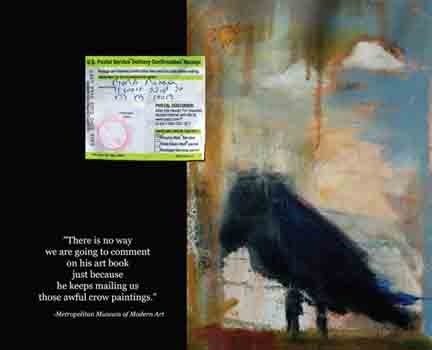 back covr of my aweful book
i am sendin her my crow paintins for there permanant collecshun til i git my MOMMA museum exsubition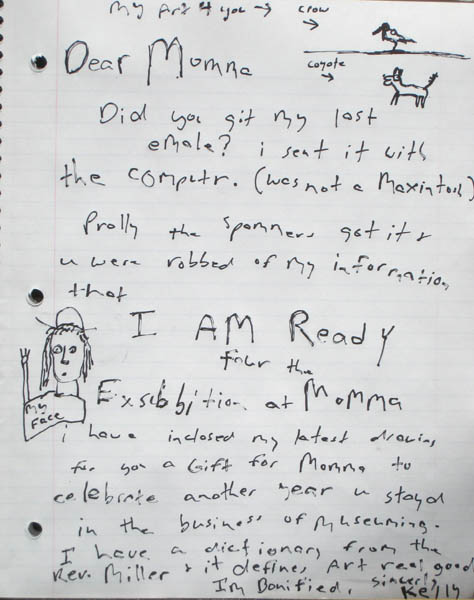 i
evidnce incase thay tale me thay dont have
my arts in their private collechun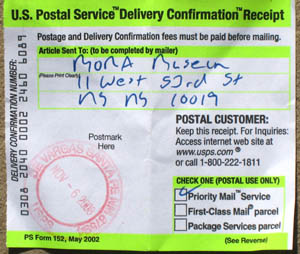 and also a page from reverend millers dictionary defining art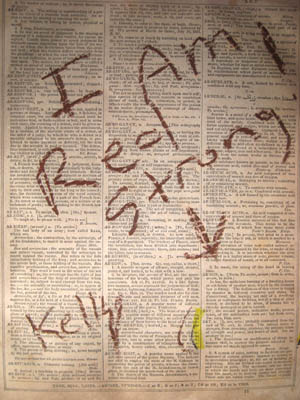 once thay read real close thay will seethat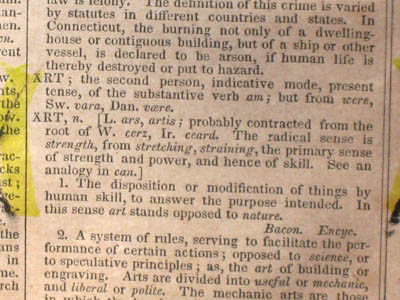 i am the most bonified flea market artist

thay will ever get a chance to exzibit

at the MOMMA museum of the modernarts

From:
kmoore@kellymoore.net
To:
info@moma.org
Subject:
Deer MOMMA
Date:
Tue, 24 Jun 2008 08:26:30 -0700
Mime-Version:
1.0
Content-Type:
text/plain; format=flowed; charset="iso-8859-1"
Content-Transfer-Encoding:
7bit

deer Momma of new yrk city

eye wantd to let u know

that bye next year

sometime after the flea market closes

in late december

eye will be ready for

my exsubbition at the MOMMA

please let me know

so eye kin get organeyezed

and let me know if'n eye should do some advertising here in new mexico

(thay is a good bulletin board out towards chimayo that is ripe for art advertsiing) and eye will start annowcing the event to my assosiates, friends, housewives and other fello artist (wont thay be surprisd to read eye got a fancy anowncement as well!@) so as we can have a big shin dig

party after the show (do eye need to bring some chips or sodie pop?)

yours truly
kellyy moore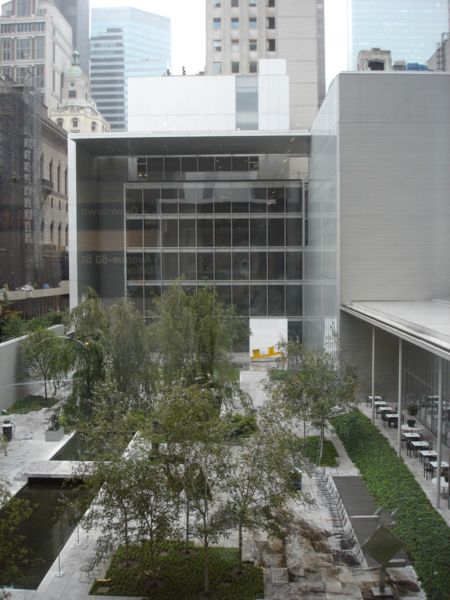 if u look real close
you will notice thay have never had a flea market artist
at the MOMMA museum
and i am determind to brake that
prejudice
it just aint right
ya know?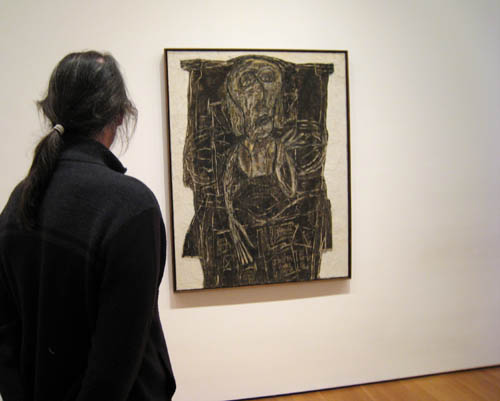 here i am
at the MOMMA
lookin at mr Dubuffets work
i askd the guard at the front door
for an apointment with the
CEO of MOMMA
but thay told me
now was not a good time for a meetin
so since then
i have been writin lettrs to them
taleing them what i want to
exzibit at the
MOMMA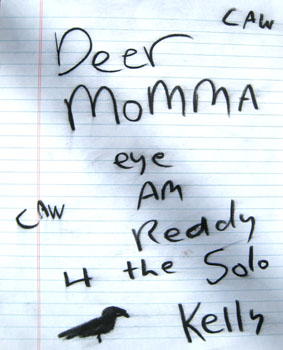 this is my letr from feb 27 ought 09
sent em another crow
at this point i have sent them
23 crows paintins and drawins in totals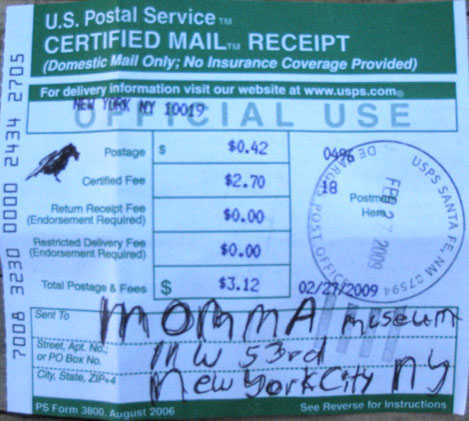 i always like to know thay got it
cuz a crow without a home is a bad thing
even though thay are mostly
solitary dark birds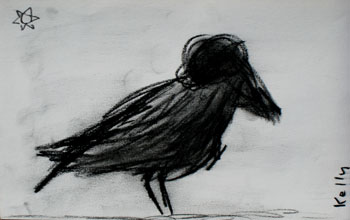 my most recent dark bird i sent to ms tempkin
for tha
momma permanents collectshun of moderns arts