New Art
(email me for great prices)
kellykelly at kellymoore.netkell

a Ladder to Somewhere Better
about 70 inches tall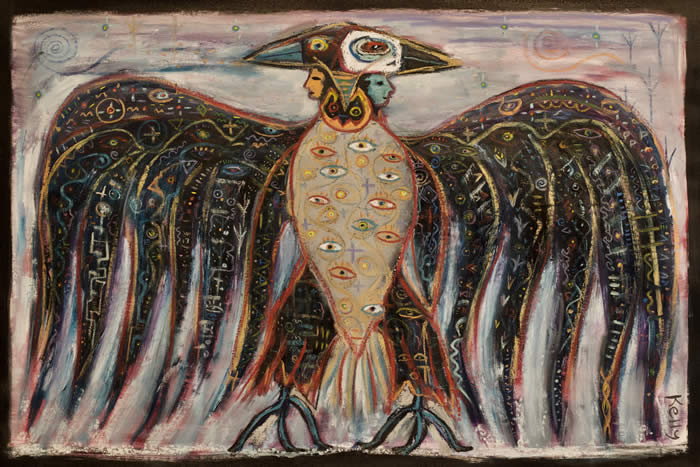 Double Eagle
43 x 62 oily on loose canvas
Mythic image from the mind of a transcendent Dark Bird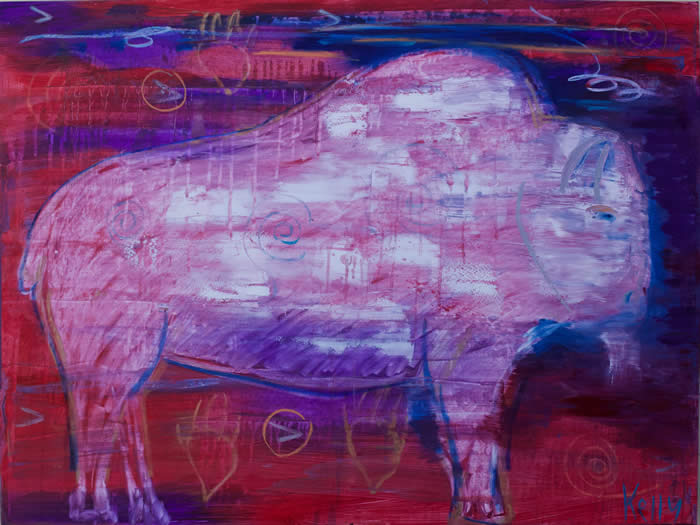 White Buffalo---SOULD
a real beauty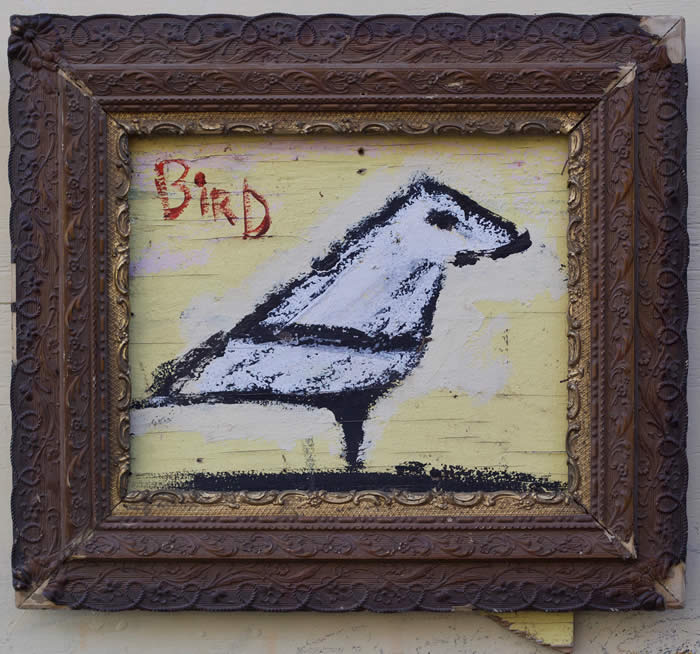 Bird
oily on wood about 26 x 23 (plus that sexy jag below the frame)
im using lots of old frames that i find
completely irresistabley beautiful

White Deer ---SOULD
36 x 12 oily on a nice bord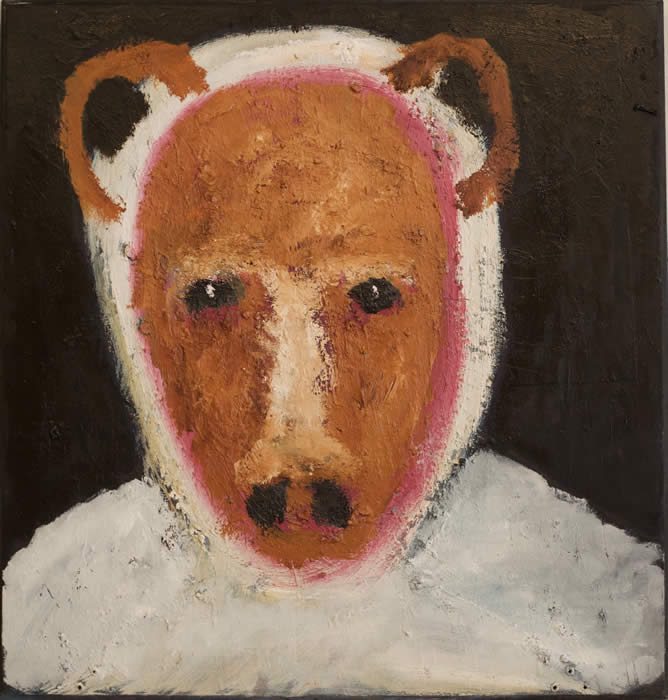 Mr Bear
21 x 22 oily on wood bord
talk to me big fella....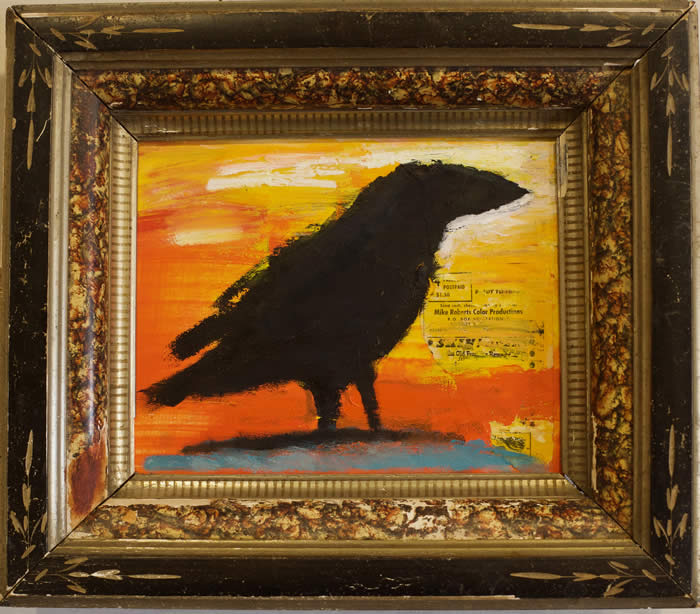 Dark Bird Color Productions--SOULD
15 x 13 framed oily
another great frame thats prolly 50 years old that i found at an old pickers shop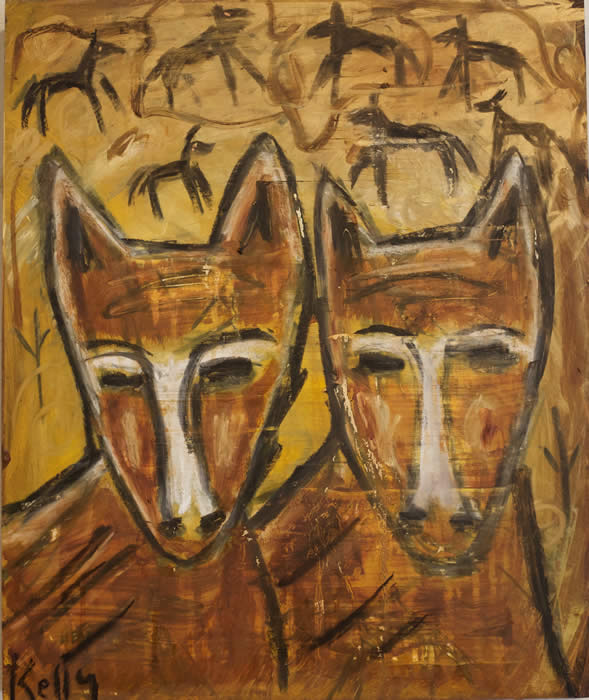 Two Desert Dawgs---SOULD
24 x 20 oily on a nice board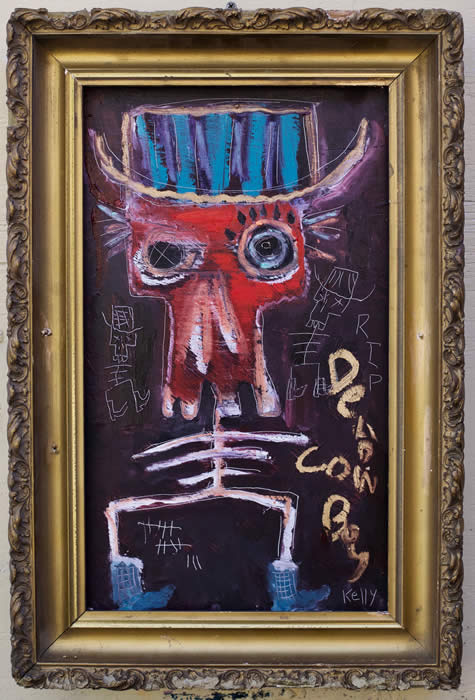 the Framed Dead Cowboy---SOULD
21 x 14 oily framed
this guy was framed

New Mexico Mustangs
about 63 x 20 oily on loose canvas
lots of time around mustangs last month

5ive Dark Birds
oily on a metal tool box tray 22 x 8
sits on the wall like a sculpture!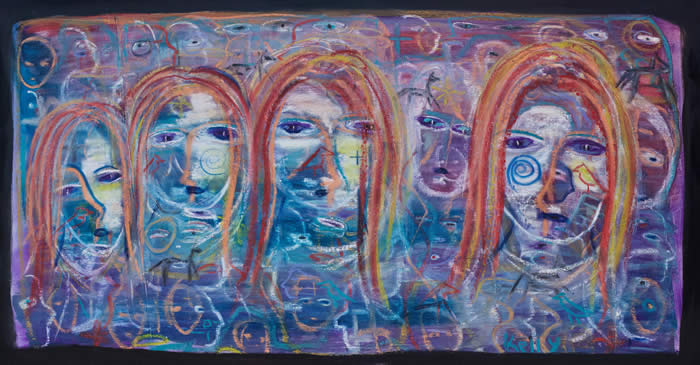 Sisters
about 37 x 63 inches oily on loose canvas
beautiful painting looking for some sisters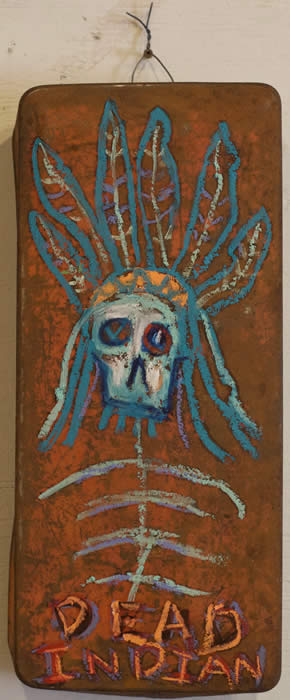 Dead Indian
oily on a metal tool box tray 20 x 9
this tray is about 2 inches deep and the patina on it is fantastic

Hang Loose---SOULD
about 24 x 72 inches oily on loose canvas
everyone needs to relax sometimes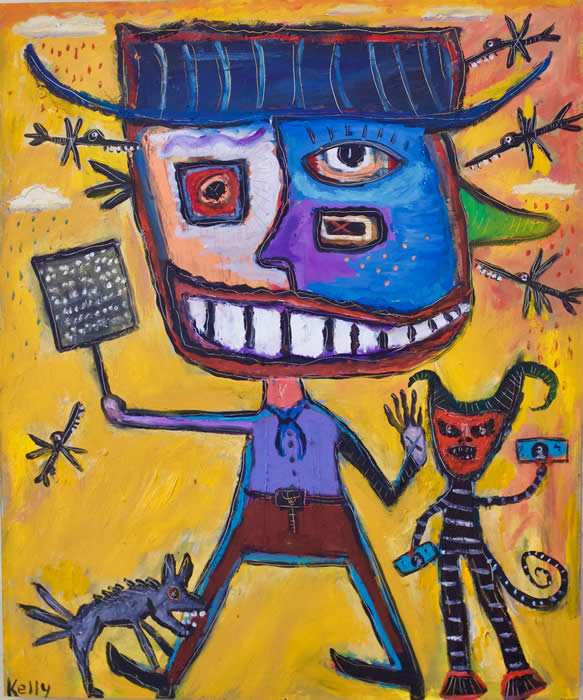 Fly Swatter
16 x 20 oily on a nice board ez to hang
always some gnats i have to swat away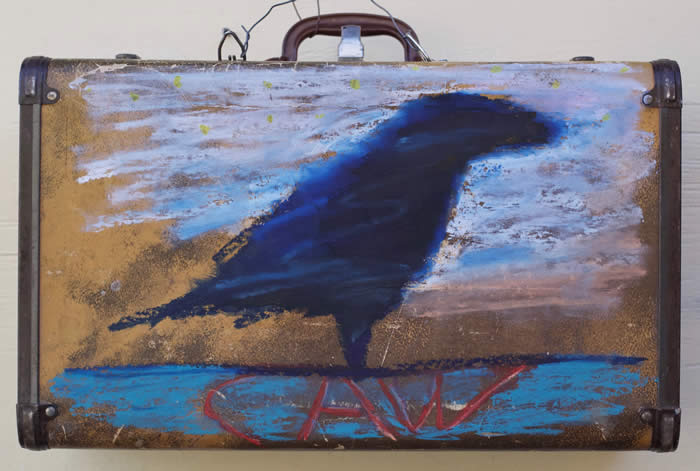 Dark Bird Suitcase---SOULD
21 x 13 oily on both sides with a surprise inside!
this suitcase is perfect for that traveler who wants
to make a statement going thru TSA at the
airport
SOULD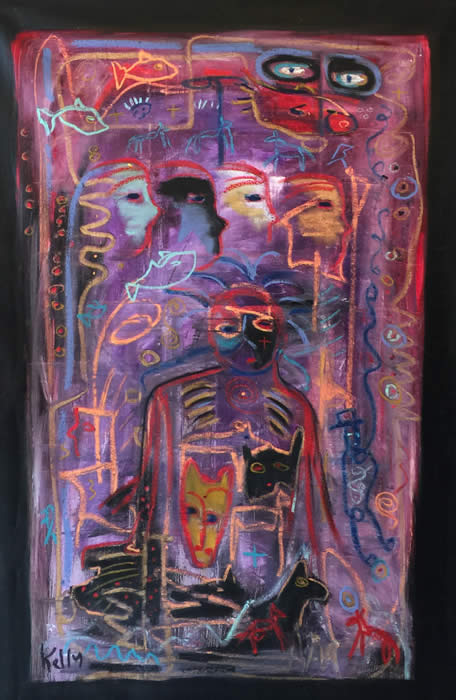 Primal Passion
about 37 x 61 on loose canvas
a wonderful
bold mystical image that will conjure up
a beautiful dream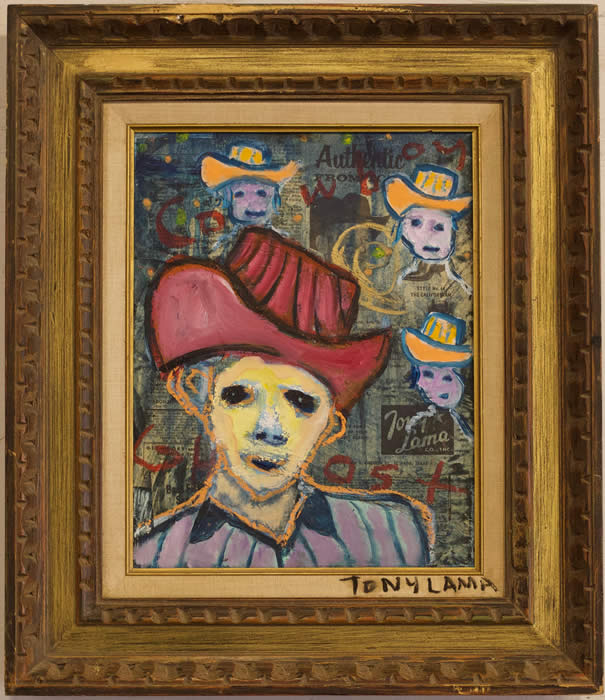 Tony Lama
about 12 x 16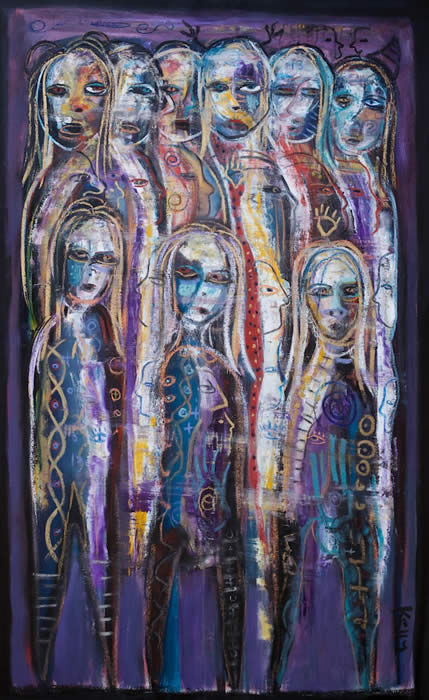 Guardians 2
about 62 x 42 oily on loose canvas
Visionary painting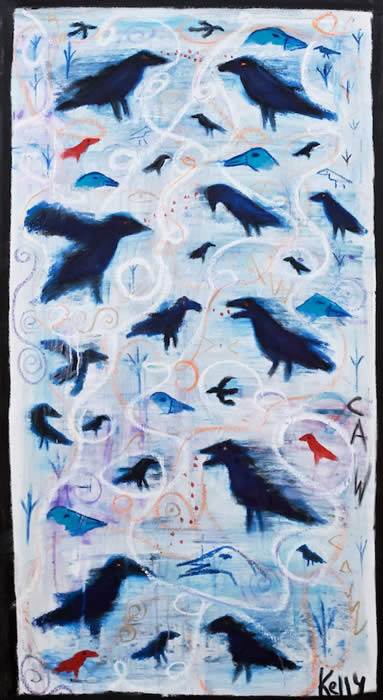 Dark Bird Red Bird
about 59 x 32 on loose canvas
this painting is like a tapestry

Sky Dawgs
oily on loose canvas about 7 foot by 34 inches
email me at kelly@kellymoore.net
a few animals from a drive in the west
Clay Allison New Mexico Outlaw
Join my Monthly Art Newsletter for First Looks at New Art
stay away from the Road Less Traveled
Kelly Moore the originator of Multi-Crappia
Big Horn Sheep
clik hear to read & see bout our trip to South Dakota to photo wild horses...
heres a picture of me dropping a Dark Bird on Cadillac Ranch in Texas last month
the Return of the Tesuque Flea Market
BURROS Truth sayers of the Southwest!
clik hear to buy an art book for a christmas present
photos of Christmas Eve at Dark Bird Studio
clik four a new Picture of me at the flea market
clik hear and tale me what you think
come sea me at the flea
or drop by the alley and sea
kat fend off my paintings while
she whispers to
horses
thank you
for
getting off the main road (thats a DARK BIRD folks)
and looking at art by a guy
who paints at a
flea market
OR
sighn my guestbook and tale me what u think
s
sign the guest book if you want to leave a mark
the New Book..."Absurdity is my Friend"
back to the front page (more words & art)