New Art
(email me for great prices)
kellykelly at kellymoore.netkell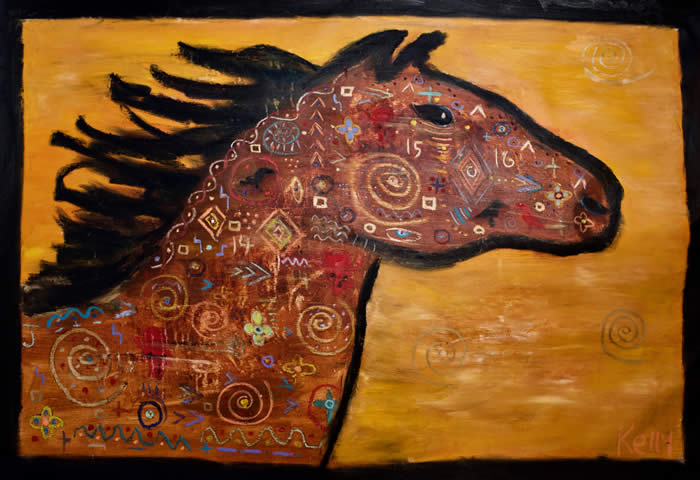 Horse Sense
45 x 65 oily on loose canvas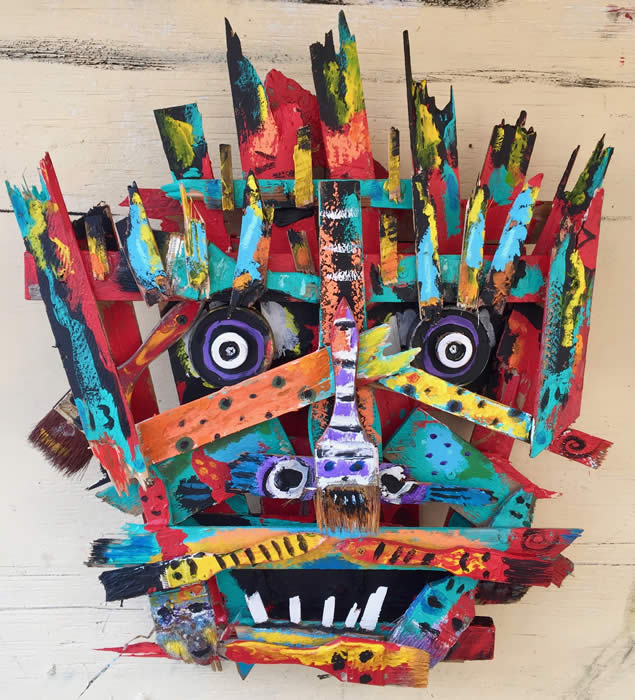 MASK
about 27 inches tall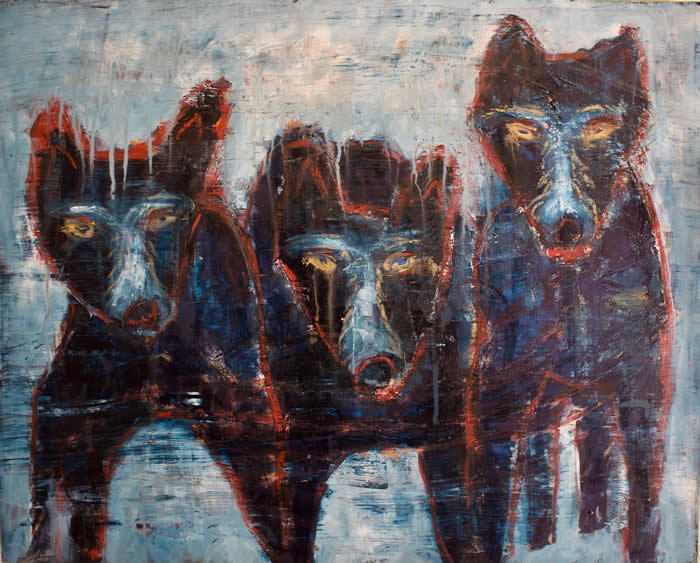 Three Wolves--SOULD
24 x 30 oily on a nice deep board (about 2 inches deep inset)
theres a new animal loose on Canyon Road in Santa fe!
thank you to all who have made this month one of my very best in years!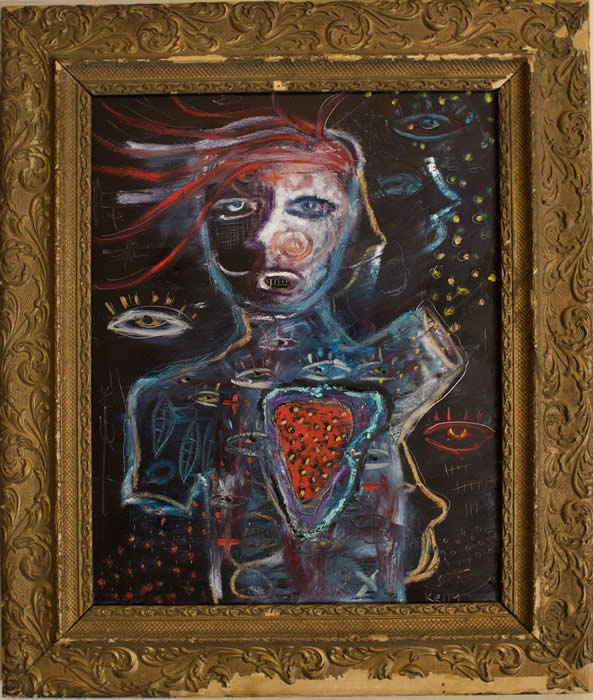 Losing Blood & Light-SOULD
oily on wood with a nice old frame
this year has been a rewarding challenge!
i believe in the struggle and the things
i have learned this year have been
hard fought and life changing
thank you for tagging along on
my wild ride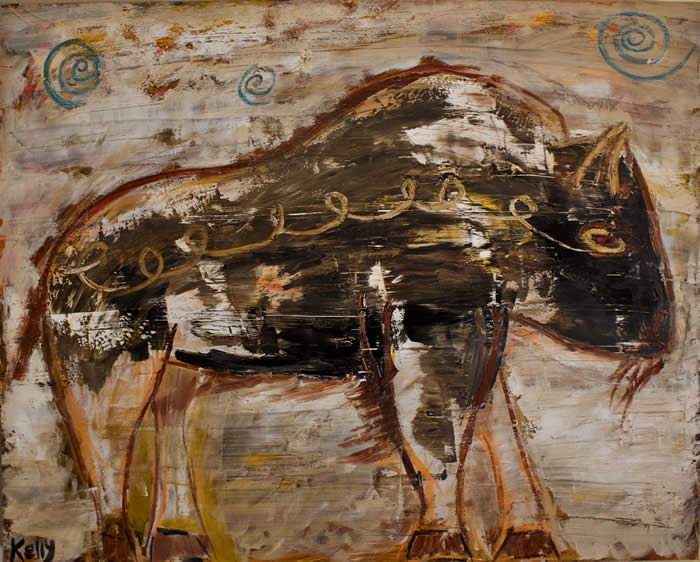 Little Buffalo---SOULD
oily on a 24 inch board with a nice 2 inch inset
Ive fallen in love with some
old frames this month take a look
at some of these goodies!
e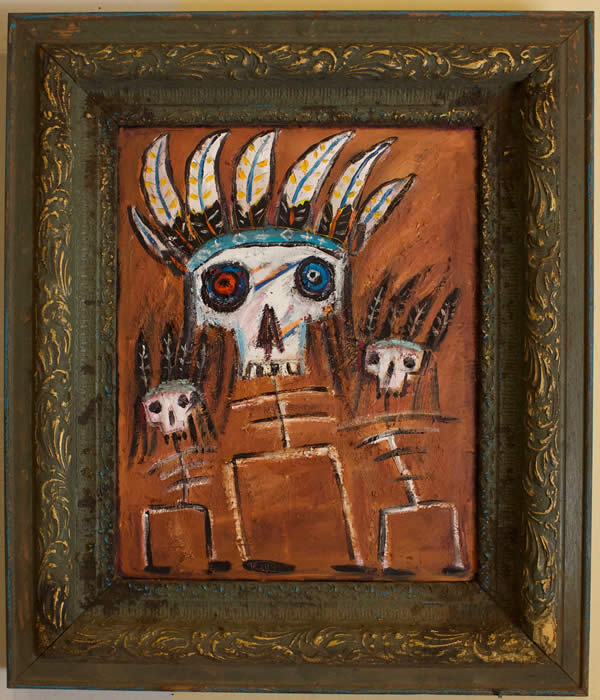 Dead Indians
27 x 31 oily with a nice old frame
fantastic old frame!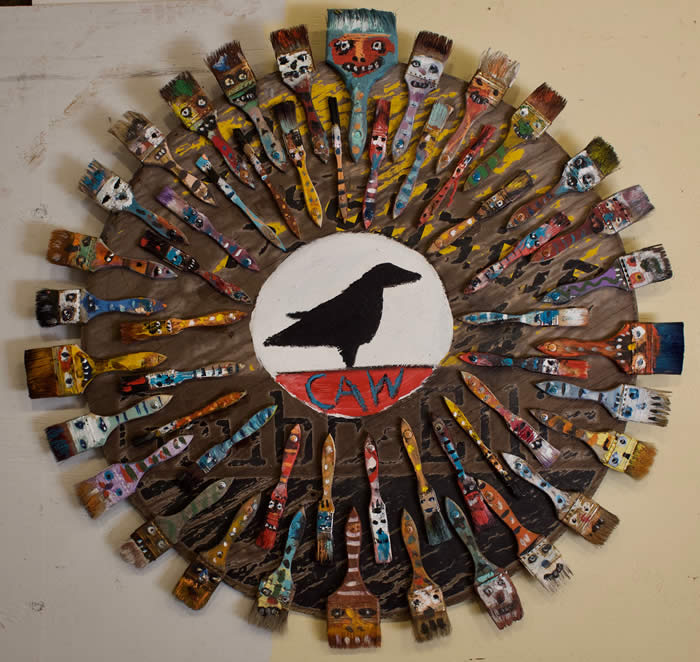 Dark Bird Mandala---SOULD
approx 36 inches
original doesnt quite cover it
Dead Cowboys
27 x 31 oily with a nice old frame
Caw the Great Caw what ever that may be for you!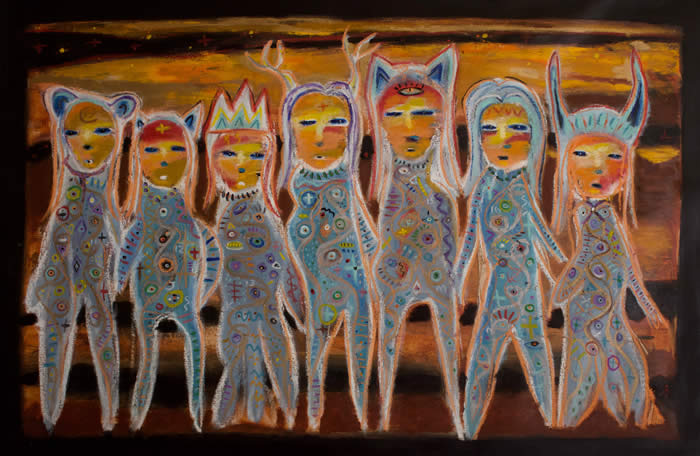 Desert Children
61 x 41 oily on loose canvas
i tend to think of allll humans as children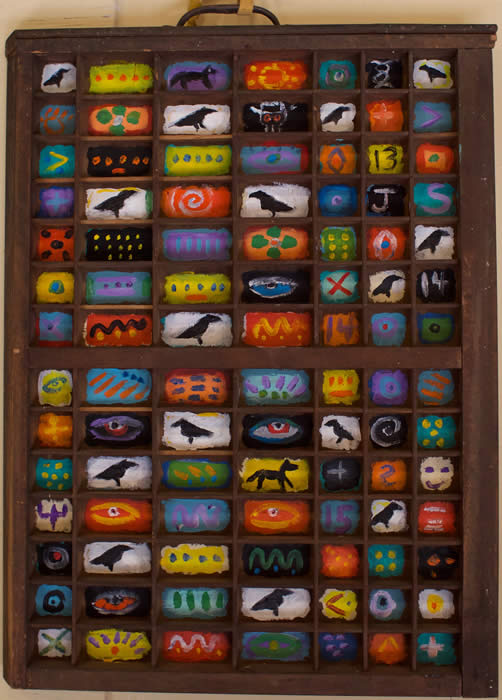 Dark Bird Font---SOULD
18 x 24 oily on an old newspaper font board
remember when we used to have newspapers? this is a font board for the printer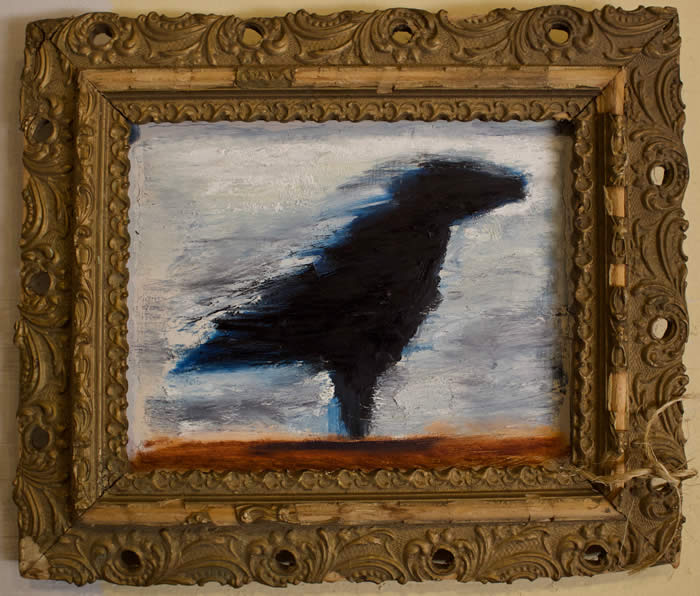 Classic Dark Bird---SOULD
15 x 13 oily with a wonderful old frame
amazing frame from an antique store in Dodge City Kansas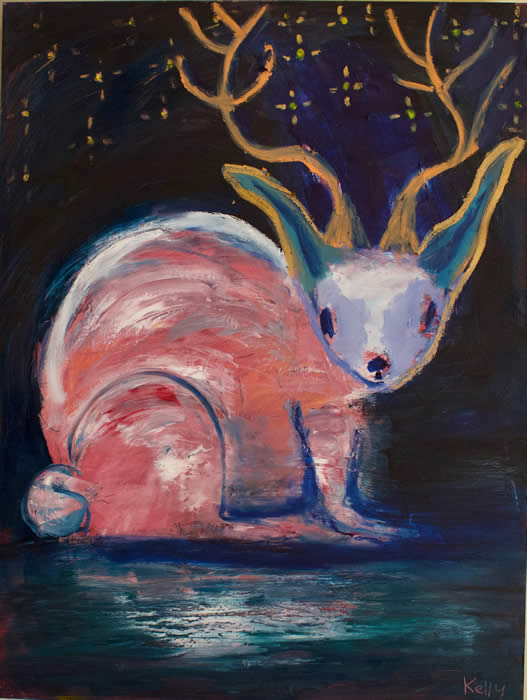 Jackalope Reflection---SOULD
18 x 24 oily on a nice deep board ez to hang
what do you see?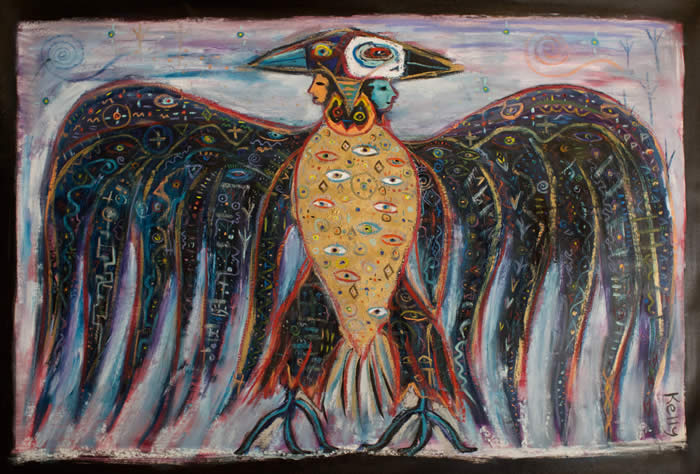 Double Golden Eagle
43 x 62 oily on loose canvas
Mythic image from the mind of a transcendent Dark Bird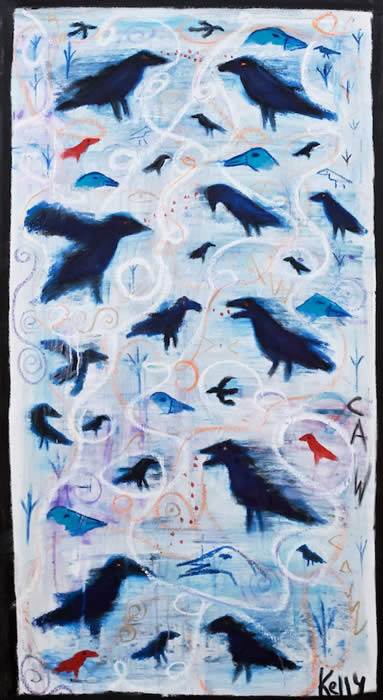 Dark Bird Red Bird---SOULD
about 59 x 32 on loose canvas
this painting is like a tapestry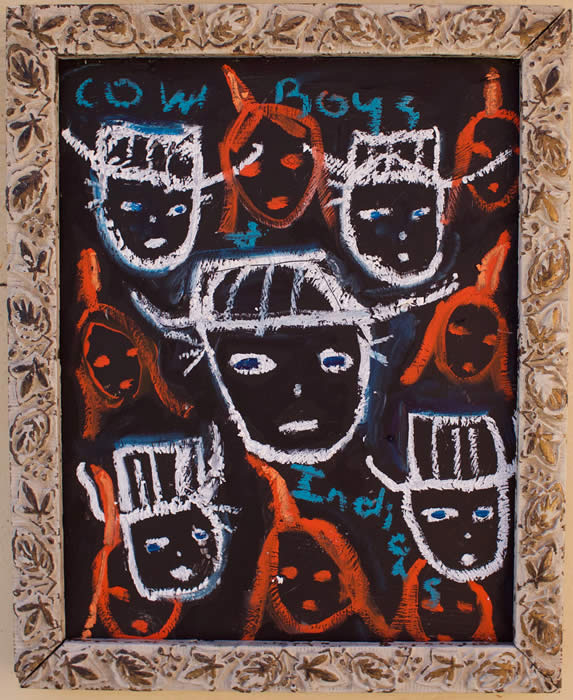 Cowboys and Indians
about 11 x 14 oily on a nice old frame
very very bold painting!

Happy Bear Totem---SOULD
80 x 16 inches oily on board
everyone needs a happy bear these days!
email me at kelly@kellymoore.net
a few animals from a drive in the west
Clay Allison New Mexico Outlaw
Join my Monthly Art Newsletter for First Looks at New Art
stay away from the Road Less Traveled
Kelly Moore the originator of Multi-Crappia
Big Horn Sheep
clik hear to read & see bout our trip to South Dakota to photo wild horses...
heres a picture of me dropping a Dark Bird on Cadillac Ranch in Texas last month
the Return of the Tesuque Flea Market
BURROS Truth sayers of the Southwest!
clik hear to buy an art book for a christmas present
photos of Christmas Eve at Dark Bird Studio
clik four a new Picture of me at the flea market
clik hear and tale me what you think
come sea me at the flea
or drop by the alley and sea
kat fend off my paintings while
she whispers to
horses
thank you
for
getting off the main road (thats a DARK BIRD folks)
and looking at art by a guy
who paints at a
flea market
OR
sighn my guestbook and tale me what u think
s
sign the guest book if you want to leave a mark
the New Book..."Absurdity is my Friend"
back to the front page (more words & art)