New Art
(email me for great prices)
kellykelly at kellymoore.netkell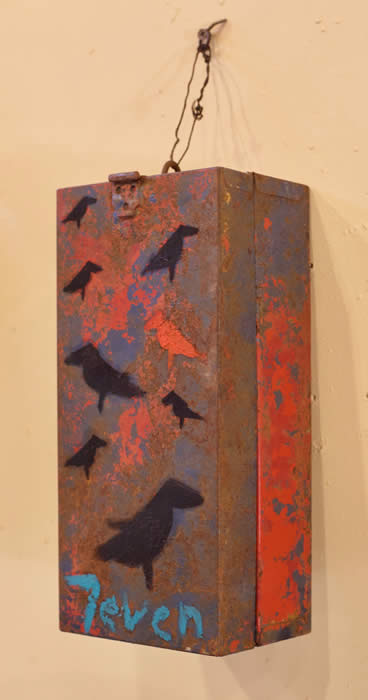 Seven Dark Birds
12 x 6 x 4 oily on a beautiful metal box
thank you to everyone
who has come by to
my new studio!
it is a vast community of
Dark Birds who flock together
at the Dark Bird Studio...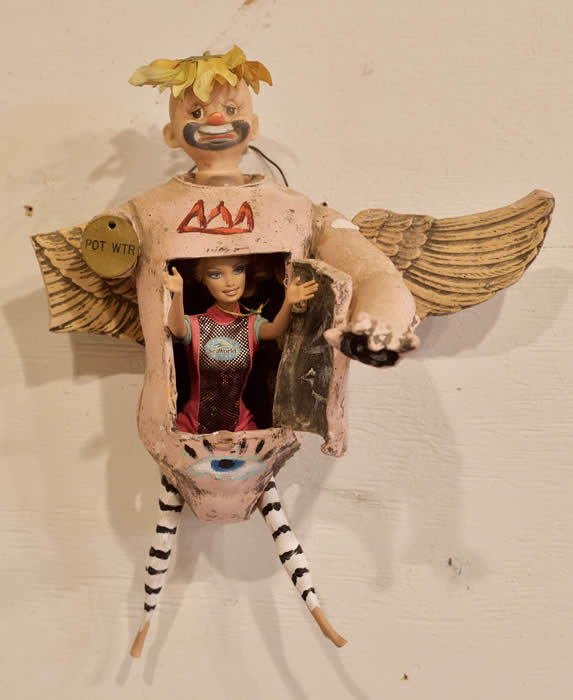 The Clown Goddess
about 16 x 12 multicrappia
wow this piece is weird fun
probably too delicate to ship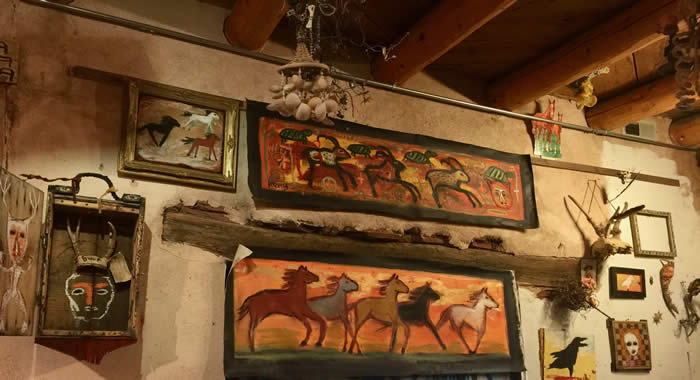 Inside the Dark Bird Palace
hanging on the ancient walls of my studio
i jumble together art and my personal stuff
its all connected so i dont try to separate it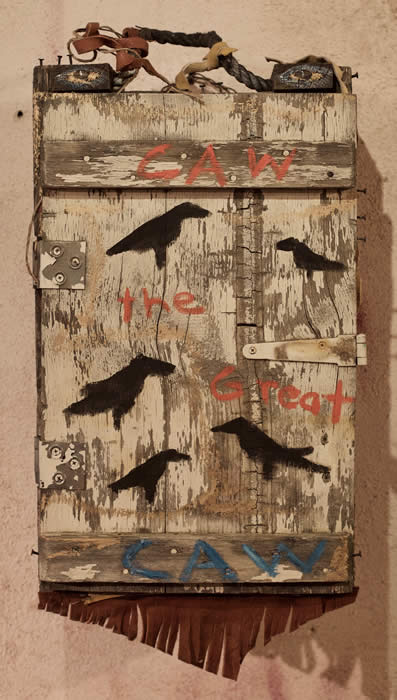 White Tale Deer
24 x 12 closed
email me for prices kelly at kellymoore.net
or
come by and see what i have
(im only showing about 10% of what i havvvvvvvvvve)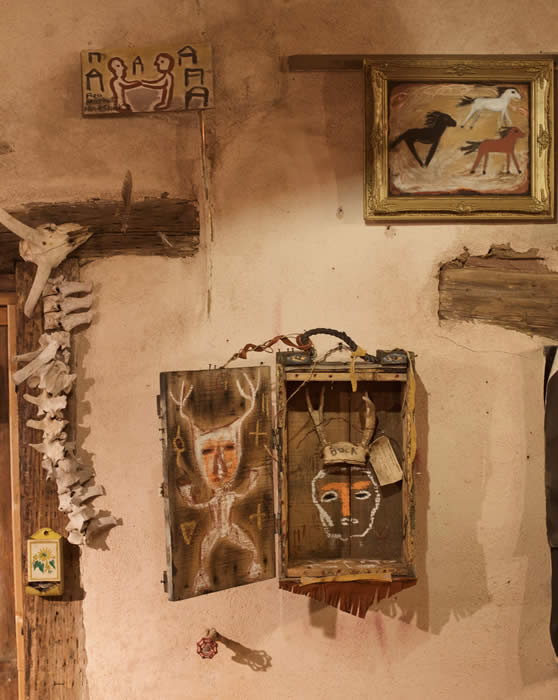 The Box Opened....very very strong piece of art
about 24 x 24 open
Come visit
the Dark Bird Palace
at 821 Canyon Road next to
the Tea House in Santa fe New Mexico
friday thru sunday
sometimes mondays sometimes thursdays
or email me for a private view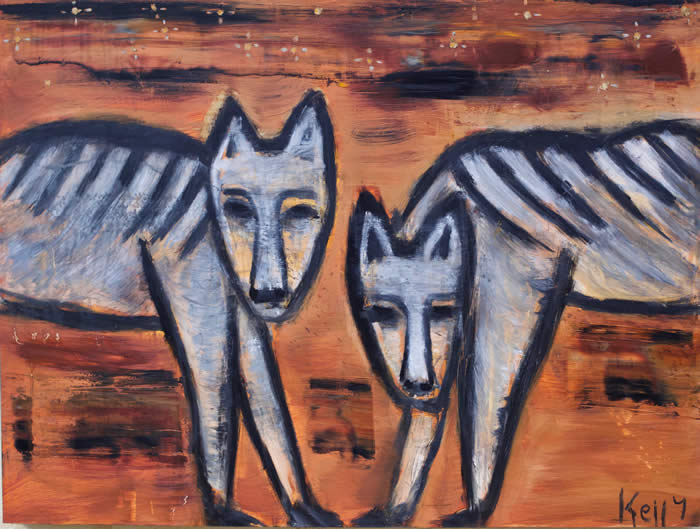 Desert Dawgs
30 x 40 oily on a nice board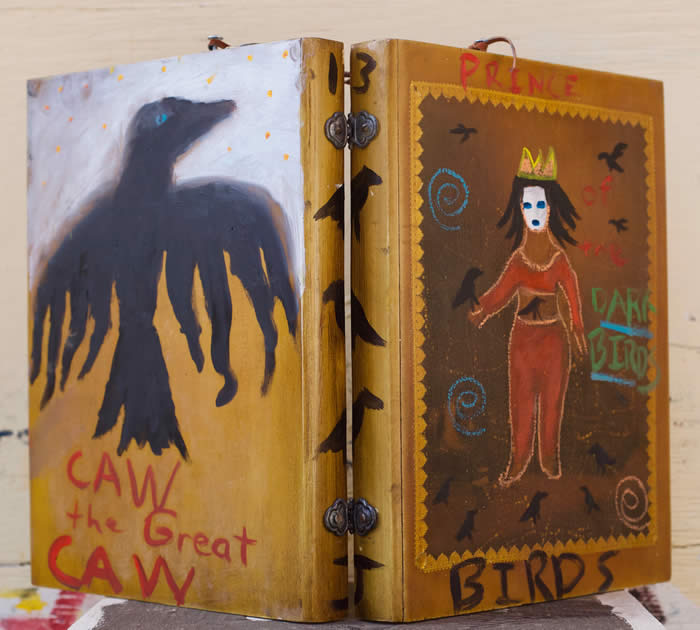 Dark Bird Literature
about 15 inches tall
very cool piece of folk art collectica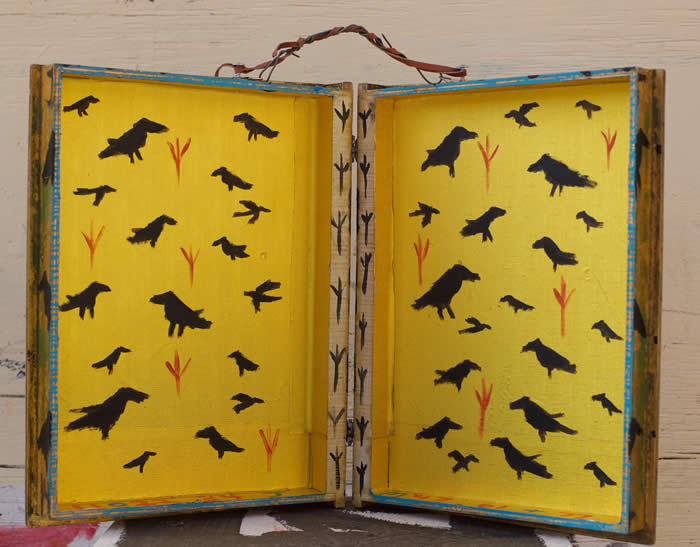 It hangs on the wall either way...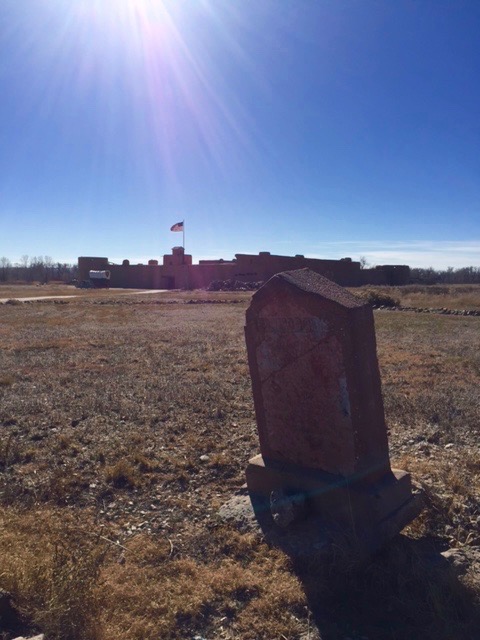 my idea of a great Birthday Present
is to go to the famous old west outpost
known as Fort Bent in Colorado
Bent's Old Fort National Historic Site features a reconstructed 1840s adobe fur trading post on the mountain branch of the Santa Fe Trail where traders, trappers, travelers, and the Cheyenne and Arapaho tribes came together in peaceful terms for trade. Today, living historians recreate the sights, sounds, and smells of the past with guided tours, demonstrations and special events.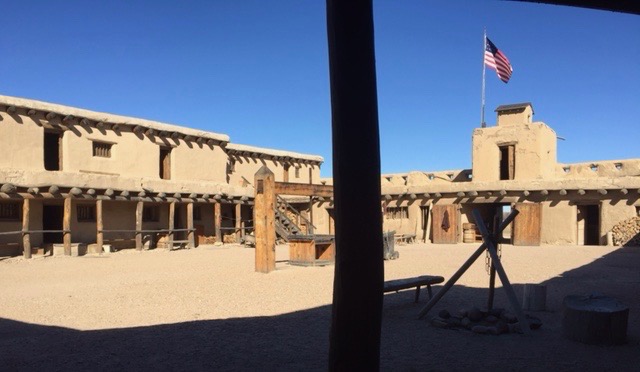 It is a re constructed version
of the old fort accurate to the
tiniest details
with working park rangers in period costume
as well as local artisians at times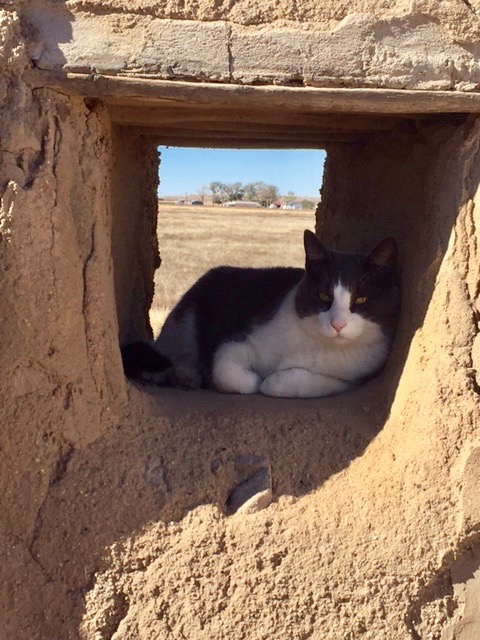 Fitz the Cat runs the place however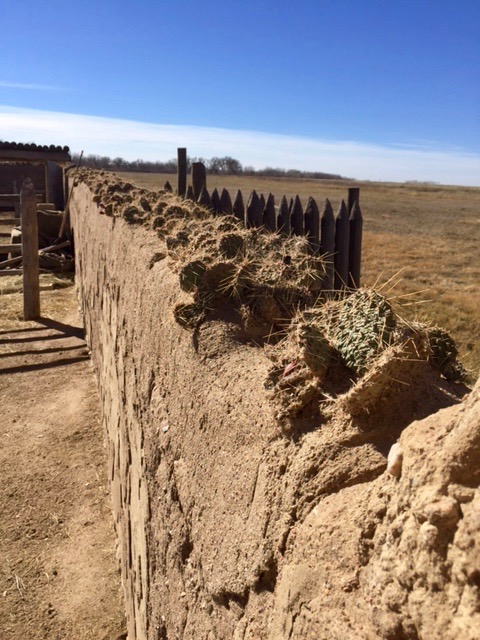 an 1840s version of a secure fence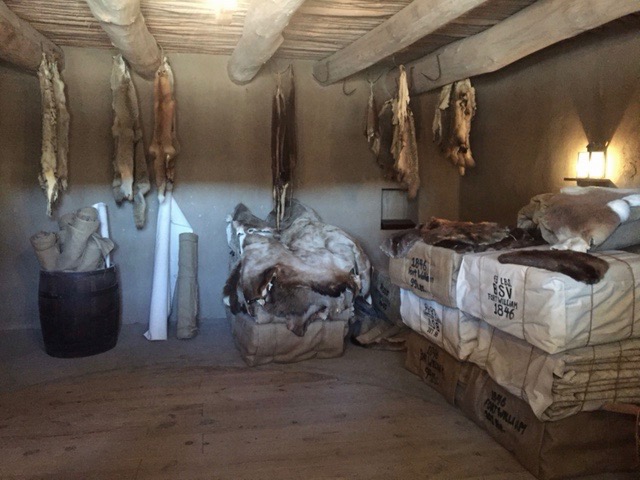 The Post was frequented by Kit Carson and many other famous figures of the Old West

Trickster Dance---SOULD
oil etc on ez to hang Stretched canvas about 15 x 46

Ladder
about 70 inches of multicrappia perfection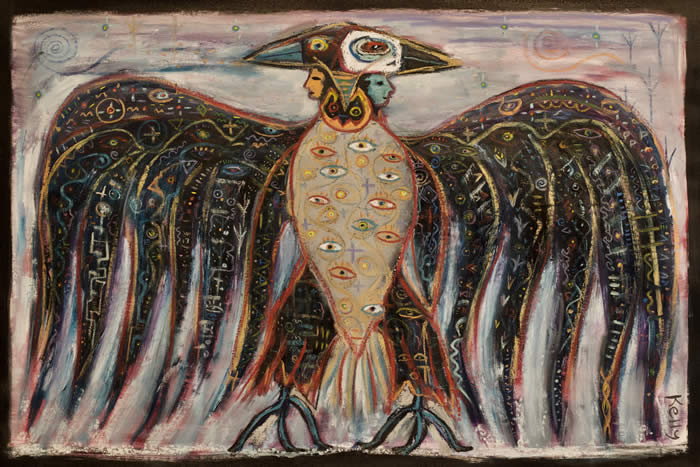 Double Eagle
43 x 62 oily on loose canvas
Mythic image from the mind of a transcendent Dark Bird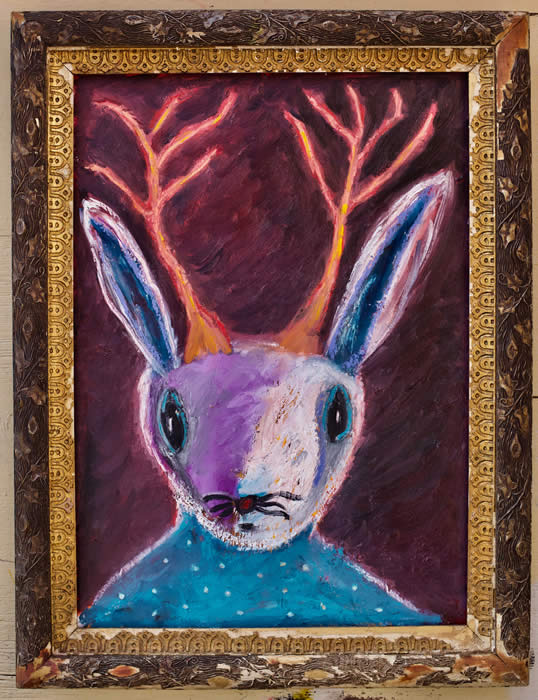 Mr Jackalope---SOULD
34 x 26 oily with an old frame
lovin my new old frames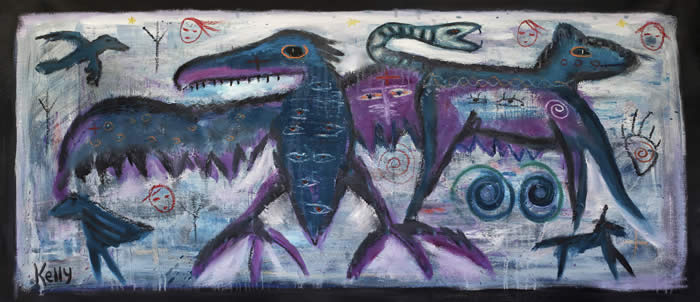 Raven Wolf Snake
63 x 30 oily on loose canvas
powerful piece of animal energy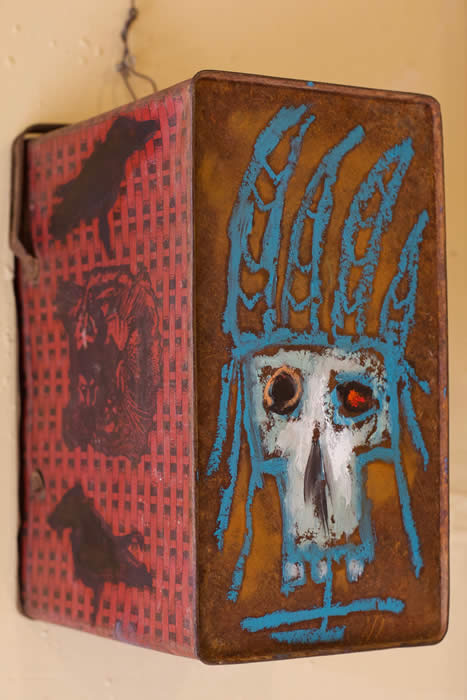 Indian Tiger Box---SOULD
about 12 inches tall
always a flea market dawg thats me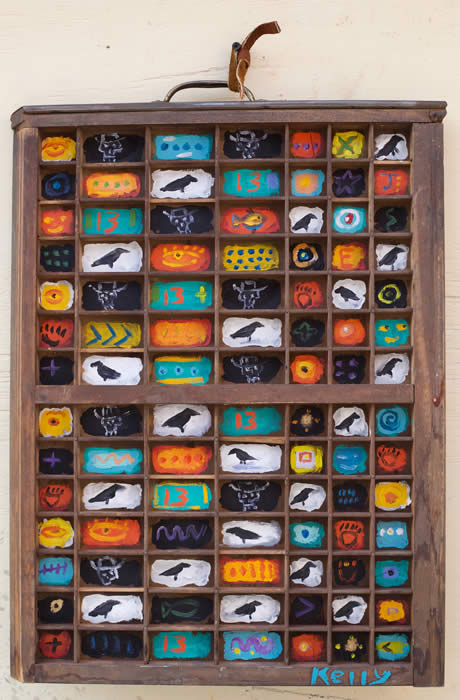 Dark Bird Font
SOULD
this piece sold on my facebook page earlier this week
if you want to follow my work there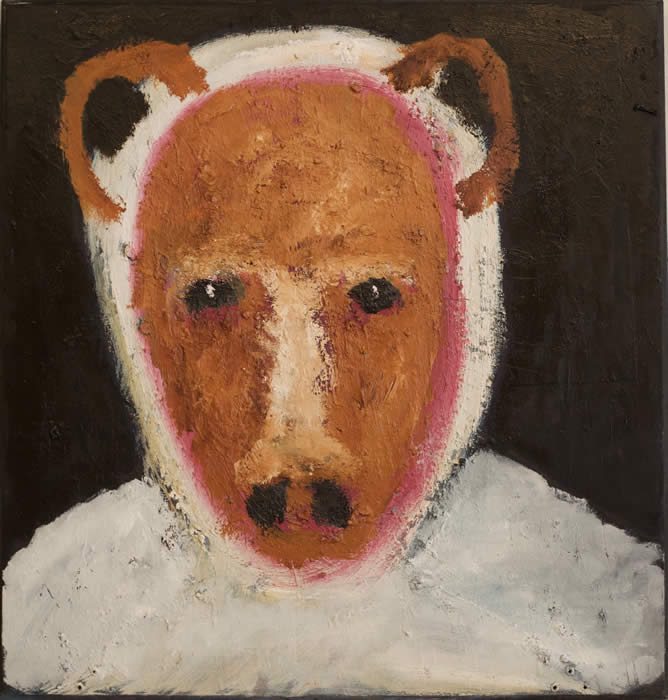 Mr Bear
21 x 22 oily on wood bord
talk to me big fella....

New Mexico Mustangs
about 63 x 20 oily on loose canvas
lots of time around mustangs last month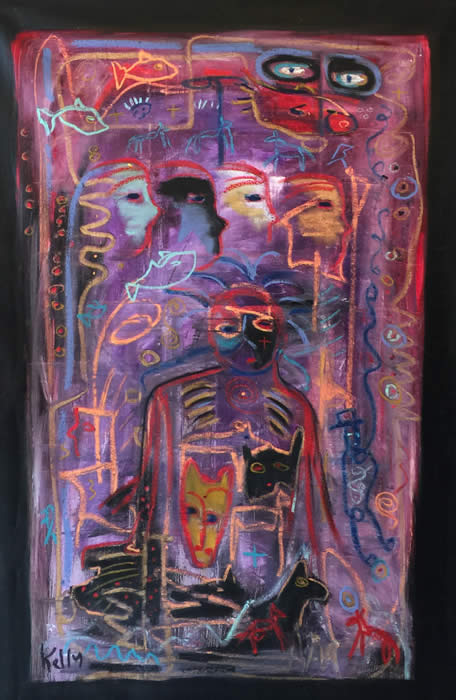 Primal Passion
about 37 x 61 on loose canvas
a wonderful
bold mystical image that will conjure up
a beautiful dream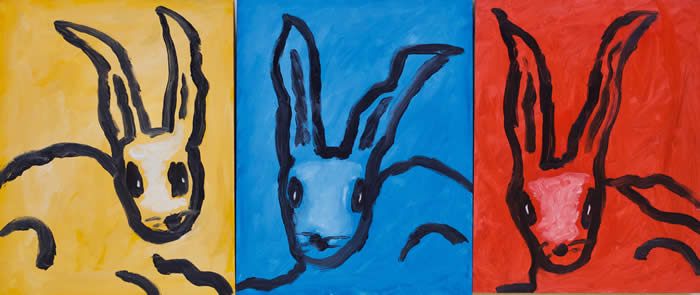 Three Rabbits
each is 11 x 14 on a nice bord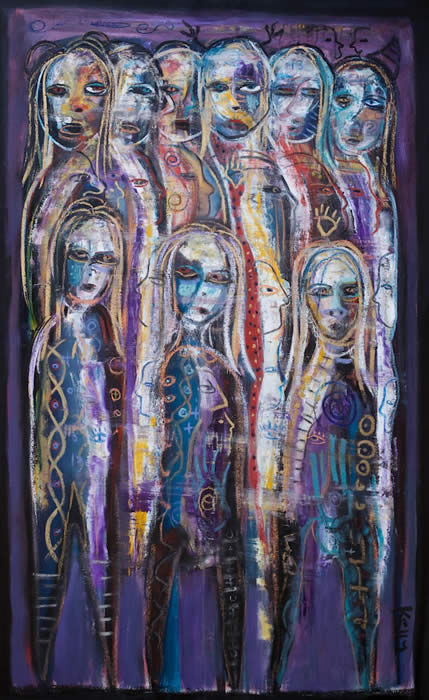 the Guardians
about 62 x 42 oily on loose canvas
a Visionary painting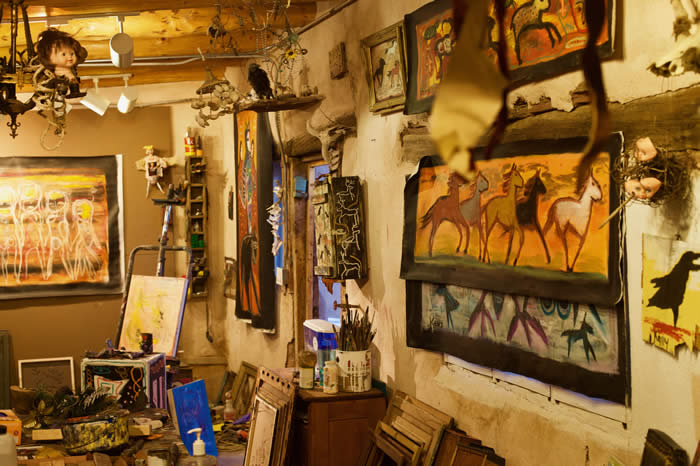 Inside the Dark Bird Palace
my studio is already
the most original space on
Canyon Road in Santa fe
(ya i just said that)
and i think you know
where im heading with
my Dark Bird Space ship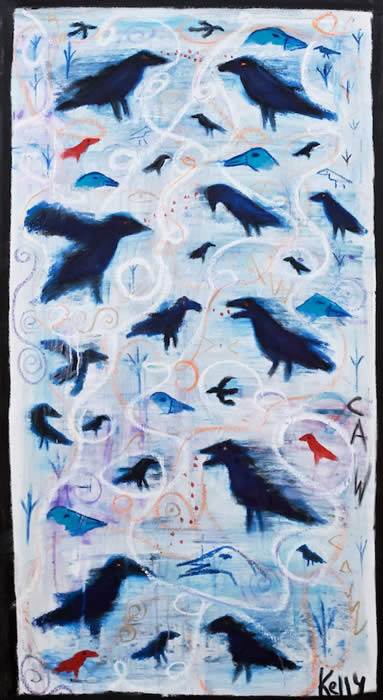 Dark Bird Red Bird
about 59 x 32 on loose canvas
this painting is like a tapestry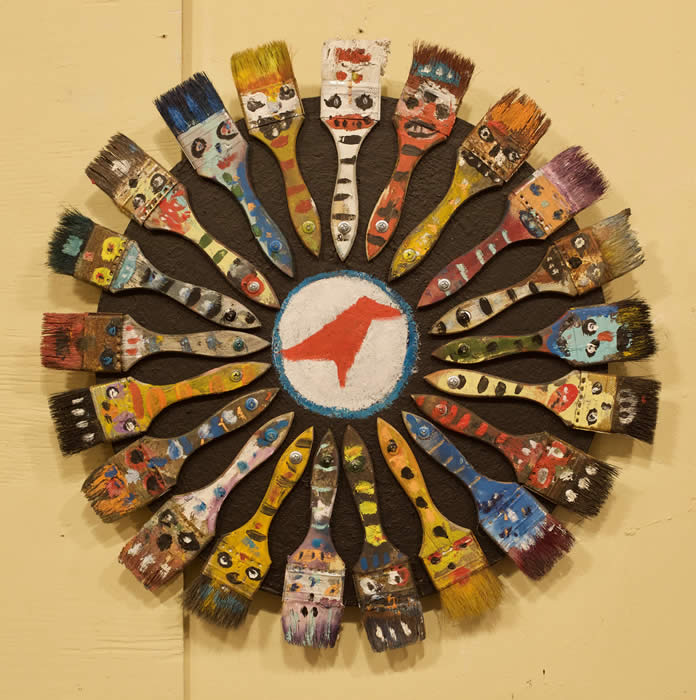 Red Bird Mandala---SOULD
about 25 inches circumferance
New art on the front page of my website every MONDAY!

Sky Dawgs---SOULD
oily on loose canvas about 7 foot by 34 inches
This painting is a reallll Beauty
for someone with a wall big enough
for these Dawgs to run on
email me at kelly@kellymoore.net
a few animals from a drive in the west
Clay Allison New Mexico Outlaw
Join my Monthly Art Newsletter for First Looks at New Art
stay away from the Road Less Traveled
Kelly Moore the originator of Multi-Crappia
Big Horn Sheep
clik hear to read & see bout our trip to South Dakota to photo wild horses...
heres a picture of me dropping a Dark Bird on Cadillac Ranch in Texas last month
the Return of the Tesuque Flea Market
BURROS Truth sayers of the Southwest!
clik hear to buy an art book for a christmas present
photos of Christmas Eve at Dark Bird Studio
clik four a new Picture of me at the flea market
clik hear and tale me what you think
come sea me at the flea
or drop by the alley and sea
kat fend off my paintings while
she whispers to
horses
thank you
for
getting off the main road (thats a DARK BIRD folks)
and looking at art by a guy
who paints at a
flea market
OR
sighn my guestbook and tale me what u think
s
sign the guest book if you want to leave a mark
the New Book..."Absurdity is my Friend"
back to the front page (more words & art)