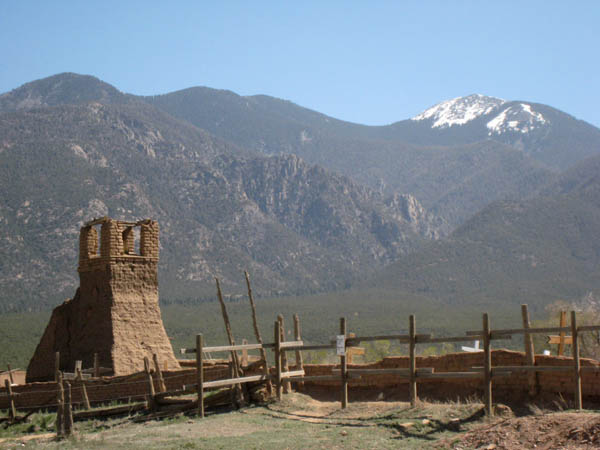 Taos Pueblo
last week
i bought a bear fetish
from Vernon at the Taos Pueblo
after he told me a story
bought fishing and drinking beer
with the bears on his land...
go by and see him ...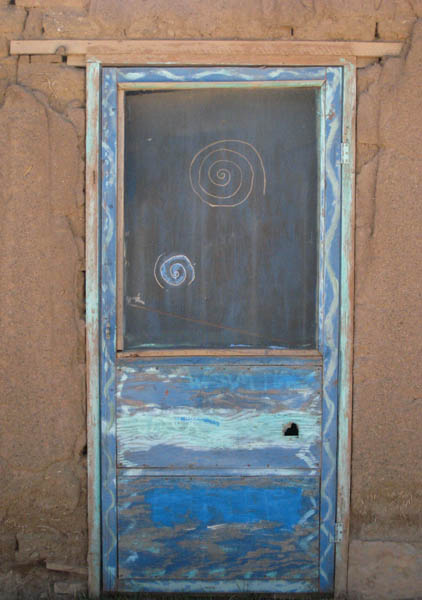 a door i saw at taos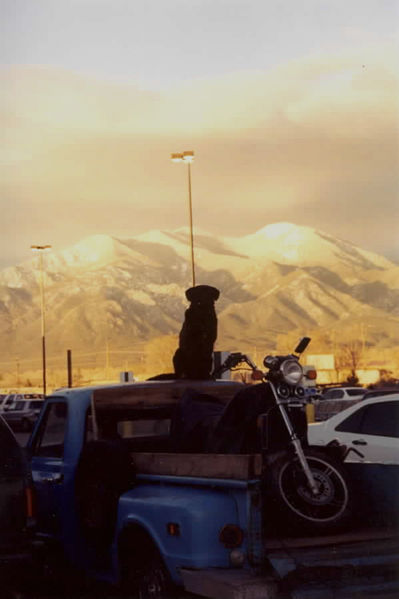 Pueblo Peak by Einar Einarsson Kvaran
Taos (IPA: [taʊs]) is a town in Taos County in the north-central region of New Mexico. In New Mexico, a municipality may call itself a village, town, or city. (See New Mexico local government)
Taos calls itself the "Town of Taos" and was incorporated as such in 1934. As of the 2000 census, its population was 4,700.
Being located close to Taos Pueblo, the Native American village and tribe from which it takes its name, it is also the county seat of Taos County. The name also refers to the nearby ski resort of Taos Ski Valley. The word 'Taos' means 'red willow' in the Tiwa language. Many people in Taos have experienced what is termed the Taos Hum, a noise whose source and nature are a mystery for those who claim to have heard it, and for which a variety of theories have been advanced. The lore of this phenomenon has become part of the appeal of this unique community which has many quirks and urban legends.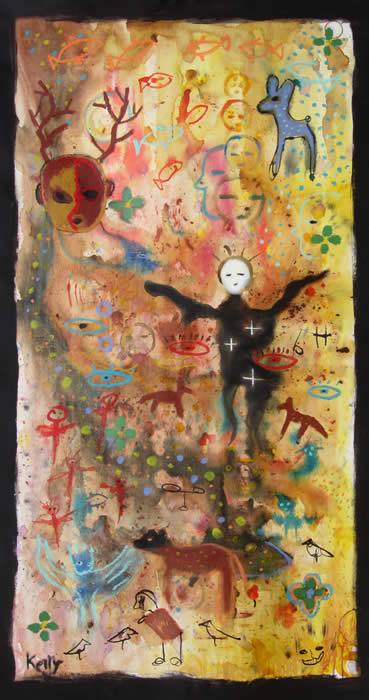 "Buck"
Taos was established following the Spanish conquest of the Pueblo villages.
During the 1770s Taos was repeatedly raided by Comanches who at that time lived in the plains of what is now eastern Colorado. Juan Bautista de Anza, governor of the Province of New Mexico, led a successful punitive expedition in 1779 against the Comanches.
After the U.S. takeover of New Mexico in 1847, Hispanics and Amerindians in Taos staged a mini-rebellion, known as the Taos Revolt, in which the newly appointed U.S. Governor, Charles Bent, was killed.
Beginning in 1899, artists began to settle in Taos and created the "Taos Society of Artists". In time the Taos art colony developed. Many paintings were made of local scenes, especially of Taos Pueblo and activities there. Many of the artists used Native Americans from the pueblo as models in often fanciful paintings. Some of the artists' studios have been preserved and may be viewed by visitors to Taos. These include the Blumenschein House. Influential Taos artists includeNicolai Fechin, R. C. Gorman, Agnes Martin and Bill Rane.
Other tourist attractions are the homes of Kit Carson, Governor Charles Bent, and Mabel Dodge Luhan, along with the Rio Grande Gorge and Taos Ski Valley. Twenty miles northwest is the D. H. Lawrence Ranch, (originally known as the Kiowa Ranch and now owned by the University of New Mexico), the home of the English novelist, D. H. Lawrence in the 1920s. By all accounts he loved the ranch high up in the mountains, the only property he ever owned. It is believed that his ashes are buried there at the D. H. Lawrence Memorial. Another novelist who lived for a while in Taos was Alexander Trocchi. Just outside of Taos in Ranchitos is the Martinez Hacienda, the home turned museum of the late Padre Antonio José Martínez.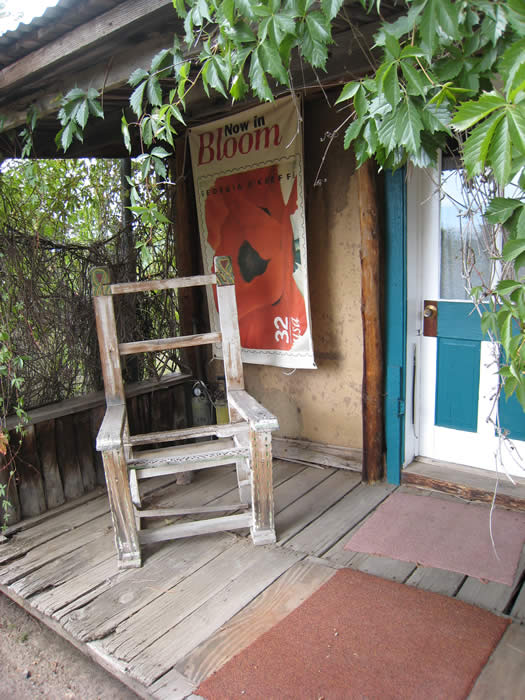 this is
the front porch of the home
of author/artist
DH Lawrence in Taos
you could stand on the porch
and view a view
that many on that path
have seen
before
the home was owned by patron Mabel Dodge Sterne Luhan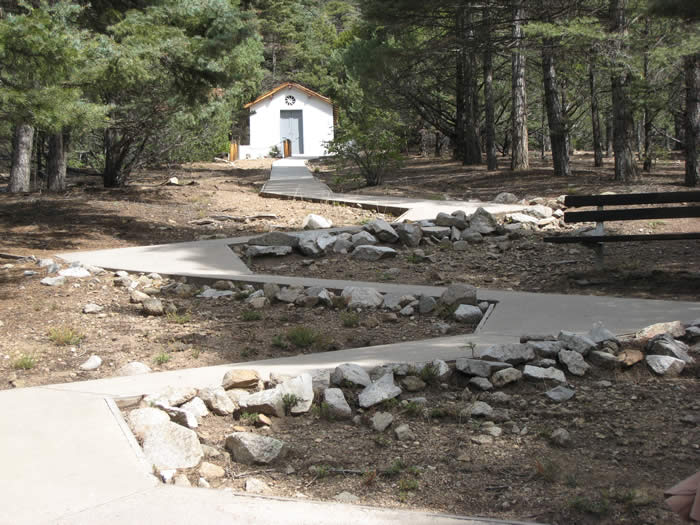 the path to the supposed final resting place of Lawrence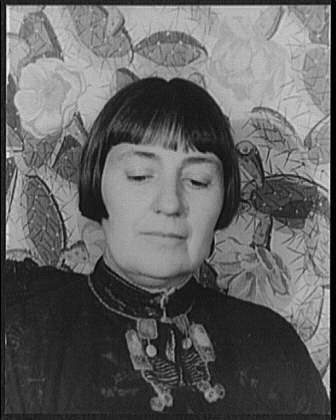 In 1919 Mabel Dodge Sterne, her husband Maurice, and Elsie Clews Parsons moved to Taos,[9] New Mexico, and started a literary colony there. On the advice of Tony Luhan, a Native American whom she would marry in 1923, she bought a 12 acre property. Tony set up a teepee in front of the small house and drummed there each night until Mabel came to him. Maurice bought a shotgun with the intention of chasing Tony off the property, but he was unable to use it, and simply took to insulting Mabel. Mabel sent Maurice away, and supported him with monthly payments until their divorce four years later.[10]
D. H. Lawrence, the English author, accepted an invitation from her to stay in Taos and he arrived, with Frieda his wife, in early September 1922. He had a fraught relationship with his hostess and wrote about this in his fiction. Mabel later published a memoir about his visit entitled, Lorenzo in Taos (1932).
Mabel Dodge Luhan died at her home in Taos in 1962 and was buried in Kit Carson Cemetery. The Mabel Dodge Luhan House has been designated a national historic landmark and is a historic inn and conference center. Natalie Goldberg frequently teaches at Mabel Dodge Luhan House, where Dennis Hopper wrote Easy Rider.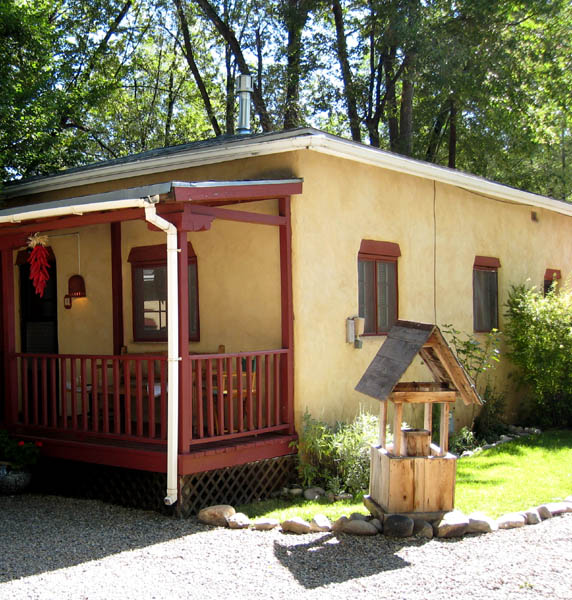 this is one the places
i have spent some nice
quiet time
in taos
drawing and writing....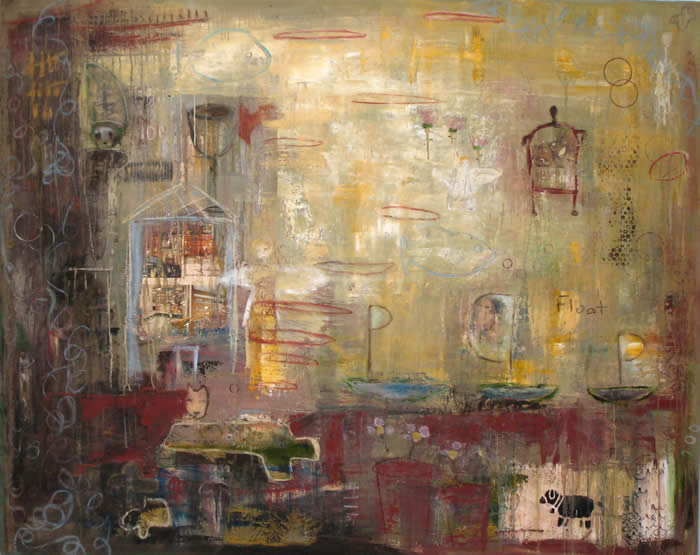 and a painting
that came out of that
trip spent
listening to the hum
of
taos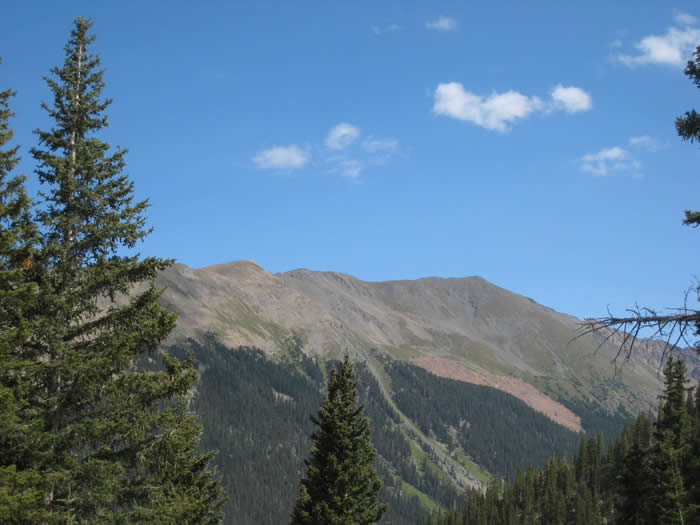 This foto is of Wheeler Peak. It is the highest peak in the U.S. state of New Mexico, with an elevation of 13,161 feet (4,011 m). It is located in the northern part of the state, northeast of Taos. It lies in the Sangre de Cristo Mountains, the southernmost subrange of the Rocky Mountains.
Named in honor of Major George Montague Wheeler (1832 - 1909) who for ten years led a party of surveyors and naturalists collecting geologic, biologic, planimetric and topographic data in New Mexico and six other southwestern states. The mountain was formerly called Taos Peak, after the nearby town of Taos, New Mexico.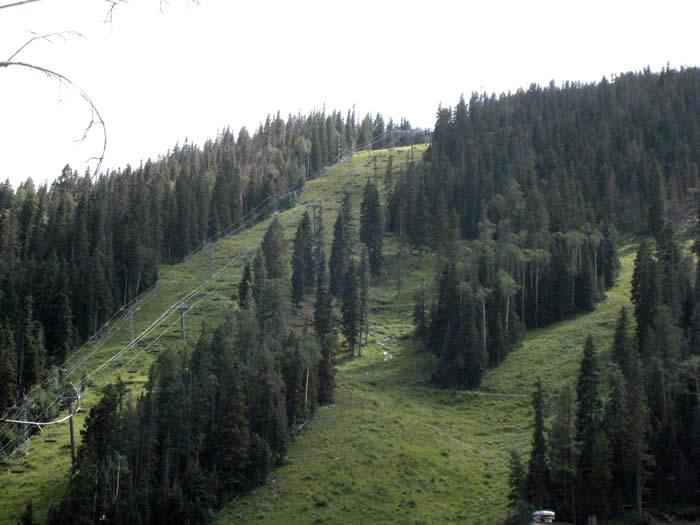 These are the ski runs at Angel Fire Ski Basin near Taos that allows visitors to
go to the top of the mountain for a view.
I took a book of Poetry by Jim Harrison to the top and read for a few hours.