the Dark Bird Palace (the Shed)
Absurdity is my Friend (million selling NYT best sellr 4 sure)
Visit me at the Tesuque Reservation Flea Market
(march thru November).....
Visit me at 620 Canyon Road until the flea opens up again in spring 2014
New Art here on the front page Evry Monday til i croak (BOOKMARK ME)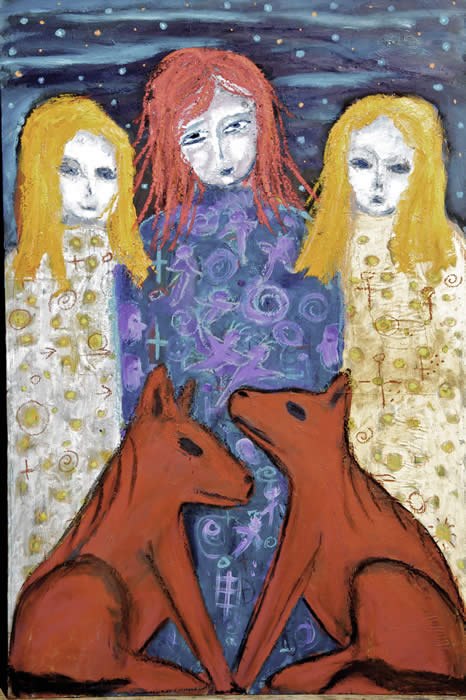 Protectd by Fate & Destiny
approx 34 x 47 oily on bord
i saw blue boy
pulling his wagon in an arroyo
as i drove to the flea market last week
he was picking up rocks
and hauling them back
to the lava tube that leads back
to the volcano
the next day i saw Lost Child
as she played with the rabbits
near my shed
she askd why blue boy
pulled rocks around in his wagon
i tould her i didnt know but
i would ask him the next time
i saw him
Lost Child wants a horse
she tould me the wild horses
that run behind the volcano up the rio grande
were her favorites and that if she
had to choose which one
she wanted the one
that had never had a hair cut
When Dharmageddon pulled up
in his beat up old van
i asked if i could see his new crystals
that he had for sale
and he sayd maybe i could later and that
he had found a
treasure cave for crystals that no one
could ever find
the rest of the day
i painted until i saw a dark bird land on my shed
with something large in his beak
when i got close i realized
it was a turquoise ring
but im not sure if it was the
right ring size for the corvid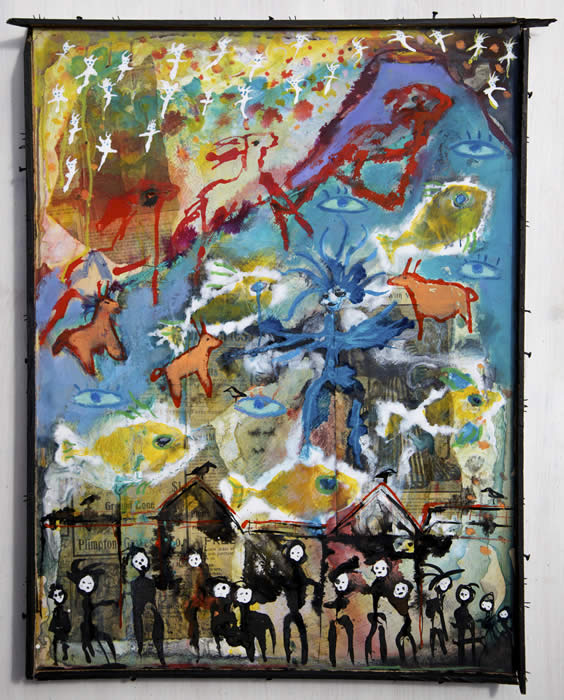 Flea Market 2013---SOULD
im not an outlaw or a crook
but when the checkout lady
at the grocery store asked me
to sign the e-pad while she yawnd
that far far far away look
something snappd in my head
like the beautiful crackling sound
an ifone makes
when you run over it in a parking lot
so i drew a dark bird
on the signature line
and she didnt notice
and matter of a fact
no one has noticed
in the last six months
as i launched my dark bird revolt
while practicing my drawing
and who knows
the dark bird i did at the gas station
this week was so good
i may start practicing
my dead cowboys
next
3 more new paintings
on my art page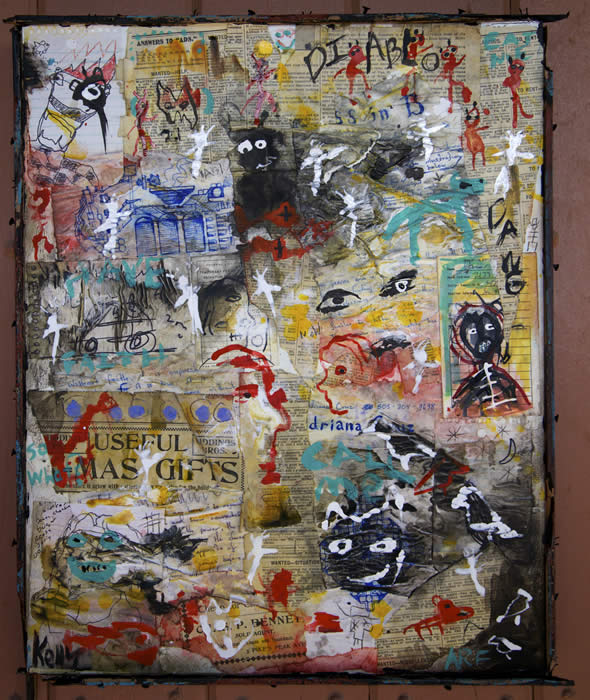 Diablo---SOULD
21 x 16
ancient anazazi holy site
spiritual to the bone
a quiet whispering wind
honoring the ancient ones
on a late autumn afternon

in the far far distance
i see a puff of dust hurtling
towards me like a blue spirit
something mystical is happening
i feel as though i have
been chosen for something
special

when the vision arrives
it is in the form of a
blue Dodge mini van
with a Utah licence plate
from which 5 small blond demons
tumble out screaming
MOMMY MOMMY LOOK AT THE FORT
LOOK AT THE FORT!
my ears begin to bleed
my brain explodes
my eyes pop out
im having an out of body experience
HAROLD GET THE CAMERA
I THINK THERE ARE
INDIANS BURYD HERE
im dizzy
im nauseous
what is happening to me?
is this a ritual?
i hear voices from
the great unknown
FACEBOOK THIS MARGE
FACEBOOK IT
and now i begin to
projectile barf
i am in the throes
of a white mans vision quest
i see white ants
crawling all over
the ruins
KIDS DO YOU WANT A DING DONG?
i now lose control of my bowels
the lil white demons
have consumed me
and i am now shitting
pure cosmic consciousness
MISTER YOU LOOK LIKE YOU
NEED SOME OF THAT
24 HOUR ENERGY DRINK
the elders watch as the
little demons run furious circles
around the great kiva
waving their arms
in small tomahawk chops
THATS SO CUTE BOYS THATS SO CUTE
and then its over
just as quickly as it began
the teachers from the blue spirit disappear
in another trail of mysterious dust
and i am left cleansed
i have been purified
i have seen the truth
i am now
a white mans shaman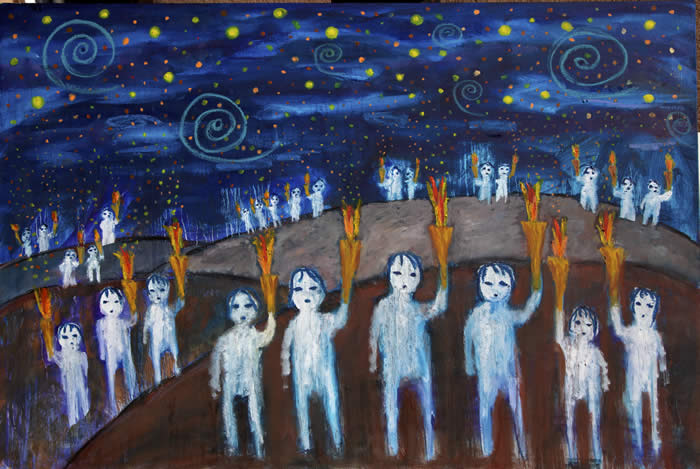 The Light Holders---SOULD
(clik hear four won moore paiintn)
lawrence welk on a saturday nite
im watching white people
so white
that all their rhythmn
is in their hair

the naked assasin returns
lost child is found
the dead cowboy
rounds the corner
and 14 billion years later
im still painting the dream
of the misfits in the desert

i found a hole
in the corner of my shed
got out my flashlite
to look down inside
where i saw a mouse
sitting at a computer
watching kat videos

i stapled a headless doll
to the outside of my shed
put the head on sharp stick inside
hoping to achieve
the golden seal of approval
from the better flea & garden magazine


you know your over the hill
when a kid passes you
on the off ramp while hes texting
and still has enough time
to flip you off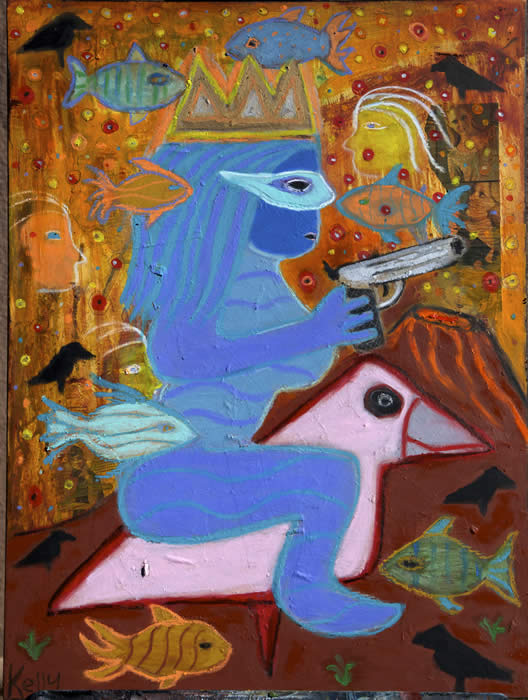 the Naked Assasin---SOULD
24 by 30 multicrappia----clik hear for two more paintngs
in a dream
i was tould to tell you
to whisper this
to yourself
as you read it...

we're not lost
just born with galaxies
shaped like question marks
in our minds

your memory
is water
moving thru your body
into a vast ocean of stars
that flows from a river
of your dreams

the more you feel
the higher the concentration
of gold you will find
in your blood

there are always
two memories standing close to you
protecting you
when you need them
you know who they are
and they have always
been with you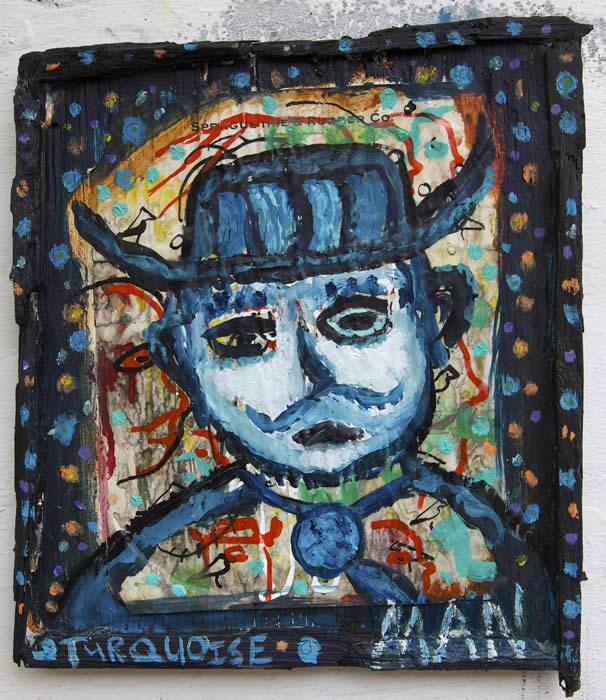 The Turquoise Man---SOULD
9 x 12 mol multicrappia on olde borde framd fleabilly style
the turquoise man
the hat man
the scarf lady
the spice guy
the beef jerky man
the jewelry lady
the knick knack woman
the rug guys
the zuni jewelry lady
the ceramics man
the bead man
the abstract art lady
the junk boys
the tibetan art guy
the precious stones girl
the african dealers
the basket ladies
the taco guys
all of us on the tesuque reservation
at the flea market just doing
our thang...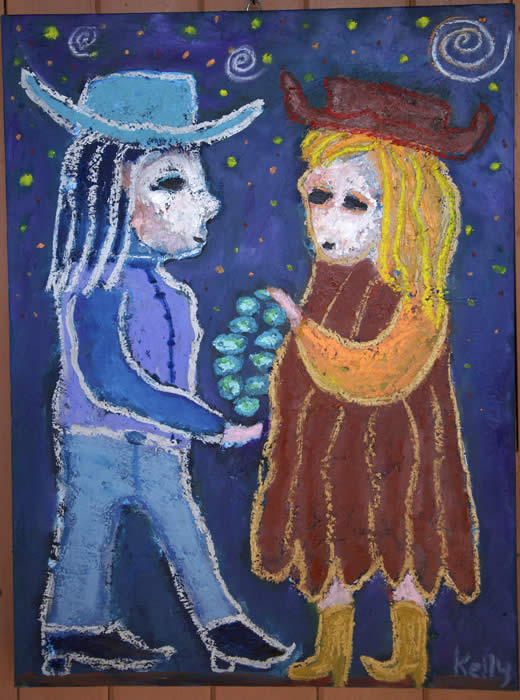 Turquoise Lady
23 x 31 oily on multicrappia
so many different aspects
to my vision of the world
that ive been accused of being
43 different dark birds
what can i say?
its true
i am multicrappia
we prolly all are
if my paintings were all
joy and bliss
you wouldnt have a chance to see
the worlds vast unlimited supply
of vinegar and piss
and really how can you tale
the light from the dark
without it?
clik hear four another paintng or too or tree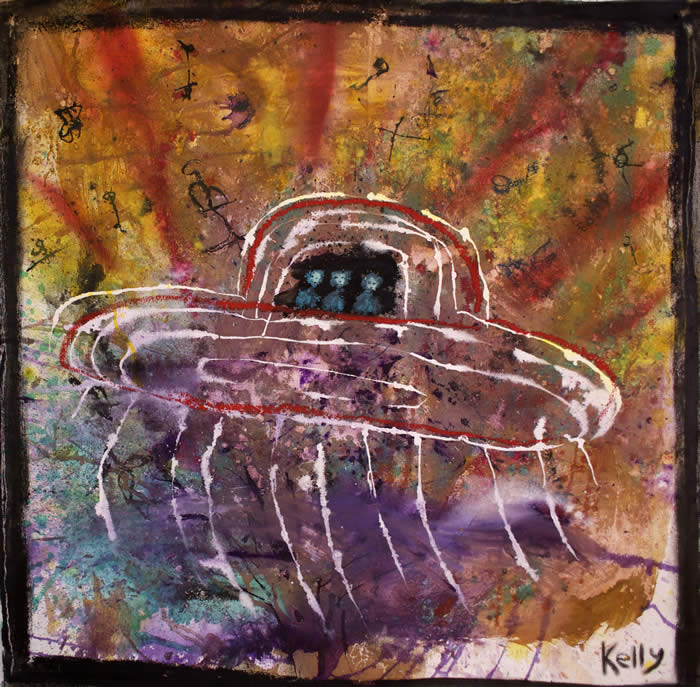 UFO--SOULD
big messy canvas
tomorrow is the monthly newslettr with new art
and a story/write with Kats fotos....
cant really beat it unless you dont like art
clik hear to join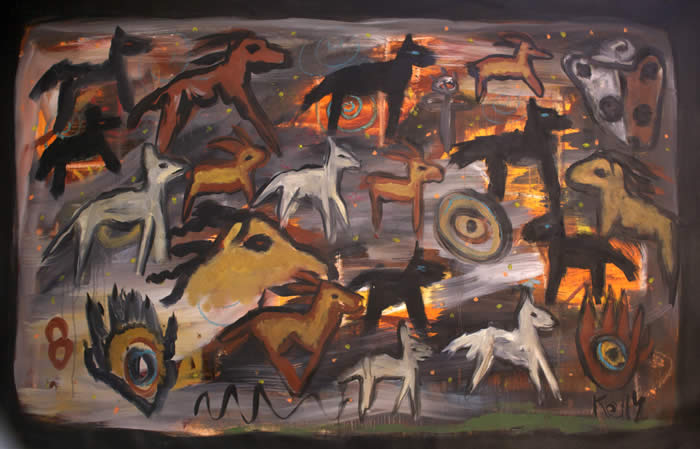 Wild Life
big messy wild oily on loose canvas
(clik hear to sea a Dead Cowboy GRILL)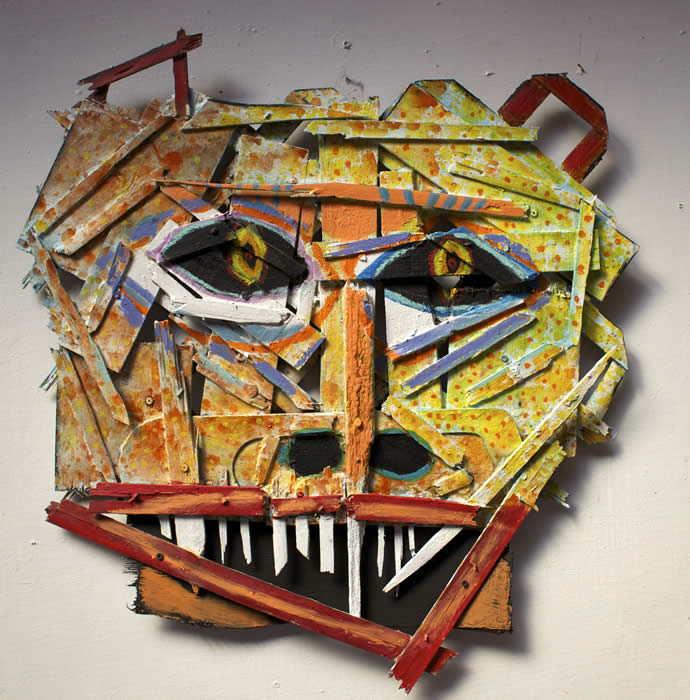 Mountain Lion--SOULD
sept 30 2013
this week
this big kat is going
to find the right home
with the right person
(fierce, passionate, adaptable, relentless & loyal)
find two other worthy desert remnants
(free thinkn weeds that do not cower from the light)
and one more thing
if folks cant see your light
sometimes you have to bring
a hammer
(flea un wisdom from the dark bird palace)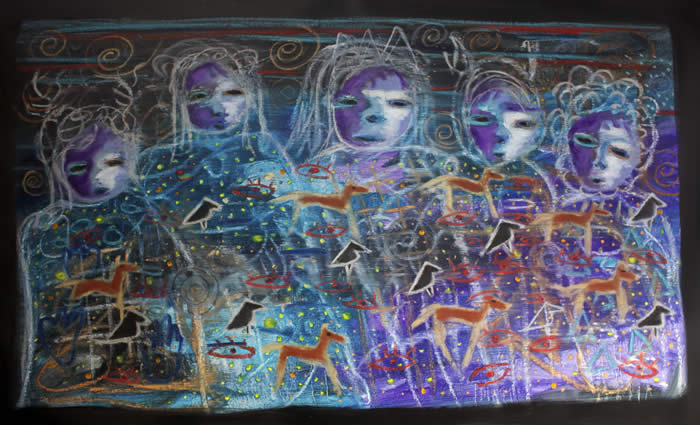 sept 23 2013----animal cosmos---SOULD
big oily on canvas
a vendor at the flea
who sells metal grills
tales me he carrys a few in the shape
of the arkansas razorback football mascot
just because arkies go gaga over
anything related to their sports team...
case in point
last week a heavyset lady walked up
saw the grill
frantically lookd around for her husband
and when she couldnt find him
stepped into the middle of the aisle
and yelled at the top of her lungs
"GENE I FOUND A F**KING PIG OVER HERE!!!

in protest to all the
serious...successful...important artist
on the innernet these days
i bought a small wooden fish
at the flea this week
that i carryd it around all weekend
under my arm
just to certify that i am indeed
a very very very serious
artist
(not to mention very very important)

forget about
Absurdity is my Friend
desperation is the mother of
everything i am

shooting the bull at the flea
one artist tells another
his painting looks like a
christmas tree on fire
and recommends he adds
some "brown balls" to the tree
(this suggestion creates
an interesting moment of confusion
as the painter was gay)

sometimes i think my shed
is a time warp machine
where people show up from another life
sometimes i think its
a mysterious shack in the desert
where an weird guy makes art
other times i think its
a confessional booth where people
pour out their hearts
and other times
it appears to be a deeply disturbing place
to some people who walk by
looking as though they had just been tould
they had to eat liver and onions for the next year .....
i suppose
its many things to many people
but mostly its a mirage that will be here
for a very short time and then
fade into the memory of the desert
just like all of us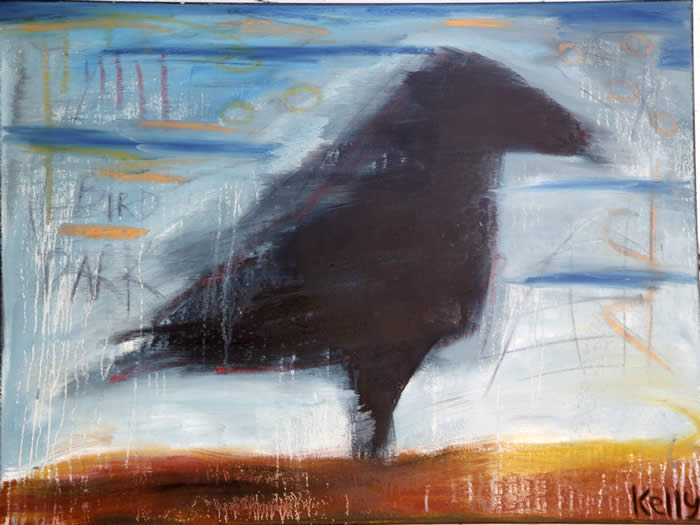 Sept Dark Bird---SOULD
30 x 40 oily mess on a real live stretchd out canvas
i dreamd i heard
someone digging
in my front yard
and then there i was
standing buck naked
beside the apricot tree at 2 am
looking for a man
with a shovel
all this witnessed
by a stunned raccoon

the next day
a man left a broom
& an axe at my shed
telling me that
i could either
clean up
or make a killn
depending on my mood

later that night
my bed was on fire
or at least i could smell
that sizzle & stink
of burning electrical wires
that somehow
had been implanted
not into my brain
but into my mattress

i scratched at
the smoky bed
like a dawg kicking his leg
as he chases
a rabbit across
his field of dreams

the next day
i postd a sign out front
of my house that sayd
"Dream Factory & Pixture Emporium
dark birds welcome
no diggn with shovels at night
no fires allowd inside
and all skunks
must check in
at the front desk"


Alchemy Birds
big oily collajed bord
the internet is collapsing
into big box websites
just like main street in amerika
is losing out to wal mart & taco bell
so thanks for visiting a website
that isnt listed on wall street
or that doesnt collect
your "information"
and there are no annoying pop up ads
on the side of my page
and if you really want
get off the main road
come out to the flea market
and visit the dark bird palace
where a real live jack ass
paints with his tale
Unidentified Flying Dawg--SOULD
sept 2 2013 ---oily collaaged bord 48 bye 32
why do we think aliens would have
a face that resembles
ours?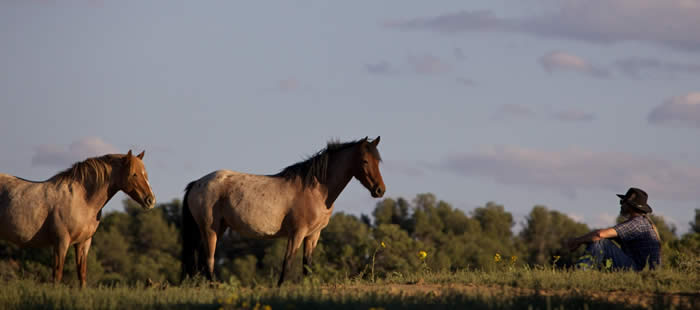 Talking to Horses
foto by Kat Livengood
The Way
anxiety attacks
panic & midnite fears
while wrestling
with an unrecognizable shape
in the dark
that once finally pinned
i realized
was me

seeking comfort
i read the ancient chinese book
of wisdom
the tao de ching
and tryd to move like water
but the only liquid form
i resemble is
lava flow

the next day at the shed
i tould a guy
"i was 14 billion years old"
which i am
but he sayd
"no your not"
a dead end at the
metaphorical crossroads
of a humans frontal lobe

so i tried being centered
as the Tao preaches
but it made me nervous
being in the middle
so i moved to the very edge
of things so i could keep
a careful watch out
just like all good dark birds
do

the next day
i tould a lady
i was a full blooded
anasazi space traveler
and the dark bird palace
was my space ship
she said that wasnt possible
i told her i had
the papers
to prove
it

the tao says
those that say
dont know
and those that dont say
know
which leaves a chronic jabbermouth like me
in the
"he dont know crap place"
according to the
author of the Tao
who wrote almost
5 thousand words

the next day
i lost my temper when
a lady changed her mind
7 times about buying a painting
prompting me to remember
that being peaceful
was the wise way of the tao
but upon reflection
i realized if Lao Tzu himself
were sitting in front of me
i would have punched
peaceful jackass
in the nose


it appears i may not be
good Taoist material
afterall
lots of painting if you clik this button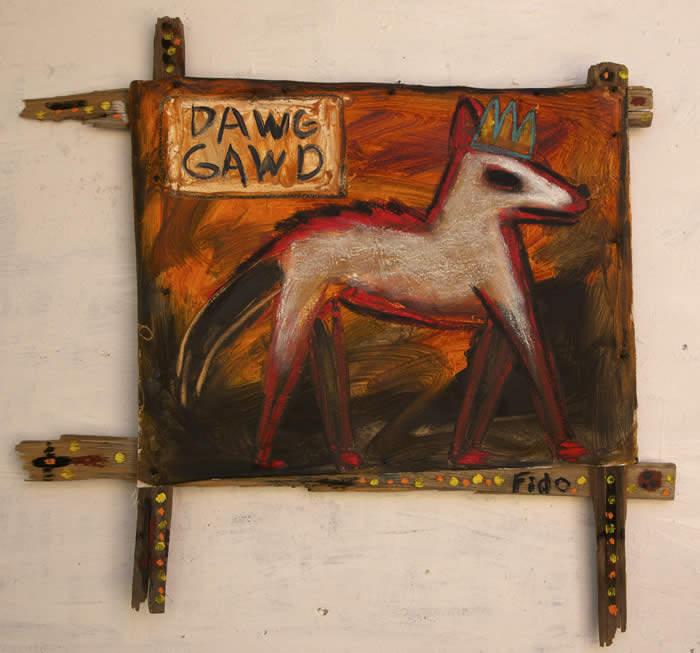 Dawg Gawd---SOULD
27 x 24 oily canvas stretchd fleabilly style
the guy who
looked at my art
with an eyeful of disappointment
just walked by
proudly carrying one of those metal armadillos
with a bobbing head
foiled again
by yard art from juarez mexico
my coffee pot serves me
my computer commands me
my vacum cleaner annoys me
they all plug into the same electrical socket
what the hell is behind
that wall?

the sound of my shed
looks alot like
dark birds
flying over
my head

"careful with
forgiveness and charity
just look at the guy
who started all that crap
dirty, homeless and wondering
the desert with twelve hobos
eventually dead as the doornails
they hung him with"
(over heard at the flea)

if one more person
asks me how much a painting is
and then tells me
they have no money
im going to drill a drywall screw
right thru my back molar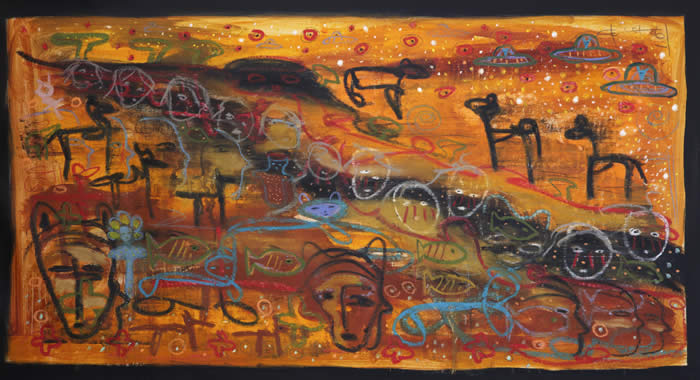 Secret Language--august 12 2013
big oily
relax
this wont take long
you may feel a little pressure
maybe some discomfort when we make
the first incision on your neck
but once we remove
your head
you wont feel
a thing


i saw green fish
walking up the mountain
red deer running across
the blue sky
and i was everywhere
all the time
covered in white
from top
to bottom


my brain
my body
my life was completely destroyed
the first time i saw her
i knew i had a problem
and inside that problem
was a beautiful flower
blooming with thorns
my answer was to wear
an astronauts suit
with a breathing aparatus
and heavy gloves
so as not
to be infected by the
dangeritus passionata
feline flower

it was powerful & passionate
an epiphany of stars crackd open
where my head used to be
i felt alive
but also understood
how easy dying
might be
some might call it
being born again
some might call it
a hallucination
some might just say
thats crzy sh*t
but that night
for a few brief moments
i was caught in between
the here & there
the real & unreal
the seen & unseen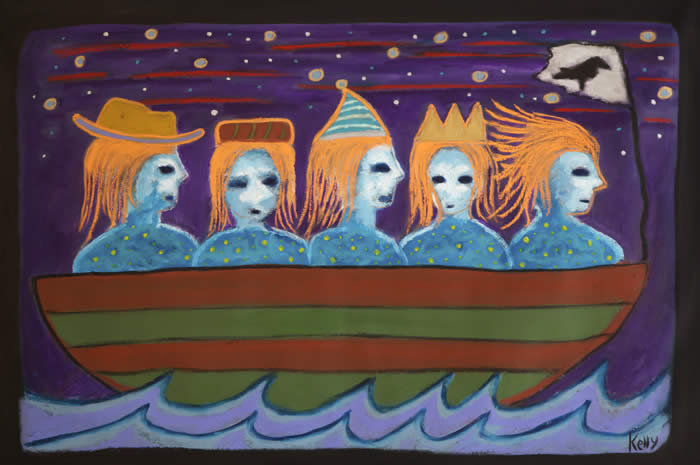 Monsoon Sailing--SOULD
big oily on canvas
august 5 2013 bout 10 am last nite i saw 4 raccoons
climbing my fence under the moon
sometimes i wonder what they think about cars
cuz when we git in them
the move like an animal so maybe they think
our cars are alive?
tomorrow is my new art newslettr with great fotos by kat
so join up ifn ye aint already on my newslettr from the desert
once a month blast of art and photos and my usual bit of
fleabilly
(roger 10-4 that whats your 10-20?)
dont know not sure but someone gave me the stearing wheel
what a fiasco that is
he said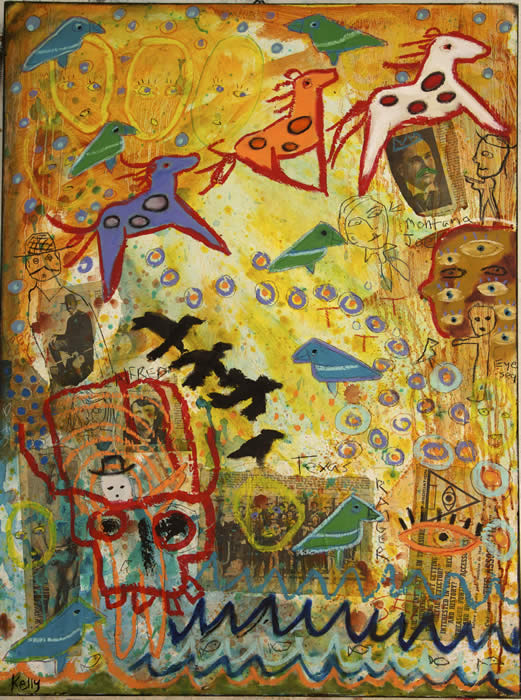 Texas Rangers---SOULD
24 by 31 mol oily mess on bord
in a cell fone kinda world
im always lookn for a payfone
on a corner
just on the off chance
that i will find a lucky quarter
in the change slot

Dead Cowboy Flea Market---SOULD
36 by 12 oily on a bord (im done with dead cowboys for a while) ((ithink)
when i was a young boy
my grandmother used to ask me
with her sleepy eyes
"how did you sleep last nite?"
a puzzling question
for a 10 year old boy
who slept as easily as
he breathed


last nite i awoke
in some unidentifiable
highly recognizable pain
which is often gone
like a dream
if i look out my window
into the medicine
of the blue moon

i could see
the mountain top thru a
leaf shaped vignette
in the cotton woods
and what i saw
was three dark dawgs
racing to the top
of baldy peak


the leaves shimmered
in the sweet breeze
and i lost sight of them
wondering
if they got there
and if they lived
on the moon

i woke again later
to the dark dawgs howling
on baldy peak
maybe they cant sleep either
maybe they have
the dark dawg blues
maybe i have
the dark dawg blues

i dozed off to their music
and became one of
the dark dawgs
we howled at the moon
and chased around
on the lunar surface
in the cool night air
and i slept like a pup
the rest of the
night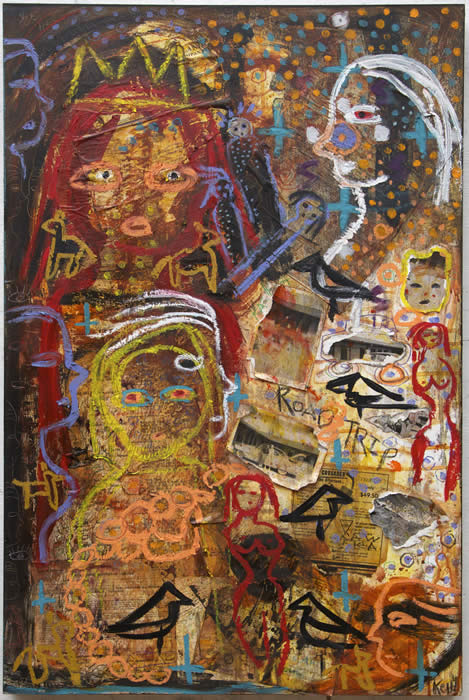 Road Trip (sould)
small multicrappia on wood
clik hear to sea other new painting

Dont Look Back---SOULD
big oily mess on big canvas
two fires bookend
the flea this year
playing us like
a smokey accordian
inhaling life
exhaling smoke & ash
the last sad sounds
of trees & animals

my beautiful screwgun
slipped on the hard wood
ricochetting a screw
up thru my eye
when i pulled it out
dark birds poured out of my head
onto my painting


i dont watch or read
the news anymore
if i wanna know
the weather forecast
i look at the mountain
if i wanna know how
the economy is doing
i will ask someone
on the front row how their weekend was
and if i wanna know
about polyticks
i will watch the finches
fight over nest space
in my shed

flea market artist 101
u have a better chance
of selling art to a dark bird
than a woman
wearing capri pants
with a round hat
on her head

as i inhale
the dead world
floating in smoke
i wonder if the bits
of incinerated life
will find genesis
in my lungs
and a sneeze could be
their big bang?

is lightning bright
because it is a rip
in the cosmos
behind which lies
pure light
pouring into
our dark cave?

finally the skies opened
pouring down fire retardent
cures for insanity
one new religion
and several new life forms
in a puddle next to my shed
but when you get right down to it
sometimes a drought
maybe nothing more
than bad luck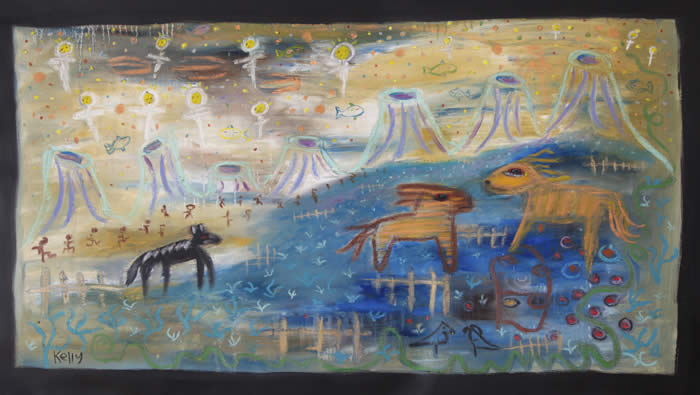 No Fences--SOULD
big oily on cavas
July 8th 20.......(what year is it anyway?)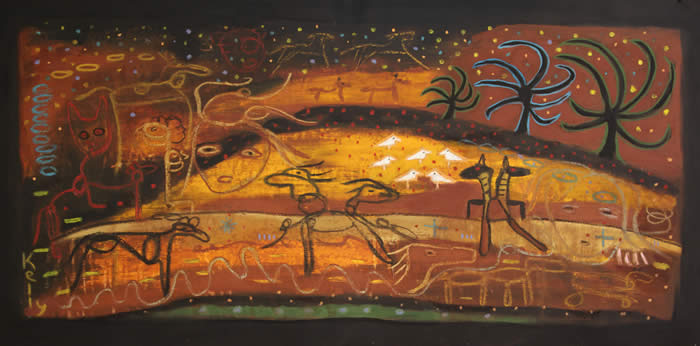 Windmill Trees---SOULD
big oily canvas
finished on febuary 11 1894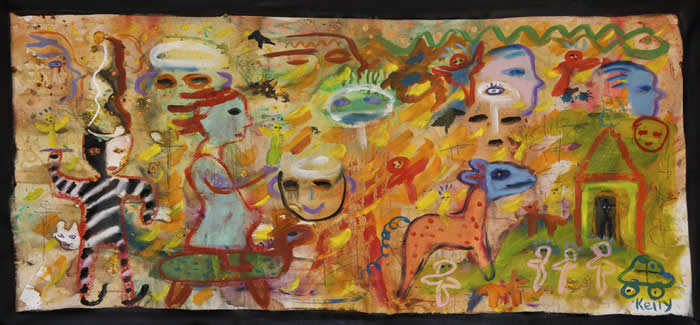 Turtle Ride---SOULD
big oily canvas
"i didnt do nuthin..."
the melancholy song
of a young girl
melted into the backseat
of a cop car
outside the store

inside the store
zombie pandemonium
one lady is throwing multiple bags
of cheese puffs in her cart
a fat guy wearing a tee shirt
two sizes too small
is stacking boxes
of frozen burgers in his cart
and somewhere in the store
i hear the distant scream
of a squeaky wheel

out of the corner of my eye
i see a red fox
dash across
the detergent aisle

zero calorie colas
hydro electric tonics
hot pink beverages
caffeinated sugar drinks
flavored water with slick labels
and one tiny section
dedicated to
"water"
our bottle says
"product of local
municipal water source"
(might as well
drink out of the
toilet)

we buy it anyway
just so as to
not to be noticed
by the zombies as we
attempt to leave

up front
the only way out
is thru computer check points
where we get in line
with the other zombies
and pay the machine
bag up the water
give ourselves a receipt
and thank ourselves
for shopping there

(as we leave i see
a raccoon peeking out
from behind a stack
of canned meat)

two bras
a pretty blouse
various jewelry
and a pair of high heeled shoes
are now on the cop cars hood
when i look inside
i see a young deer
looking forlornly
out the window

we drive off with our
"water"
and i wonder about
the squeaky wheel the rest
of the night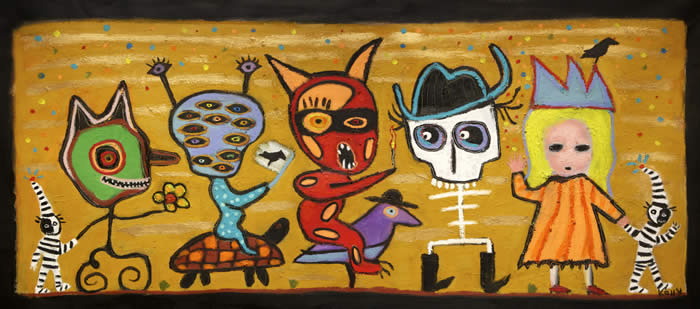 Lost and Fire Starter
big oily mess on canvas (sould)
tomorrow is my monthy newslettr
with lots of new art and photos from the desert southwest...
(join above if u like this sorta crap)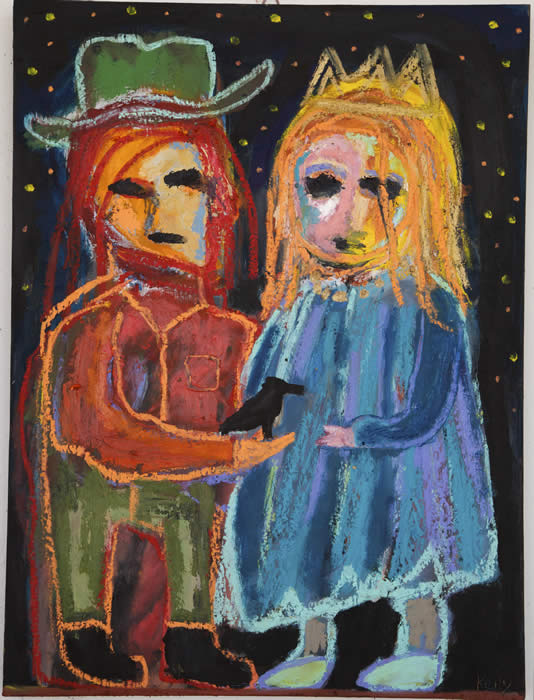 The Present---SOULD
oily on wood about 31 x 24 inchesesesss
finished winter of 1623 in Jamestown where i lived in a cave until i met a cherokee bride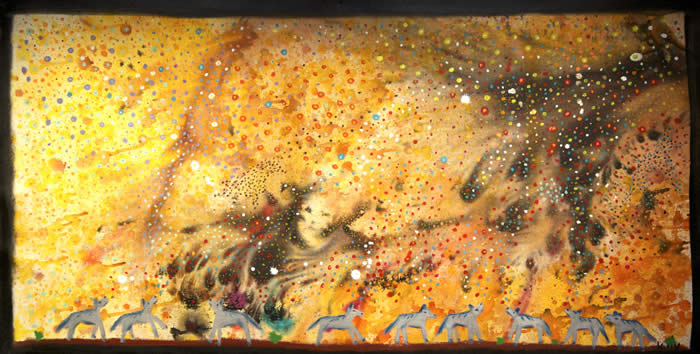 A Desert Dawg wonders about the Cosmos (sould)
big oily on loose canvas
its not that i dont care
what people think about planets
or the millions of galaxies in the sky
or even the color of the stars
its just that i mostly wonder what the desert dawgs think
when they look up into the cosmos
while they are standing in an arroyo
barking at the moon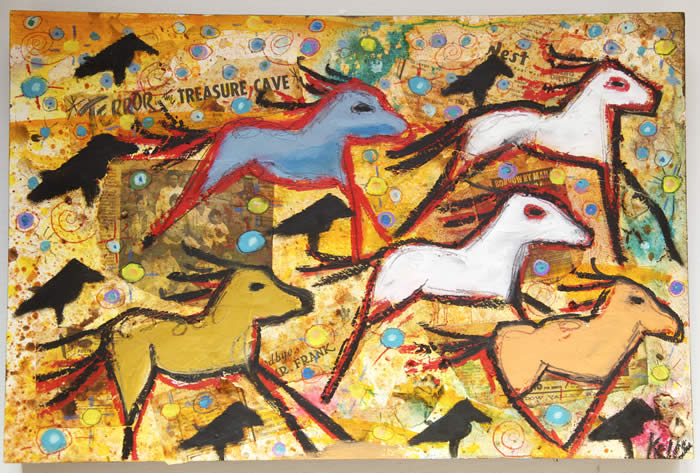 june 3 2013----Terror in Treasure Cave---SOULD
oily on wood
lots more new art by clikn rite hear
mariachis everywhere
in the back seat
while filling up gas
going to the restroom
even at my bedside
when i woke up


in a dark room
at a cheap hotel
my brightest memory
covering ourselves
with liquid sulphur
like sexy devils

thai food, indian food,
mexican food, fancy breweries,
italian noodles & vegan eateries...
it was the mariachis
extolling the value
of love and bravery
that led us to Dennys

a lady with a german accent
who did a white glove test on her table
while mumbling
"they can do better than this"
moved in right behind us
where i heard her inspect
my long hair for ticks

no talking just eating
the wirey husband
wearing black rim glasses & a fedora
voraciasly ate panjakes & eggs
with sausage on the side
as though chlorestoral
was the cure

my healthy heart dinner arrived
a leafy green salad
swimming in an ocean
of white dressing
with a boat of bacon
on top

that night in a dream
the old man
turned around at the table
staring thru his glasses at me
dismissively uttering the word
"hippie"
my worst nightmare

when i awoke the next morning
the mariachis were still playing
but willie nelson had joined them
singing On the Road again
a hint to get the hell
out of town

taking the wrong road home
we tumbled a thousand feet
off the side of a mountain
landing on wild horse mesa
where the mariachis dusted
themselves off and began
playing a lovely song
about the beauty of nature
prompting the mustangs
who were wearing blue sombreros
to rise up on their hind legs
and dance a
final dance
with us

join my monthly art first look and a story from the newslettr by clikn rite hear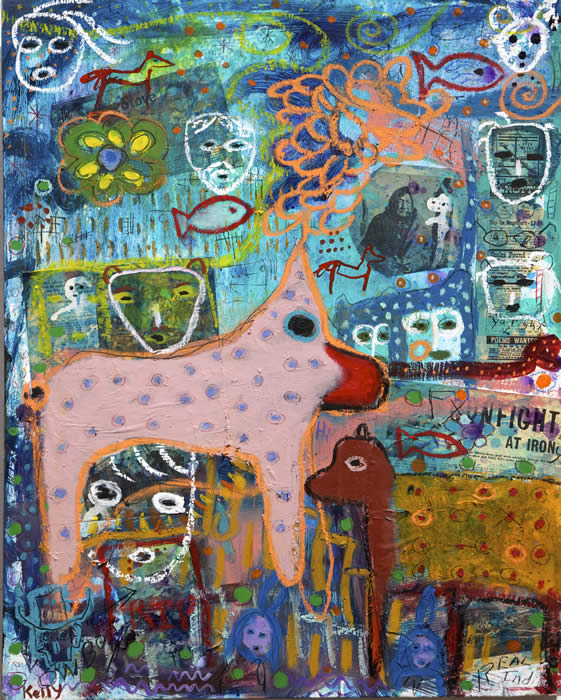 FunFight--SOULD
oily on wood
clik hear for the best selling world famous million seller book here about my art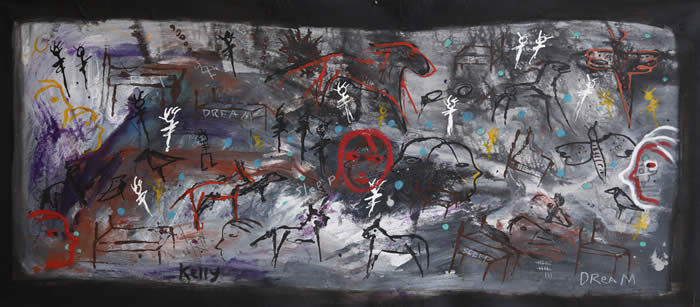 Raw Vision---SOULD
big multicrappia mess on canvas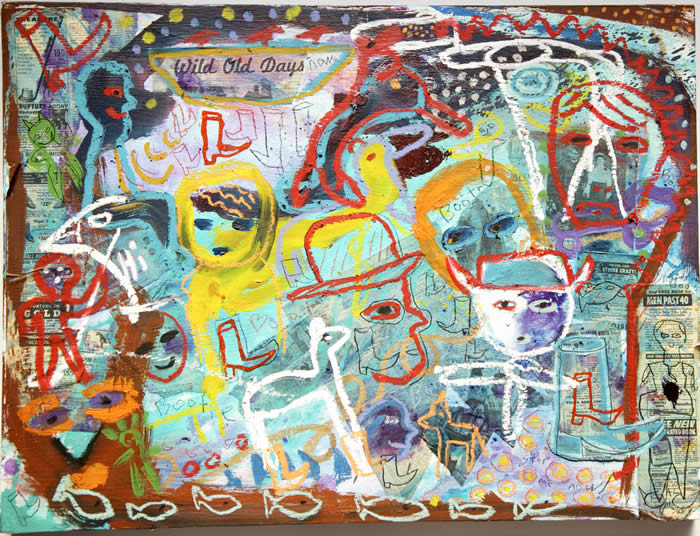 Wild Old Days
oily on board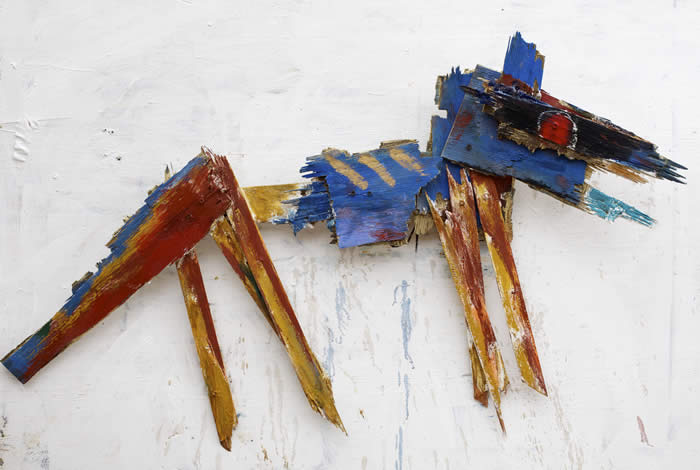 Rez Dawg
about 4 foot long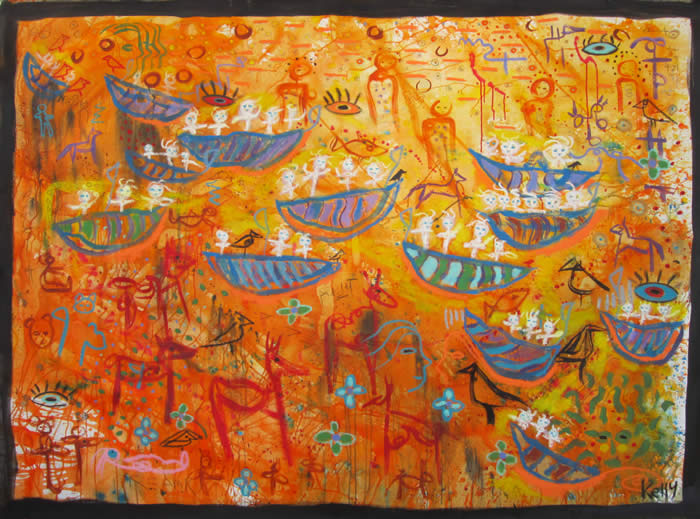 May 22 2013----BLue BoAts---SOULD
is real big bout 6 foot by 9 foot
oily mixd up mess
some people dont think
my jokes are funny at the flea
but today the tv station in my head
is tuned to Hee Haw
where the audience always laughs
and the music never stops
earning me the reputation
of the funniest flea market painter
in the world

if someone doesnt save me
im going to do
what everyone else does
in the end

i sit down after the show
and pour a tall glass
of low fume paint thinner
mixed with a tiny bit
of red cadmium
with a chaser of varnish
careful not to drink
so much that i become
a sad caricature of yet another
drunken stand up comedian
banjo playing painter
at a flea market

returning to my easel
Roy Clark and Buck Owens
break into a banjo jam
picking and a grinning
while i paint a brilliant chicken
which we will have for dinner later
while watching Ricardo Montelban
explain the wonders of corinthian leather
in his Chrysler Cordoba

a commercial break interupts Ricardo
singing that
"for the time of our lives"
i should get a camera
so i can remember all the crap
i cant get out of my head
40 years later

i begin to paint
three red finches
sitting on a horse
contemplating their existential fate
when Conway Twitty breaks in
with a song of hard luck and lost love
that breaks my heart
and moves the birds so deeply
that they put on their tiny cowboy hats
and begin swaying back and forth
in a line dance
on the horse

while i weep softly
at the beauty
of the red finch line dance
Vanna White begins moving slowly
from one painting to another
simply smiling and pointing
at the art
returning all promise and hope
to my life despite protest from
other vendors that she
is an unfair advantage
which i explain i will need
to make it this year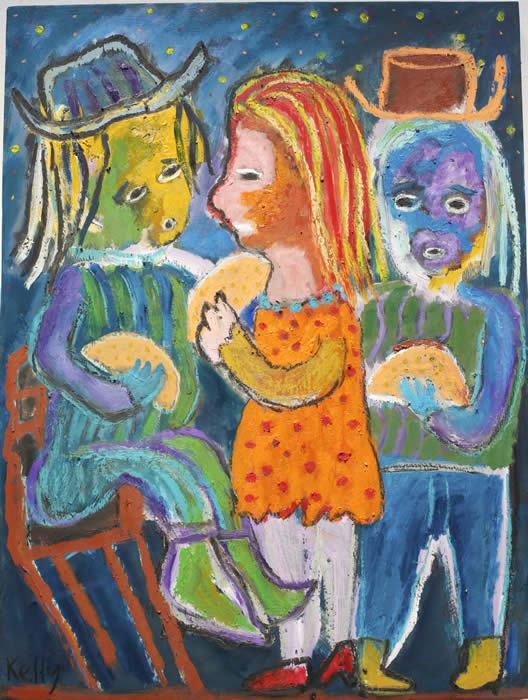 Eating Tacos at the Flea
SOULD
(fancy website design done by me and copyrighted by me so no one can steal my complicatd codes)