Visit me at
the Dark Bird Palace
821 Canyon Road (Friday -sunday)
New Art here on the front page Evry WEEK til i croak (BOOKMARK ME)
November 2019
if you cant come by the Dark Bird Palace check out my
store link for lots of art....HERE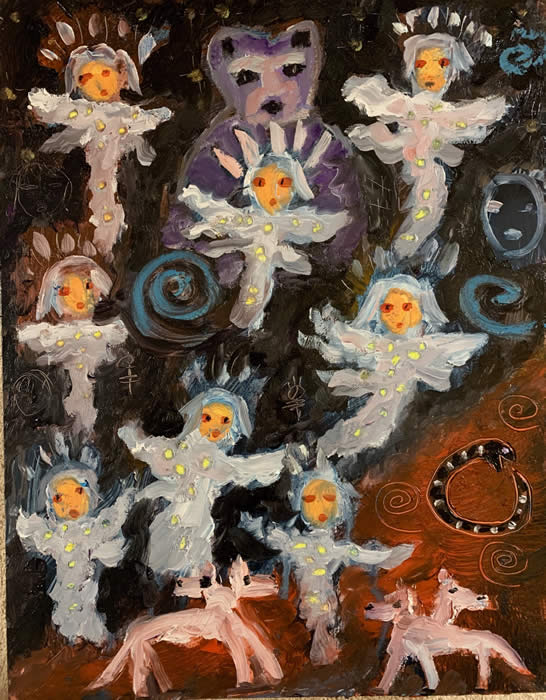 If God were a Bear--SOULD
11 x 14 oily on wood panel
10-28-19
no ones on websites anymoore
its a digital ghost town
of formerly alive websites
so i suppose
i can write anything post anything
not do anything
cause no one will notice
everyone hangs out at the internet mall
the virtual big box stores
the facebookwalmartinstagrammcdonalds of the world
has happened again
big surprise the internet didnt save us
its the same old same old wrapped in an
iphone bill
tied up with your charger
and billed to your
attention span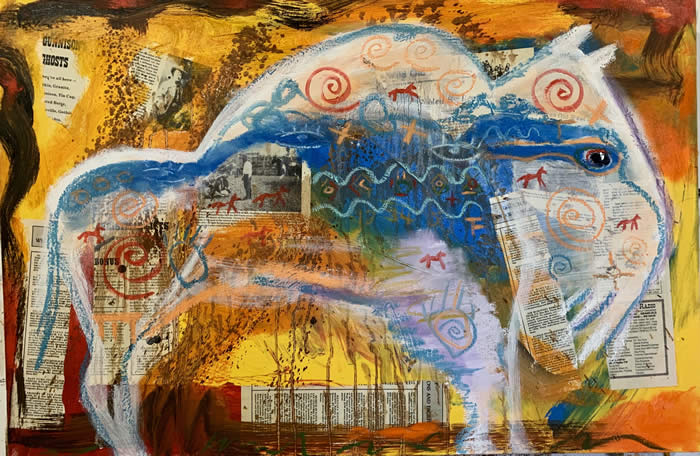 Blue Buffalo--SOULD
24 x 36 oily on stretched canvas
my store is backkkkkkkkk Clik hear two sea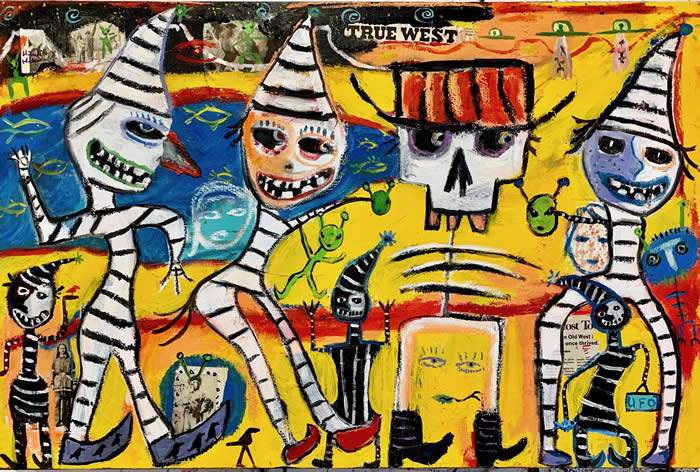 Alien Abduction
24 x 36 oily on stretcthceddeded canvas
unfortunately
the aliens underestimated
the tricksters
and were held hostate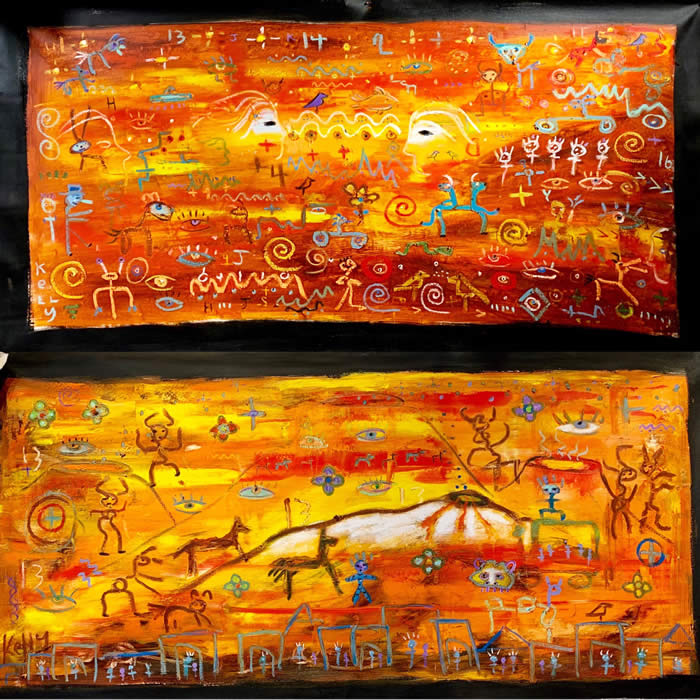 Two Paintings on Loose canvas...
40 x 60 oily onloose canvas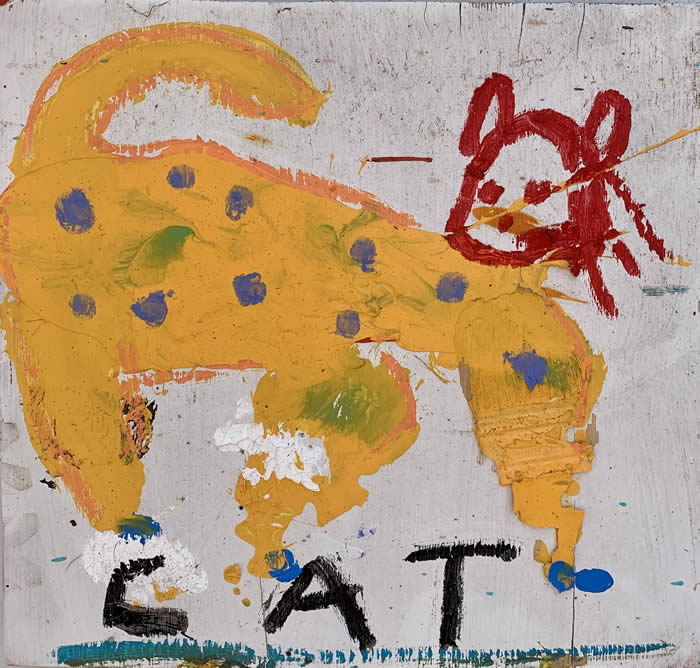 Cat---SOULD
12 x 12 oily on bord
is whar
this hare Cat sould at
pert near a
whopper for a fella
from arkanasss who cant
draw a straight
line
August 7th 2019
two large oily paintings on Loose Canvas
the flood is receding
the creek is going down
all that means is that
the ticks and jiggers
are comin
soon and
the Mo-squitos aint far behind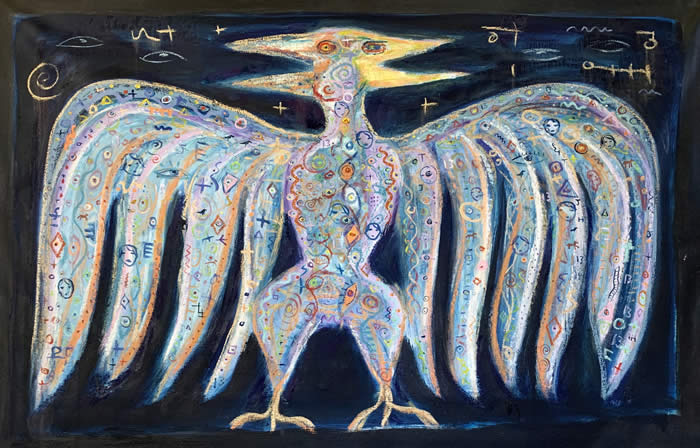 Double Phoenix
Large oily on loose cavnas
some call it
being born again
some call it Never Say Die
others simply call it
rising from the Ashes
but when theyve tried to
stop you more than once
i call it
Double Phoenix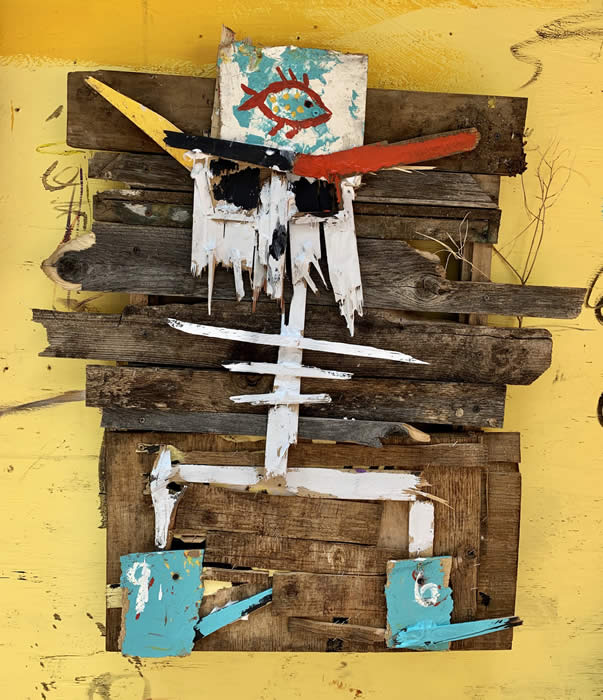 Dead Cowboy Fish---SOULD
about 30 inches of Multicrappia Deluxe
Useless
im totally useless
until i do
the useless stuff
i do
and them
im useful
-
-
i saw a mouse in the Palace
he said he would be
disappointed if i didnt
have a mouse in the house
however the rodent said
we had to
go
-
-
-
the actress said
she loved my paintbrush art
i told her my paintings
were the waste material
in my pursuit of the
perfect paint brush art
-
-
-
i said no pictures of me
i dont exist
and a photo would only
confirm that
-
-
-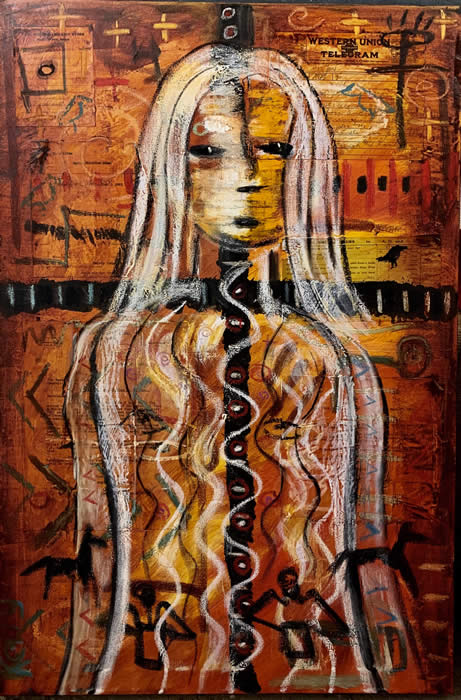 CrossRoads Angel--JULY 17 2019---SOULD
24 x 36 stretched canvas
stole my computer
took my home
standing at the crossroads
of left right
north south
up and down
angel with a crown
nothing left to do
but look around
saw kangeroo mice everywhere
lizards ruled the world
ate some ice cream
thought i saw
something
move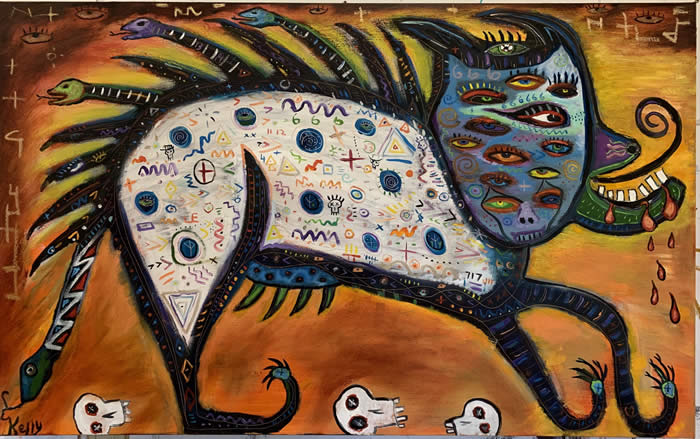 The Deadly Chuppacabra
30 x 48 inches oily on stretched canvas
its monday isnt it?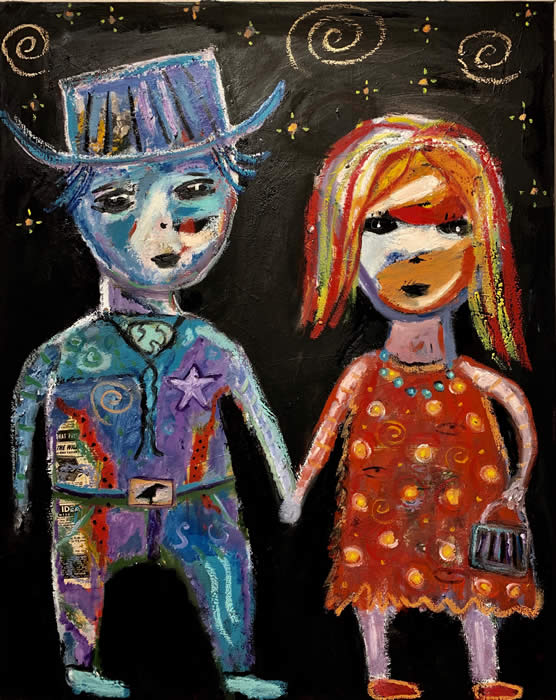 Lost Child and Boy Blue---SOULD
24 x 30 oily on stretched canvas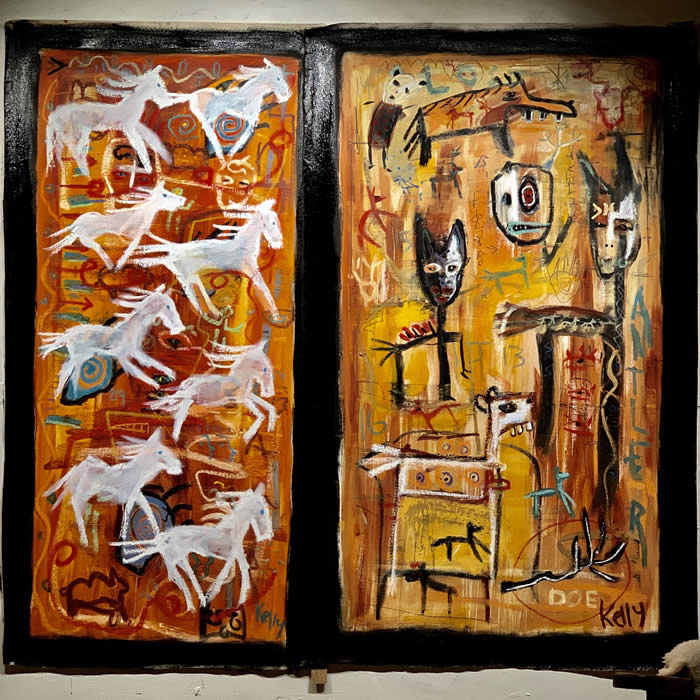 Doe and Horse Spirits
both around 38 x 62 oily on loose canvas
June 18 2019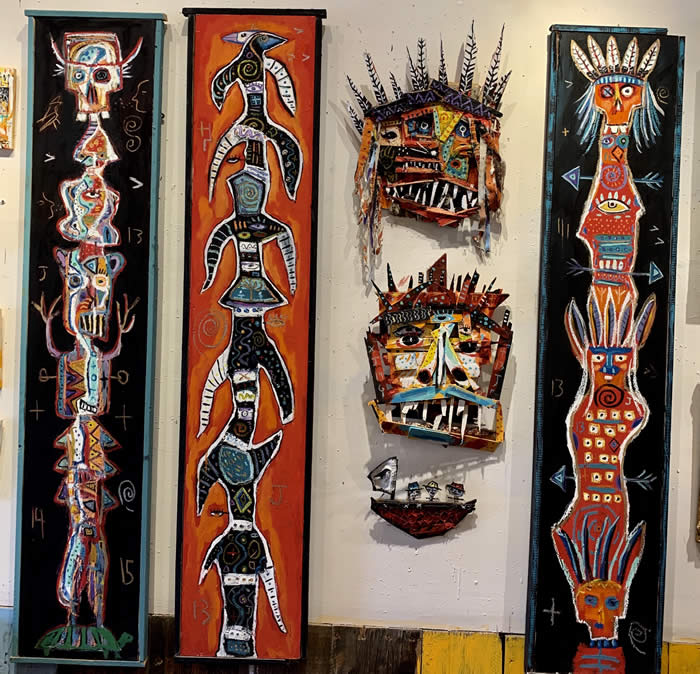 June 10th 2019
three totems two masks and one little boat to float in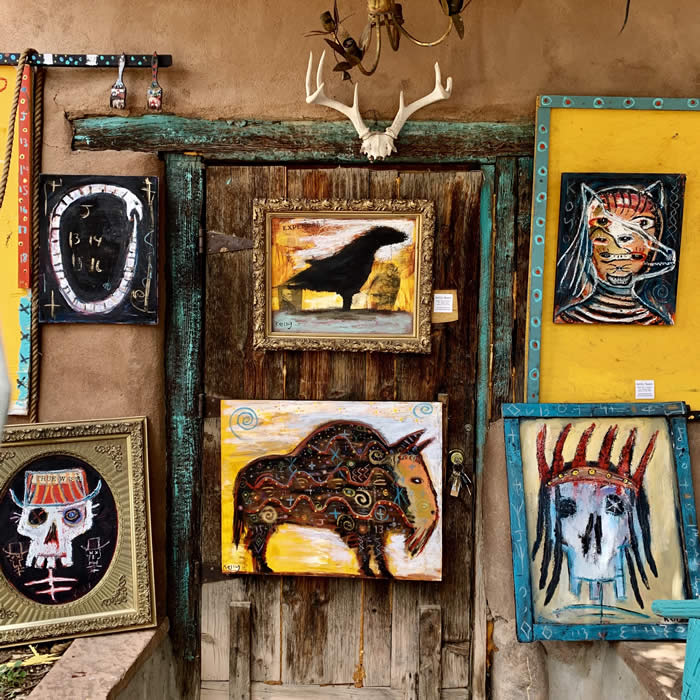 what a great Door...June 3 2019----
wow
no art yesterday
it says on your website
new art every monday til you croak
(well
i guess i did die
it sure felt like it for a while
but u just watch
im about to be
born again)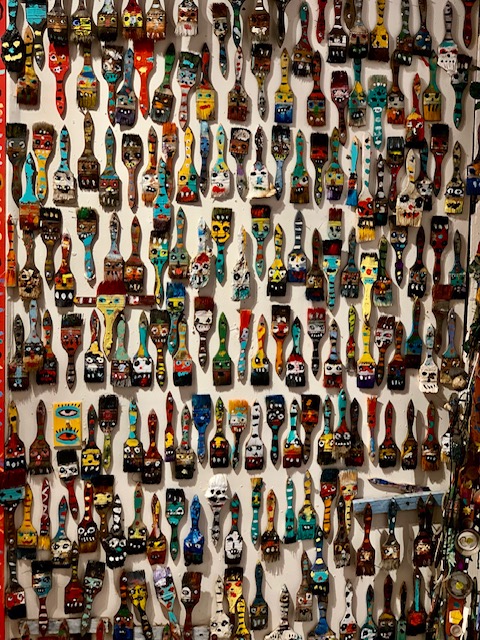 Paint Brush Gremlins
i said i would post art every monday
til i croaked but what i didnt know
was that a
flood can wipe you off
the face of the earth just like
you was dead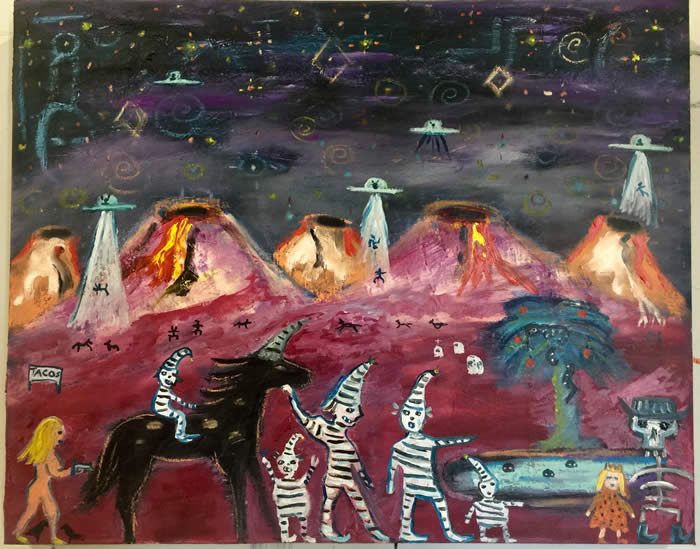 Dark Bird Cosmos---SOULD
24 x 30 oily on stretched canvas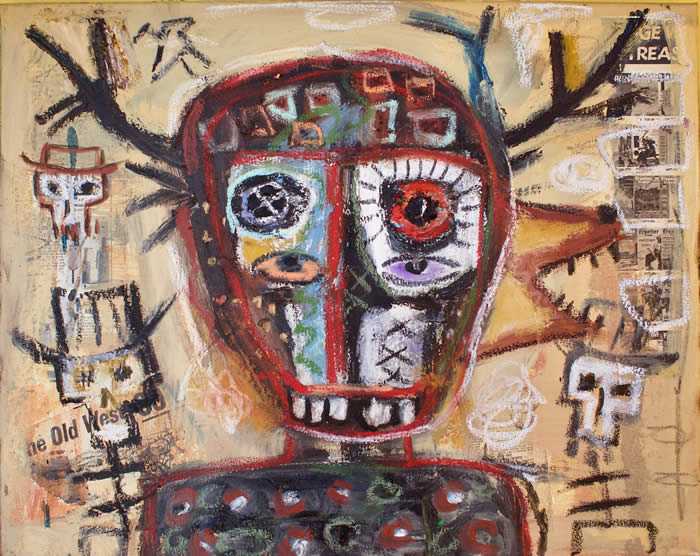 F**kd up Shaman---SOULD
16 x 20 oily on stretched canvas
4-29-19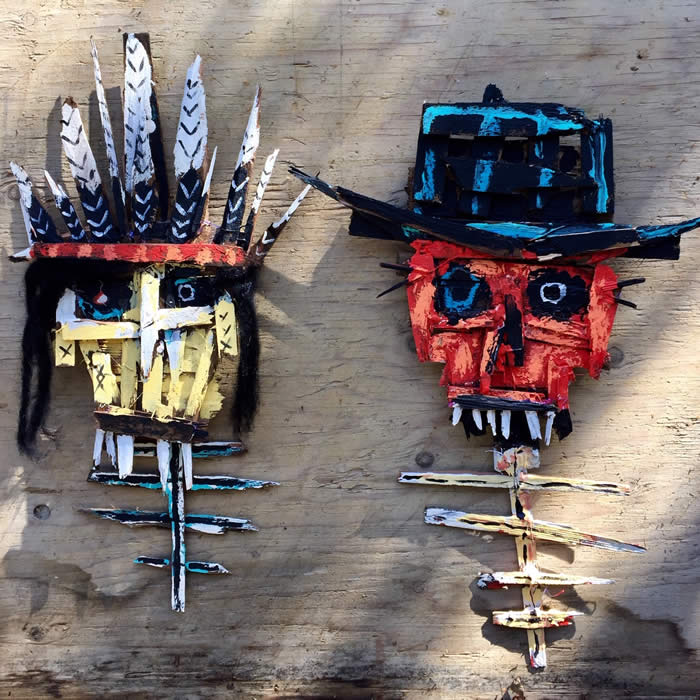 Dead Cowboy and Indian Multicrapppia Scultpptpt---SOULD
both around 24 inches talll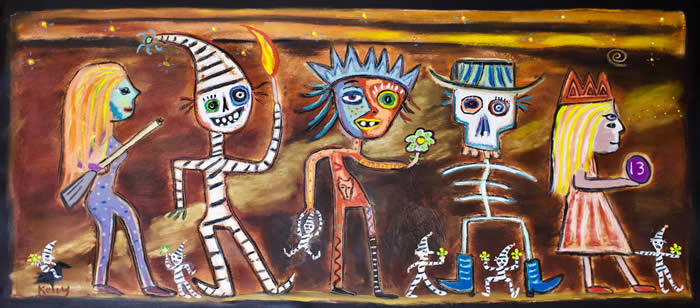 Springtime for Tricksters---SOULD
about 3
0 x 62 inches oily on loose canvas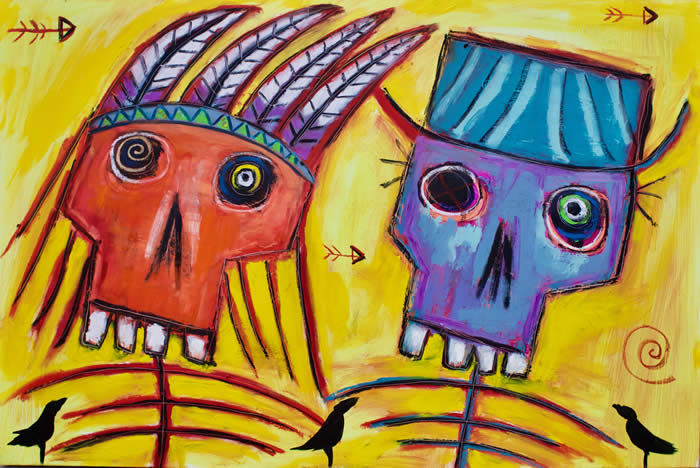 Dead Cowboy and ---SOULD
24 x 30 oily on a nice bord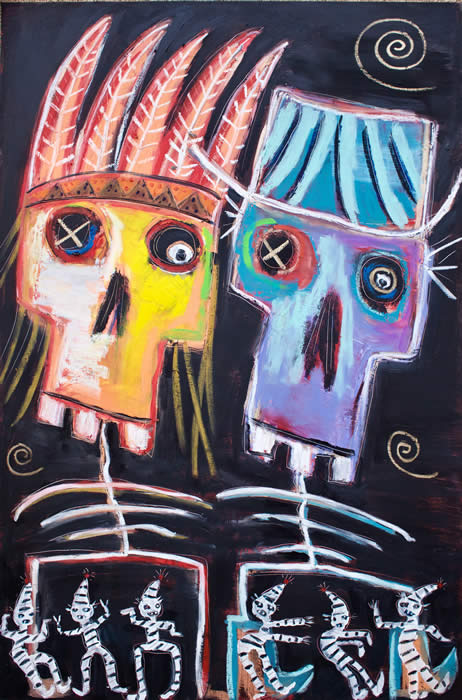 Dead Cowboy and Indian with the Tricksters---SOULD
24 x 36 oily on a nice bord
Loose ends become
lost ends
i sold my samurai sword
bought a box of lost promises
kept a secret
broke a tie
-
-
-
they spoke in code
she walked in silence
he told me
John the Redeemer was
coming to save my soul
i told him i needed
a kleenex
-
-
promised
they would be back
ive heard that duck quack
if i say the word
honest 7 times
you can bet im a
liar
-
-
my lights flashed
on and off
angels danced in the
barn loft
there was a flood of
milk and honey
i think Noah traveled with
Andrew Jackson
-
-
-
cracked tooth epiphany
flying high as a kite
i could look down and see
she was right
i wasnt homeless or helpless
have a pet chicken
wear overalls
or paint watermelons
and all this time i thought
it was about
the art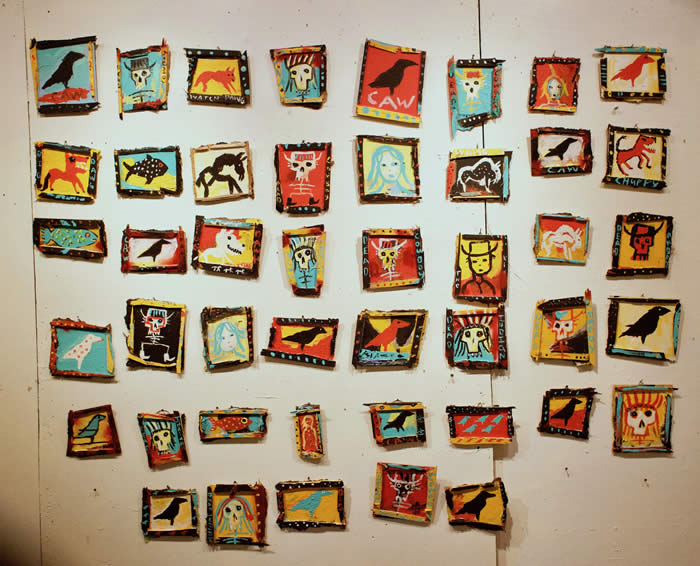 48 Paintings
all house paint on multicrappia
ez to hang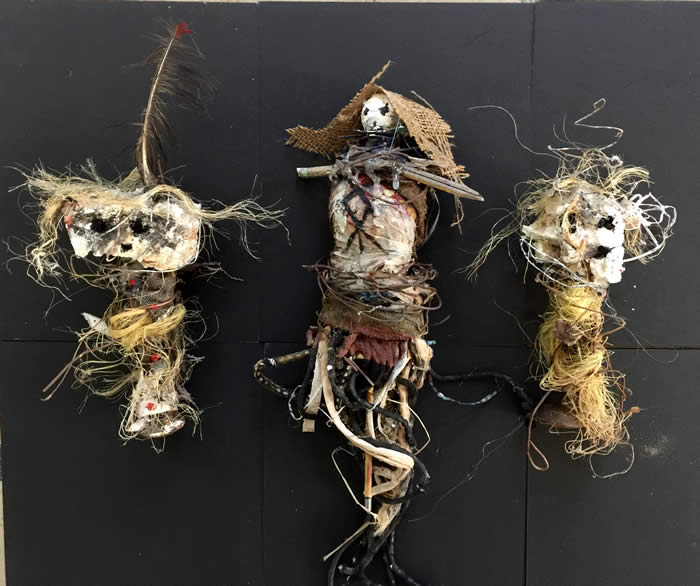 DOlls----left one sold other two availalblblebleble
when pigs fly
and horses bet on
humans crossing
the finish line
all the polar bears
will be fine
thats when
i'll believe that
-
-
-
when snow flys
in mid july
and all the pain
is washed away
like so much
blue sky
yes
thats when
i'll believe that
-
-
-
when Job says
that was quick
when Ahab catches
the big fish
when the sun
rises in the
west
that will be the best
thats when
i'll believe that
-
-
-
when my landlord
waives the rent
the rich move into
a tent
my hair turns
blue
god knows ill never get
over you
thats when
i'll believe that

-
-
-
when my dads
pain is gone away
and my mamas eyes
smile sweet summer rain
and my grandpa brings home
Sam the dog
thats when
i'll believe that
-
-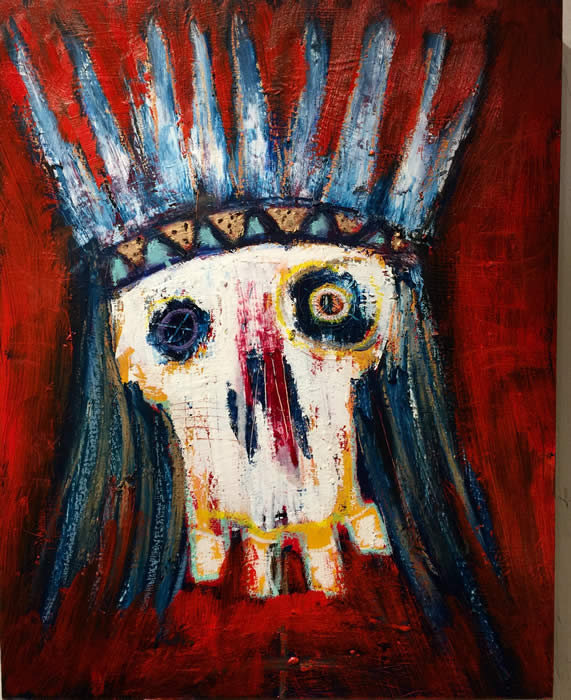 Two Dead Indian---SOULD
one on the left is 16 x 20 and the right is 24 x 30
3-11-19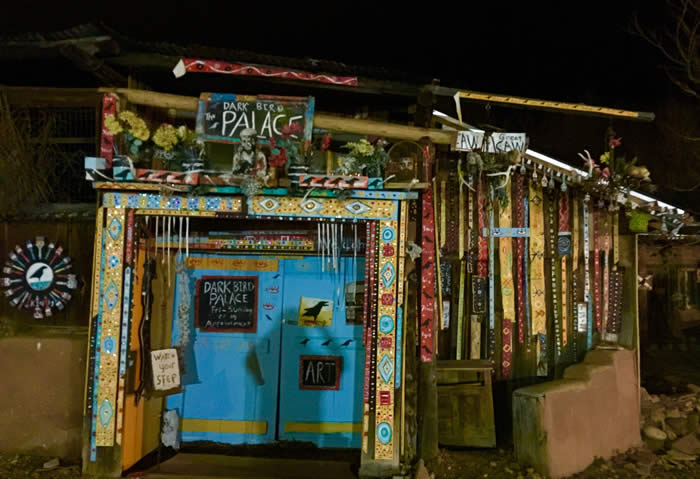 The Dark Bird Palace at Night
March 3 2019
Climatogical
meteorological
injustice must end
this suffering must cease
the tragedy must pass
why must such a small special few
get all the pleasant weather
while the
People get nothing
but grey dreary weather
un compassionate temperatures
un lit skies
nothing close to
Woke weather
so i protest
i march
i sign this petition
and demand justice
fairness and
perfect
free
blue skies
for all
Winter Sales Ends this weeeeek...clik hear and take advantagegege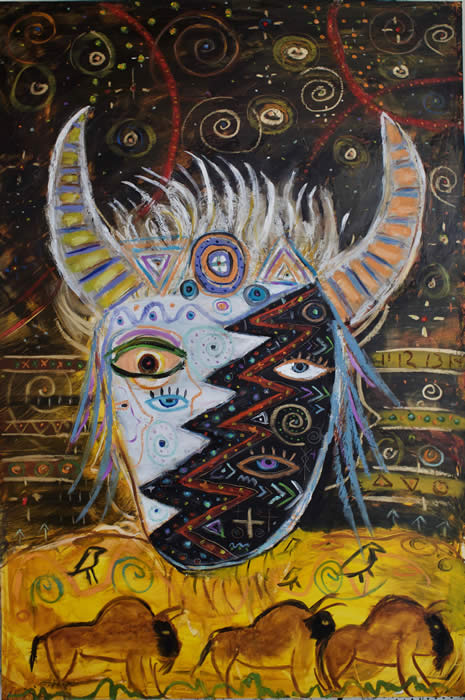 Buffalo Cosmos---SOULD
24 x 36 oily on a nice board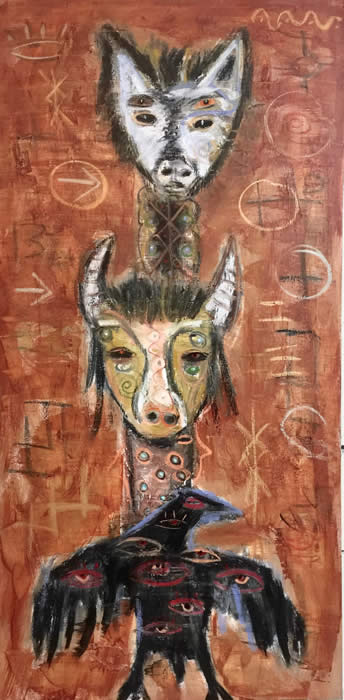 Crow Eye Totem--SOULD
24 x 48 inches oily on stretctededd d can ca ca caw vas
2-19-19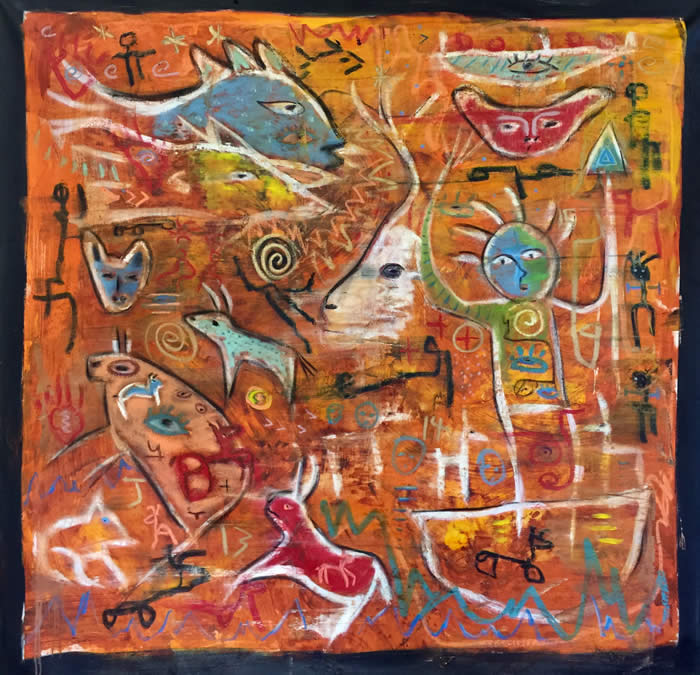 Desert Safari
big loose canvas...email me for info
Transmodial highway
Hawk flying through
The Blue sky
In the blink of an eye
I went from here
To there
-
-
-
Secret words
On pottery shards
Primordial memory sticks
To heavens gate
A carry on bag of
Cold ocean water
-
-
-
Slick smooth rabbit road
Coyote expressway
Chamisa stop signs
Cactus green lights
And arroyo speed bumps
I'm a interplanetary cowboy
riding a
Mystic mustang
-
-
-
Ice cold air
Frozen puddles
Fiery red sky
Lazy crazy hazy day
Sand moves
like a snake pancake
On the highway
frying pan
-
-
-
Spirit half an inch
And one second
Outside myself
Crossing through the
Red rock door
Into Anasazi
Space and time
A flash flood
Washes over my
Head
-
-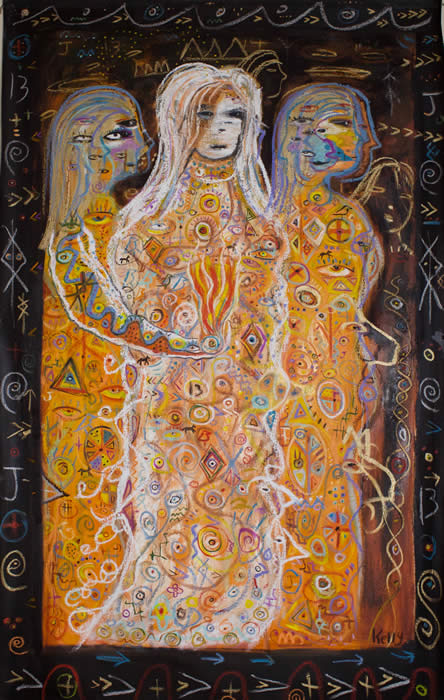 Protection Painting (Let Go)--SOULD
40 x 65 oily on loose canvas
********
The Invisible Painting (oily on an endless roll of canvas)
january 29 2019
Newsletter tomorrow
lots of great art that im not going to show today
cuz im starting my
reclusive phase now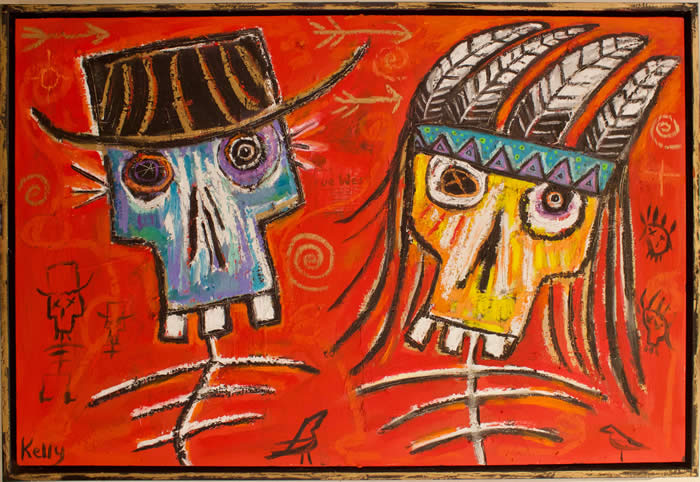 Dead Cowboy and Indian---SOULd
about 24 x 30 in he c es es es es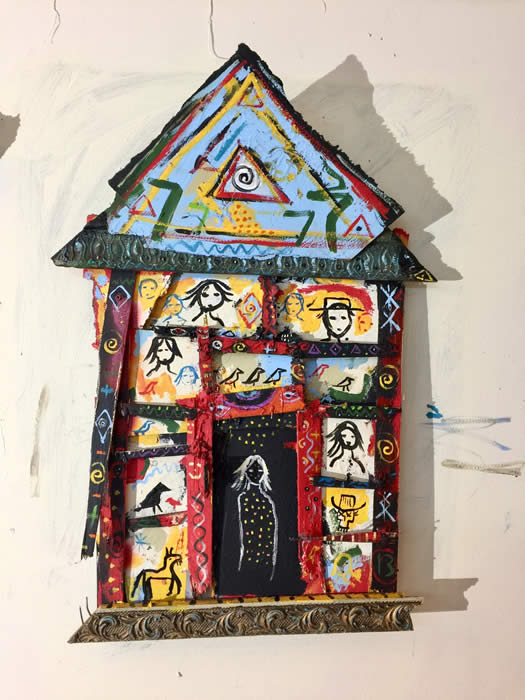 Eternal Home---SOULD
January 14 2019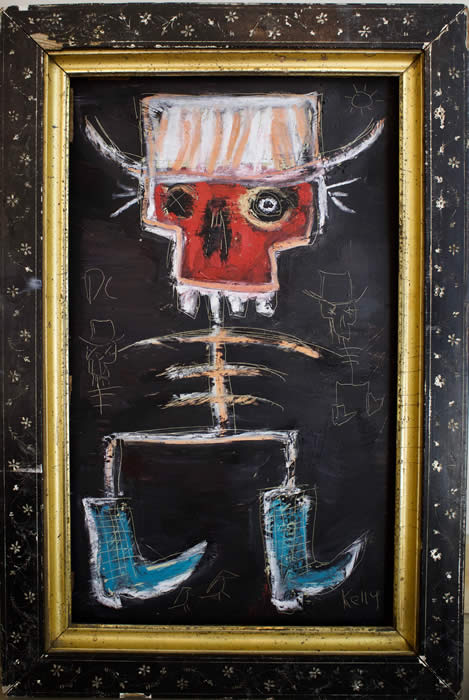 Red Dead Cowboy ---SOULD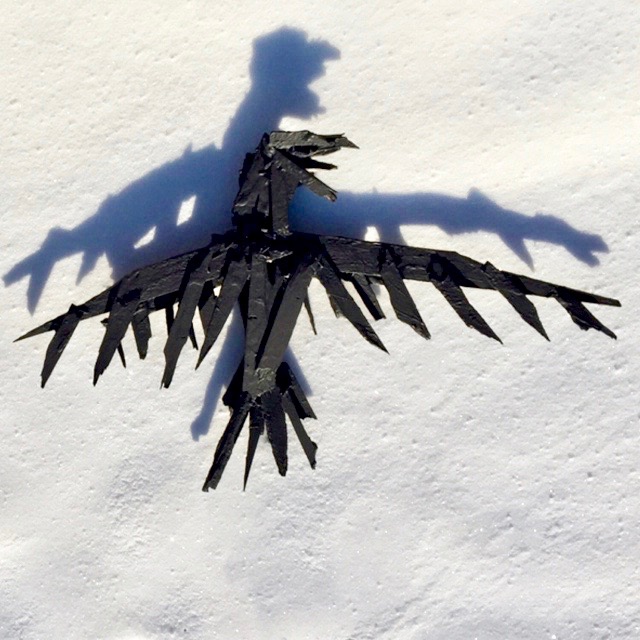 Dark Bird Sculpture---SOULD
multicrappia wingspan about 2 foot long
thank you fellow Dark Birds for helping make
2018 one of the best years of my life
you are appreciated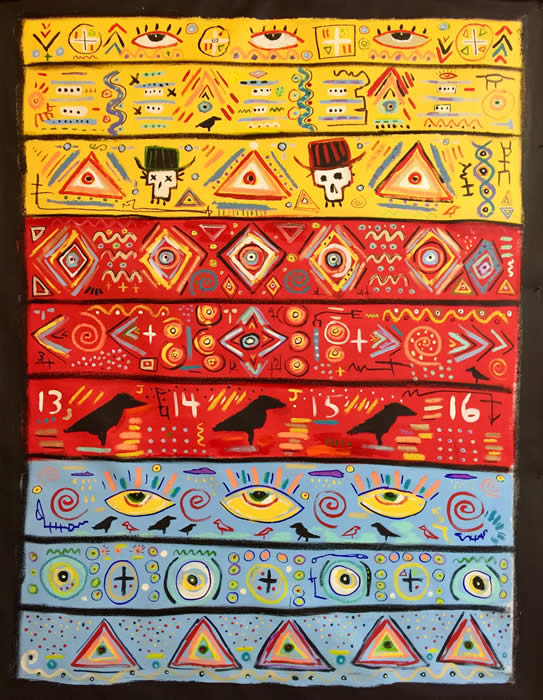 DC Code---SOULD
about 40 x 60 loose canvas
happy holidays 2018!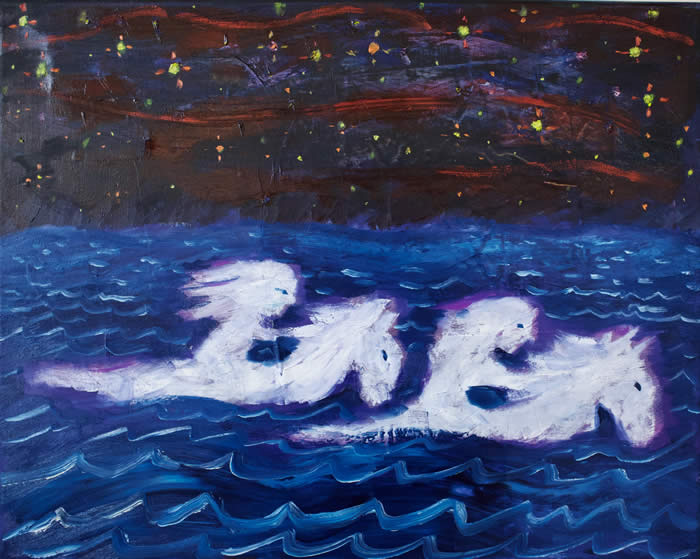 Ocean of Stars---SOULD
16 x 20 oily on stretched canvas
happy holidays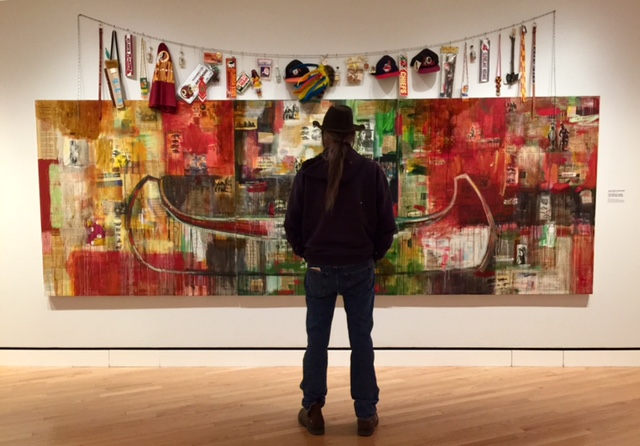 Dec 10th 2018
taking a holiday break
back home in
the Arkansas Ozarks
take a look at some art
that no one wants on my
art page
and be the one who got that painting
that everyone else over
look
d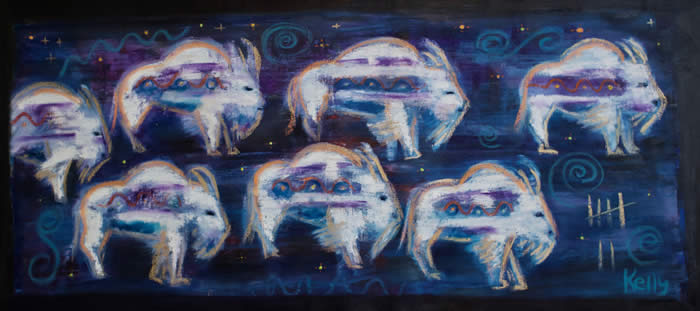 White Buffalo COsmos---SOULD
about 62 x 32 oily on loose canvas
December 3 2018 somewhere in the cosmos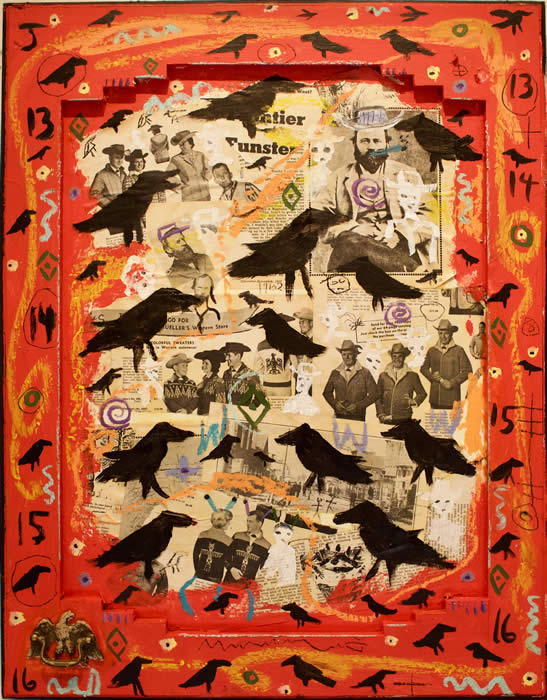 Dark Bird Frontier

Petroglyphia--SOULD
oily on loose canvas about 30 x 82 inches
November 19 2018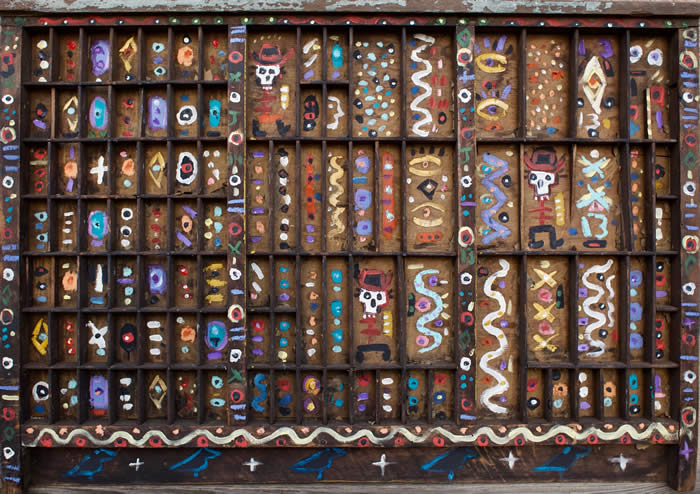 DC Code
about 26 x 18 paint on an old font board
November 12 2018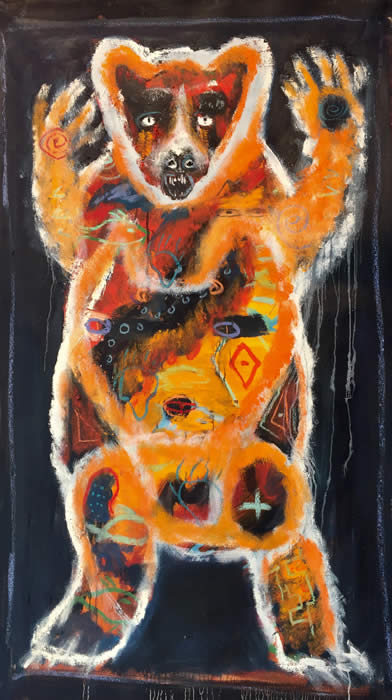 Golden Bear---SOULD
oily on loose canvas
im a bad liar
a distant also ran
in the race for
truth and justice
and a
did not
enter or finish
in the competitive game of
kissing ass in art
but if you want
a endless stream of psycho babble
an unfiltered flow of semi consciousness
and an existenial moment
in santa fe
come by my Barn and tell me
you love that a weirdo like me can still
survive on Canyon Road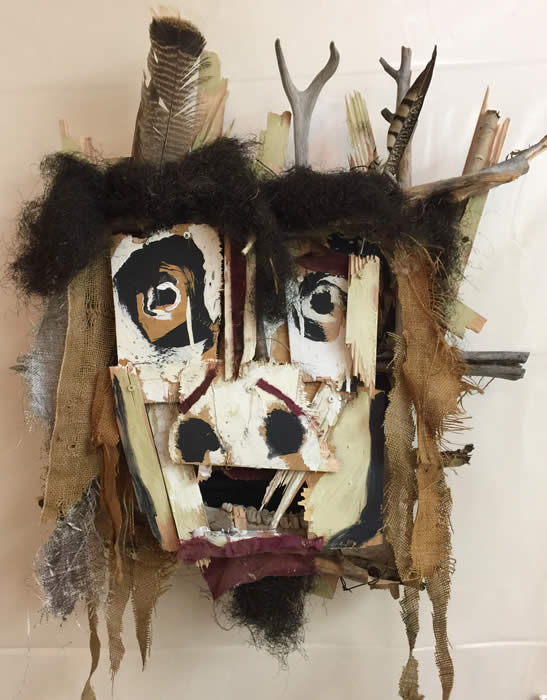 Mask---SOULD
october 22 2018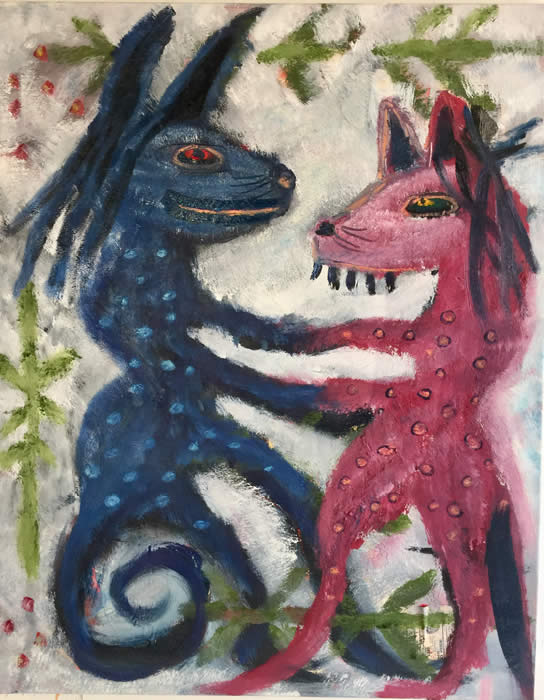 Coyote Tango---SOULD
24 x 30
October 15 2018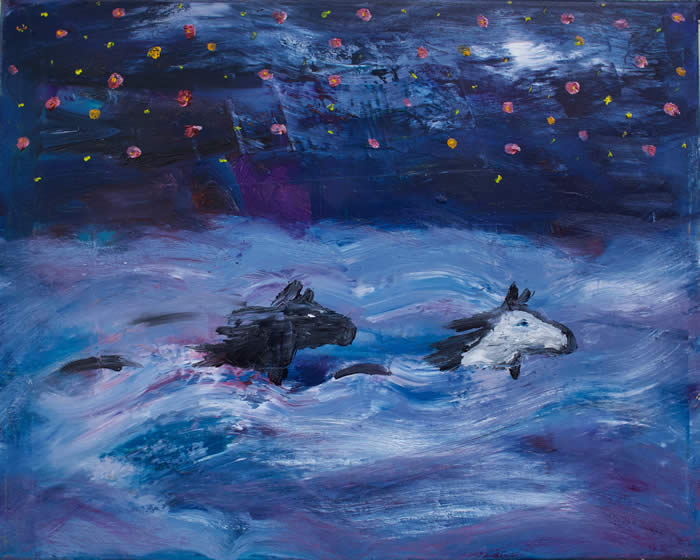 Open Sea--SOULD
16 x 20 oily on stretched canvas
Monday October 8 2018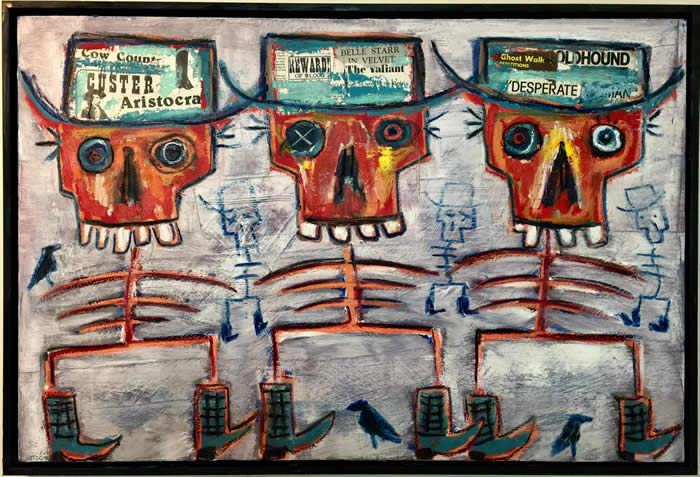 Reward for 3 Dead Cowboys---SOULD
24 x 36 oily simply framed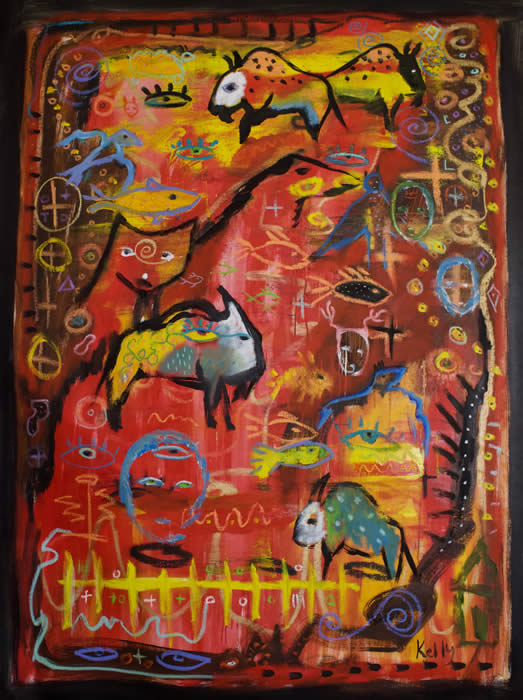 Buffalo Butte---SOULD
46 x 62 oily on loose canvas
i lied
she told me
i like the old ways
i said
lets try something new
no
she said
im old school
like that
so
i lied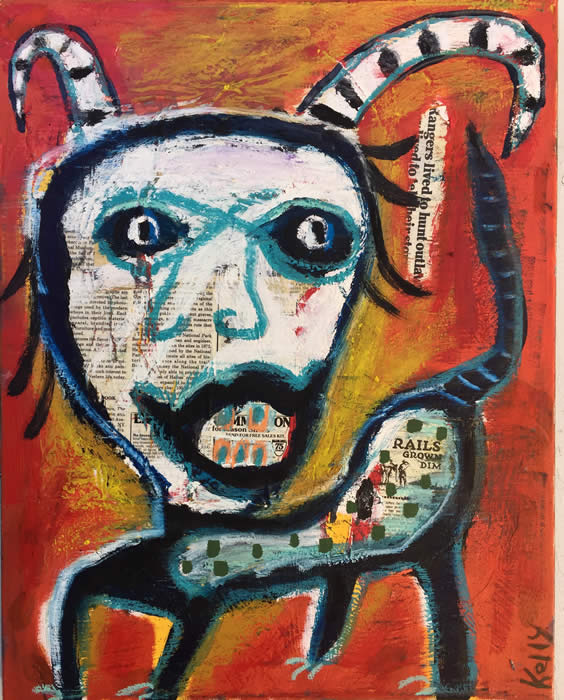 Trickster Dawg
16 x 20 oily on stretched canvas
big news next week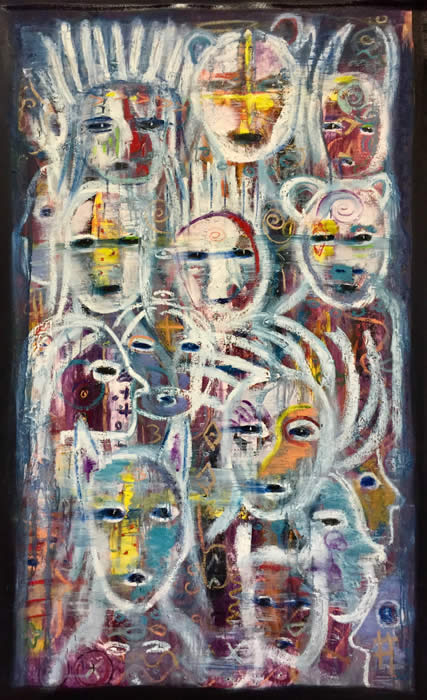 Mesa Myth
39 x62 inchesese SOULD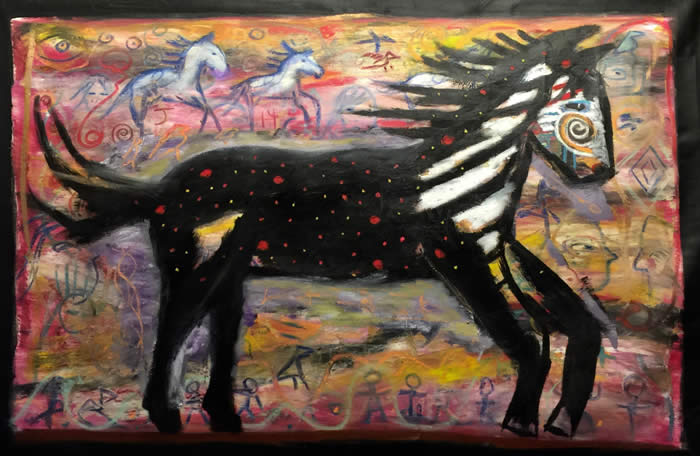 StarDust Pony---SOULD
about 43 x 64 inches on loose canvas
Desert Safari
64 x 64 oily on loose canvas
August 20 2018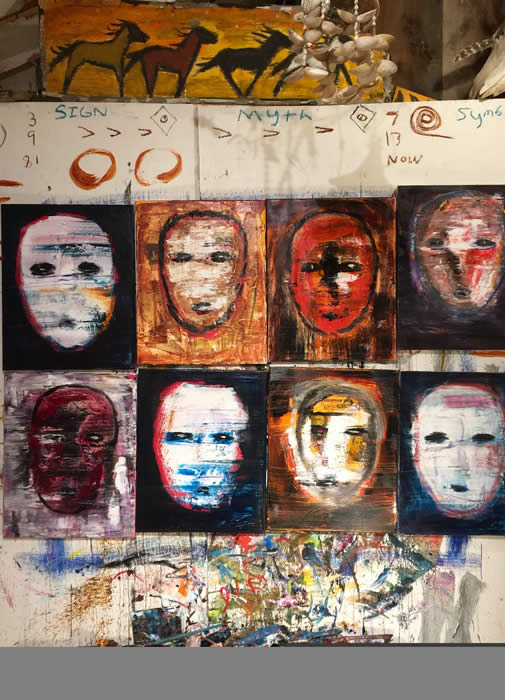 Faces as Masks---SOULD
8 canvas each 16 x 20
Auguess 13 1976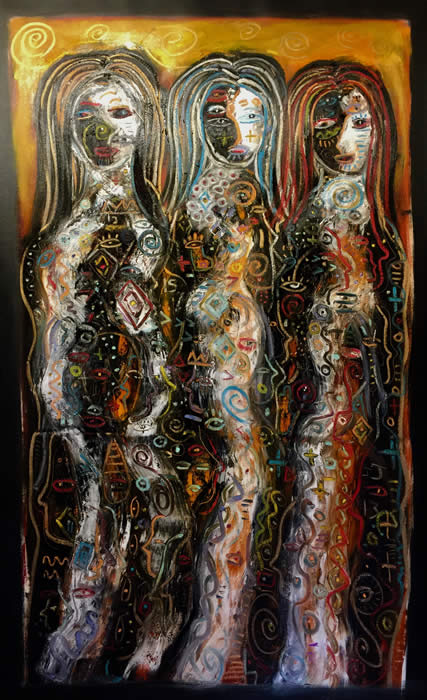 The Beautiful Shadow--SOULD
about 60 x 42 oily----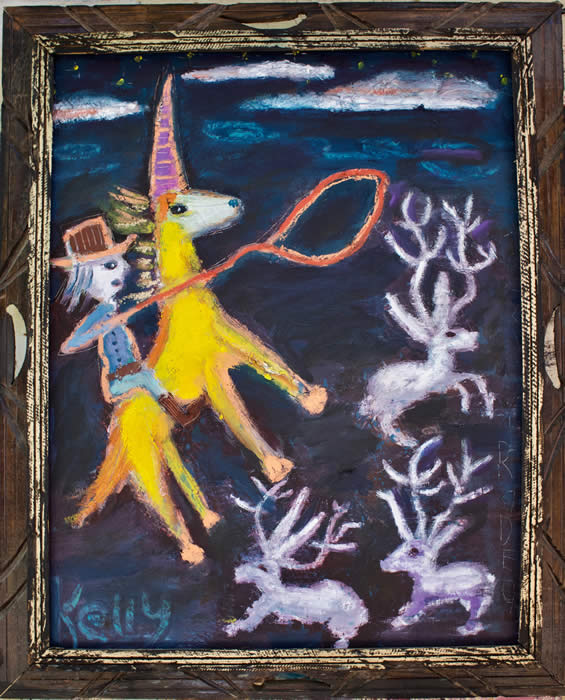 Jackalope Rodeo--SOULD
16 x 20 oily on board framed
continuing my research
of whats
possible and whats
im possible
im discovering my delusion about
reality is far worse than
i have been led to believe
and as it turns out
there really
are Jackalopes and Unicorns
but i maybe
a complete
hoax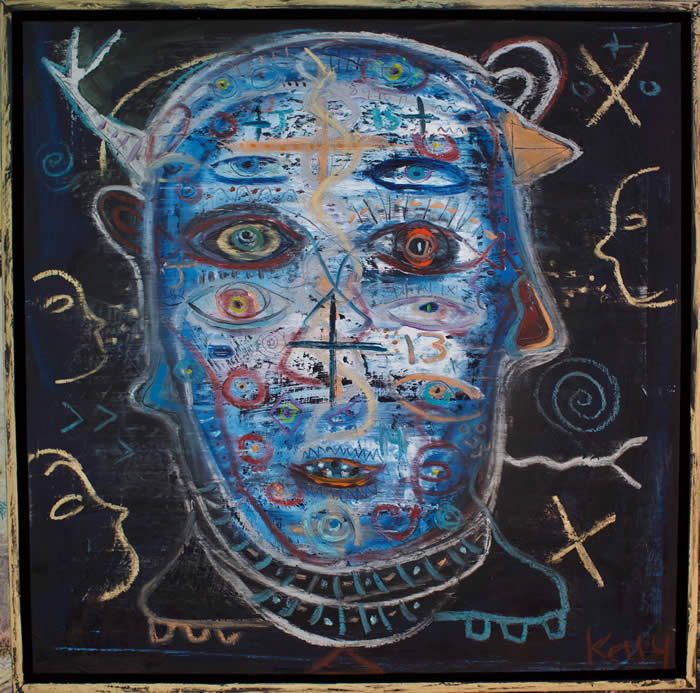 Shaman---SOULD
26 x 26 oily on simply framed bord
Im not Shaman
im not a wiseman
im not a sage
im the chronic skeptic
the nervous guy sitting in the back
of a church hoping to receive
a secret transmission from the Holy Ghost
a folded note from God
a clue from the universe
a whisper from Jesus
a miraculous image
on my buttered toast
anything to
help me believe
in all these Unicorns and Jackalopes
im surrounded with
here in Santa fe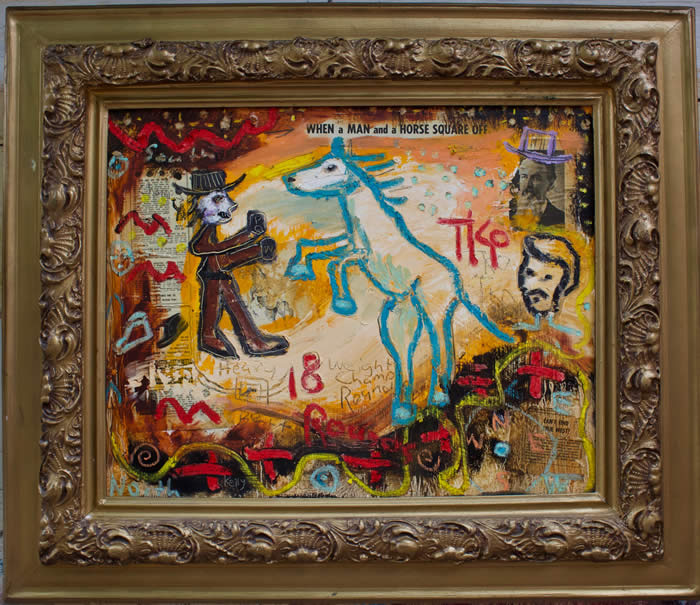 Man vs Horse
16 x 20 FRAMED
July 16 1996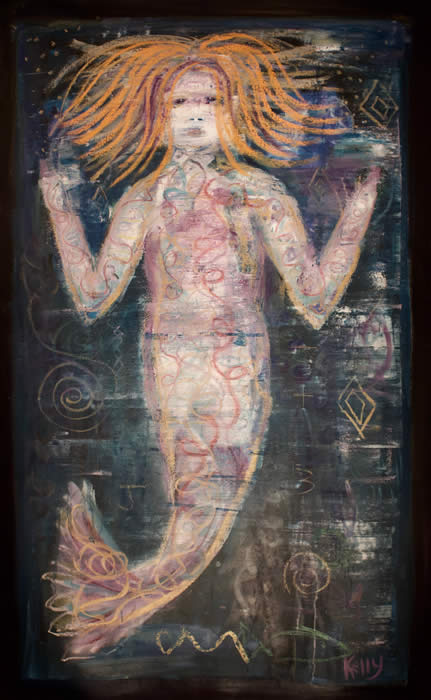 Mermaid---SOULD
about 37 x 62 inches oily on loose canvas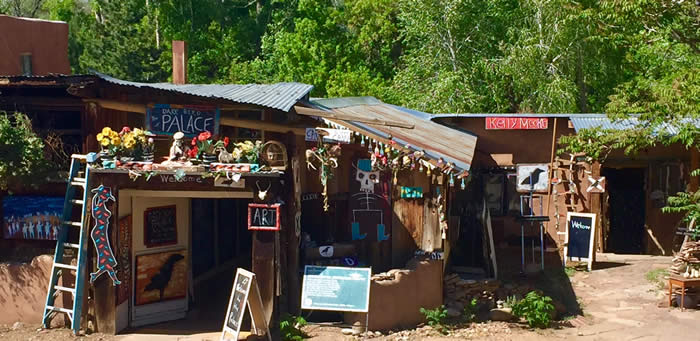 Dark Bird Palace---SOULD OUT
at 821 Canyon Road in Historic Santa fe New Mexico
(not bad for an Arkansas Hillbilly)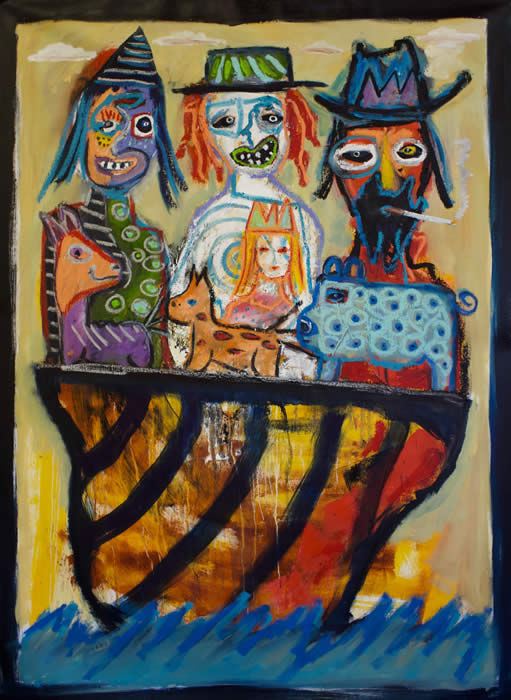 Animal Voyage---SOULD
about 42 x 63 inches on loose canvas
JUne 18th 2018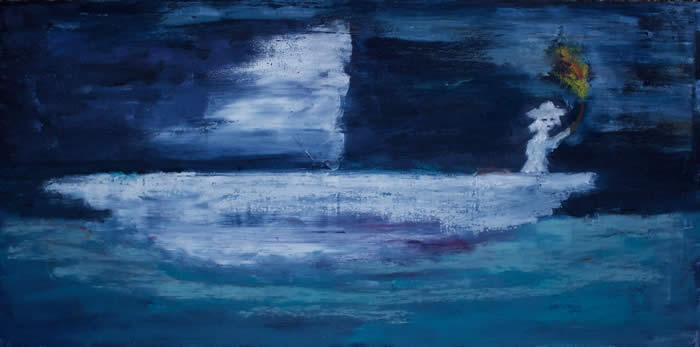 Solo Voyage---SOULD
10 x 20 oily on a nic ee bord
The Devils Dawg---SOULD
24 x 24 oily
Im on Mars Central Time Zone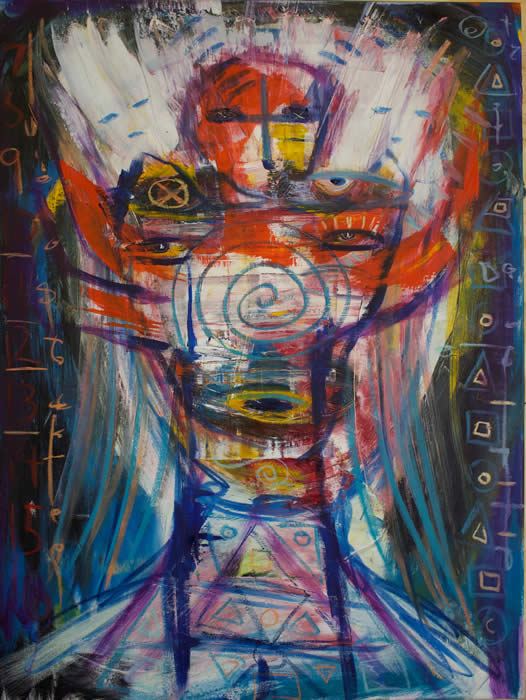 Cardinal---SOULD
36 x 48 oily on stretched canvas
May 7th 2018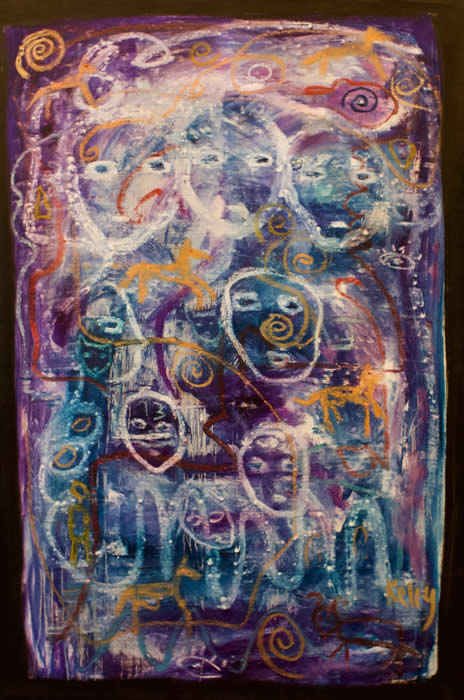 Trinity
about 37 x 62 inches on loose canvas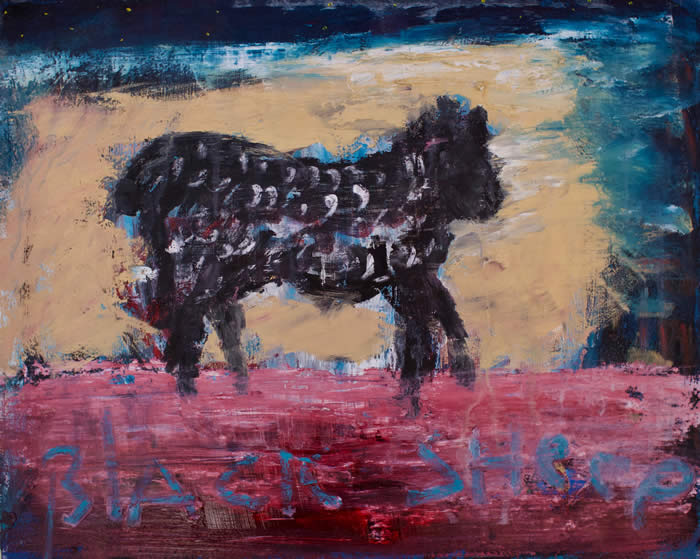 Black Sheep---SOULD
11 x 14 oily on a nice board
after years
of being a proud Dark Bird
at a Flea Market
surprise surprise
im in a Barn
on Canyon Road
in Santa fe
now finding out
theres no better way
to know
who you are
than to put yourself
in world where you are
clearly
a Black Sheep
(CorvidusDarkBirdusMaximus)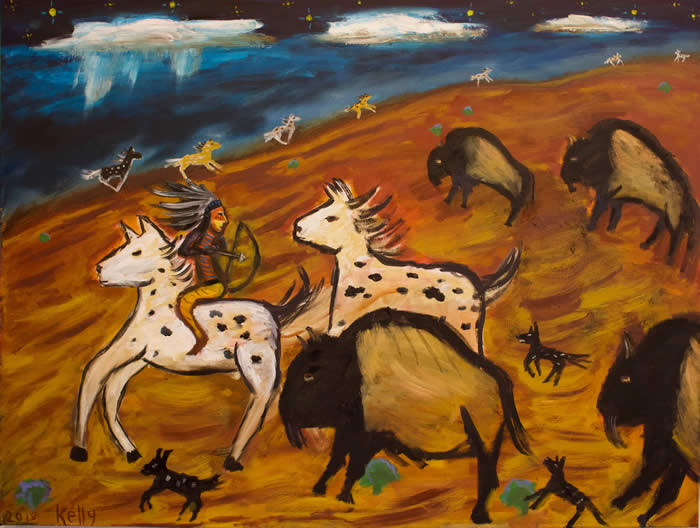 Buffalo Hunt---SOULD
oily on 32 x 48 inches stretched canvas
april 9th 2018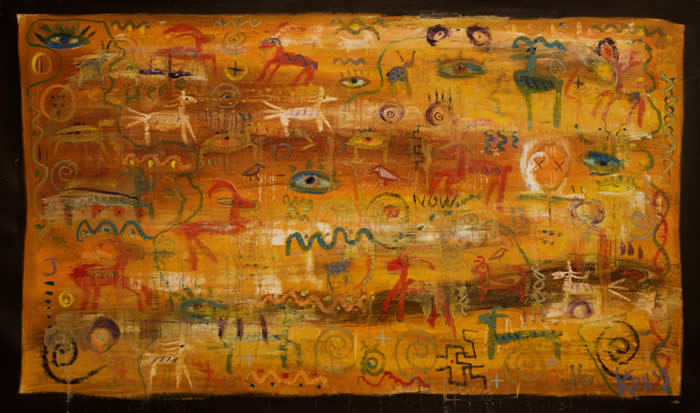 PetroGlyph--SOULD
about 39 x 61 oily on loose canvas
May 2nd 2018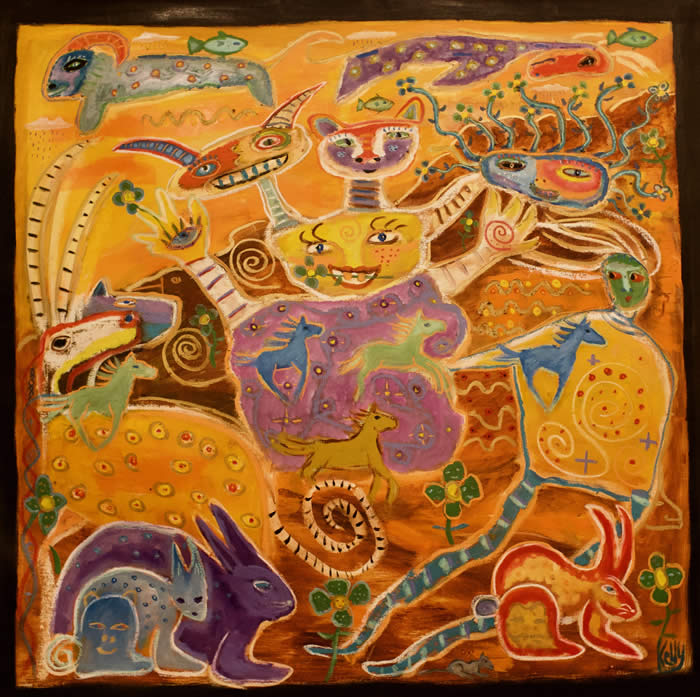 JOY--SOULD
oily on loose canvas about 64 x 64---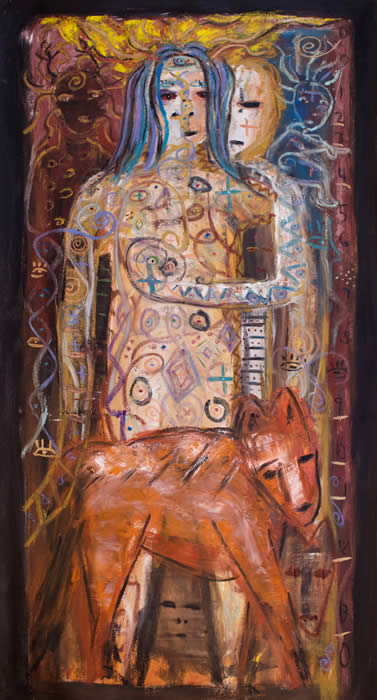 Guide---SOULD
64 x 35 inches oily on loose canvas
3-19-18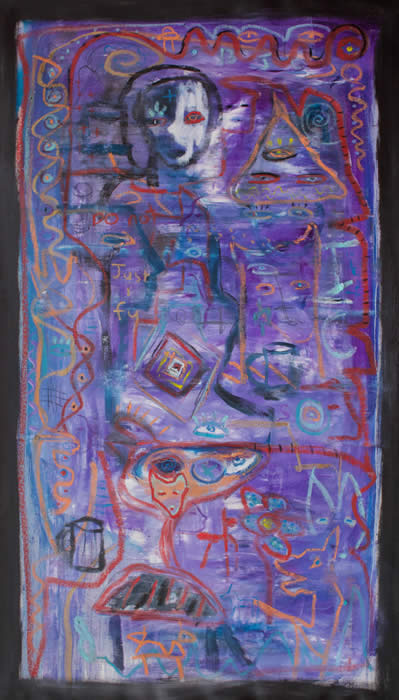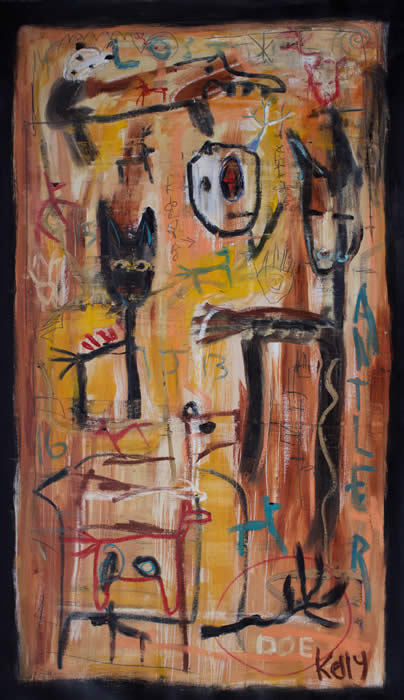 Justify and Lost Antler---SOULD
two paintings both about 62 x 33 inches on loose canvas
March 12th 2018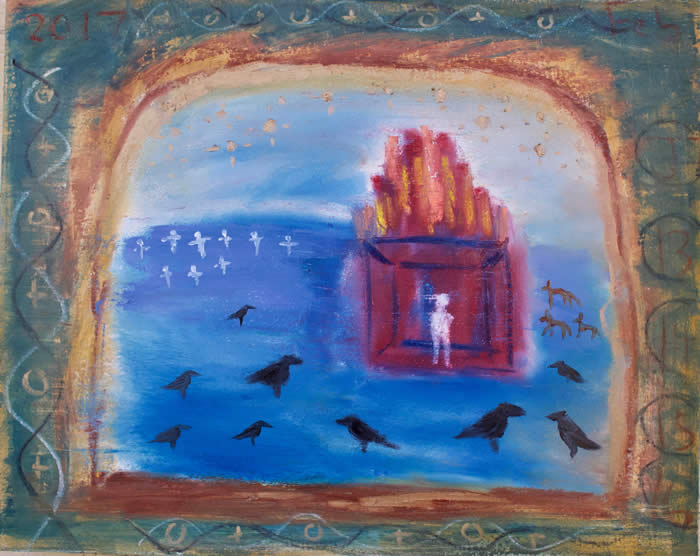 Untitled---SOULD
16 x 20 oily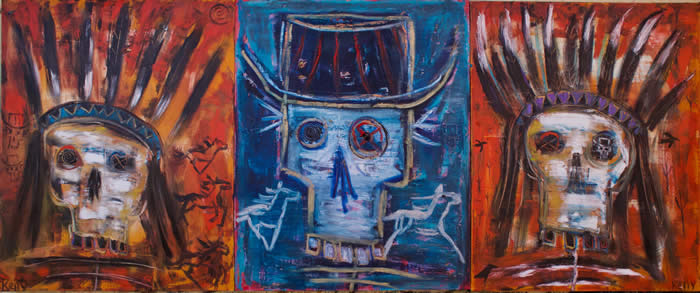 Dead Cowboy and Indians (SOULD)
three 24 x 30 oilys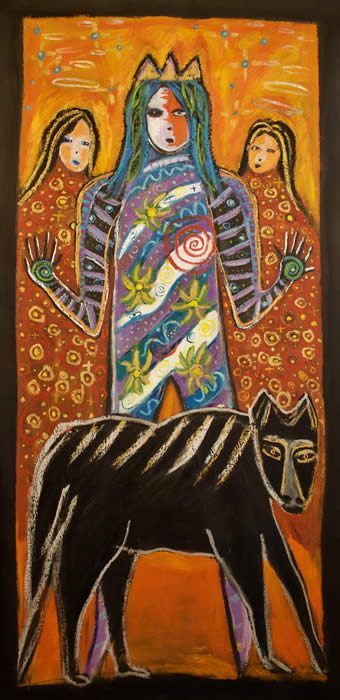 Protection Painting (the eternal Heart) (SOULD)
about 64 x 40 inches on loose canvas
CLIK HEAR FOUR MY BIG FREAKN WINTR ART SALE
you do know
im not supposed to be here
dont you?
in the summertime
the closer you get to the sun
the cooler it gets
in the winter time
the closer you get to the sun
the higher the rent
gets
he told me he disliked
all of my paintings
except one
i told him
even a blind squirrel occasionally
finds an acorn
no lady
i dont need a dog
to tell me
who i can trust
i found a poptop
in the barn
an archeological find
that predates the great
I-Phone Asteriod that smashed
into the worlds forehead
lobotomizing vast numbers of monkeys
leading to an extinction
of all language skills
except for one word
that being
"like"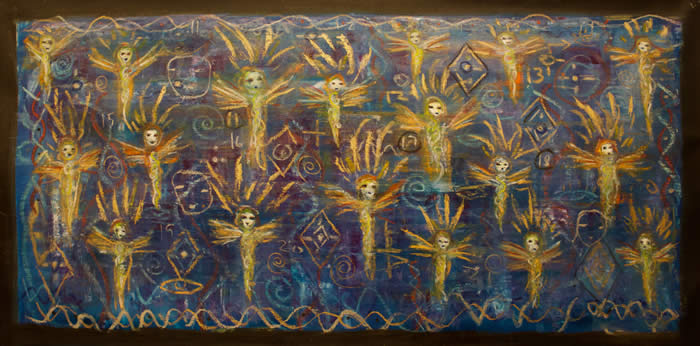 Desert Angels---SOULD
63 x 33 mol oily on loose canvas
Febuary 12 2018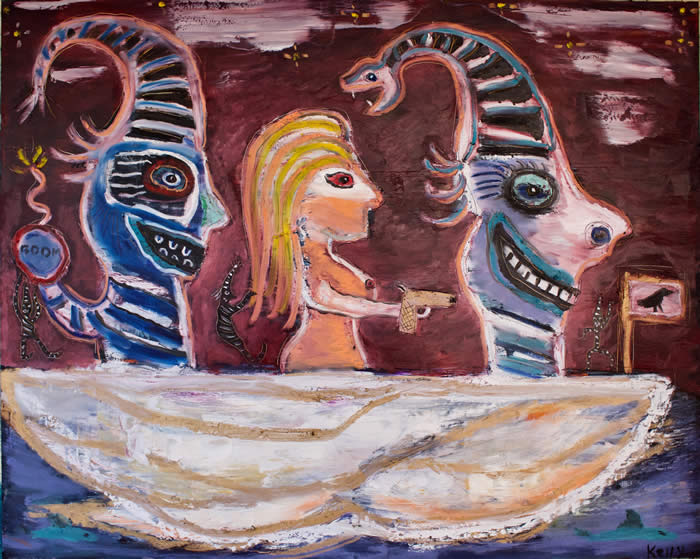 The Naked Assasin Kidnaps the Tricksters---SOULD
24 x 30 oily on a nice bord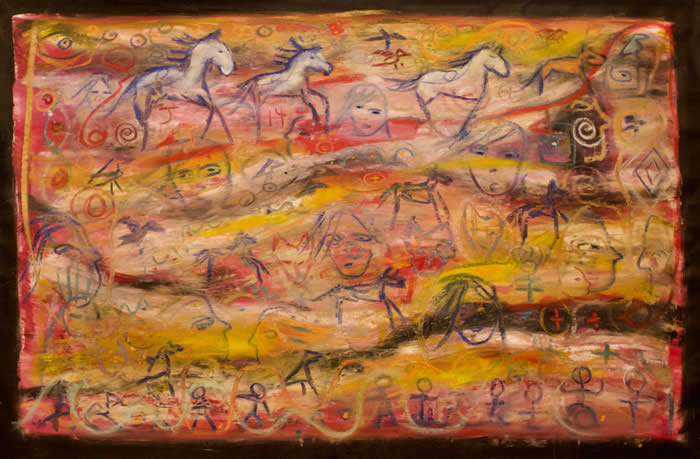 Horse Dream---SOULD
big oily 64 x 33 more less on loose canvas
January 29 2018
lots and lots of art in process
lots and lots of ink drawings in process
and 4 art books in process
will i finish it
before its
too
late?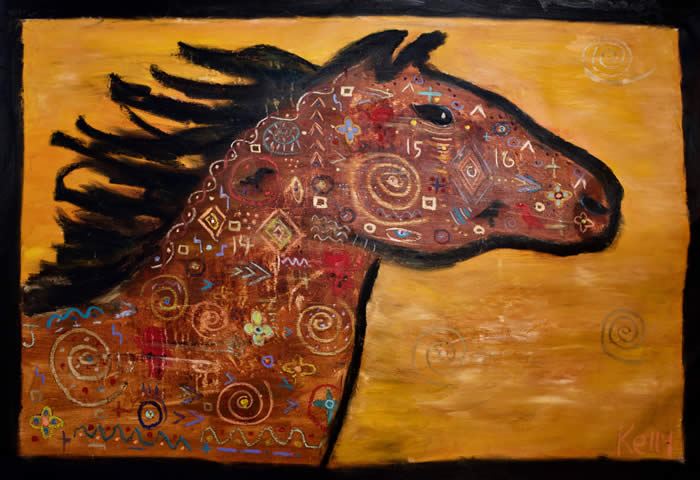 Horse Sense---SOULD
45 x 65 oily on loose canvas
after a big trip
a couple weeks ago
into Wild Horse Country
im thinking of applying for
citizenship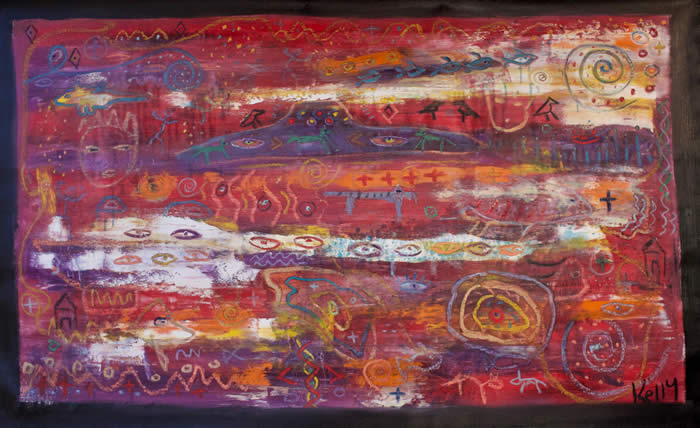 Mesa---SOULD
oily on loose canvas about 62 x43
January 8th 2018

Three Masks--(alll SOuLD)
all are around 24 inches tall
suitable for all formal wear occasions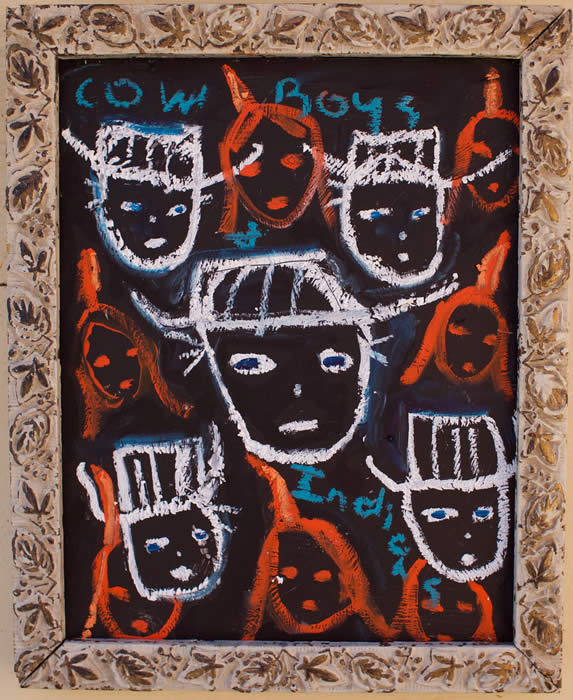 Cowboys and Indians
11 x 14 oily on wood with a nice old frame
Happy Holidays
December 25 2017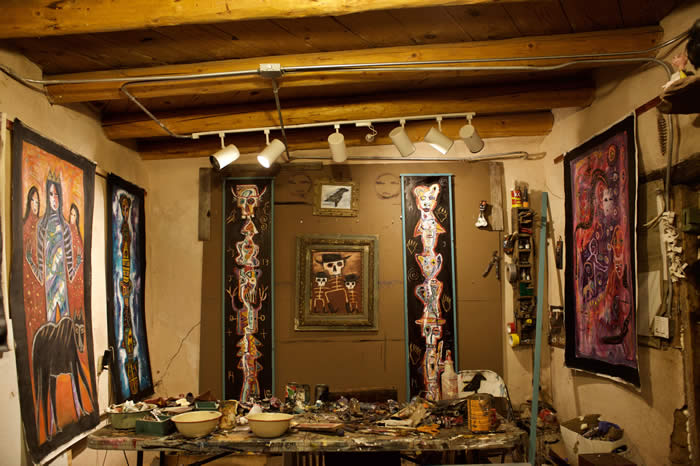 In Process...(Happy Bear on Right is SOULD)
December 18, 2017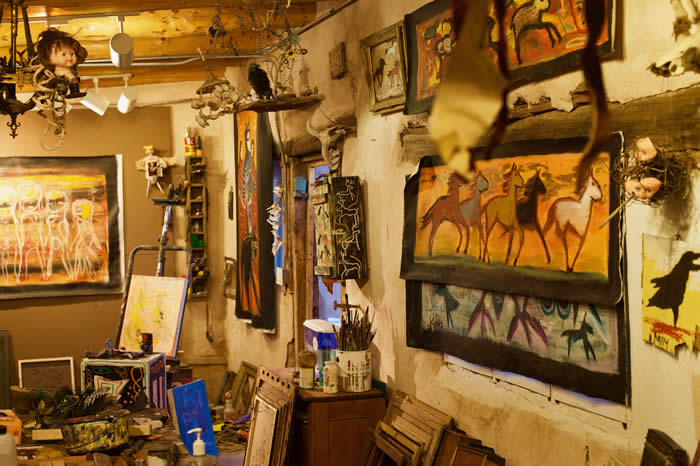 Inside the Dark Bird Palace November 27, 2017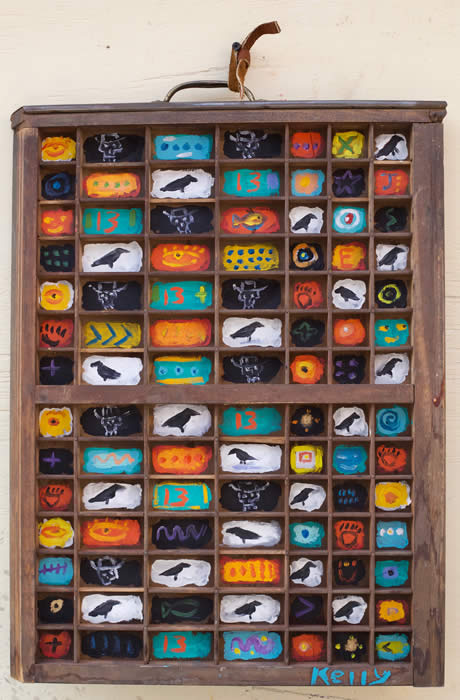 Dark Bird Font---SOULD
oily on old Printers Tray 23 x 16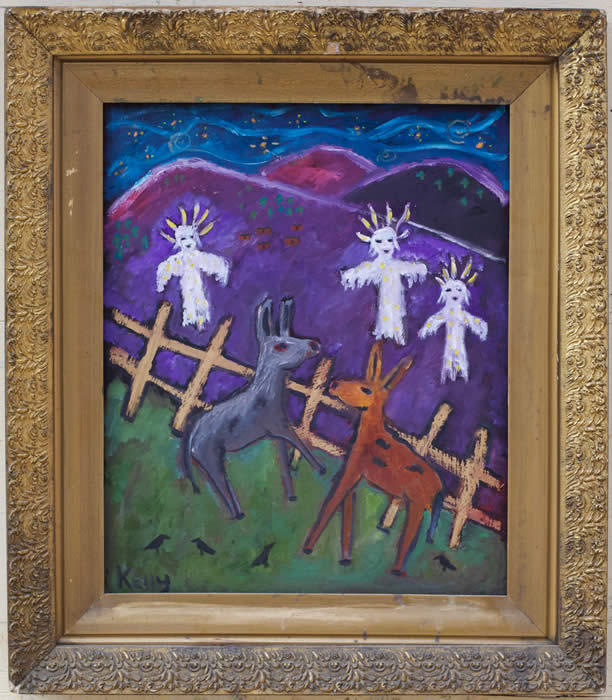 Angels & Burros---SOULD
oilly framed about 25 x 30
i have no idea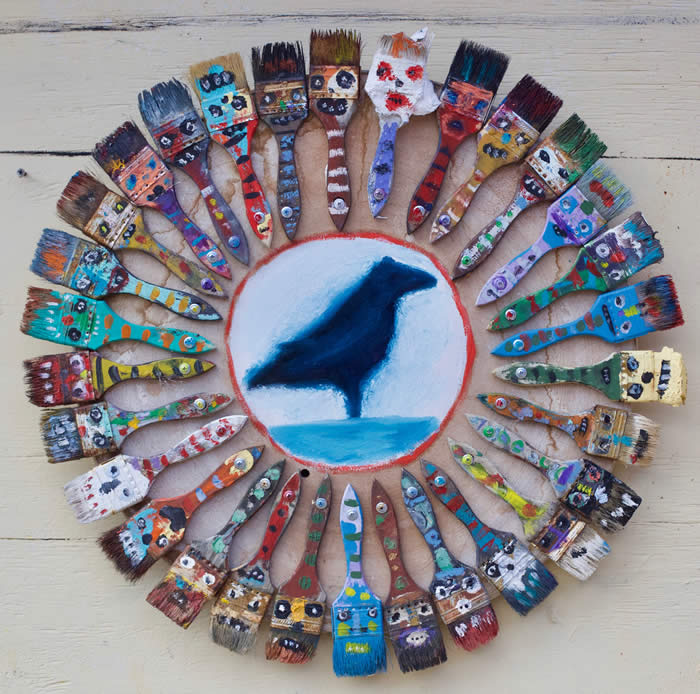 Dark Bird Mandala---SOULD
about 24-30 inches
November 6th 2017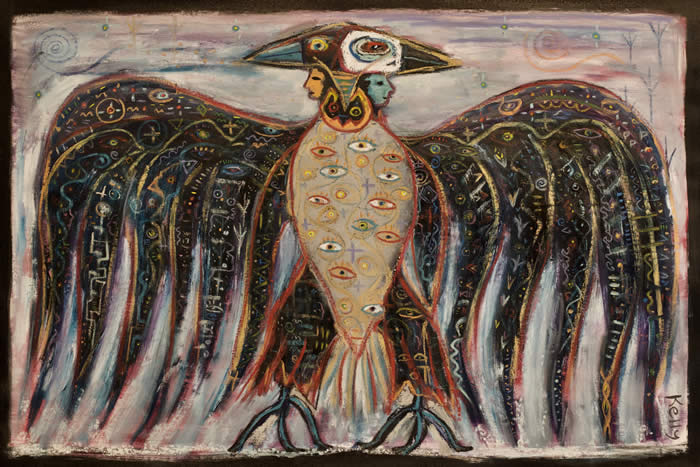 Double Eagle---SOULD
43 x 62 oily on loose canvas
i was lost
in the desert
with no water
and no face
i had no sense
of place
all directions
pointed lost
i couldnt see the future
couldnt bear to look
back
and in the present
the only thing
i could think to do
was to build a tall ladder
out of this mess
into the starry skies of
hell yes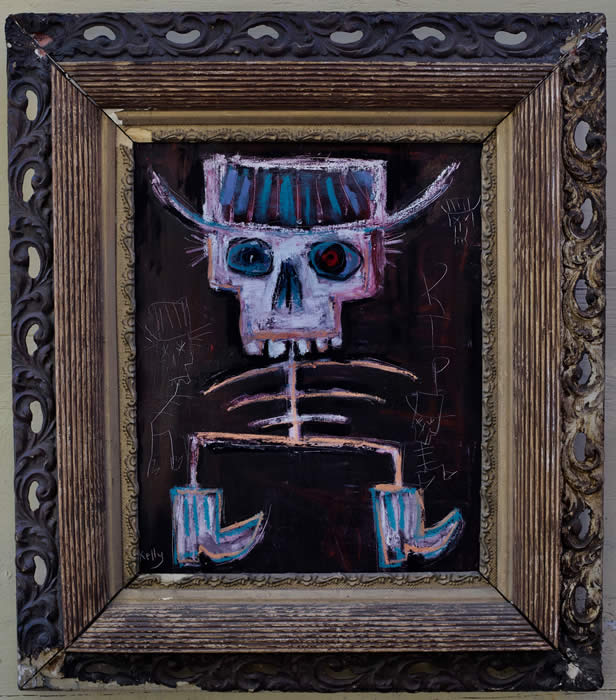 Dead Cowboy---SOULD
16 x 20 plus the frame
October 23, 2017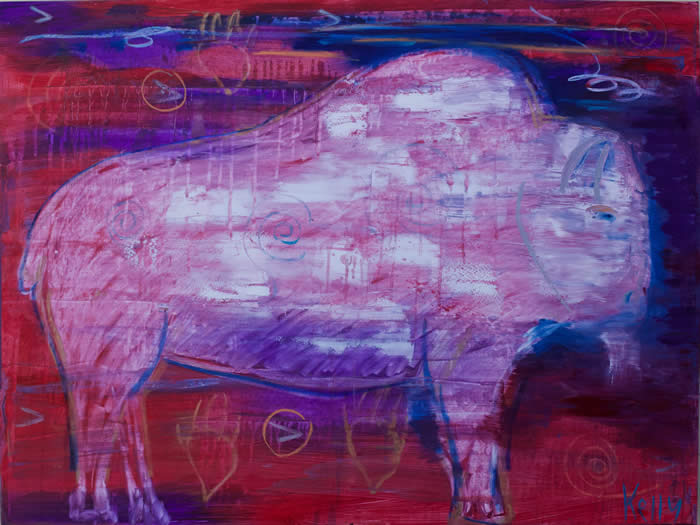 White Buffalo--SOULD
oily on a nice 30 x 40 bord
its about to get very interesting again
after a summer
of smashing my brains
against walls
taking turns down wrong roads
and believing all sorts of
lies and other silly mischief
now
ive found one true thing
and from that comes
the full on resurrection of my
Dark Bird Palace State of Mind
clik hear for a few more paintings from this week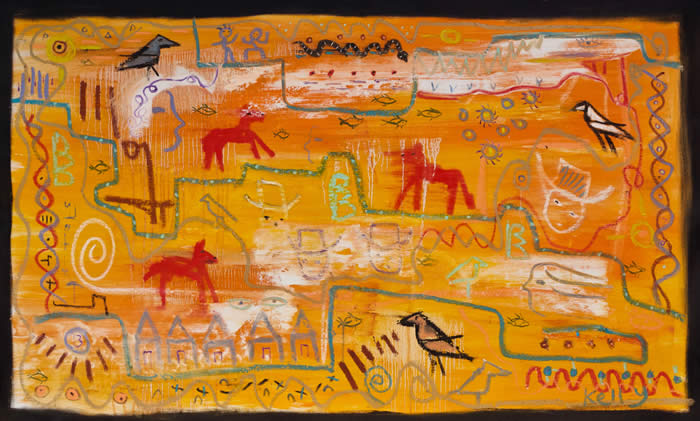 Guard Dawgs
about 39 x 62 inches on loose canvas
click hear 4 two other new ones!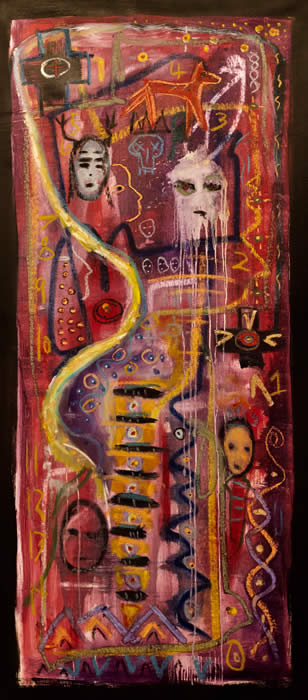 Obsession
about 30 x 62 oily on loose canvas
Anxiety writes my
to do list at 2 am
on the inside of my
eyelids with heavy disappearing ink
that compells me to start over again
at 3 am
i am driven
like a crzy one eyed salmon
to swim up my
dry river bed
every nite
slowly evolving two
tiny stick legs
that i drag along
with my obsolete fins
gasping for air
with primal gills
like the monster from the
dark bird lagoon
pondering like
a philosopical freakish monster
i wonder why am i
killing myself at 3 am?
why am i
so compelled to spin my web?
chase that rabbit?
make a list?
caw that caw?
why
am
i?

Hang Loose---SOULD
24 x 72 inches oily on loose canvas
im back in the saddle again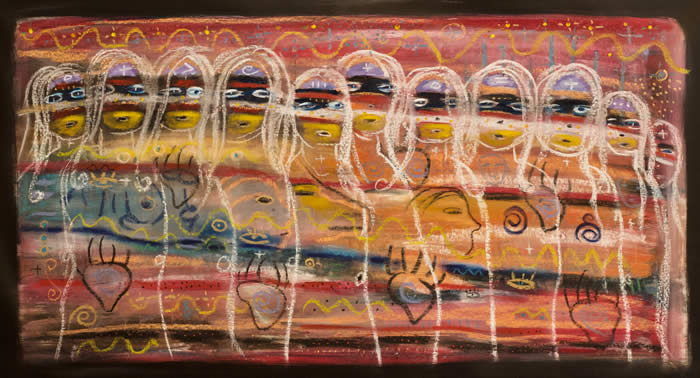 Desert Prism--SOULD
about 35 x 62 oily on loose canvas
clik hear to see 7 more new paintings
from my new studio at 821 Canyon Road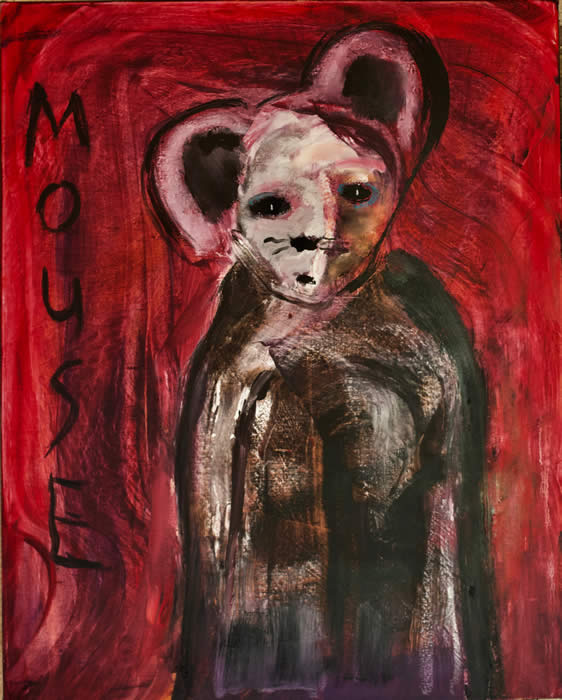 Mouse--SOULD
24 x 30 oily on stretched canvas
heard the news?
im at
821 Canyon Road in Santa fe New Mexico
a distinct upgrade from
my flea market shed to
a horse stable with
adobe bricks...
im a lucky
guy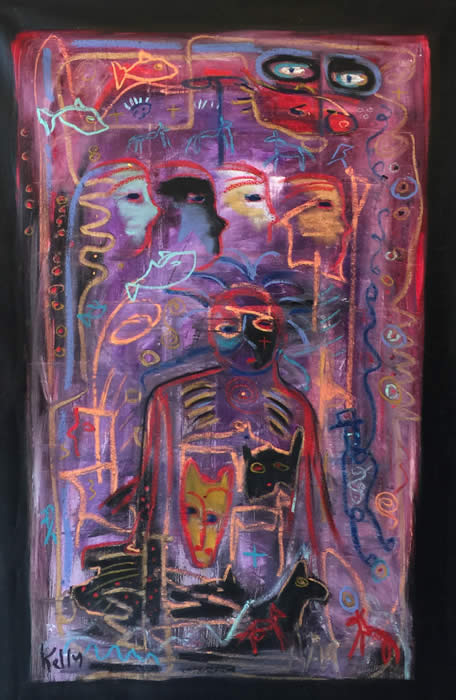 Primal Passion--SOULD
about 37 x 61 on loose canvas
Sept 4th 2017
I have a new studio at 821 Canyon Road in Santa fe New Mexico!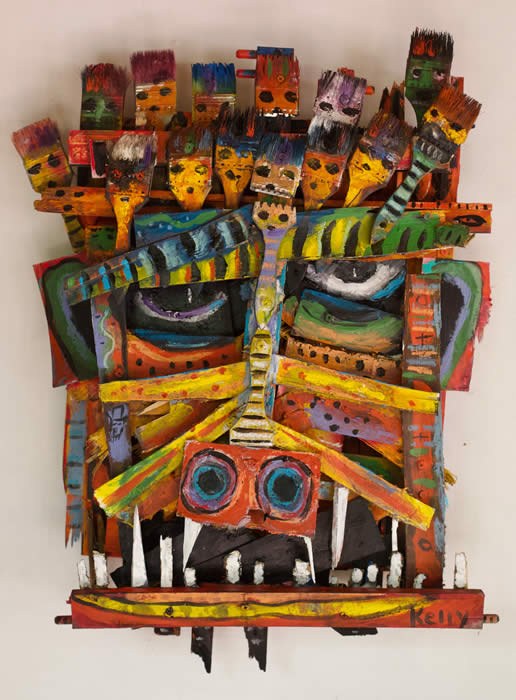 Fang---SOULD
about 30 x 20 inches
yes im still
at the Bardo Hotel
ive clearly overstayed
my welcome
im not even sure
i can pay the bill
its possible ive become
a permanent guest
at the crossroads of
home and roam
-
no more clever answers
witty comebacks
or confident assumptions
i think i left my
brain in the rain
because the size of my thinking
has clearly
shrunken
-
sir you meal is ready
sir your room is clean
why oh why
would i ever wanna leave
this sorta cozy comfort
if you know what
i mean?
-
so i sit in the lobby
some think its
my hobby
ive spent so much time
waiting around
defending my ground
ive completely forgot
what i was
looking for
-
so how bout this?
how bout that?
im amused and distracted by
the hummingbird wars
the coyote howls
the dark bird caws
& late night growls
i credit this with
my general ambivalence about
where i am who i am and where i am going
as i look thru the eyes
of the bardo hotel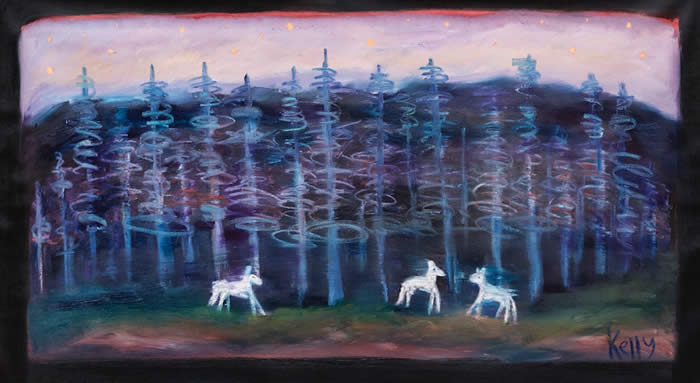 The Woods---SOULD
about 38 x 63 oily on loose canvas

Caw Totem--SOULD
about 82 x 22 oily on a nice simply framed bord
after a week
at my new mountain home
the deer stopped coming around
at morning coffee
later they told me
my company was poor
but it was my
bad poetry that was the last
straw
-
this morning
even the hummingbirds stayed clear
horror of horrors
they said my breath
smelled like
chicken
-
so i tried to exercise
my poetry blues away
doing crazy jumping jacks in the woods
which made me feel better
but caused the great
black squirrel panic of
2017
-
and so im left
with my one true
poetry friend
the much maligned
but magnificant king
of the forrest
its just me
and a fly
under the clear
blue sky
-
the only conclusion i can draw
is that the fly loves
my poetry
or thinks im a kindred spirit
at least
as he offered me a first edition
of his new book
"Catcher of the House Fly"
which i tell him is pure genius
regrettably ive never seen
the fly in public
since then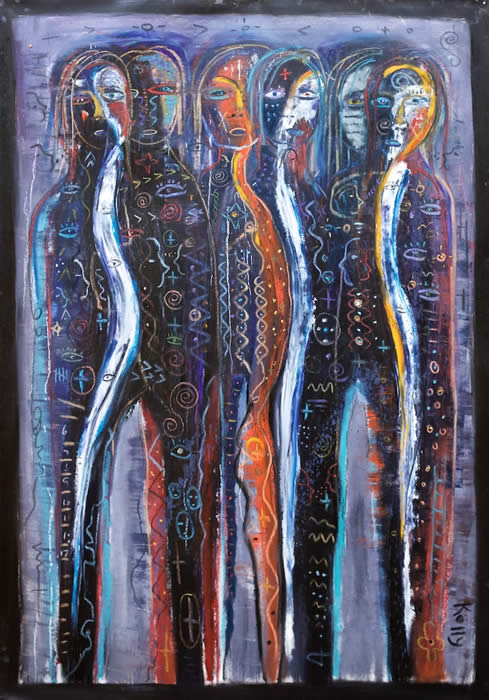 Guardians of the Multiverse---SOULD
about 48 x 62 oily on loose canvas
clik hear 4 moore paintings here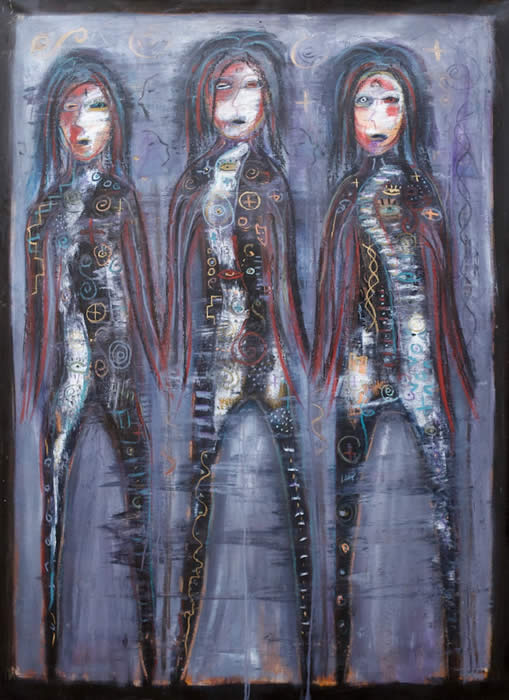 Guardians--SOULD
49 x 64 oily on loose canvas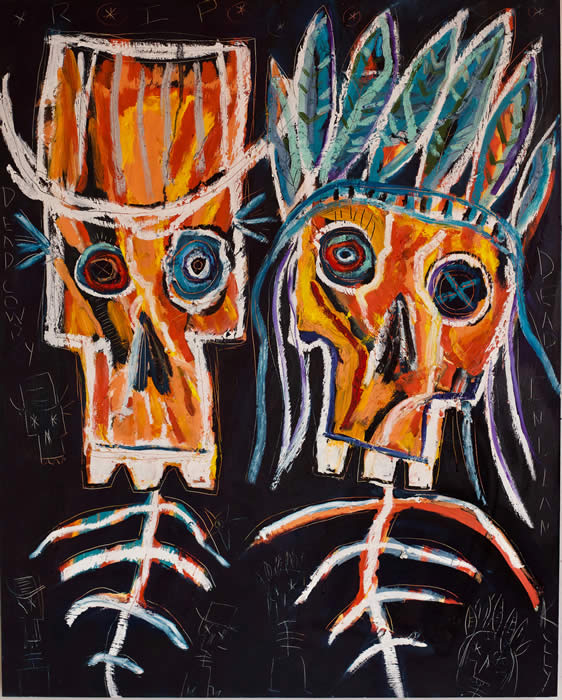 Dead Cowboy and Indian---SOULD
24 x 30 oily on a nice bord
July 24 2017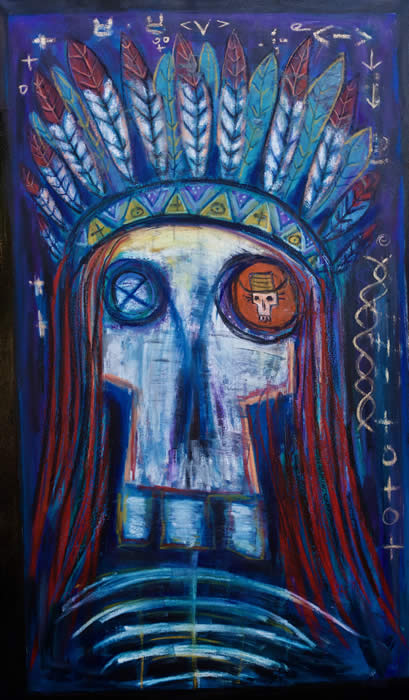 Dead Indian---SOULD
oily on loose canvas about 63 x 38 inches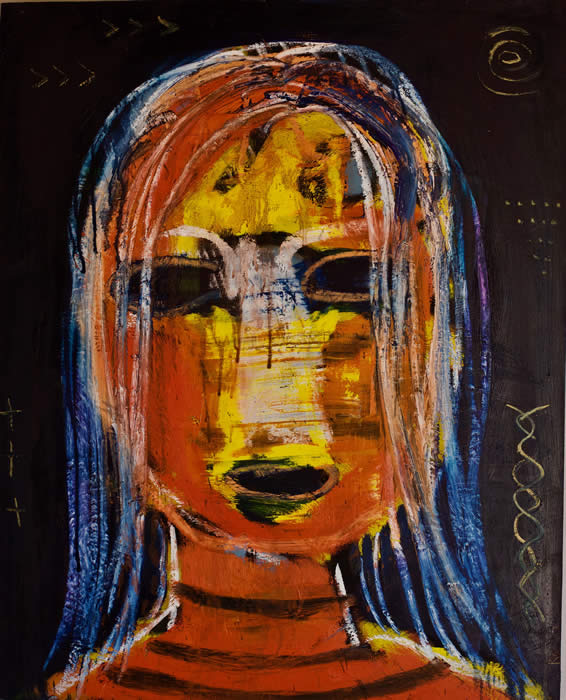 Essence---SOULD
24 x 30 oily
10:02 July 10th 2017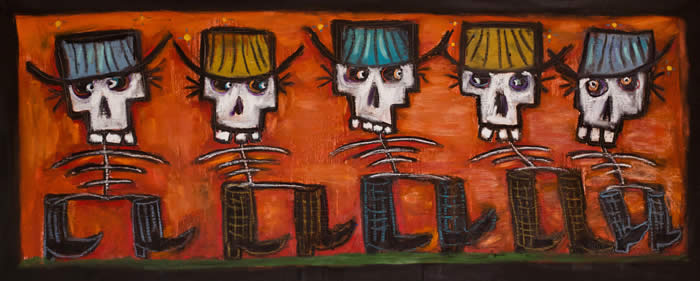 Five Dead Cowboys---SOULD
about 28 x 60 inches on loose canvas
July 3rd 2017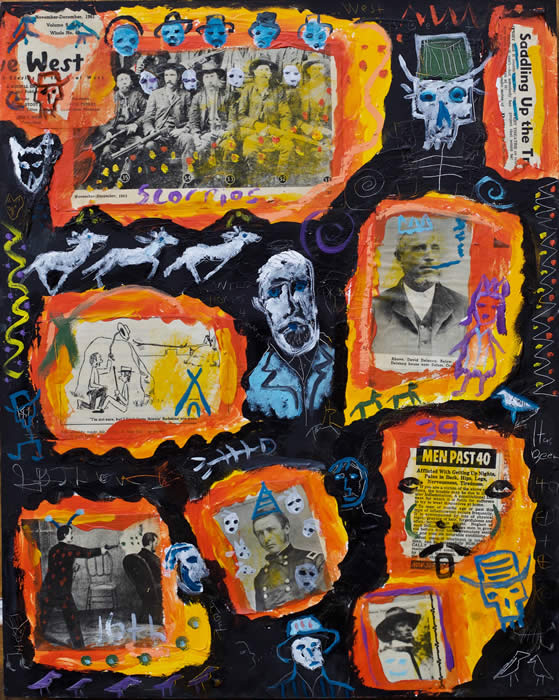 Saddle Up--SOULD
16 x 20 oily multicrappia on a nice board
if it were easy
everyone would
do
it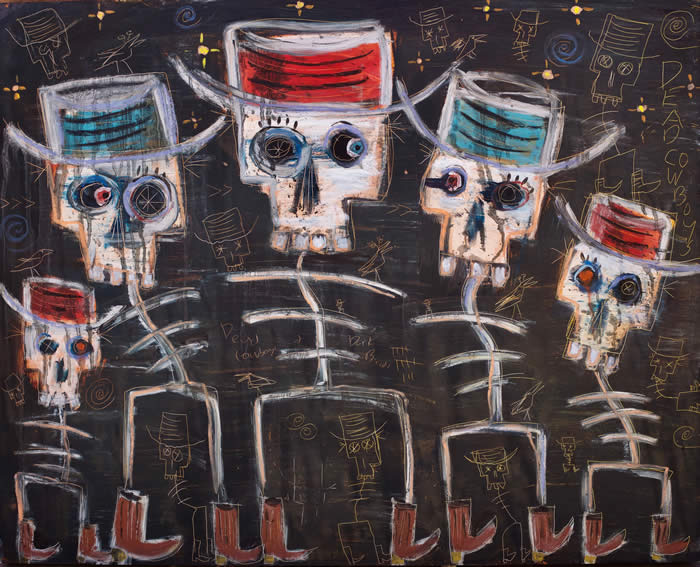 Dead Cowboy GhostWorld (SOULD)
24 x 30 oily on a bord

Dead Cowboy Totem--SOULD
the totems are 79 x 15
Jeez
last week i said
i had big news for this
week
and i do
but i cant tell
you
yet....
maybe next week!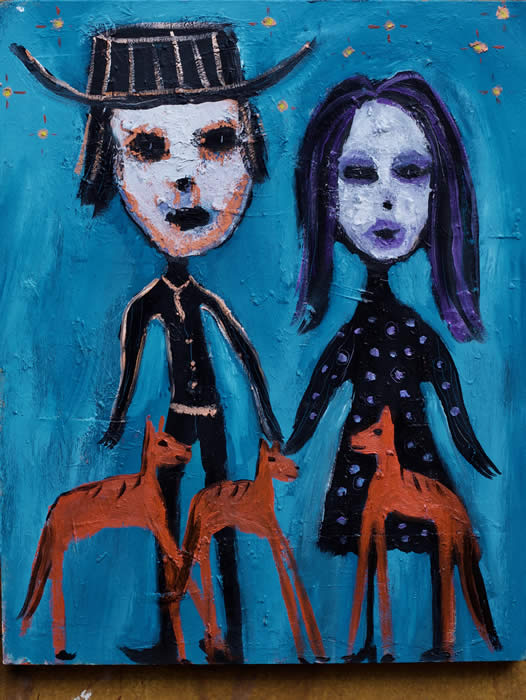 They Wore Black---SOULD
16 x 20 oily on a nice bord
june 5 2017
big news
around the
corner
check back
next week!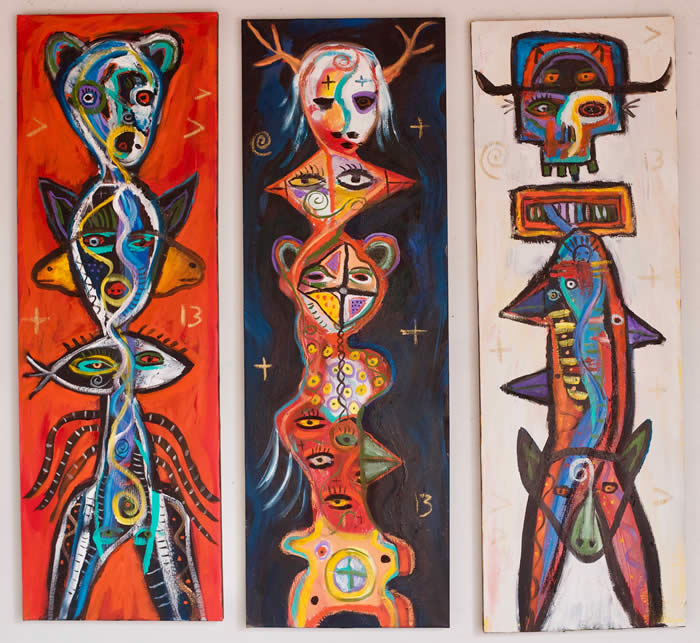 Three Small Totems---SOULD
each 36 x 12 oily on stretched canvas
Merry Christmas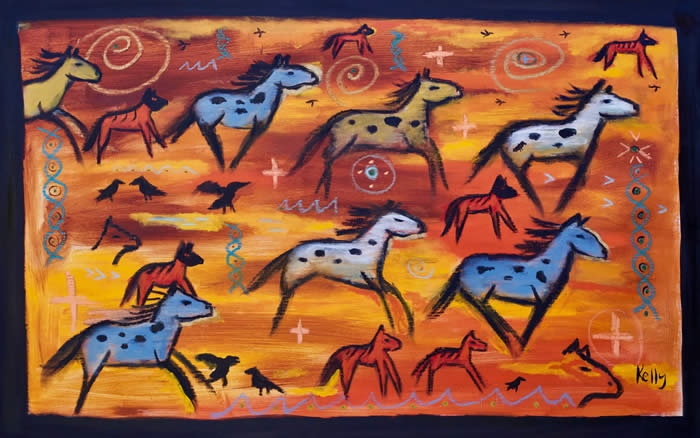 WaterHole---SOULD
36 x 55 inches oily on loose canvas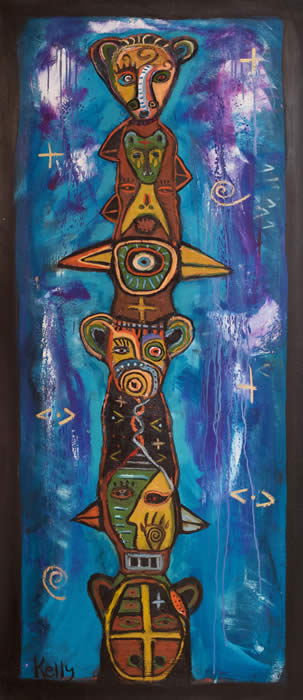 Brown Bear Totem---SOULD
about 29 x 62 oily on loose canvas
Dark Bird
cocks his head
ruffles his
feathers
leans into
the great CAW
time and space
shatter
humanity pours forth
like mixed candies
from a smashed
interstellar pinata
raccoon sees dinner
scurries over
picks up
the starshine sweets
with child like fingers
candy looks up
asks
dear Gawd
is that
you?

Cosmic Corvids--SOULD*
about 60 x 29 oily on loose canvas
Spring Snow
blows thru
cottonwood trees
like puffs of
frozen pollen
while a cold crow
sits high upon its
chlorophyll iceberg
a perfect
pirate flag
for this vessel as it
floats away in search
of road kill in
downtown
Santa fe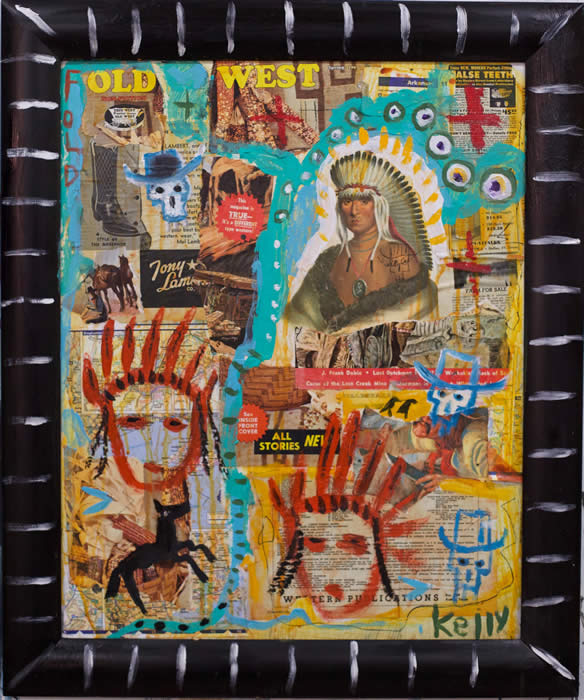 All Stories---SOULD
18 x 22 multicrappia on a bord framed simply
back from
a short vacation break
went to the ocean
brought back the
tide inside
now im ready
for this coming
summers
big ride
click hear four several other new paintings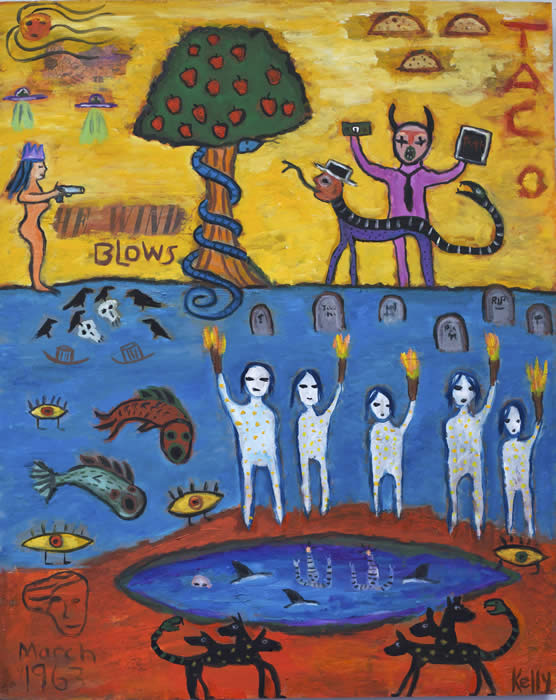 Taco---SOULD
24 x 30 oily on a nice bord
everythings gonna be ok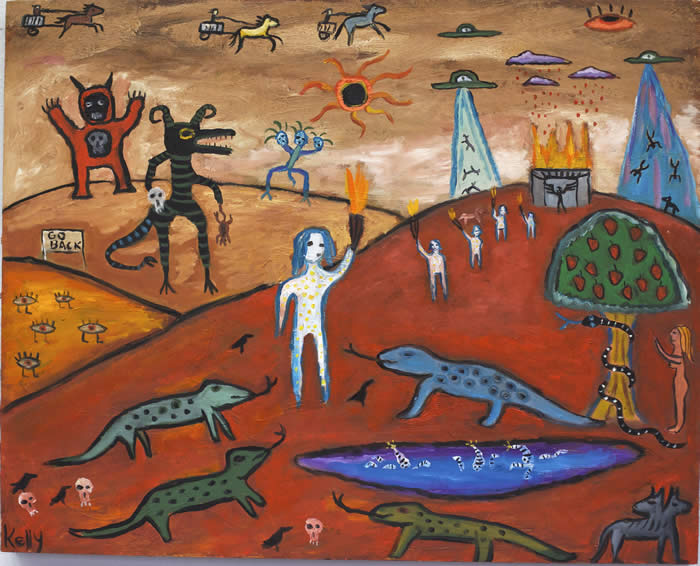 Light Holders & the Attack of the LizardBrains---SOULD
24 x 30 oily on a nice bord
which one are you?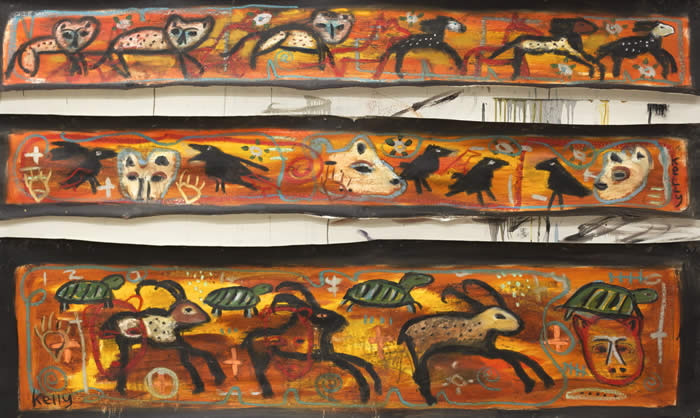 Bobcats and Wild Horses
Dark Birds and Bears
and Antelope and Turtles
ALL SOULD
all three Paintings are about 60 inches long
March 27th 2017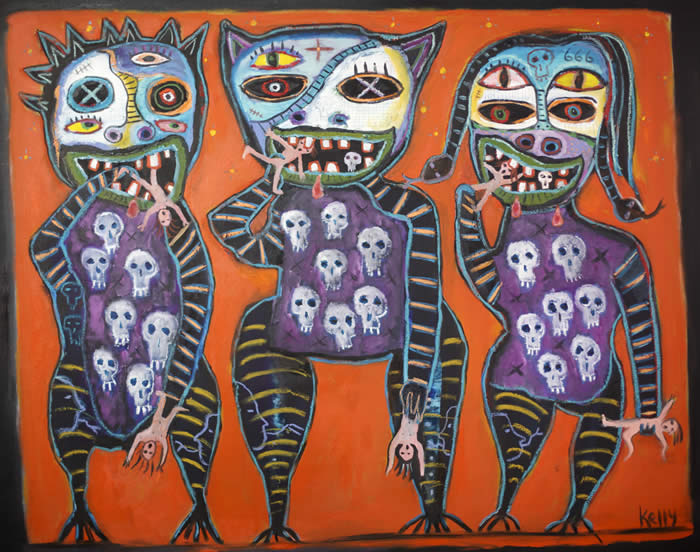 They Might be Giants---(SOULD)
about 50 x 60 oily on loose canvas
are you ready for the
new story?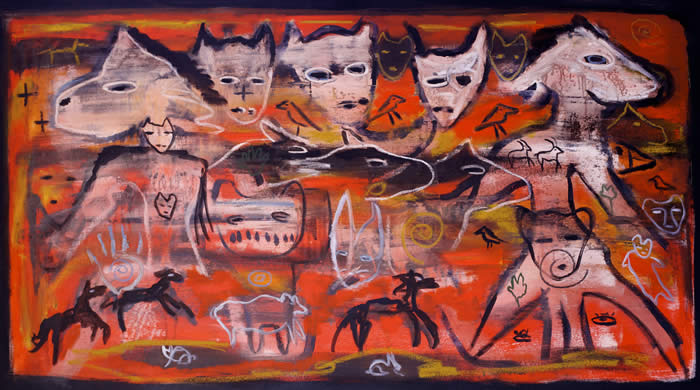 Inside the Red Cave
about 38 x 63 oily on loose canvas
March 13 2017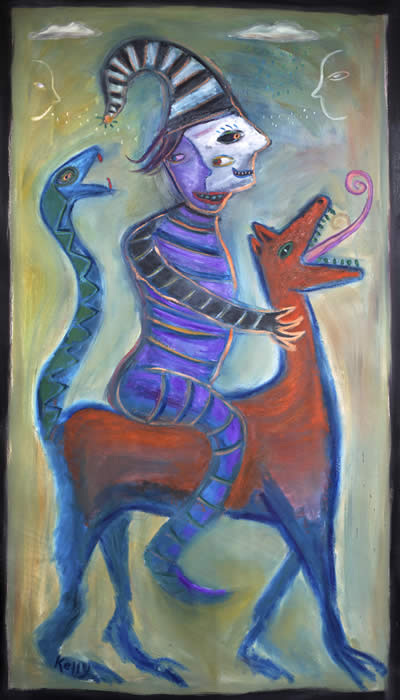 The Trickster Rides the SnakeBite Chupacabra---SOULD
36 x 62 oily on loose canvas
clik here 4 a couple more paintings available...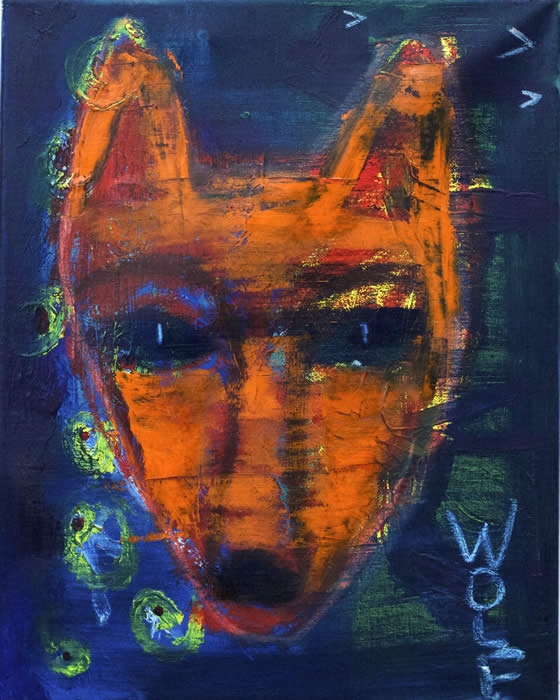 Wolf---SOULD
16 x 20 oily on stretched canvas
febuary 27 2017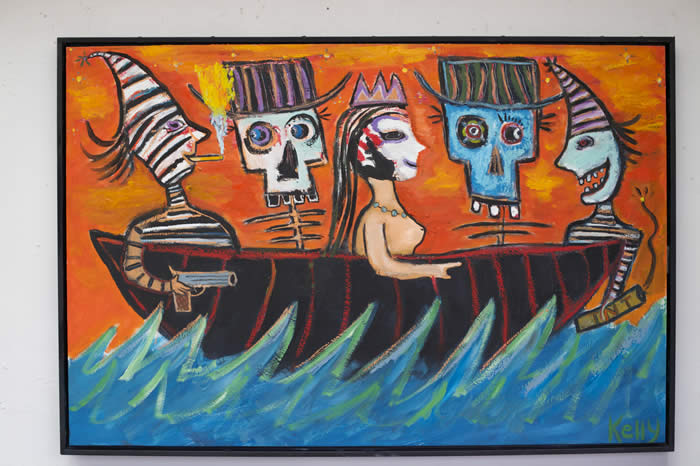 UnChartered Waters---SOULD
32 x 48 oily
several great pieces still available on my winter art sale (not all pieces are sale items but most are)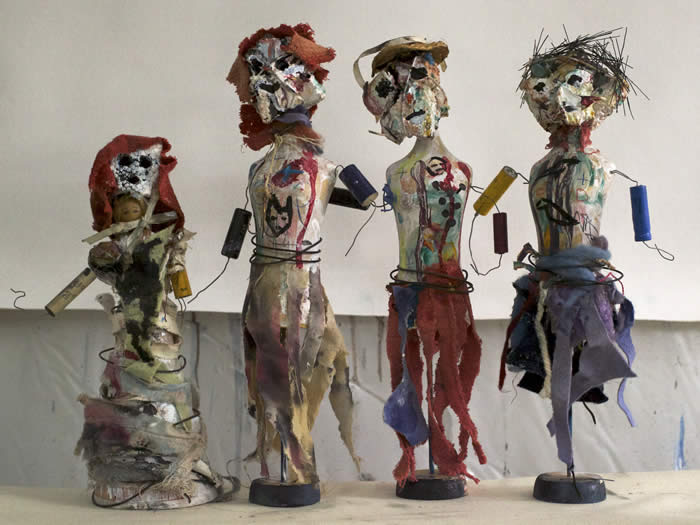 Dolls---SOULD
febuary 13 2017
lots of great art still available on my winter sale!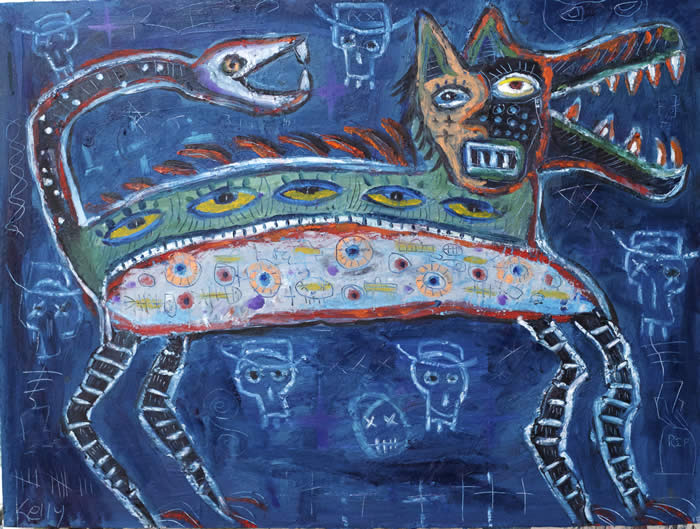 Snakebite Chupacabra---SOULD
18 x 24 oily on a nice bord
eye-40
the inner state
of america
home of the free
wifi
land of the brave
liberals
have you tried
our all you can eat
buffet today?
are you
saved?
caution
hitchhikers maybe
escaped convicts
turn around
its not too late
stop here
art made by
real indians
try our
black jack tables
roll the dice
spin the wheel
did you know Jesus
died for your sins?
Rush Limbaugh on
AM 101.5 radio
park your rig
drop a load
get a free trucker shower
eat a 64 ounce steak
and win a free
heart attack
no pets allowed
did you know
president Obama is a Muslim?
go to our website
for the whole
shocking truth
did you know
dodging roadkill
with an 18 wheeler
12 inches from your
bumper
explains
roadkill
did you know
you cant drive 75
when you have
the red state blues?
did you know
the end is
near?
did you know
Sooner football
is going all
the way?
clik hear for several new paintings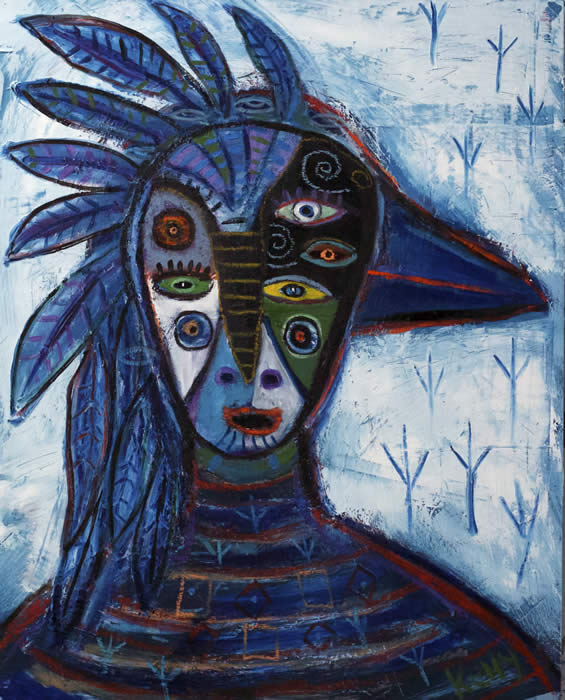 King Krow---SOULD
24 x 30 oily on a nice bord
january 30, 2017
clik hear to Check out my BIG WINTER ART SALE!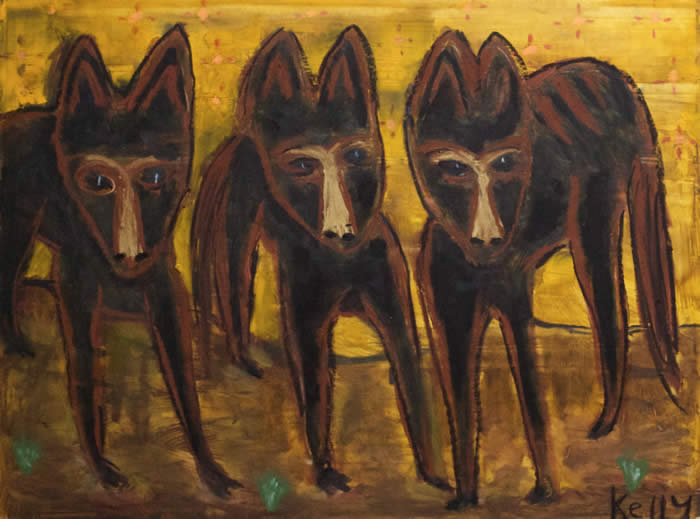 Three Coyotes------SOULD

-----

16 x 20 oily on a bord ez to hang

Next week is my art newsletter

sign up above using the link

to the Dark Bird Gazette!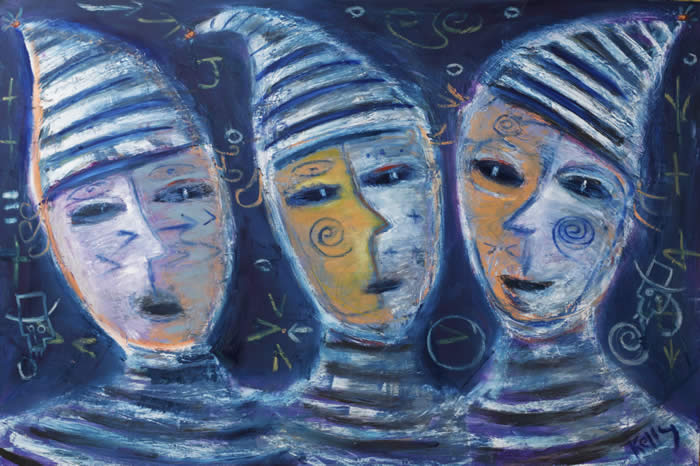 Trickster Talk--SOULD
24 x 36 oily on a good bord
January 16 2017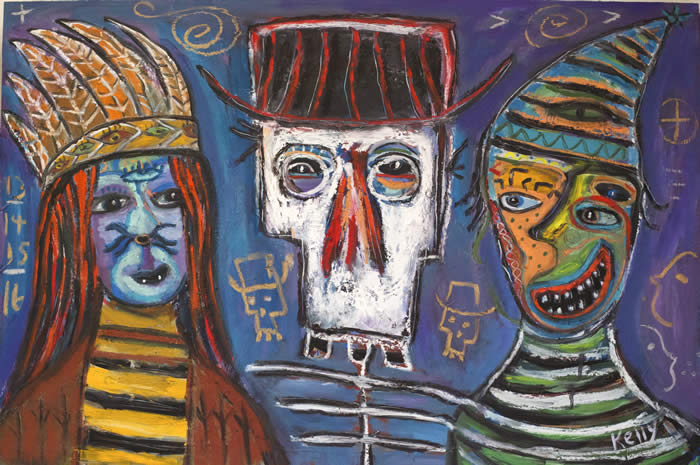 the Dead Cowboy the Indian Princess & the Trickster---SOULD
24 x 36 oily on a nice bord
January 9th 2017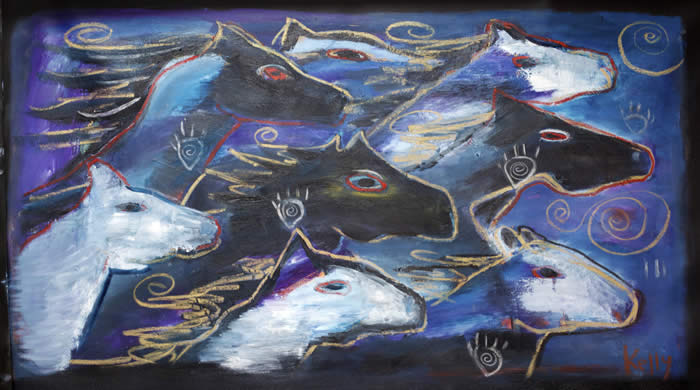 Stampede---SOULD
about 37 x 62 oily on loose canvas
January 2nd 1878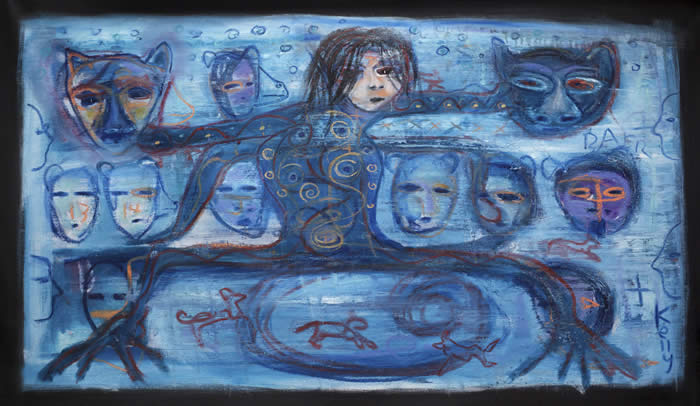 Mask Dance---SOULD
about 40 x 60 oily on loose canvas
Happy Holidays!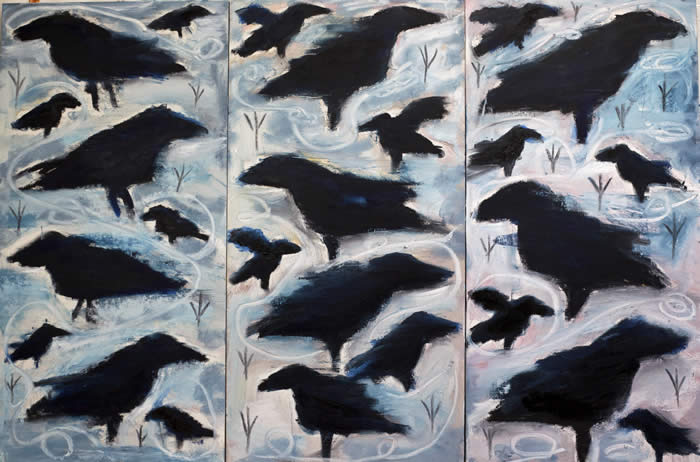 Dark Bird Rendevous---SOULD
36 x 24 three panels oily corvids all
Cursed
she had walked
uninvited
into a hogan
near Hopi
looking for directions
hexed by an old witch lady
knocking Betty backwards
all the way to the truck
back down the road
she came in on
right then and there
Backwards Betty was born
from that day
forward
everything she did
was in reverse
walking down the aisles
backwards
wearing her hat
all turned around
unbeading necklaces
unstitching clothes
putting up a closed sign
when she was open
skinning her tent
turning it inside out
flipped her card table
upside down
driving into the market
in reverse
arriving late
leaving early
eating breakfast for lunch
lunch for breakfast
if someone asked
her what she sold
she told them
nothing
she was a
complete contrarian freak
she was
Backward Bettys Boutique
a Contrarian Consortium
of Flea Market Oddities
and unCollectibles
clik hear 4 moore holiday cheer!

Dead Cowboy & the Naked Assasin in the Land of the Unseen---SOULD
oily on loose canvas about 85 x 30
woke up at 3 am
christmas morning
on the bathroom floor
except i was hovering slightly
above myself
staring down
at myself
curled up
around the porcelain god
i thought this guy needed help
which would be me of course
he started
moaning
groaning
saying something incoherant
drunk maybe sick maybe
knocked out cold
slowly coming to
staggering up
rubbing his eyes
but not seeing me
we were overlapping
at the edges
it spooked me
i hadnt prayed in 30 years
but tonite i was born again
"help me jesus help me jesus"
thats what a christmas ghost
will do to you
i thought
i was like a kid asking
for forgiveness after its
way too late
and then i started doing
a little tiny holy dance
still praying louder and louder
"help me jesus help me jesus"
thats when i noticed a
snake tail hanging off
the sinks edge
it was a cottonmouth snake
in the vanity
dont ask
it makes no sense
but after seeing my holy ghost
it made sense to me
for help from Jesus
he required an act of faith
the handling snakes
so i kissed it on the nose
its little tongue
licking my eye
then wrapped it around my arm
and began dancing with it
chanting to jesus
and keeping an eye
on my
barfing holy ghost
when i heard
a pounding on the door
the sort of desperate sound
only satan could make
when he knows hes losing
your soul
so i picked up the pace
on my dancing
started kissing the snake again
and preying
"thank you jesus"
over and over again
when
WHACK WHACK WHACK
satan knocked again
it surely must be judgement day
or judgement hour
i glance into the bathroom mirror
& see myself
dancing
kissing the cottonmouth
chanting to jesus
and now my holy ghost is sitting
on the toilet wiping spit from his mouth
so i figured this is it
get whats coming to you
i opened the door
and there stood
Santa Claus
old Saint Nick
Kris Kringle
he handed me
a bag of coal
and said
"Merry Christmas...Dont screw up again"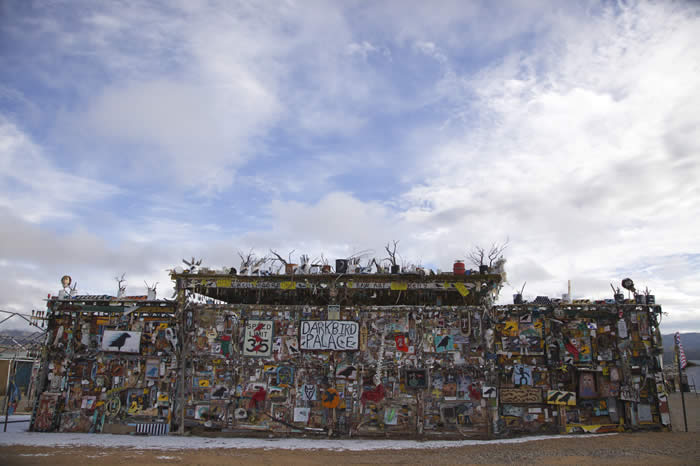 Done with the Flea Market 2016
Dec 2016
Bone Man
brought me a red bull
sayd this har weather
aint no account
we orta git away
from this har pop stand
its ovr for the year
i hear they got a
real hum dinger
of a flea in Mesa
with concrete floors
a metal roof
snow cones
corn dogs
and plenty of snow birds
with fancy RVs
& them cheeseheads spend
folding money like
its going outa style
yessir lets pull up stake
& haul tail to
arizony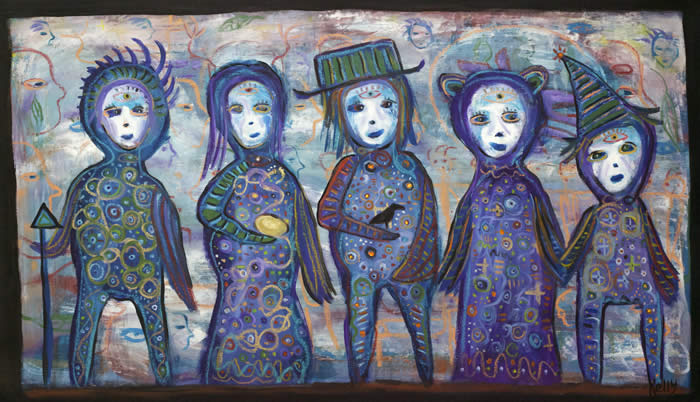 the Unseen World---SOULD
about 38 x 62 oily on loose canvas
two bobcats
wandered into our
hotel room
interupting my
amourous advances
i was so stunned it never occurred to me
to tell them
to get their
own room


traveling to
a wild horse hideout
we had elected to stay
at the camelot inn
in Fargo
notorious for illicit rendevous
excellent turkish coffee
and rowdy bobcat
dancing



in the lobby of the hotel
i had coffee with an
egyptian pharaoh
who wore dark shades
with a big smile
he told me the secrets
of cooking sheep Kabobs
and the ancient technique of
bobcat seduction


upon hearing my story of
Bobcatus Interuptus Whoopee
the Pharoah proclaimed
"FANTASTIC!"
and we strolled outside
to inhale a beautiful field of dreams
where buffalo and antelope
were doing yoga in
tie dye tee
shirts


i later returned to the room
hopeful she still loved me
reinvigorated by my
newly acquired secret knowledge
of bobcat love
and grateful to the
pharaoh
for all he had taught me
over turkish coffee
however
my love did inform me
that i would have to
take off the tie dye
if i wanted to get
lucky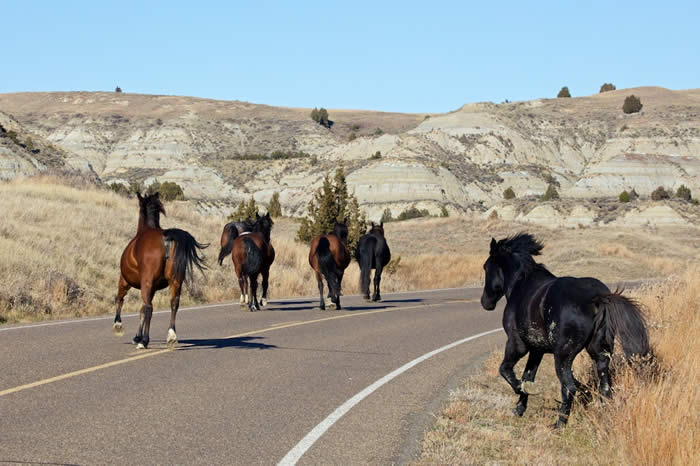 Traffic Jam in North Dakota
Photo by Kat Livengood
on the road this week
will post new art next
monday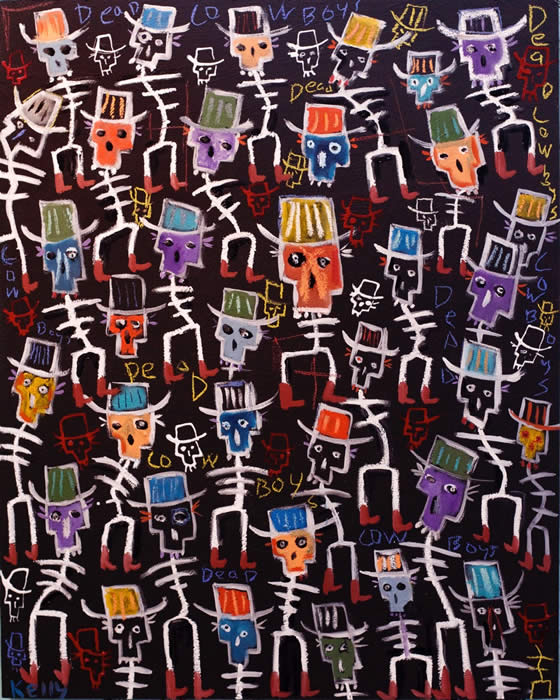 Were all Dead Cowboys
24 x 30 oily on a good bord (SOULD)
i am dark
like the
shiny blue feather
on the
raven
that caws
the corvid blues
the shiny shiny
monday morning
dark bird blues


echoes of memories
buried beneath my skin
often confused as
a spiritual message
from a celestical diety
i think its
most likely
a scientific poltergeist
rising up
out of my DNA
that says
run far far
away



smear
blur
and blend
nothing like
the digital realm
it' s wholly
original
unduplicateable
the signature of
a coyote
running backwards
down the
rabbit hole
taking his
tracks with
him



the flea market
indian cowboy
spins his rope
dancing in the
eye of the storm
his wife digs
for the lost city
of gold on
aisle K
theres not much
money to be made here
but we are all living
our damned stories
as best we can
its not oblivion
after all
but you can
almost see it
from
here



i paint another
dark bird
its wings fluttering
in the late fall wind
it Caws
sending a
corvid echo
thru
time and space
does your fancy art
ever make you
feel more
than
that?



a head with two
beady eyes
popped up out of
my wood pile
a squatter inside
a squatters shack
this land belongs
to the reservation
and i am
an arkansas traveler
my partner
in crime
a sneaky
grey squirrel


the ruts from the
monsoon rains
growing deeper
into my memory
rivers of gold
now mud
my footprints
once prominent
now blowing away
in the winter winds
letting go
always beautiful
dark bird
melancholia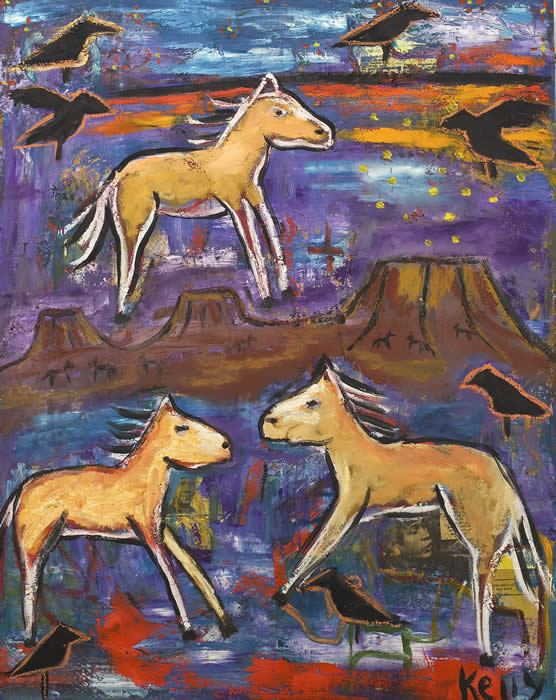 Dark Birds and Wild Horses---SOULD
24 x 30 oily on a good bord

10-24-16


the Dark Bird Gazette my monthly Art Newsletter if this week if you want to see new art join at the link above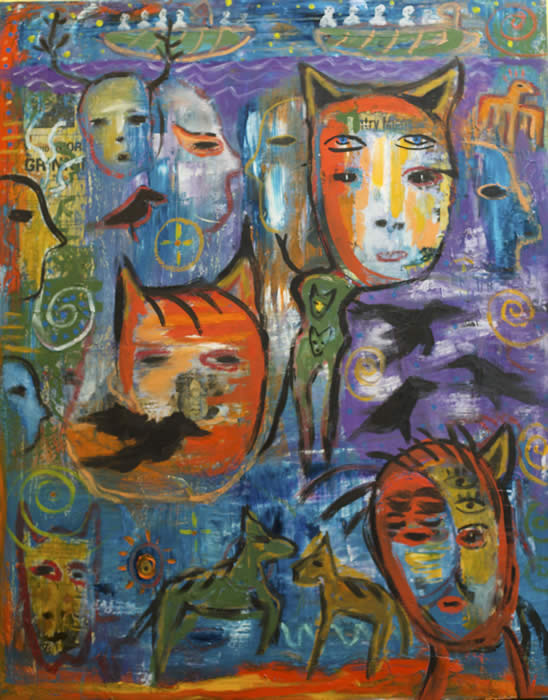 Voyage---SOULD
24 x 30 oily
October 17th 2016
two more weeks at the flea market this year!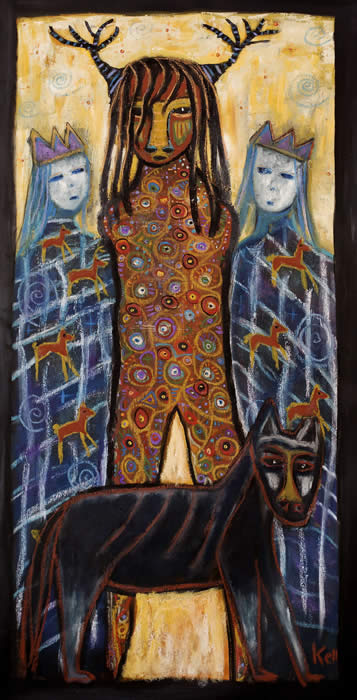 Deer Protection Painting---SOULD
about 38 x 63 oily on loose canvas
i saw a guy
yesterday who told me
he had 4 Thomas Kinkaides
which prompted me to
tell him
that today is your lucky day
i am here to relieve you of
the burden
of light
today the full truth
arrives
in the form of a Dark Bird
giving you a handle on
both left and right
he laughed and walked away
happy with his copy of an original
signed
by the master of
marketing
the painter of blight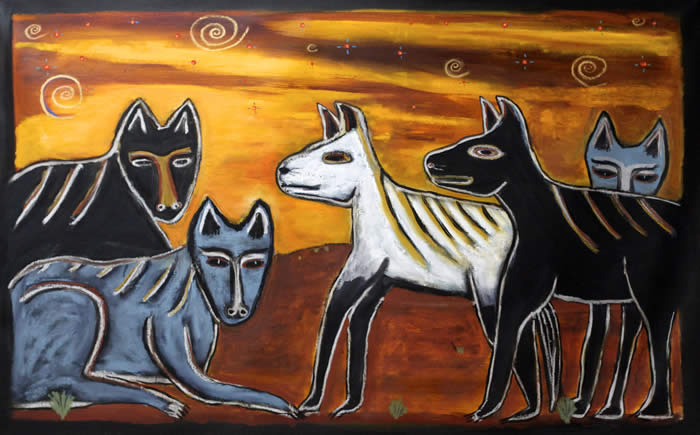 Big Dawgs of the Desert---SOULD
about 40 x 60 inches on loose canvas
in santa fe
it appears we have left
modern medicine
far behind
and now use only
the shamanic
healing techniques
of ancient cultures
where the average
life expectancy
was
about
35

be gone narcissus
fleawalker
be gone from
my shed
thee offends
my ears
with your endless
bullshit
be gone
narcissus flea walker
your mouth is large
your ears have disappeared
be gone
narcissus
flea walker



a mid life crisis
in santa fe
doesnt require a
red corvette
or a 25 year old
spouse
all that is required
is a shamans license
and a few tubes of
acrylic paint
to smoooosh around
while energetically
healing people


the crazy lady told me
the FBI placed tracking devices
inside her tent
and the CIA followed her
everywhere
with drones
but the most bizarre part
was that ive had
the same exact
experience



when politcal correctness
meets flea market dharma
a dark bird chases
the unicorn back back over
its rainbow into
a black hole
where i can assure you
there is no
return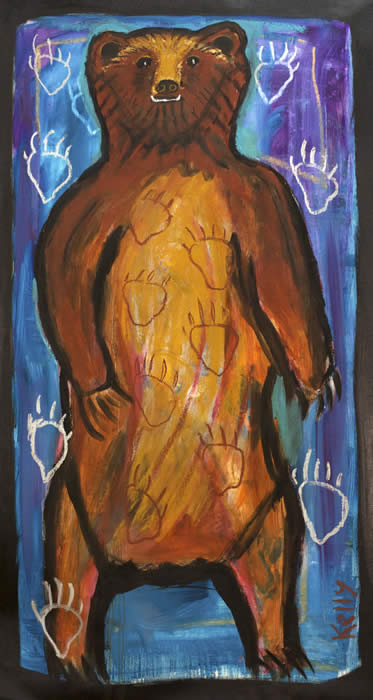 Grizzly---SOULD
36 x 63 mol oily loose canvas
my monthly art newsletter is this week
join here if you want to see
new art and a story
from the desert southwest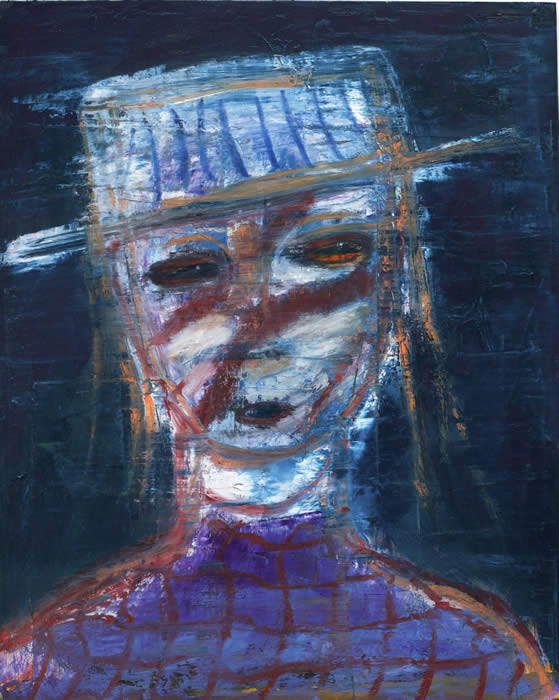 American Refugee---SOULD
16 by 20 oily on a good bord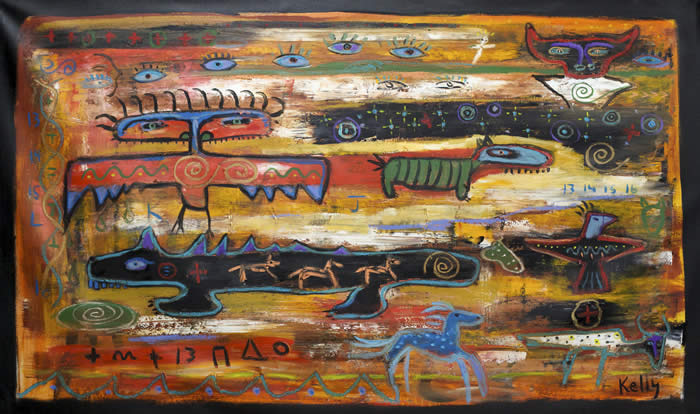 Thunderbird---SOULD
about 60 x 39 oily on a loose canvas
sneaking into
the flea at nite
to paint under the
new mexico moonlight
sometimes i create
sometimes i watch
the poltergeists rise
and sell on aisle
A thru K
boney fingers
breaking thru gravel
skulls breaching
the desert crust
a macabre market
dances at night
selling everything
from a to z
where Dona Tules
runs a tent of ill repute
skeleton whores
giving fleshly pleasure
to dead cowboys
old Geronimo lurks
hidden away
they will never
find him
because no one comes
here anymore
Georgia Okeefe
is painting flowers
on aisle A
such boring art
i doubt she'll
make it
very far
Buffalo Bill
designs a
stage coach robbery
in the parking lot
such a shame
they lost all their money
before they got past
the front gate
Jesus is sitting at a card table
selling black market
anti depressants
to the indian ghosts
Buddha is hawking
life insurance to old people
telling them to protect
their worldly possessions
Billy the Kid
has a small tattered tent
and is selling
self help books
on how to be a
big success
a conquistador zombie
walks the front aisle
telling everyone
he's been stuck at this market
since the spanish entrada
when the indians shot
him full of arrows
its a haunted market
at night time
and in the day time
we are all walking talking
dead cowboys at a flea market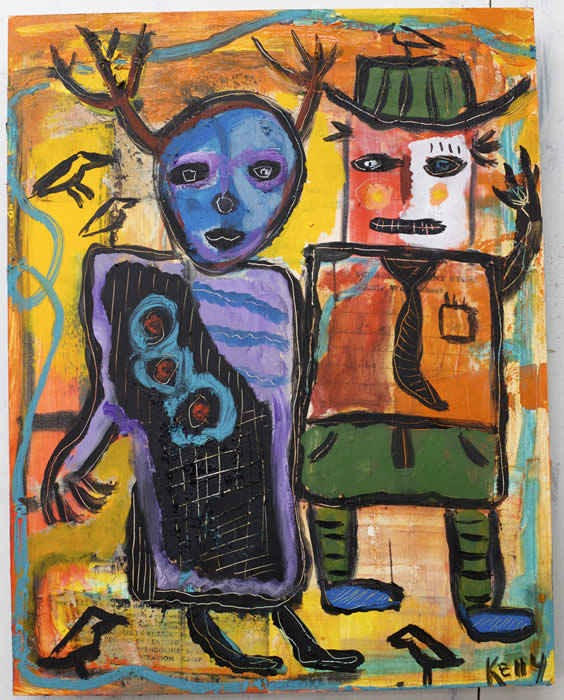 -------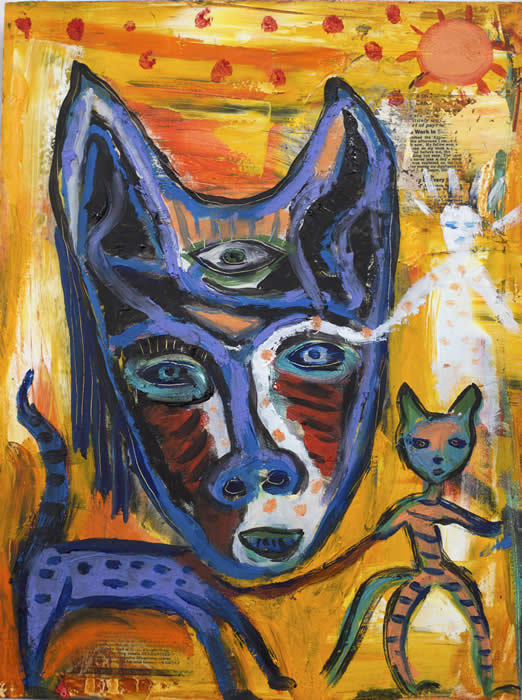 -----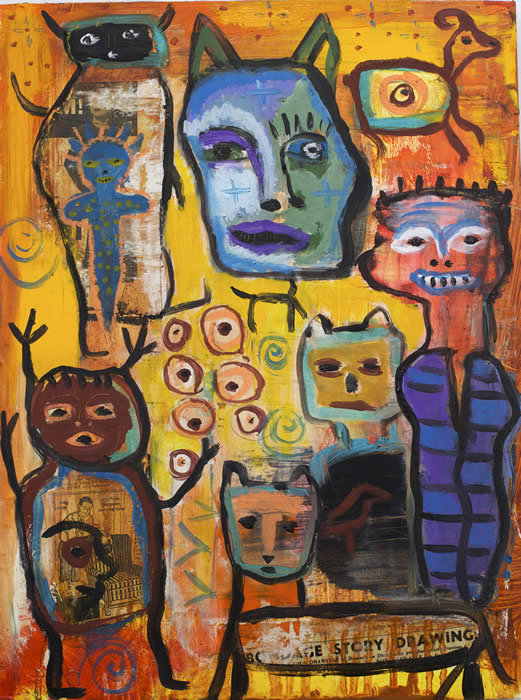 ---
---------Happy Couple (SOULD)--------------------------Animal Guide(SOULD)---------------------------------------Story(SOULD)------
-----------14 x 11 oily on a bord-------------------9 x 12 oily on a bord---------------------------------12 x 6 oily on a bord
Sept 5th 2016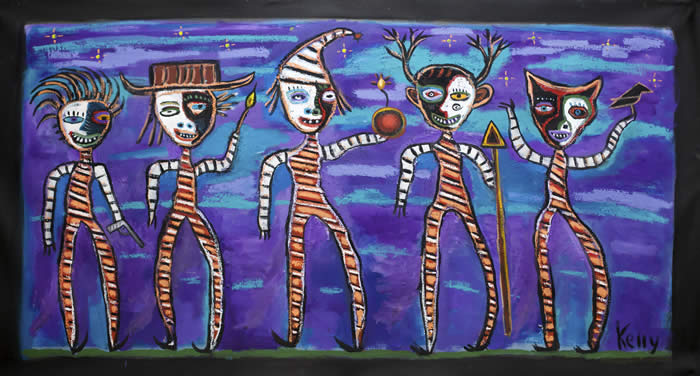 Trickster Fun---SOULD
about 60 x 39 oily on loose canvas
August 28 2016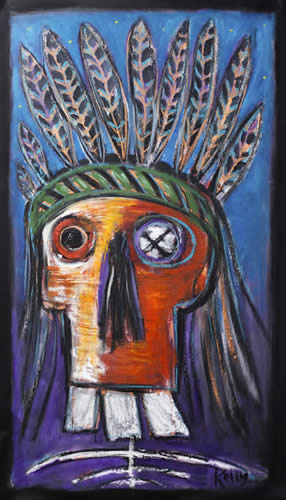 ..................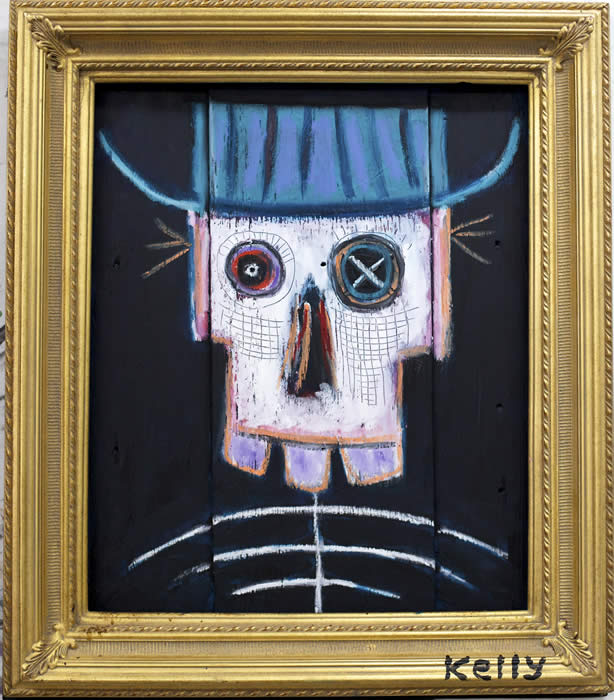 Dead Cowboys and Indians ( SOULD)
a casino on aisle J
thats been the rumor
for years
that the flea market
was eventually going
to be paved over
with slots
on the front
blackjack on the back
strip poker
in the parking lot

i always knew
we were playing
with a loaded dice
and that the house
always wins
and in the end
all you walk away with
is your memories
and maybe
a hangover

consider me gone
im already a ghost
from the good old days
remember that weird guy
at the flea market
with that strange booth?
whatever happened
to
him?


the glory days
gone years ago
the wind rolls down
the empty aisles
and i see the ghost
of departed vendors from years past
all that is left
for most of us
is a place to be
until the black jack
begins


ragged tarps
blowing gently
in the wind
dust devils kick up
in the parking lot
and the sun shines
brightly
on the Sangre de Cristos
and once again im reminded
of the strange beauty
of a dark vision

Two Headed Bird Totem---SOULD
14 x 38 oily on simply framed bord
August 15 2016

Desert Dawgs
110 by 43 oily loose canvas
that smell
coming from atop
the Dark Bird Palace
undoubtedly
the fresh skull
i threw up there
last week
that has become
more interesting
with the monsoon rains
more odiforus and mobile
i hear pitter patter
foot steps on the roof
its a flea market garden of eden
without the original sin
up there
a new species
is being born
inside the incubator
of a dead goats head
where frankenflea peers out of the goats eye sockets
at the flea market
like plato gazing out of his cave
minus opposable thumbs
at something
it knows is
sheer madness

In Progressssssss.....--SOULD
August 1st 2016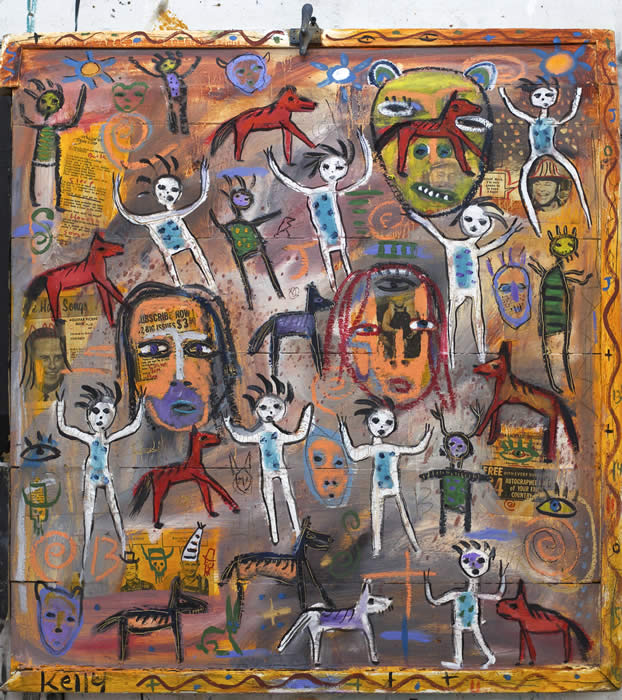 Flea Market Cosmos--SOULD
about 30 x 34 multicrappia on a wood door
its too hot
the relentless baking
of what little brain i have left
has forced me to consider
taking my kat and
moving to alaska
where i can become
an honorary eskimo
and build
the Dark Bird Igloo
where i will paint
ice bergs
snow flakes
santa claus
and polar bears
for the discerning
arctic art
collector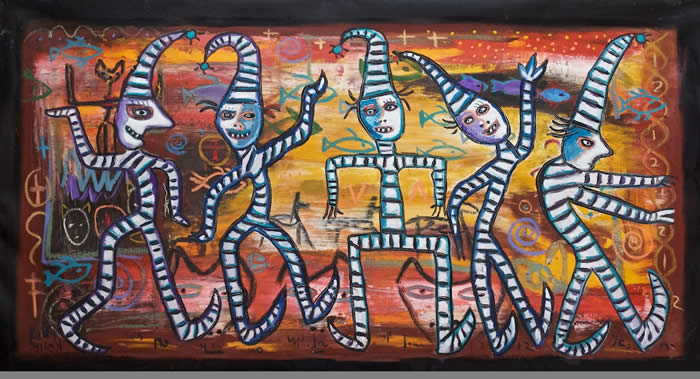 Trickster Underworld---SOULD
oily on a loose canvas 64 x 36
july 18th 2016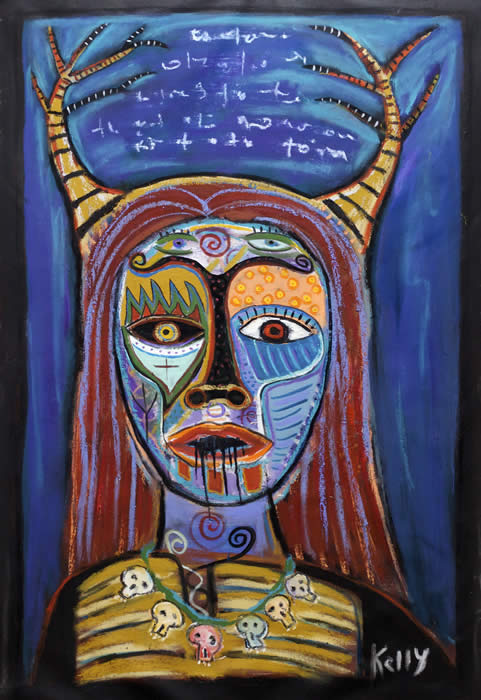 American Durga---SOULD
about 35 x 60
a hawk flew
into my shed
and landed
on the elk antlers
staring at me
until i lost my nerve
& flew away

it was hot
95 degrees to be exact
so i moved into the shade
listening to BB King
singing in my head
"the Thrill is Gone Baby…the
Thrill is gone…"

flea market dementia
taking myself too serious
like a JackAss who thinks
hes a quarter horse
ready to run for the roses
but suddenly realizes
no one else is training
by trotting to the
porta pottie
5 times a day

in some
social settings
political correctness
has reduced my
vocabulary
to shrugs
thumbs up
or
thumbs down
the occasional
windmilling of my arms
and my most valuable
gesture
the pointing into deep space
when folks ask me about
polyticks


i am simple maker of pictures
spreading
burnt sienna
raw umber
warm yellows
& making marks across my canvas
call me a painter
i will leave the
label
Artist
for others
to decide
since i paint
more like a cave man
at Lascaux
holding a torch
in the cave
i call the Dark Bird Palace
looking for simple
mysterious truths
i am a
modern primitive
not by choice
but because
its
really
truly
who i am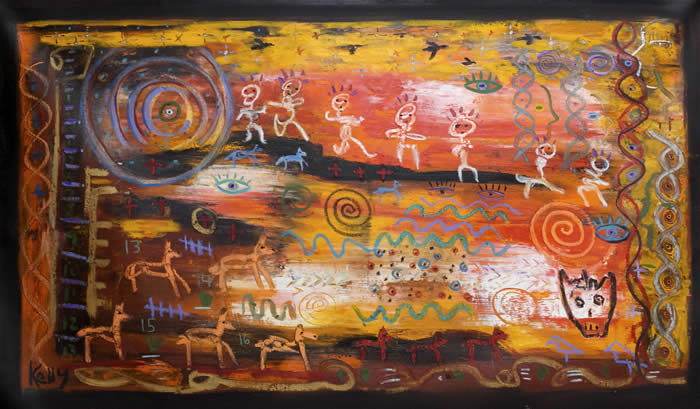 the Quantum Desert---SOULD
oily on loose canvas about 60 x 40
july the 4th
i here by announce
my independence
from cat videos
and any click bait
that says
"this man made millions
doing this"


i confess to
the crime of murdering art
it was an act of passion
but i ask for no leniency
and sentence myself to
a lifetime at a flea market
where i will be rehabilitated
and made fit for
proper art
in another life

i staple my windows shut
at the flea market
old tarps make for
elegant curtains
and double as security
from the felonious finches
who wish to break inside
and take selfies
while posing on elk horns
to post on
finchbook

quantum cowboy
i am many things
all at once
you are currently watching
flea market version 2.0
which is a distinct upgrade
from when i was a door to door
donut salesman
in version
2.whocares

in the last year
i moved back inside
my dream house
where pictures flicker
on my interior walls
24/7
while i lay on a couch
drinking ginger ale
and listening to the
cool color of the
moon

who are these mysterious
white dancing beings in my paintings?
what are these colorful animals
that are always
wagging their tales?
and why do i always paint
stars in the cosmic sky?
because this is
what i suspect
is really going
on

5 Dead Cowboys
about 24 x 60 oily---SOULD
"hey bro i didn't steal your vodka"
the security guard in the parking lot
then watched as
the Dude
pulled a huge family pack
of pork chops
from his sweat pants
& threw it on the ground
and all i could think of
was whether or not
the cop would put the chops
in the discount rack


a healer at the flea told me
he could heal me in 5 minutes
but i missed the appointment
when i realized im nothing
if not one of the
walking wounded


i am more and more certain
that god always gives us
more than we can
handle


an artist came by this week
telling me about her
museum exhibit
inviting me to the show
where other successful
artist would be
and i thought to myself
if only she knew
about my impending
solo exhibition
at the MOMA
in fancy New york city



continuing
when sane people stop
accelerating when others
slow
often defined as insanity
and yet when you
do crzy for years and years
some people
will call you unique
& maybe brilliant
once they untie you
and pull the net
off


watching clouds
predicting weather
at the flea
i forecasted a
50% chance of a dark bird downpour
with a slight chance of
dead cowboy sunshine
and later this week a possible storm
of multicrappia

a helpless baby chick
falls out of his nest
at my shed
he's shaking
and bewildered
with his little feathers
sticking out of his tiny head
and yet when i look
deeply into his beady little eyes
i can see that he's
really more concerned
whether im going to
make it thru
the day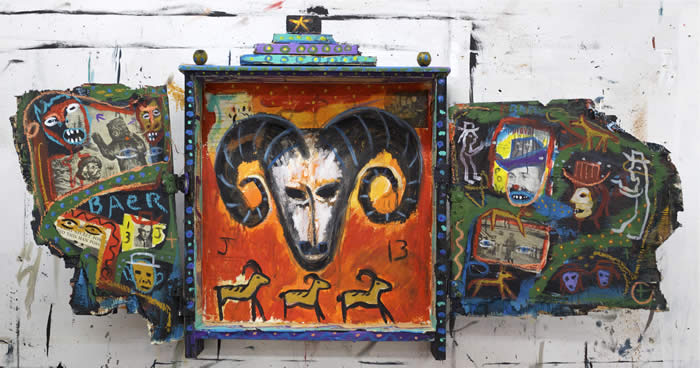 BigHorn Retablo--SOULD
45 x 26 multicrappia deluxe
sometimes i think
im the only person in santa fe
uninterested in evolving
reaching transcendence
or having a deeper
awareness of myself
which is pretty obvious
to alot of folks as they
watch me search
for my glasses
but if its true
that we come from monkeys
in the jungle
who worked with simple tools
living uncomplicated lives
of eating
mating
and playing
but evolved into precious baboons
with guns & twitter accounts
maybe you can understand
why im so happy to be
an unevolved
unenlightened
neanderthal
doing crude paintings
in a shack at a
flea market



and yet
i do so love
my sparkling spring water
with a nice organic
salad



(can't a neanderthal wolf
hide in a herd of highly evolved
santa fe poodles?)



still
i cant bear
porta potties at the flea
anymore than i can
a piss cup
& i would prefer to dig a hole
and move when the
stench becomes
unbearable



salvation came to me
in the form
of a beautiful cat
saving me from
full on grunting & inappropriate scratching
as well as pointing at art collectors
as though they were
bringing truckloads of bananas
leaving me utterly happy
in a modern world full of
luxuries such as
ice cubes & frozen tamales
but also haunted by
the uncertainty and confusion of modern life
yes that would be me
DarkBirdus Maximo Confusioness
June 20th 2016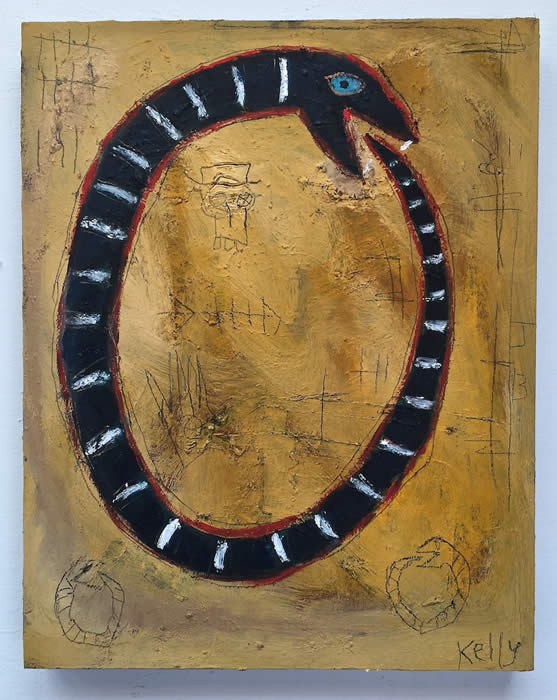 Summer Ouroboros---SOULD
16 x 20 oily on a nice bord
thanks to all the nice people
that continue come out
to sea me at the flea
its a good reminder to
stay close to the ones who "get you"
that you dont have to
explain anything to anybody
cuz there aint no way
you can teach someone how to
speak
art
especially if your first tongue is
corvid
(CAW the Great CAW)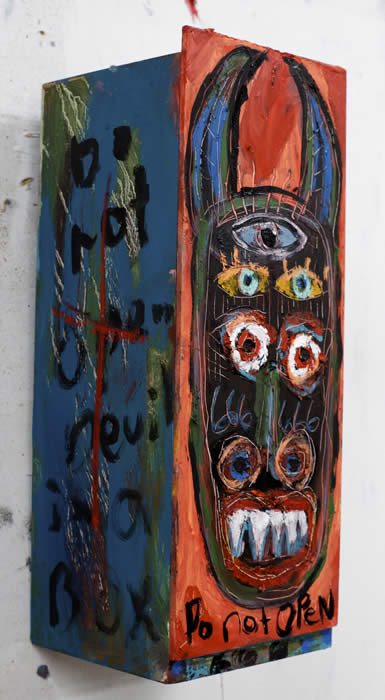 ------

------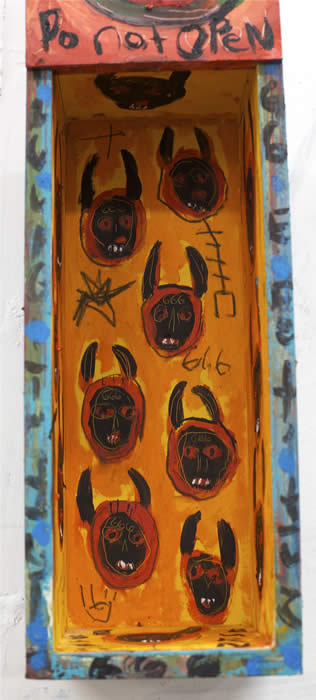 Devil in a Box---SOULD
about 12 by 5 closed and 24 by 5 if u dare open it
i know i have it made
im a lucky son of a gun
i get to paint everyday
but sometimes
when im standing at the flea
the dust gets dirtier
the wind gets colder
& traffic disappears
and thats when
i have to put the
devil in a box
because
im a lucky son of a gun
and i have it made
and thats why
i have to put
the devil in a
box
so he can't get out
and run wild thru my head
because im a lucky
son of a gun
and i have it
made
so long as i keep
the devil in a box

Animal RUmors---SOULD
62 x 25 oily on loose canvas
blah blah blha lbahlhl blah balha blah blah blhald blah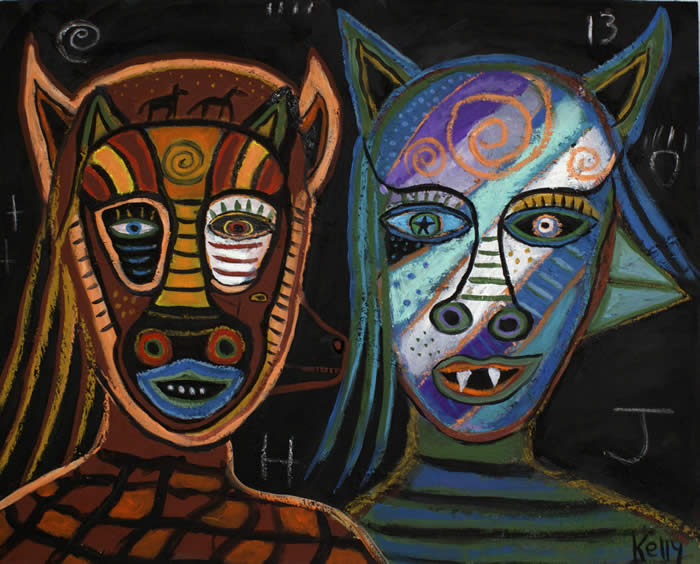 The Odd Couple---SOULD
24 x 30 oily on a good bord
May 16th 2016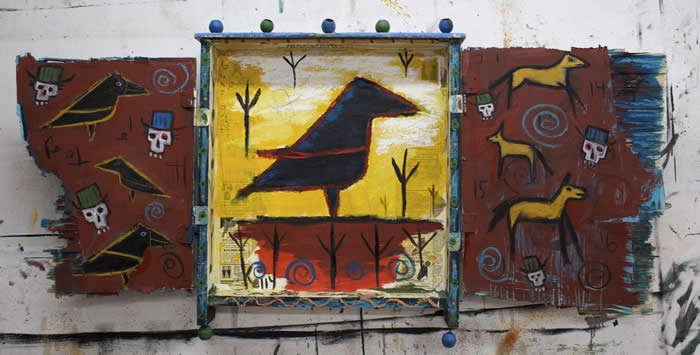 Dark Bird Retablo---OPEN---SOULD
multicrappia about 21 x 48
May 9th 2016
Dust becomes
my second skin
on a windy spring day
with the ashes
of dead plants
the disintegrated hides
of animals
& the skin of past peoples
blowing thru the sky
skins upon skins
i am a mortal
covered up
by the immortals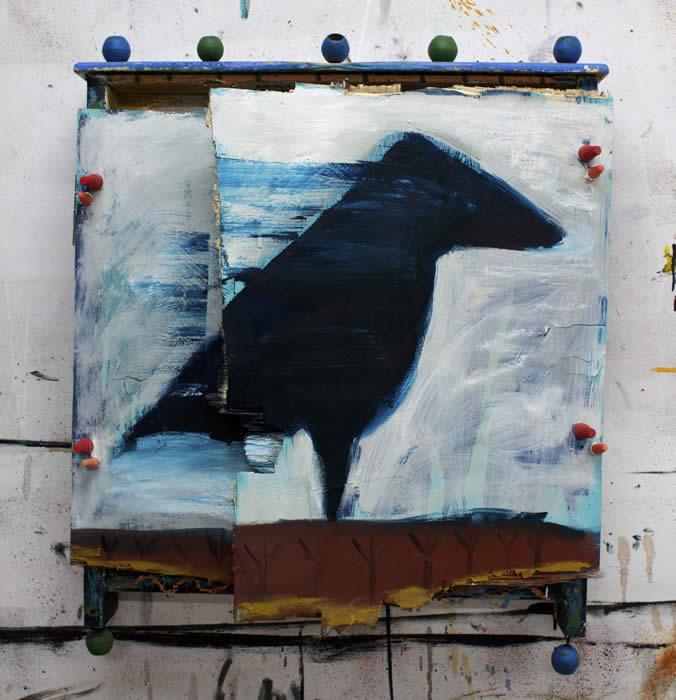 Dark Bird Retablo---Closed----SOULD
about 24 inches when the doors are closed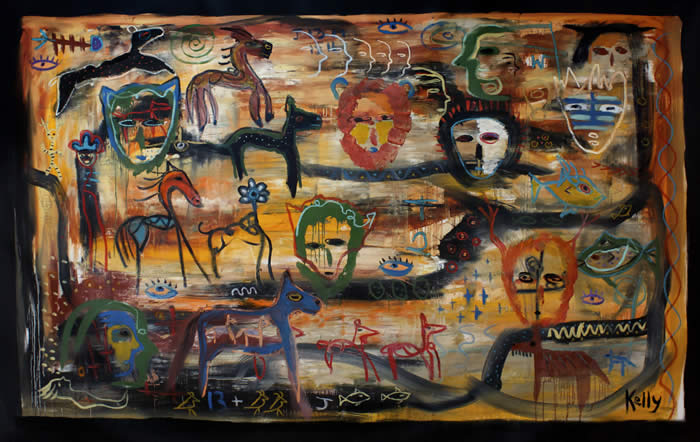 Desert Epiphany---SOULD
8 foot by 5 foot
May 2nd 2016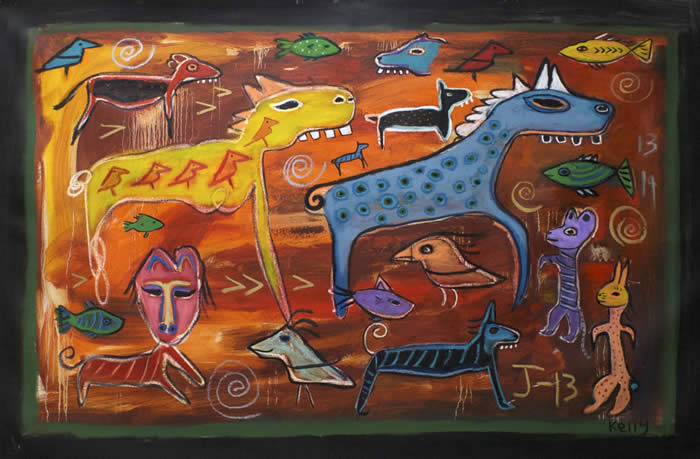 Animal Play---SOULD
about 42 x 64 on loose canvas
Dead Artist are ruining the world
ok what i mean by that is
that art museums are clogged with the
rotting bodies
of dead artist
who they are still pimping for
more money
like a whore whos body
is old and stiff
but with a little lipstick
some fishnet stockings
and a short red skirt
they can still sucker the ordinary art viewer
into thinking they just got laid
when really they just got
screwed
and the museum got paid
while reducing the viewers
artistic vocabulary
to the same
three dead hookers
(thats so Basquiate!)
(ur just like Picasso!)
(beautiful like Chagall!)
and turning everyone else
into their
John
and yes they hope you
come again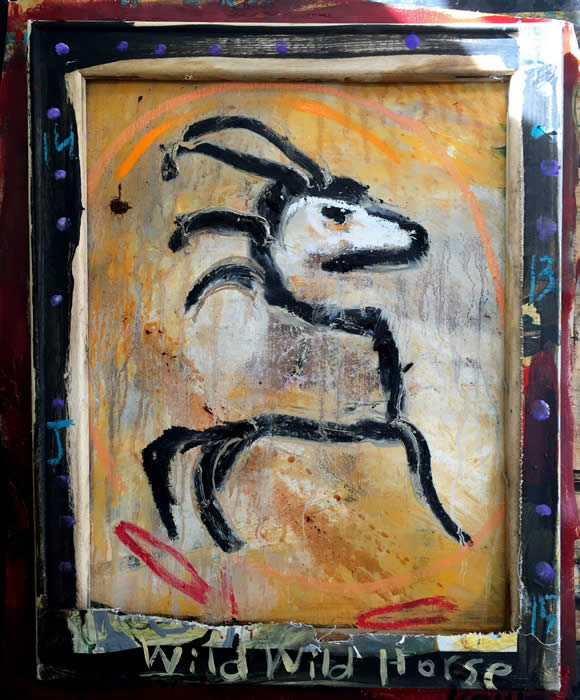 Wild Wild Horse--SOuLD
about 16 x 20 multicrappia stapled to back of stretcher bars
i cant draw
im not formally trained
my use of color
is simple
my use of materials
humble
but i am a master of disaster
a creator of chaos
a disturber of the peace
i flip tables
to find out
what was already
on them
because
i believe in accidents
the unplanned
the spontaneous combustion
of a firey imagination
the discovery of
the blues with paint
afterall im not here
to impress your head
with my art
im here to give you something
you know 100%
to be true
in your heart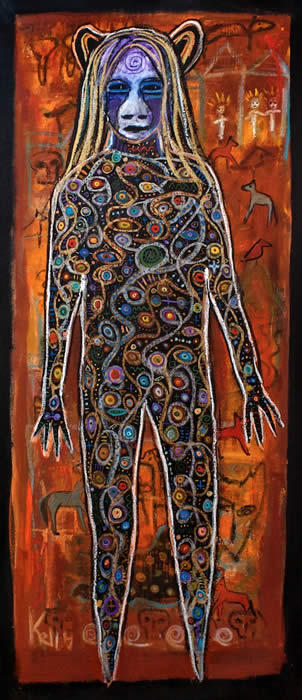 Puma--SOULD
oily loose canvas about 34 x 72
april 4th, 2016

Eagle Totem---SOULD
oily 61 x 20 on a good bord
Sometimes I feel like a carnie
painting at the flea
but I also feel
like a strange animal
when I'm away
from the flea
so i suppose its entirely possible
im like the elephant
that escapes the circus
and rampages thru downtown
while tipping over cars
except its the other way around with me
im the two headed darkbird with a beard
whos fighting off a robin infestation while
trying to escape town
so i can get back to rampaging
at the flea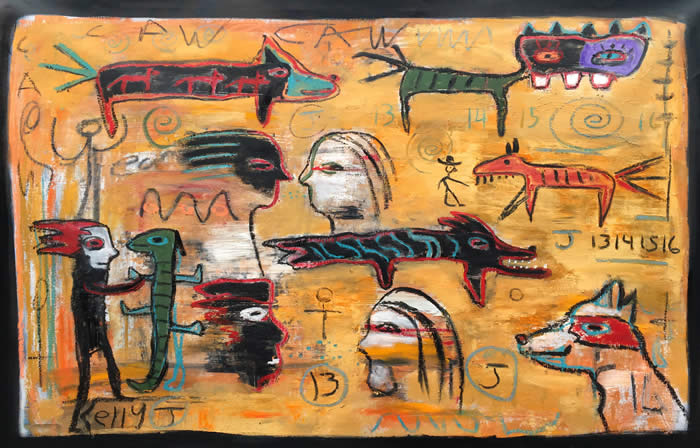 Red Dawg---SOULD
about 36 x 62 inches on loose canvas
im the worst carpenter youve ever seen
the most disasterous of handy men
the lamest of archeitects
and im in charge of
adding another 99 floors to the Dark Bird Palace
straight up into the clouds
and then i have to add a basement
to hide important emergency supplies
(paint, thinner, cans of beans and lots of giner ale)
and then theres the pool
the god forsaken pool
everyone knows that adding a pool
is nothing but trouble
and you dont get your money back
when you sell your house
not to mention
if i catch dark birds paddling
around in my concrete pond
like silly mallard ducks
or worse yet
if they pee in the
freakn pool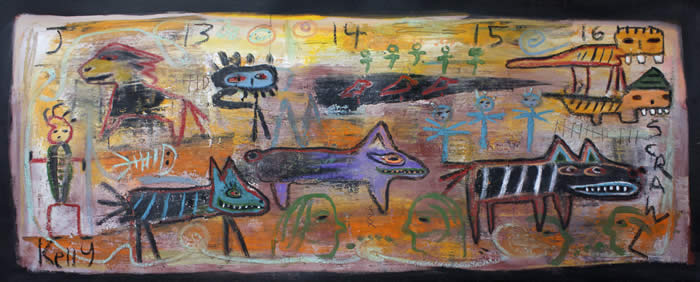 Desert Monsters---SOULD
about 34 x 63 oily on loose canvas
art
requires patience
even for a painter who believes
in trying to capture
lightning in a bottle
because sometimes
you have to
step away
from the lightning strike
for a day
or a week
to see clearly
if that flash of brilliance
burnt down the house
or if it seared
the mysterious shadow
of art onto
your lucky
canvas ground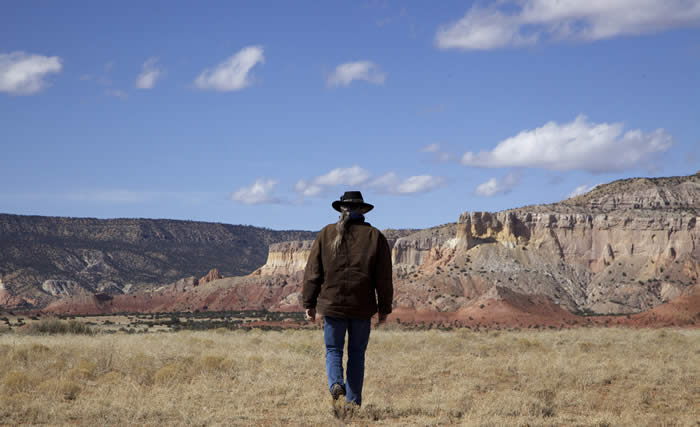 March 7th 2016
foto by Kat Livengood
i go a little bit bonkers
maybe just plain nuts
over the wintertime
when i get nothing
but cold turkey sandwich
and a little shirley temple
in a drinkie cup
you see im an addict
hooked on flea market
smoke and mirrors
razzamattazz
three card monty
&
hong kong phooey
but im always jonzing
for aisle J
trying to score
making my play
painting the day
cuz
ive tried the other juice
hit the other joints
its never the same
& its not where i am
when winter breaks
i'll be dealing cards
at the the Dark Bird Palace
March 2016

Steady Bear Totem--SOULD
about 62 x 22 on a good bord
monday 10:44 pm
an hour and 16 minutes left
til tomorrow
or is that today?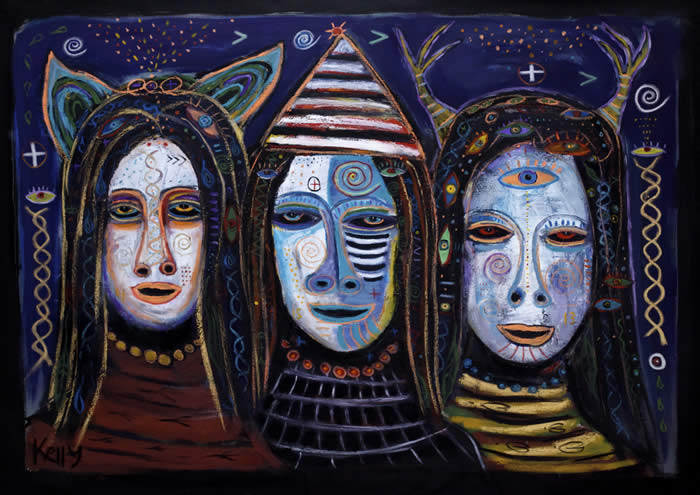 3 Fates---SOuLD
about 60 x 40
my big freakn winter sale
is about to end
(once i get back to the flea my pitiful
desperation drops off)
so join my newsletter
or check my new art page
to see if theres something
that is not already
SOULD
(its slim pickns for slow pokes)
CAWWWWWWWW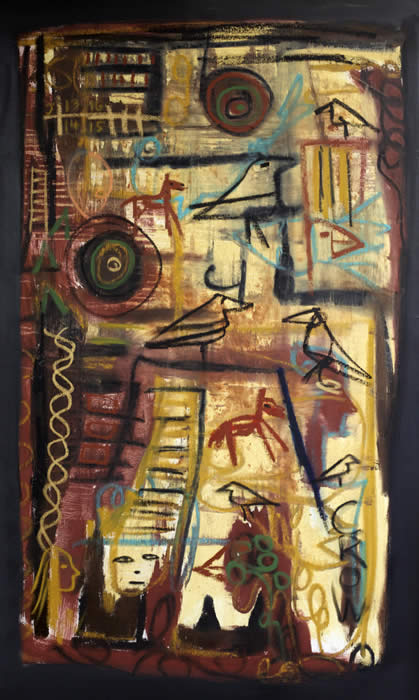 Crow--SOULD
37 x 63 oily on loose canvas
thank gawd for nightmares
three of the freakn worst
I've had
now do nothing
but elicit warm fuzzy
memories
much like a strange beautiful flower
that rises out of a giant stinking
maggot infested cow turd
so thank gawd
she left me
so i could meet the most beautiful
woman in my life
thank gawd the art galleries
wouldnt touch me
and i found the flea market
thank gawd my house
caught fire
and i had to get the hell
out of that place before
something really really bad
happened to me
yes imagine if three of the worse
things you could imagine happened to you
within one year
and as it turns out
they were the best things that ever
happened to you in your entire
life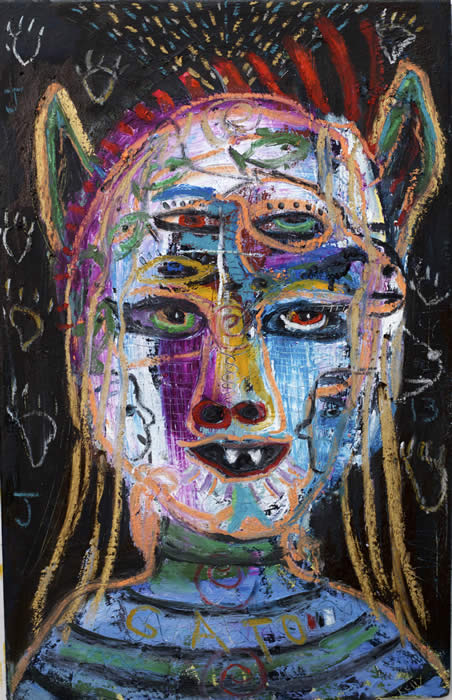 Gato Shapeshifter---SOULD
loose canvas 63 x 44 oily
Febuary 8 2012
Valentines Day
is just around the corner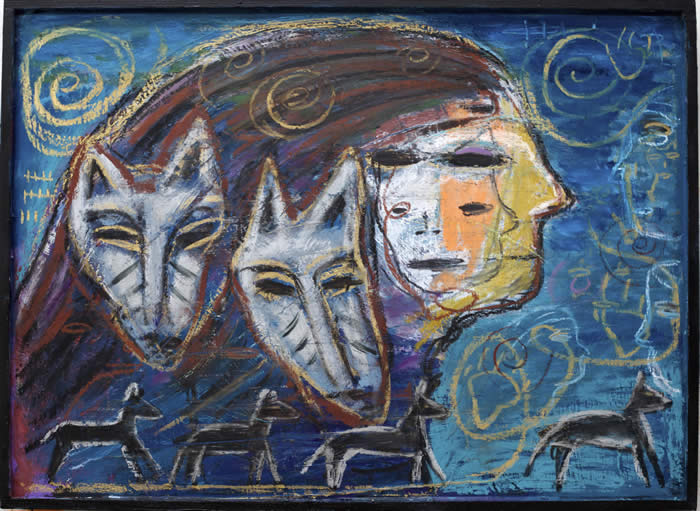 RUns with Wolves--SOULD
about 33 x 21 oily on a wood bord
we are the last humans
not to have a computer in side us
the last humans to drive
our own car
the last humans to
read a map
the last humans to
hold a book in our hands
the last humans to do
manual work
the last humans to die
of natural causes
the last humans to experience our world
as a place of possibility and mystery
i can honestly say im thrilled
to be standing out doors in the elements
on cold windy spring day at the flea market
not knowing what the day holds
but im not sure thats what
the world
wants anymore

Sky Dawgs---SOULD
about 20 x 78 oily mangy painting on bord simply framed
My Big Freakn Winter Art Sale
will begin this week with my upcoming newsletter
where eye will show a boat load of new art
and some older paintings
that will be available for my sale this year
if you havent joined my Dark Bird Gazette
at the top of the page
today might be the day to
do it!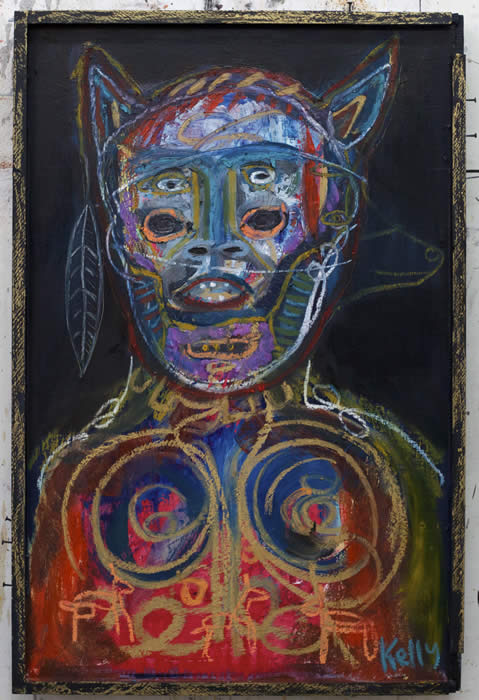 Shape Shifter--SOULD
24 x 30 oily framed Fleabilly
eye am many things
as an artist wild & free
not beholden to galleries
or "powers that be"
eye am a Dark Bird,
a Desert Dawg
a Wild Horse
and a Dead Cowboy
depending on the light
although i do enjoy
the occasional good fight
but im not here
to suffer
consider my art your guilty pleasure
where a strange Dark Bird sells his art at a Flea Market
just out side of town at the crossroads
of coming and going
where we will both beat the game
after all
your not here to suffer
either.....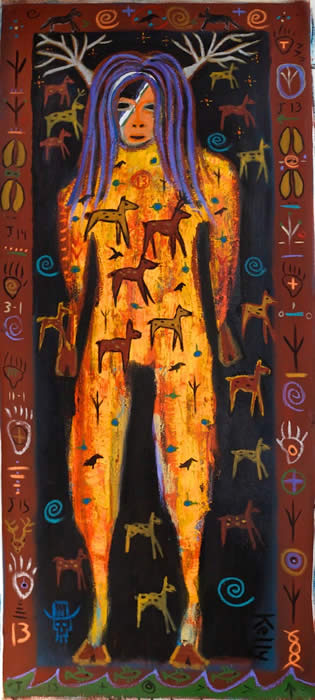 20 Point Doe---SOULD
72 x 32 oily on a loose canvas
you cant do that.
its not possible.
no one does that.
ive heard it all.
ignored it all.
i cut my own road
and left them standing
in the middle of no where
watching me
as i left them in the dust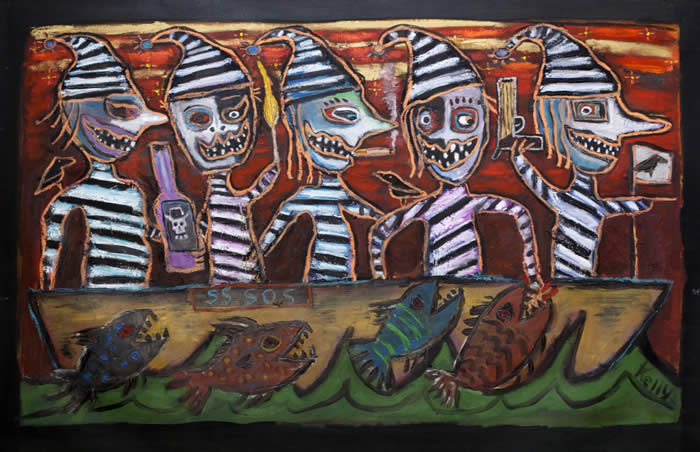 SS SOS---SOULD
44 x 62 oily on a loose canvas
this year
Crazyr than ever
more devil may care
anyway whos watching
aisle J?
so its all or nothing
like every painting i start
ive had nothing before
its not so bad
so im gonna wreck
that big brick wall
from a tiny booth at a little flea market
and god knows theres nothing like a crzy man
with a wild smile
waving a dark bird flag
charging the door
to scare the living daylights
out of those
petrified institutions of art
after all
im the guy on the SS SOS
holding a match
ready to burn the whole place
to the ground
just because it might be
fun
happy crzy dark bird 2016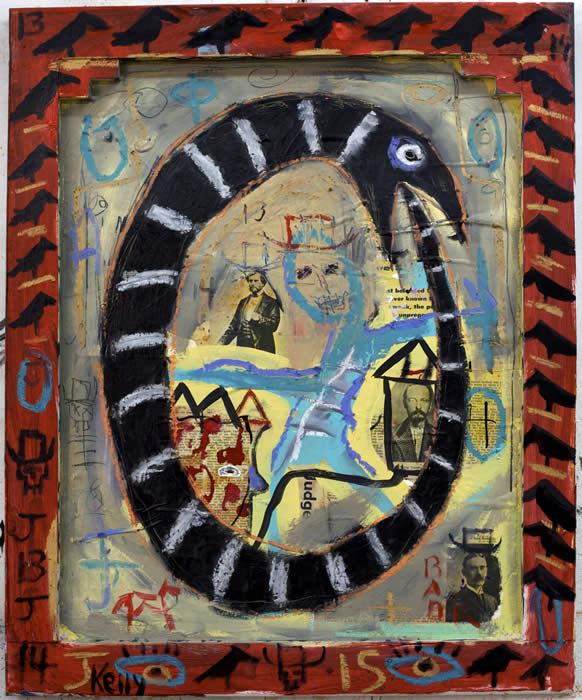 Old West Ouroboros--SOULD
about 20 x 30
holy multicrappia!
i have a big newsletter full of art
tomorrow
so sign up for the Dark Bird Gazette
if you want a front row seat
to view the full catastrope
of my art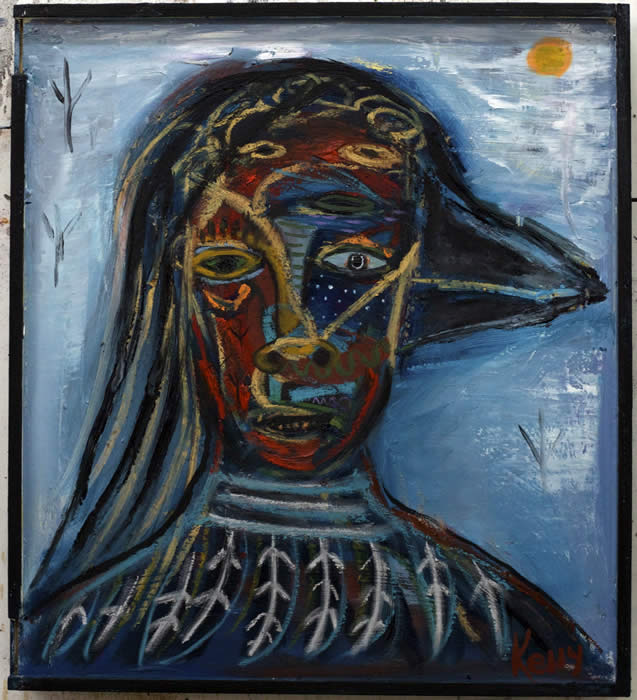 Crow Man---SOULD
24 x 30 oily on a good bord
clik hear for 3 more new paintings here


(Red Dead Cowboy Totem & Dead Cowboy Totem)SOULD
Three Paintings of Dead Cowboys....(obsessive, compulsive or desperate take your choice)
Dec 14 2015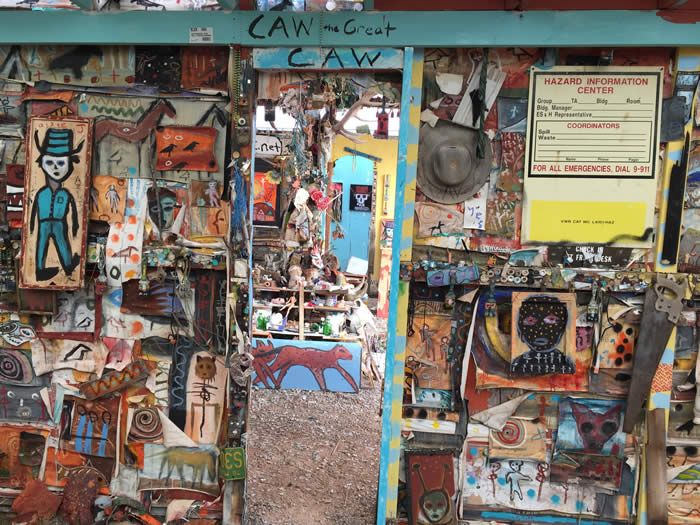 Doors leading to Doors leading to Doors
(inside the Dark Bird Palace)
Concrete floors
enclosed metal buildings
heating and air
& artificial lighting
all conspire against me
& the primal connection i feel to nature
when im at the Dark Bird Palace
where i can meditate on the mountain to the East
gaze at the Rockies to the North
contemplate Time
and the vast Caldera to the west
or simply paint like a wild coyote
all day long
inside my increasingly iconoclastic
desert stronghold...
am i destined to be
a reborn neo lithic cave man who paints
dark birds in dim caves with the help of
a small torch?
maybe...
will i chase down jack rabbits for lunch
in the near future?
not likely with my knees...
do i fear a more evolved cro magnon species
arriving with ideas of progress
from strange lands?
yes i do
very much so
but until they arrive
i hope to continue to paint at the
Tesuque Pueblo Flea Market
until my time comes
which is of course
inevitably
the nature of things
New Art from the Dark Bird Palace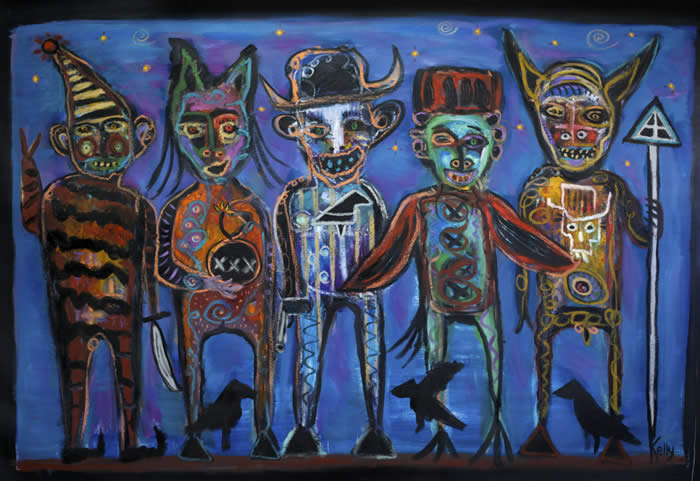 the Wrecking Crew---SOULD
45 x 65 oily on loose canvas
november 23 2015
click hear 4 lots of new art (before im dead or gone for good)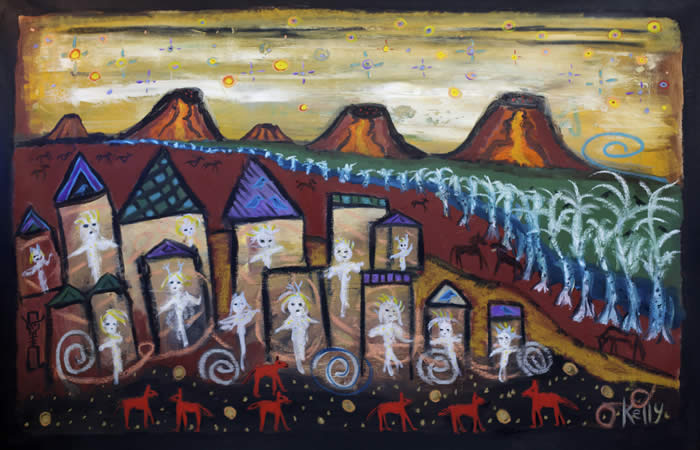 Cottonwood Trees
about 40 x 63 on loose canvas
concrete kills art
destroys soul
annilates the primal
sends a wild horse running
a dark bird flying
if you wanna end the story
of the desert shaman
put him in a nicely
heated apartment with
an i fone next to a
starbucks

the flea market
is over for me this year
but i still dream
of miles of aisles
stuffed with hidden treasures
precious jewels
people laughing
music playing
this is the flea market
of my mind

fresh cool air
dust blowing
dreams everywhere
limitless new mexico
views
the smell of the
desert wild
chamisa
pinon
juniper
all exotic perfume
for a dark bird


holy ground
is not where
only wondrous things happen
holy ground is where
the good and the bad meet
like a cosmic
head on collision
creating one
big soul
from the shattered pieces
of obliterated
fate

confession
of a Dark Bird
take me out of my rickety shack
dressed up like a palace
(lipstick on a Dark Bird)
and i dont even know
if i can paint
dont even know
if i exist


to paint outdoors
closer to the wild
i absorb the blood
sand and hair
of the desert beast
this is the only place
i know to create
what is in
my primal core


i paint
what i feel
which is the only reliable
thing in the universe
given the fact that
95% of the known universe
is invisible
yet most people
prefer "realism"
ironic isnt it?
i may be creating pinpoint photo realism art
and people wont know it
in this lifetime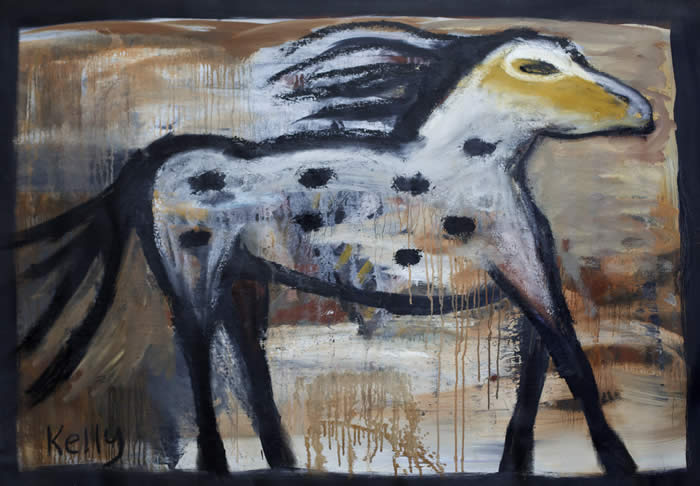 Primal Pony---SOULD
about 60 x 40 oily on loose canvas
i pull the tarps up
to begin every day at the flea market
and let them down to close each day
its about the only thing
i always do
and ive come to think of the tarps
as the eye lids of the color full eyes of the
Dark Bird Palace
opening its gaze to the mountain
like a multicrappia meditation session
the chaos of the shed
staring down the peace and quiet
of nature
blinking in and out of the
flea market in my minds eye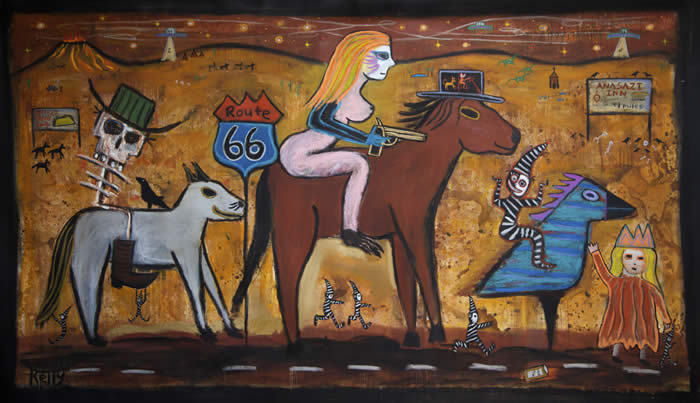 the Naked Assasin on Route 66
6 foot by 9 foot on loose canvas
october 26th 2015 (yes im still alive)
CAW the Great CAW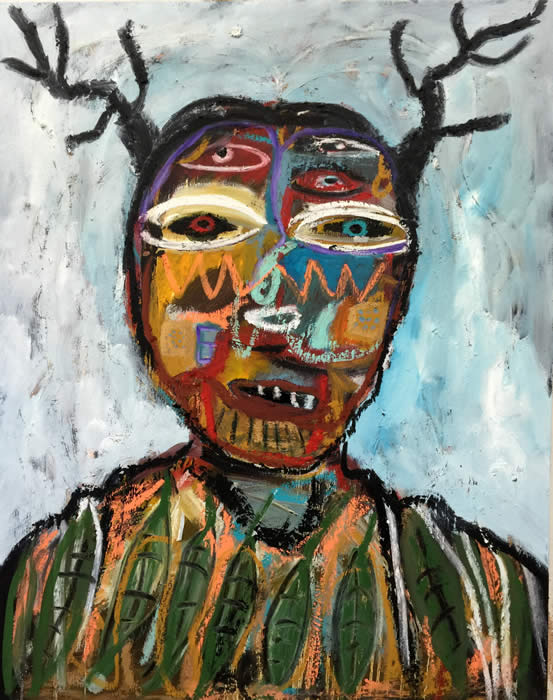 Deer Man---SOULD
24 x 30 oily on a bord
October 19 2015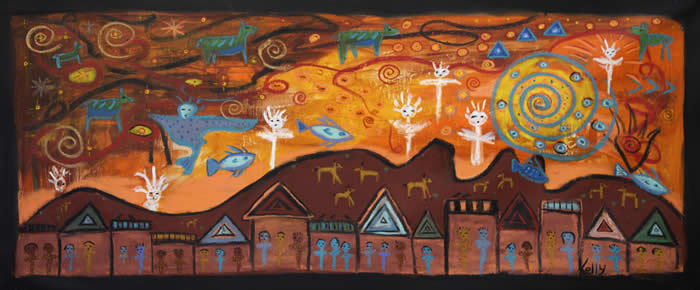 the Wonderous Sky above--SOULD
36 x 78 oily on loose canvas
this is
what eye see
in an ordinary day
in the desert southwest
Oct 12 2015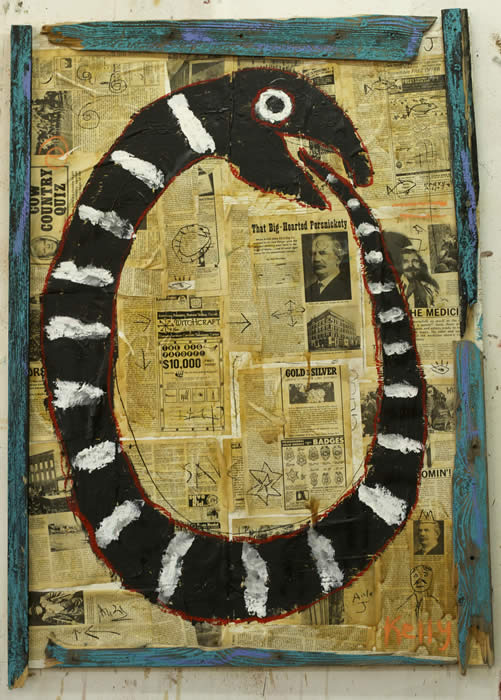 Flea Market Ouroboros---SOULD
35 x 48 flea market multicrappia
a dog barked
at a metal burro sculpture yesterday
for 15 minutes
prompting me to wonder
if there was
a trojan cat
inside


flea market existenialism 101
finding beauty
in the mountain view
humor in the collective misery
of a slow day
and truth in our
solitary darkbirdedness
at a small flea market
just outside of a thriving
commercial center
so close you can hear
the distant swipes
of credit cards
all day
long


a lady looking for me
to autograph her photo
of the Dark Bird Palace
told me
i wasnt young enough
to be kelly moore
but if i saw him
to let her
know

chem trails in the sky
layers of unidentified
flying particles from los alamos
mysterious men
wearing suites and ties
at the flea market
poltergeist springing up
daily on aisle J
and people say you
need imagination
to be an
artist?

at night Red Dawgs
commune in the
Dark Bird Palace
which they refer to as
the Big Bone Buffet
discussing strategies
for luring a krispy kreme
to the flea market

alienation
forced exodus
desperados
and more than a few crazies
comprise most of my tribe
at the flea market
ive always considered myself
a sane observer
of the asylum
until yesterday
when i caught a glimpse of myself
in mirror on aisle C
and realized i was
wearing my hat backwards
handling snakes
and speaking in
tongues

CAW the great CAW
printed on
every flea market dollar bill
save yourself
from the tyranny
of the eye phone
scribbled
on the back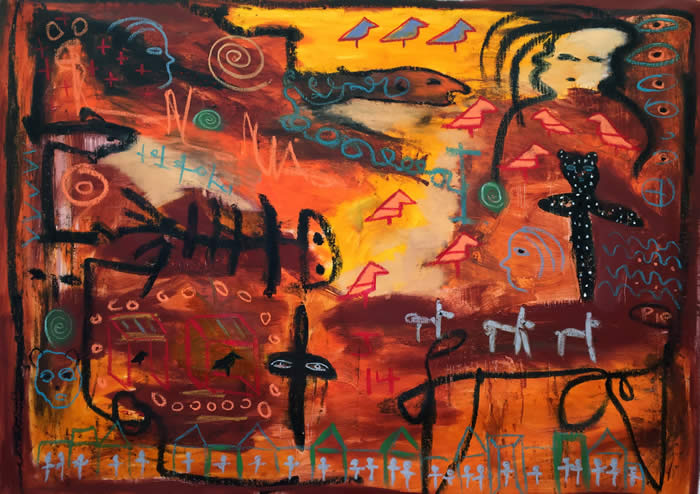 Primal Dream---SOULD
about 50 x 70 on loose canvas
red dirt
fossils & rocks
blood & hair
barbed wire and
10 dollar bills
all slowly
working their way
up thru the ground
like a flea market poltergiest
coming back to haunt us
and tale us
where you are
and where
you are
going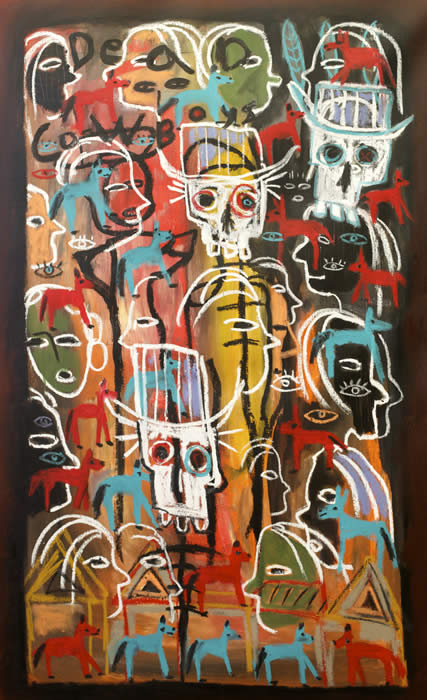 Red Dawgs and Dead Cowboys---SOULD
about 60 x 38 on loose canvas
yes i know
this painting
is crzy shit
but at least
i know its crazy
& yes i know its crzy
but i saw a cat talk to a dawg
on aisle J yesterday
and eye understood
most of the
conversation
but the dog was confused
(he kept asking the cat to explain herself)
((everyone knows cats dont explain themselves))
yes i know its crzy
but a woman walked off
with one of my
paintings last week
without paying for it
(its always a "wanna be artist")
and then she said
i was crzy
so yes i know its crazy
but i think a monkey
with a good beard
could run for president and win
(given the options im leaning towards the monkey)
yes i know its crazy
but when you paint
at a flea market
its hard to get
the Museum of Modern Art
to return your phone calls
yes i know its crazy
but my world is held together
with bungee cords, tarps
& the kindness of strangers
who know the difference
between retail and religion
yes i know its crazy
but some people
treat artist like they
are cashiers at wal mart
and they have a bag of
"entitlement coupons"
which gives them special
access to special prices
because well.....
they are
special
(they only drink white whine)
yes i know its crazy
but i can feel
the Dark Bird Palace
vibrate somedays
and make music
others
yes i know its crazy
but for whatever reason
your still
reading this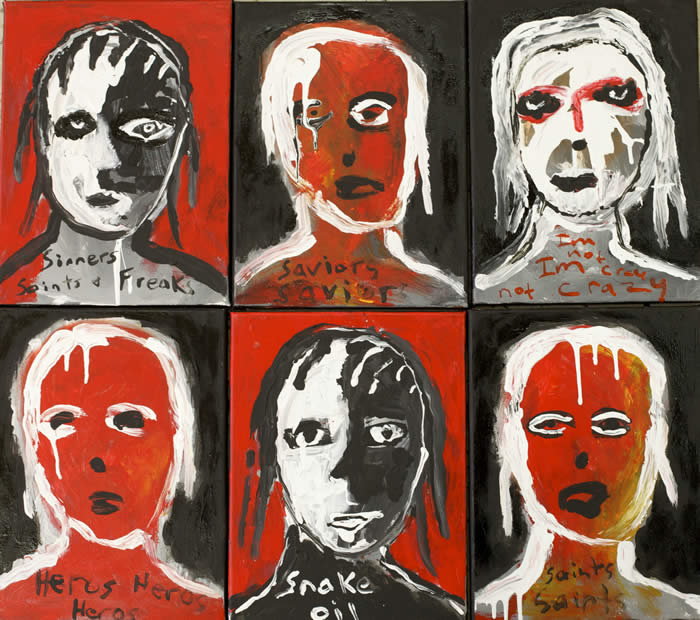 Faces of the Flea---SOULD
6 small canvassss 8 x 10 each done with house paint
click hear four newereereeer art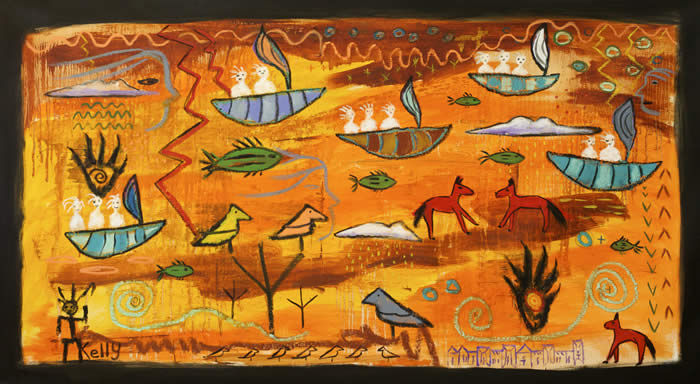 Desert Sailing---SOULD
about 40 x 70 oily on a loose canvas
water board me
torture me
tell me my dog has died
but please dont make me
listen to rap music
at the flea
cut my head off
stick it on a pike
tie me to an anthill
naked and afraid
loop my entrails
around my neck
and hang me from
a tree
but fer gawds sake
dont make me listen
to Krap music at the flea
wear your pants
down at your knees
turn your hat around
75 degrees
pretend your a thug
selling the drug
but please dont make me
listen to your rap music
at the flea
tell me im audited
tell me im going
to jail
its ok
anythings better than
another day in hell
listening to
cRap music
at the flea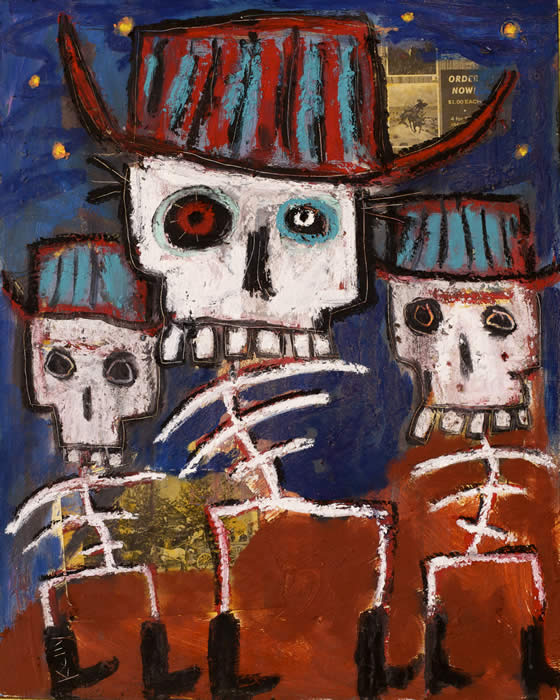 three Dead Cowboys (SOuLD)
16 x 20 on a wood bord ez to hang no pun intendededed
i paint
to the IQ level
of a smart dog
an epiphany realized
as i watched
a german shephard
gaze at my
dark bird painting
as people walked by
as though
it didnt exist


which doesnt mean
humans arent smart
or blind
its just probable
that im followed on Facebook
by more dogs than
humans


it did occur to me
that my paintings
might be like
those special whistles
that only
dogs can hear
leaving humans
baffled by what
im doing


and yet
some humans
seem to be
half canine
and can hear my paintings
decipher my visual vocabulary
comprehend the Great CAW
and appreciate
my deep love
of fleamarketology


which doesnt mean
im not a
dead cowboy
because i am
and you will
always find me
at the crossroads
of truth and humor
at the Dark Bird Palace
where theres sure to be
a crowd of dogs
looking at my art
wondering
if this dead cowboy
can hunt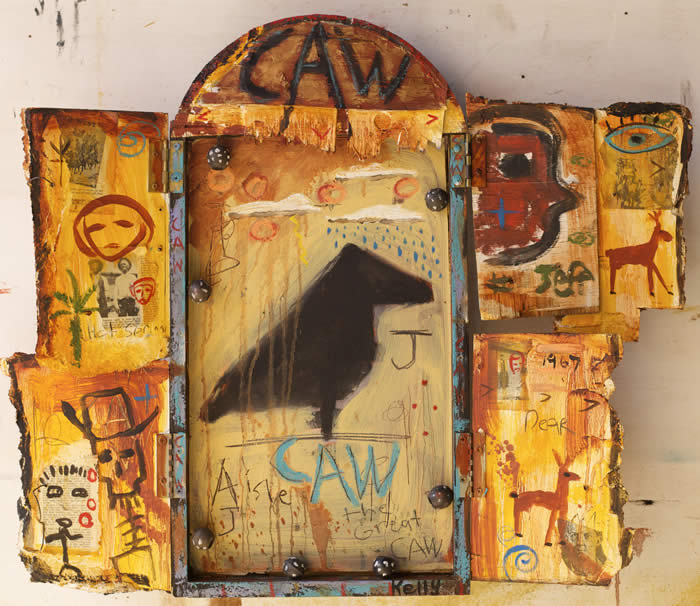 Dark Bird Retablo
multicrappia on wood (SOULD)
dear big dark bird
in the sky
that lady lied to me
disrespected my art
didn't do
what she said
she would do
and never even bothered
to say why…
what?
you'll take care of that?
thank you


humor about myself
a giant shield
against those
that would stab me
again and again
and again
but when it comes
to my art
im not kidding
im dead serious

think about it
how many artist do you know
that use a bungee cord
and a tarp to lock up
their studio
every night?


from 8 miles up
into the sky
i looked down
upon the earth
and saw myself standing
in front of the dark bird palace
looking up into the sky
at myself
what an awkward feeling
when someone catches you
looking at
them
reported sightings far and wide
of mini me's
that paint like kelly moore
that act like kelly moore
and even dress like kelly moore
now why on earth would anyone
want to replicate
the bizarre life of an
obscure flea market
artist?


this summer
i dreamed
i fell off a ladder
tumbling for days
rolling for months
i gave up trying
to control the fall
and starting enjoying
the ride
but im still staying clear
of ladders for a
while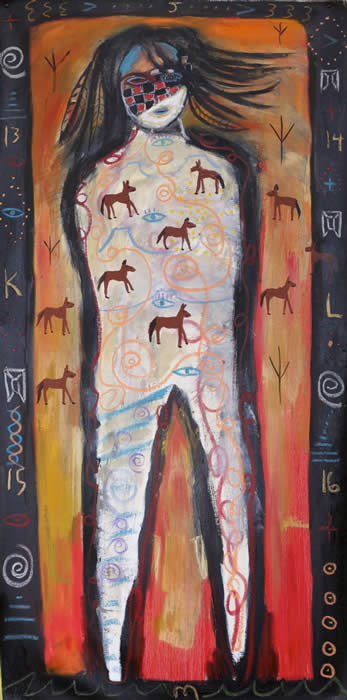 Genesis of a Dark Bird---SOULD
appros 35 x 60 oily on loose canvas
August 17 2015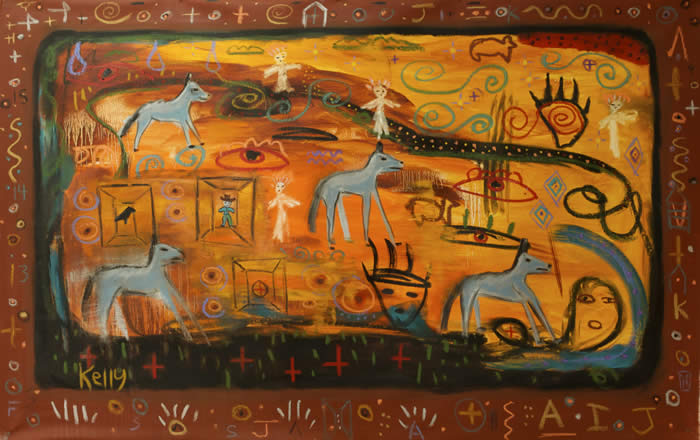 Blue Dawgs and the River of Stars---SOULD
about 40 x 70 oily on a loose canvas
August 10th 2015
come to the Dark Bird Palace
at the Tesuque Flea Market
to see moore art
from undoubtedly the most
famous flea market artist
alive today

the Wings of a Dark Bird---SOULD
about 72 x 20 oily on a closet door
August 3rd 2015

Golden Bear Totem---SOULD
oily on a 70 x 20 closet door
this week at the flea
it was so hot
i felt like Ken
in Barbies EZ bake oven
but life at the market rolls on
inevitability seeming vaguely
oddly clear to me
something is happening
that has already been named
by a God far far
away
and so when it gets
July hot
i keep frozen bananas in mind
to help maintain the proper
perspective about where someone who paints
pretty pictures at a flea market
fits on the banana tree of life...
note to self
when someone questions
why you didnt meet them
on the high road of life
get a big shovel
and tunnel around all
their bull shit
thats nicely piled up to
to resemble
a stinky brown mountain
with a road that leads you
right straight to their
self serving door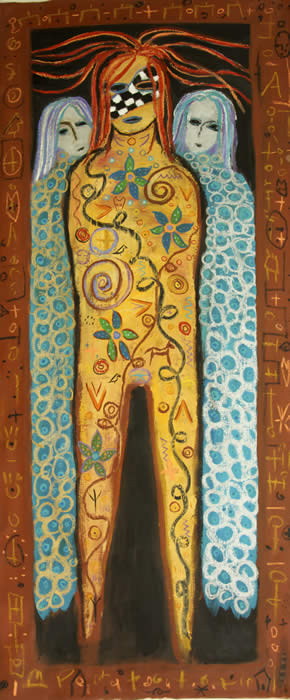 the Protection Painting (by Gold and Silver)---SOULD
Big oily on a loose canvas
July 20 of the year 2015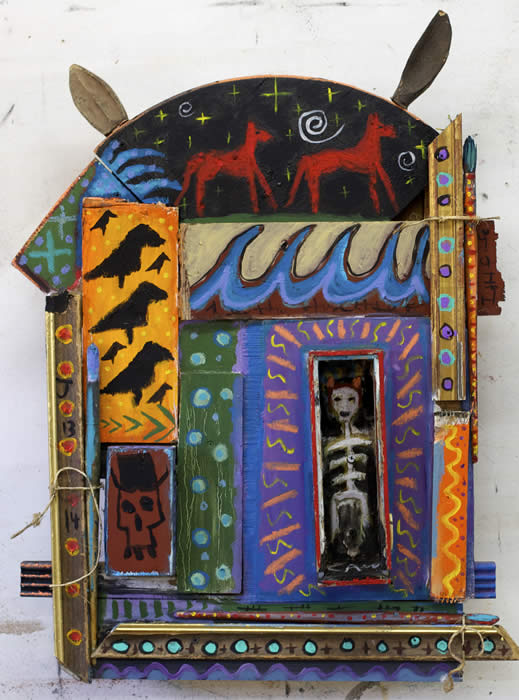 Flea Market Retablo---SOULD
about 20 x 30 multicrappia on a kitchen drawer
at the flea yesterday
i bought a big rack
of elk horns from a fellow
from espanola
i put them atop my head
& charged down the aisle
like a crzy buck
i wonder if elk ever
pretend to be
dark birds?

today a spaceship
passes Pluto
snapping pictures
like a giddy kid
with a new instagram account
im not sure what is
more incredible
that i will see the pictures today
or that 3 billion miles away
a man made ship just passed
the last known planet in our
solar system


from the Dark Bird Palace
i look at where
Pluto might be
feeling like I'm connected
by an invisible string
everything i can imagine
seems real
but most of the hard things in life
seem like a bad
dreams


another planet visited
and another aisle
fills with new tailgaters
yesterday a fellow
across from me
was selling wagon wheels
i told him we have
something in common
both of us sell goods
that are obsolete
neither having obvious
utility in a new world where
"likes" make sense


the smell of cooking onions
and sizzling bacon
floats in the air
the music man plays
the Orange Blossum Special
people mingle around the
turquoise tables
and the shimmering strange beauty
of the Dark Bird Palace
continues to stand like a
relic of another day and time
a hint at what we will
soon remember
as the
"good old days"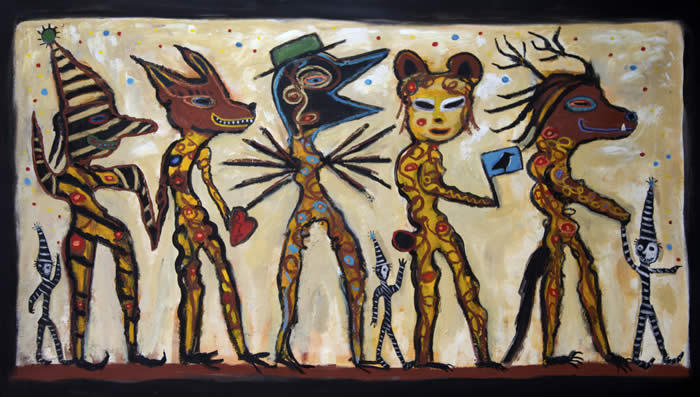 Coyote Travels---SOULD
about 70 x 40 oily on loose canvas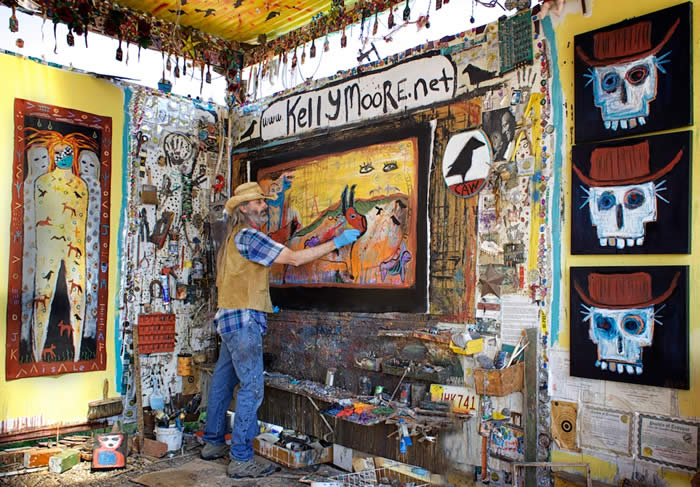 Undoubtedly the most Famous Flea Market Artist in the World---SOULD OUT
june 29 2015
stick a fork in me
roll me in
flea market dust
dip twice
in a dark bird egg
smother with
turpentine gravy
and serve
with a generous
dead cowboy
smile


daily
i do my
flea market zen
meditating on
the dead cowboy
staring deep into
where his eyes
used to be
as he smiles
back at me
with his
crzy
dead cowboy
smile



a lady at the market
was overheard to ask
"what does he do? stand in
front of his shack and charge
people who want to
photo it?"


and it is
with this
surreal ephiphany
that i realize again
what an indecipherable
foreign language
a dark bird
sings


and so i
fly my freak flag high
and croak my
dirty dark bird song
as all my dead cowboys line up
in a flea market chorus line
kicking high
as i croon with a paint brush
like the tony bennett
of dark birds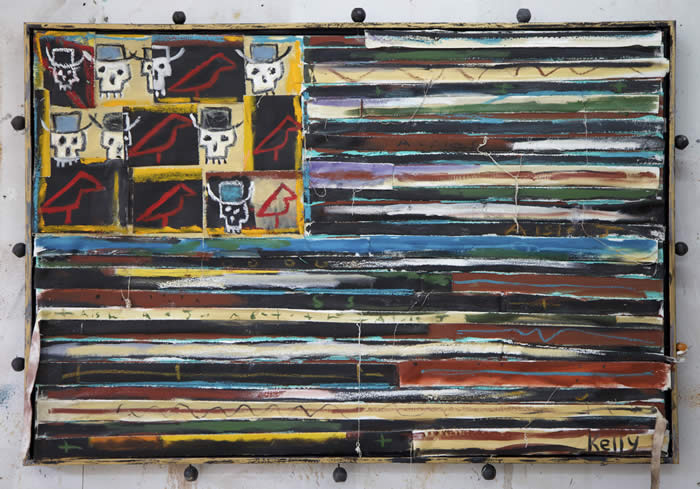 a Flea Market Flag---SOULD
48 x 32 multicrappia
June 22 2015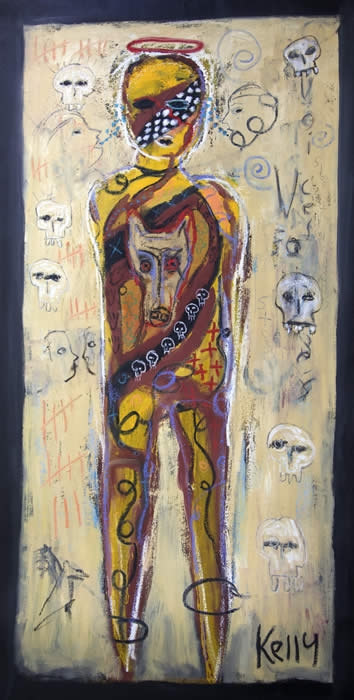 Voices---SOULD
big oily loose canvas
ive always been a bit crzy
sometimes i think
folks forget that
(or maybe i really am alot crzyr than i think)
but for those that cant always
clear the voices in their head
for those that cant always
pull out of their melancholy blues
for those that just cant seem to get things
right
i think its worth noting
that those are usually the folks
that become the real heros
in our world of perfect selfies
afterall unless you are a longshot
that no one sees coming
how can you possibly be
an inspiring hero?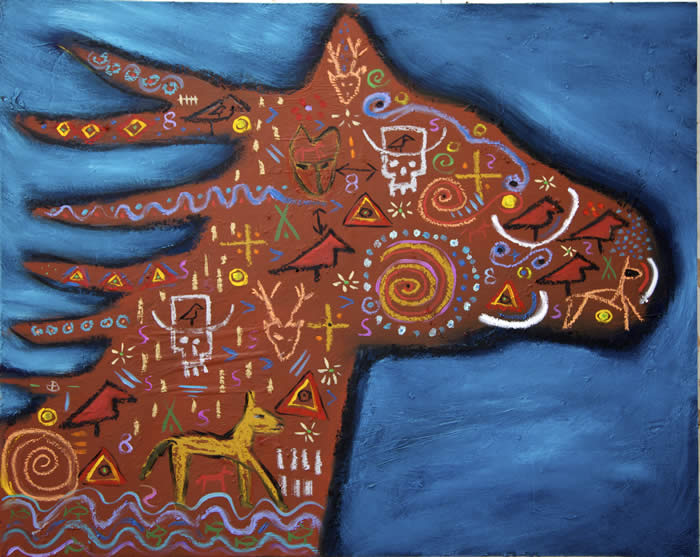 Horse Sense
24 x 30 oiillly on a bord
yes
Kat and I spent quite alot of time
last week in northern Colorado
around several bands
of wild horses...
the rules with wild horses
are pretty simple
but if you want to predict people
you might as well go to
vegas
(click heres 4 another painting)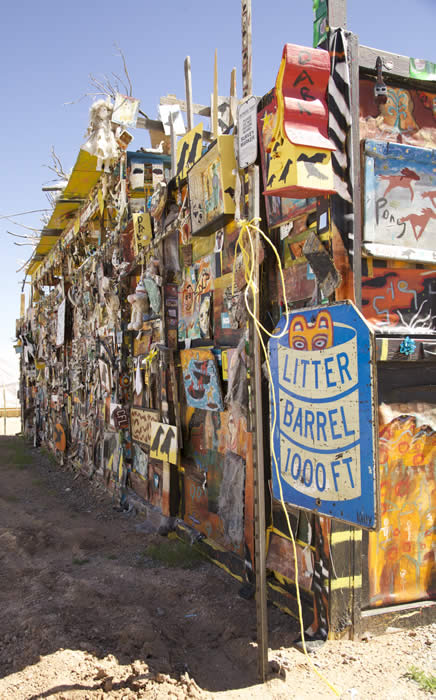 Side of the Dark Bird Palace
monday 10:11 PM
NEWS LETTER TOMORROW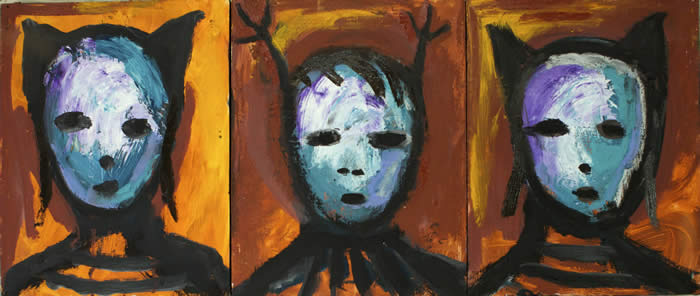 three faces in the desert---SOULD
oiilyy 14 x 33 on three bords
May 25th 2015

Alchemy of a Dark Bird--SOULD
about 24 x 50 oily on a loose canvas
art
an alchemical necessity
medicine for the people
a mass for the true fundamentalist
a ritual of beauty
thats not to be confused
with home decor
or a casual blasphemous
shopping trip
to hobby lobby
for a framed poster


true believers
know what they want
and they dont just want it now
they needed it
yesterday


and yet
there are some
who would say
they want art
they love art
they need art
but if you check their pulse
they are DOA
(DONT OWN ART)


a true believer
is most evident
when you bump into
the lukewarm
faint of faith
the playing it safe crowd
unsure of their own
wound
mistaking money
for medicine

handling snakes
speaking in tongues
baptisms of fire
all part of a day in art
every day
a sunday
every thing
art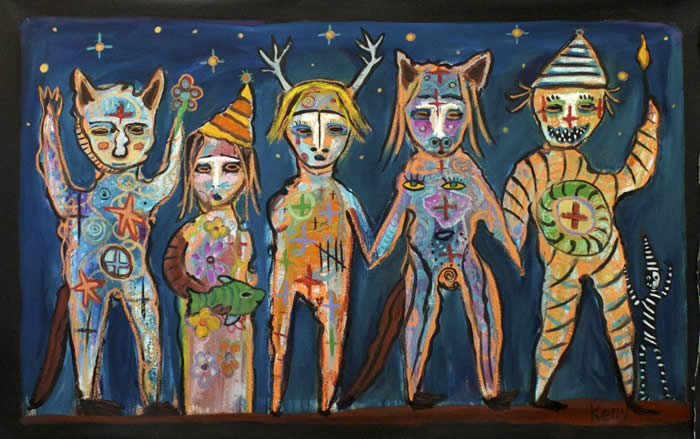 Animal Tale---SOULD
about 40 x 60 oily on a loose canvas...
its all true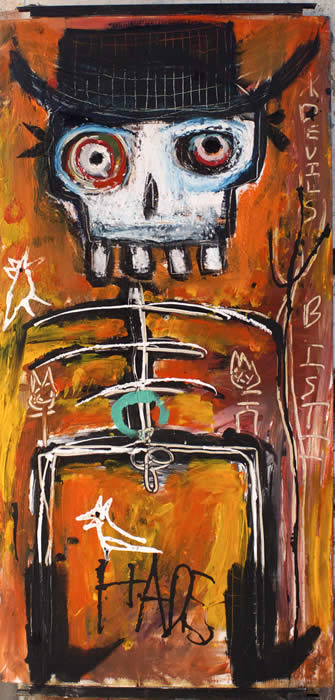 Dead Cowboy--SOULD
about 20 x 40 multicrappia on a bord
"Give the man a dollar
and make him paint for us!"
no problem lady
but you might wanna check out
the Bearded Lady
or the Elephant Man
on aisle C
first

"trust absolutely unconditionally"
the words eminating
from a drag queen
on a tv screen
saving me thousands of dollars
in shrinks
not to mention the
1-800 numbers
that help me
get thru
the day


i was covered
from head to toe
in buckskin clothing
& i grew antlers
from drinking
three glasses of
acorn milk a day
why was i so surprised
to be standing
in the middle of
the road
stunned like a deer
in headlights?


when i awoke
the Queen of the Known Universe
offered me good Karma
but as a card carrying
Dark Bird
i quickly turned it
down

the next day
i drank 6 cups
of strong black coffee
to grow my hair
dark like a Raven
and my blood
smart
like a Crow
but i drew the line
at carrion for lunch
since i have
a good
refrigerator

clik hear four new arttststtstart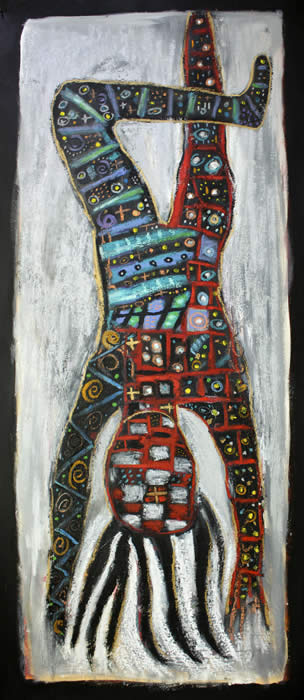 Upside Down---SOULD
about 30 x 70 oily on a loose canvas
i dreamt i was standing
in my shed at night
with my paintings
giving off the light
so that i was able to see
new colors
never seen before
by a Dark Bird


that night
as i sat in my
old lazy boy recliner
staring at the midnight moon
i noticed clowns racing
from one aisle to the next
picking up all the bread crumbs
i had left behind
so i could remember
how i got there


the cars raced by
on the highway
unaware that i was offering
a 50% off
midnight sale
on all my art
a coyote trotted by
but said he had to
"think about
it"
(the most feared words ever spoken)


later that night
i bought some pots and pans
from a rabbit selling on aisle C
and cooked up some
Dark Bird Hash
and Dead Cowboy Coffee


i slept
atop my shed
until awoke by
a stinky start
looked to my left
sure enough
a dead goats head
id left there
from the year before


Monkey Businesssss Totem
about 20 x 60 oily on a good bord
Road Trip
to T and C
along the Jornada del Muerto
also known as the
"route of the dead man"
10 miles outside of Belen
we see a man walking
with dreads to his knees
wearing a gunney sack
& i think i could still
smell him
as we passed
a dying lake
entering Truth or Consequences
where vultures circle
everything
& tourism is headed
somewhere else
so we went to dinner
at an old school steak restaurant
to enjoy the local flavor
where the Dead Cowboys
are still drinking martinis
like nothings changed
since 1965
and all the cars out front
are cadillacs with horns
on their hood
and the only salad they offer
is an iceberg wedge
so upon return
sure enough
we pass the same man
with the dreadlocks
10 miles further down
the road but after
24 hours in T and C
i wonder if he's really
the Dead Man on the
Journado De Muertre
clik hear four several moore new paintings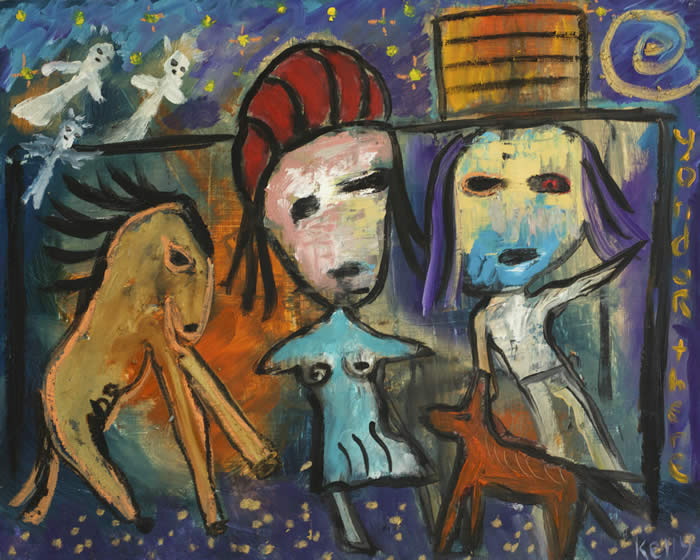 YOnder There---SOULD
16 by 20 oily on a good bord
easter at the flea market
dear Jesus
we got bills to pay
can you please
give it a
break?

i have no idea
what you do
but you do it
very very well
(stunned bunny rabbit
staring up
at the Dark Bird Palace)

i bought
a $10 megafone
at the flea market
& screeched
the Great Caw
i was answered
with a moo
a howl
and a
chorus of clucks
truly the birth of the
flea market barn yard


art talent
be damned
proper learning
seems mostly copying
work means
posting online
ill bring
a bucket of grit
& dance my
flea market grind
any day
any time


and since its easter
im gona forgive
that self absorbed
lying piece of shit artist
who lives online 24/7
like someone
who pretends to be something
but is actually nothing


that said
ive always admired
my tendencies
to be more
like the angry wrathful
old testament god
than his
love & peace
son

speaking of resurrection
how many dead people
do you really want to
see return from
the grave?
i mean
really?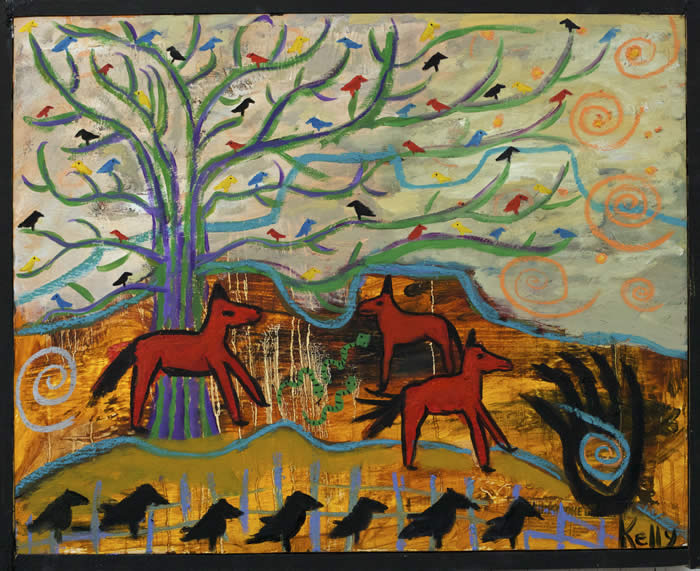 Red Dawgs at the Tree of Life----SOULD
24 x 30 multicrappia
newsletter goes out tomorrow
lots of great stuff
goin the Dark Bird Gazette
if your one of
us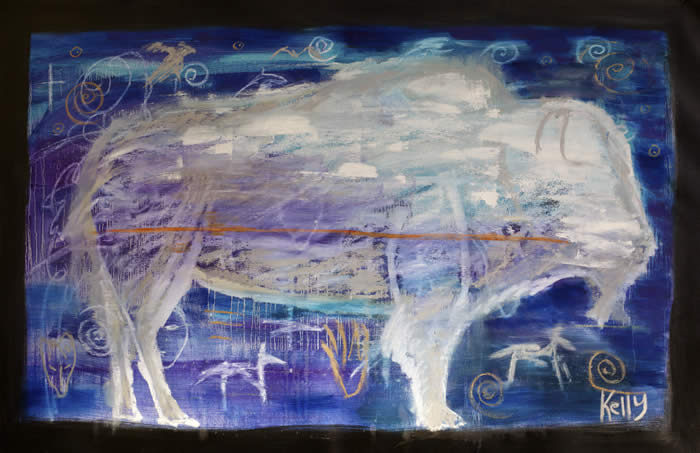 White Buffalo---SOULD
about 48 x 72 of bison power on a loose canvas
coyotes tried
to pull a goats skull
from my shed this weekend
its common knowledge
the dark bird palace
is a bone buffet

the first red finch
of the spring
returned to its
ancestral home land
this weekend
she was born
in the eye socket
of a cow skull in my shed
i often wonder if the bird
intuitively knows
how a cow
thinks

he said my art
was ready for
the next leap
to a better place
all day long i wondered
where is this place?
where is this place?

when i paint
at the shed
sometimes
i hear voices
so i turn up the radio
hoping folks wont hear
how embarrassing
the voices
are

visions of no worth
insights that lead
no where
a guru of nothing
i am a tumbleweed sage
that rolled
across the desert
into a flea market
happy that the
wind stopped howling
in my ears

bone therapy
staring 7 hours a day
at a femur
or a skull
it burns away
the bullshit
although i do keep
one good can of BS around
else i wouldnt be
me
would i?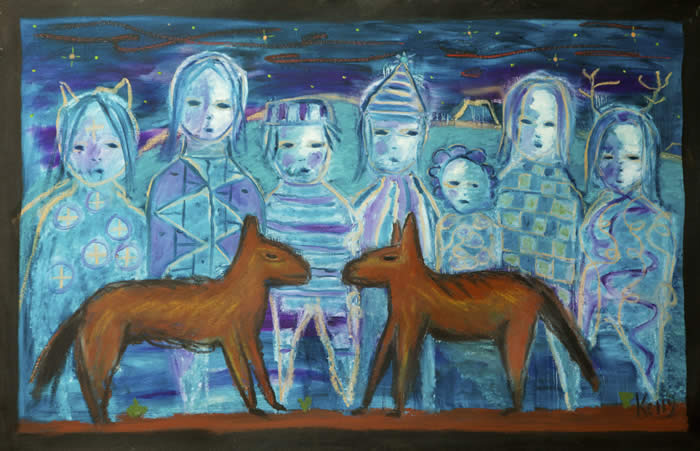 Return of the Children of the Moon ---SOULD
about 40 x 70 oily on a loose canvas
Ritual or Routine
we all have it
one of mine has been to post art
or a photo or maybe just write
on the front page of this website
for many years now
it seems to tether me to the world
& help give meaning to what i do
and in return some people come to my website weekly
to see what ive been up to over the last week
or inquire about a painting .....
its a beautiful dance we dance
when we find the music in our
daily ritual
as an artist
it can become something that people
can hum to
or perhaps with a better tune
some can people dance to
thats what i want to do
make people dance
with my paintings
or with my words
although i gotta confess
theres often alot of confused people
standing around the Dark Bird Palace at the Flea Market
so i may just be a Dark Bird who thinks
he can play the piano with
his beak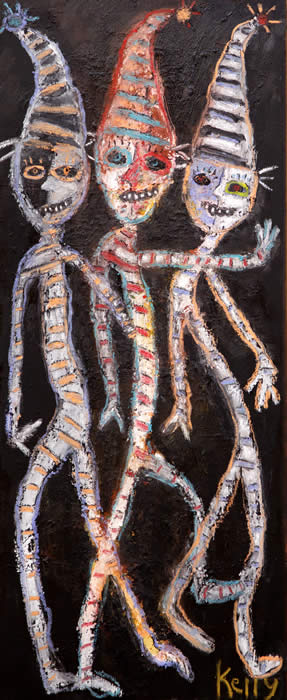 Return of the Tricksters---SOULD
24 x 48 oily on a good bord
signs and intuitions
hints of possibilities
disappear like a vague dream
by 8 am
on our cultures
timeline

log out
be here
now
opt out
and
go outside


art now a literal reminder
of a symbolic awakening
for the 21st century
that comes loaded with the
attention span of a rat
in a cheese factory

sex
fornication
& fertility rates
dive
leaving behind a trail
of likes and shares
on separate timelines

im right here
in front of you
you dont need to check
your facebook page
to see if im available
for chat


coffee shops are quiet
as a mouse with a mouse
no one talks
in the poets corner
all are logged on
checked out
brick and mortar
soon to be
out of order

driving with a sell fone
the new 21st century
dog and pony trick
can you take a foto
at 75 on the freeway
post it on instagram
share it on Facebook
and not T-Bone
on I-25?

if you read this far
you are in this day and age
attention surplus silly
and your facebook page likes
will be penalized for this
faster than a millennial can
pick up his ifone at a traffic light
to check his re tweets
on Twitter

Hella Totem---SOULD
about 20 x 60 oily hella mess on bord
next week the flea market opens
and i will be back in full swing
in my dark bird rhythmn
the weekly routine
the big grind
the never ending journey
into flea market history ;)
which is a big relief
as im pretty lost when im not
outside fighting the elements
or fending off wild animals at the Palace
not to mention the packs of
of big time art buyers who show up
at our little flea market 5 miles north of town...
come sea me this summer
dont forget
its the year of the
Dark Bird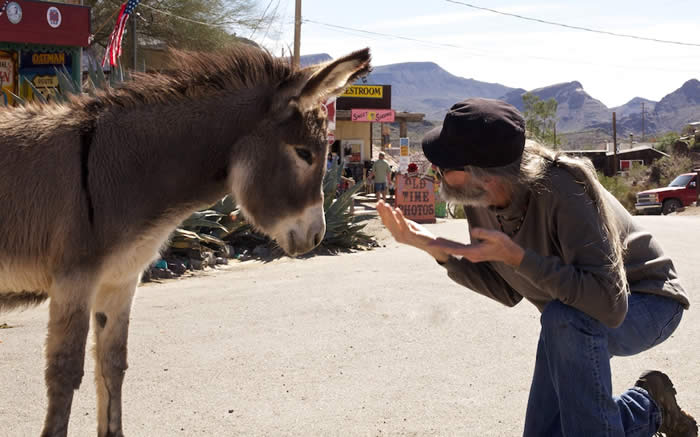 from one Jackass to another
some folks talk
to a sage
maybe a shaman
or their local shrink
for the answers to
the universe
but me?
i drove to Arizona to meet with
the wisest of them all
Bucky the Burro
who told me
hay buddy
from one JackAss to another
all you have to do
is get up and
do it again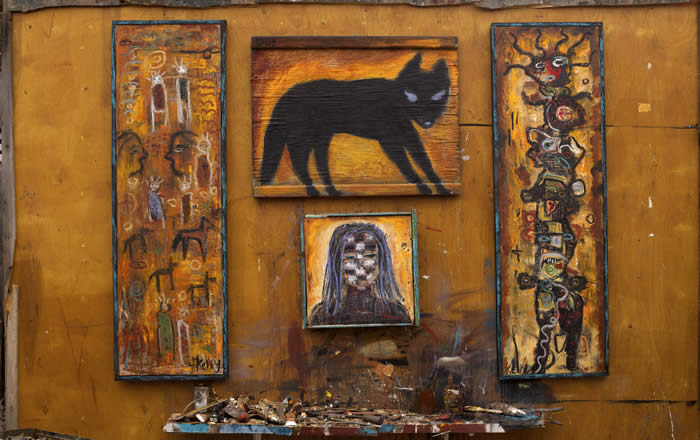 Febuary 16, 2015
im more pissed off this year
than usual
i have no idea why
i dont know where it comes from
and i dont really care
you see i fight demons
and if i cant find one
i make them up
and if i cant imagine someone
who doesnt think i can do it
i know im not
looking hard enough
because i know theyre out there
and im ready for them
any time they are

Wild Horses---SOULD
approx 24 x 60 band of wild horses on a good bord
i love wild things
untamed animals
& those lovely people
that explore
the difference between
being crzy & wild
which can look
pretty messy & weird
but its a true path
that will always inspire
always be unique
and in a world where
alot of folks
look the same
talk the same
& even aspire
to be the same
that can feel pretty scary
but the further you go down the road
the more miles you put under your belt
the more your just gonna be
outta sight
and unable to see all those
nay sayers you left behind
on mile marker
one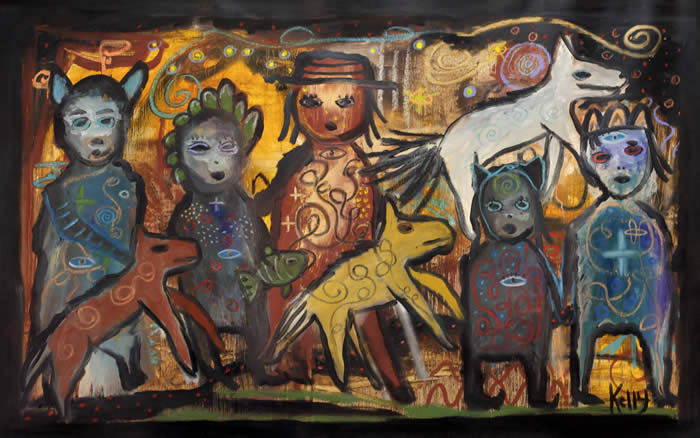 Desert Magic---SOULD
63 by 40 oily on a loose canvas ez to ship
she thinks
im paranoid
delusional
because
i invest in gold
cache water
build grain stores
and keep my guns
locked and loaded
for the coming chaos

it doesnt matter to me
that she thinks im crazy
i will protect her from
the invasions from outer space
because i still secretly add
the best new ray guns from ebay
that money can buy
she says
i sound nuts
when i talk
about secret codes
in ancient texts
that theres no
mysterious meanings
in these old dusty books
so i nod my head
and she smiles
at my trivial pursuit
but at nite
i am very close to discovering
where they buried
the giant egg

in the morning
i take secret herbs
shamanic medicines
magic potions
and liquours for visions
she's says its all
quackology
i agree
nodding slowly
as i drop three
protection pills
into her
latte

in the morning
i wave smoldering sage
around the room
clearing out evil
lingering bad memories
and exorcising demons
protecting her
from it all
she says its
superstition
just a myth
and i couldnt agree more
as i watch ghosts hover
just over her head

clik hear four my big winter sale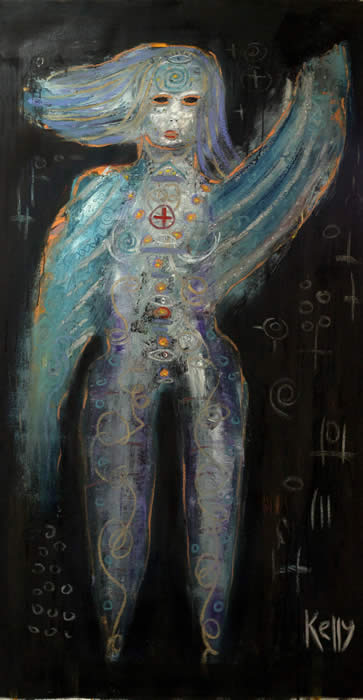 Angel---SOULD
40 x 70 mol oily on a loose canvas
January 26 2015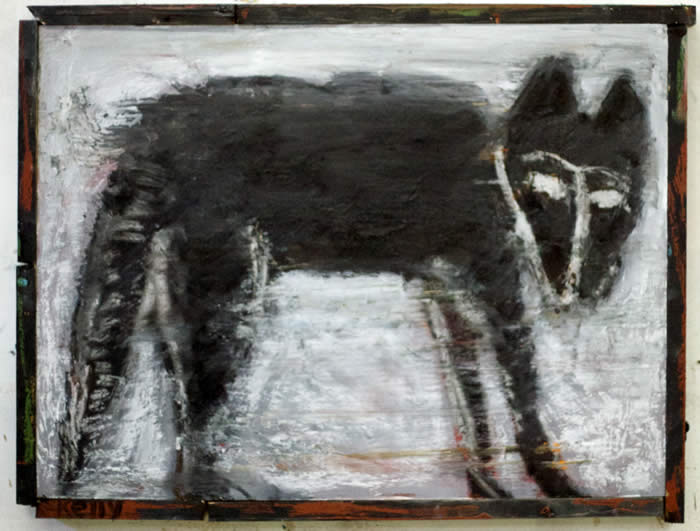 Desert Wolf---SOULD
25 x 20 oily on a good bord framed simply
tight men
with fat wallets
crowbarred into
their jeans
holy cow if they only understood
what art means
to the one
they love


he wont let me
buy art
he doesnt like paintings
and he really
doesnt like you
no problem lady
me and you
we got a secret
its called a
Dark Bird
IOU


mad money mad money
how a dark bird loves
mad money
its all green
something the husband
has never seen
mad money mad money
how a dark bird loves
mad money


i hide 20 here
i sneak 50 there
sometimes i flip
thru his wallet
to see what i can see
its ok
he wont miss it
and what he doesnt know
wont hurt
him


buying art
an aphrodisiac
for those
who can't fart a dime
but dont worry ladies
if that doesnt work
theres always
the Dark Bird IOU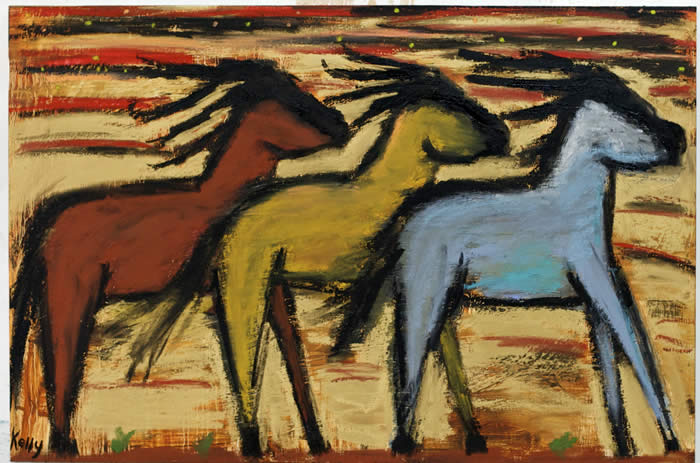 Wild Horses---SOULD
24 x 36 on a good bord
SOULD
alot of folks ask
what a Dark Bird like myself does
when the flea market closes in the winter
the answer is that i spend alot of time
driving a Kat around looking for
wild horses in the southwest
not a bad job
if you can get
it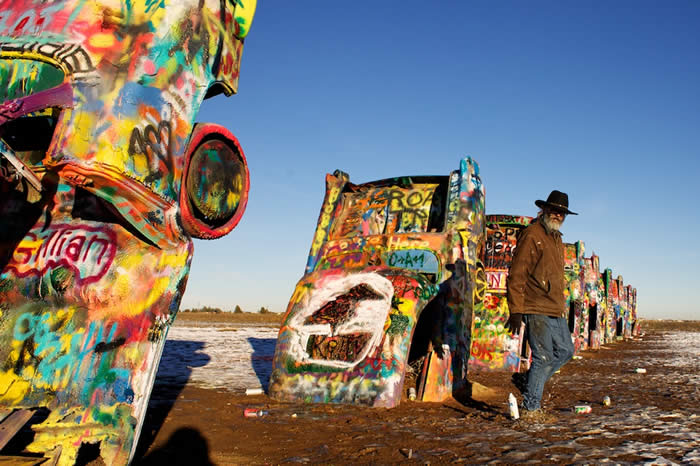 Cadillac Ranch Dark Bird
foto by Kat Livengood just outside of Amarillo Texass
2015 is the Year of the Dark Bird
its going to be a big year
one to remember
so thanks for all
who got off the main road
and bought a piece
of my work at the flea market in the past
because the future is about to take flight
this will be
the year of the
DARK BIRD

Fertility Totem
20 x 80 mol on a good bord
may this year
be pregnant with possibilities
exploding with cheap gas prices
and booming with the sound of
"who does this guy from north korea think he is
pulling a movie from my metroplex!?!"
the year at the flea market was a good one
and next year i plan on having a few surprices at the Dark Bird Palace
for those that venture off the main road of life
to a small flea market outside of santa fe
just like i hope to offer a few surprise this year to those
that visit my
creaky prehistoric website that was born
at the dawn of the innernet
when no one really knew where
this digital highway was heading
(all roads lead to facebook and two other big box stores nowdays)
so thank you for caring about art
its a small world and theres no sense explaining why
art is important to folks that dont understand that
so a tip of my hat to those that
smile back at that ;)
if you havent already seen
my new art this month you might wannna
click and take a look as there
are some great deals to be had on my
end of the year art
from this full time American Artist
in Santa fe New Mexico
who is undoubtedly the most
famous flea market artist in the world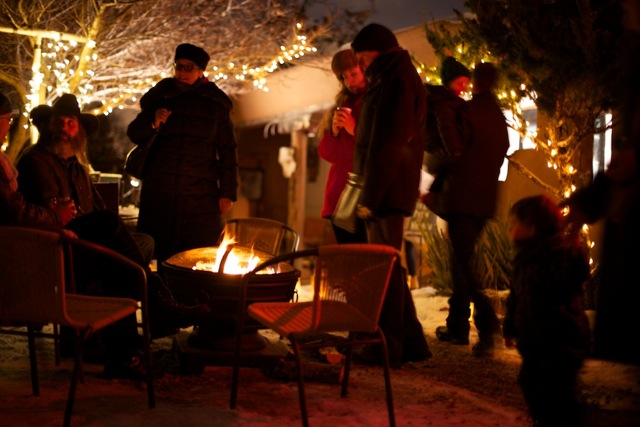 End of the Alley at 620 Canyon Road
i love to build a good fire
Kat loves to serve hot apple cider
and in Santa fe on Christmas eve
everyone gets out and walks up and down
Canyon Road just to say
merry Christmas
have a happy new year
so come by if your in the area
ive got more art in my studio
than a sensible clean nicely spaced gallery will
ever have
which sounds like ive moved the flea market
to Canyon Road
yes says Kat
you certainly have
adios til then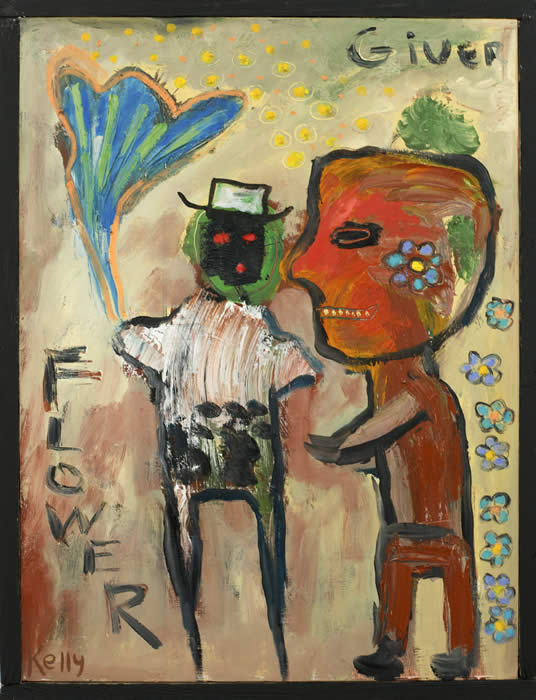 Flower Giver---SOULD
1 8x 24 oily on a bord
get out
of your head
get out
of your head
i know
its hard to believe
when you think
your that smart
but if you live in there
youll never
make great
art


whats happening?
where am i?
where is my paint thinner?
where is my yellow
i cant find my red
why is it
when i look
for my glasses
they're usually
on my head


dark birds
are frequently
transcendent beings
occasionally disguised
as dirty birds
but then again
sometimes a
black bird is just
a black bird
picking at stinky
day old
road kill


if you skin a bear
its said
they look
like humans
if you skin a human
i wonder
if we look
like a rat
if you skin a rat
add potatoes & carrots
for a very fine
stew


99%
of all human communication
is said to be
non-verbal
a welcome relief to all those
that grunt and mumble
as much as i do

clik hear 4 lots more art from a dark bird in new mexico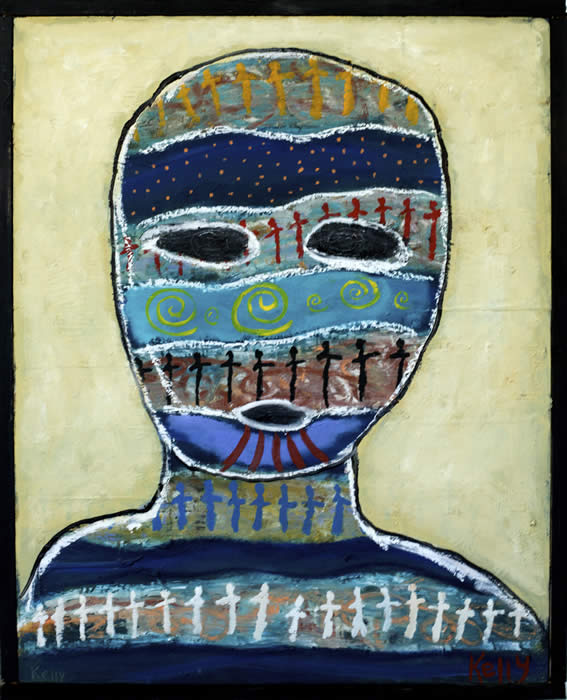 We are Vast--SOULD
24 x 30 oily on a framed bord
we all occasionally
get bogged down in the daily grind
it is part of the
surreal deal
although some seem
to rise completely above it
despite frequently seeming to float off
like a balloon with a silly bunny on it
but just beyond the bills
past the daily drama
over the hill from
the seemingly unbearable truths we live with
is the vague recollection many of us have
that there is something
just beyond this memory
that is
ok with us
waiting for us
the brave beings who
lived in a world where there
were no promises or easy answers
just human beings
doing the best they could
and occasionally remembering that
like the stars
in the cosmos
we are vast
clik hear four lots of new art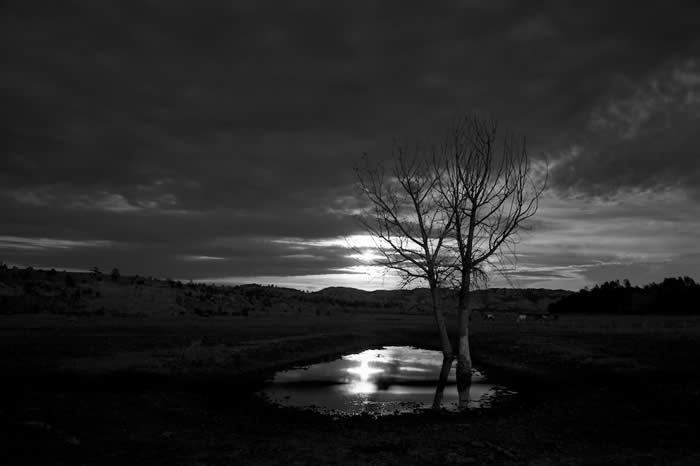 Mustangs of the Rising Moon
by Kat Livengood
On the Road
racing around Montana
on a red horse
looking for that moment
that sparkly moment
when Kat puts a dream
into a picture box
gathering the reflected moon light
just past midnight
in the shape
of mustangs, wild horses, feral equine
& sky dogs
its amazing how much
you can see when its dark
its amazing how much you dont sea
in the light
and wouldnt you know it
most folks sleep when
the light is
best

Winter Dark Birds---SOULD
61 x 19
oily on a good bord framed fleabilly
when i look back on life
i see a tiny shiny moment when
everything changed in my life
in the blink
of an eye
which is an amazing thing
and a terrorfying thing all wrapped
up together
i suppose there are holy places
where fate meets destiny
and things can transform
or "become"
if we are ready for that
moment
so i will just leave you with the thought
that one of the biggest things that happened
in my life
i never saw coming
but i was ready for it
and knew it when i saw it
the rest as they say
is history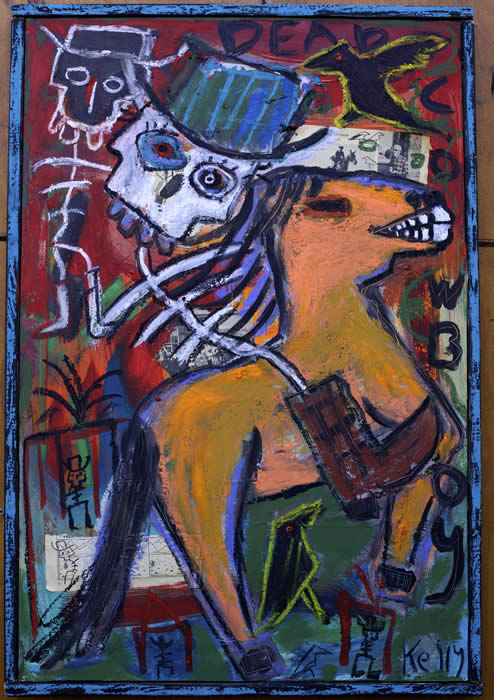 Dead Cowboy rides a Jack Ass---SOULD
oily on a good bord
ive heard people say
you cant be an artist
if you paint
and sell your own work
at a flea market
no one will take you serious
no one will pay for your work
and galleries will have
no interest in you
at all

and that may be true
but how i am viewed
by my friends
at the flea market
and that small band
of passionate art collectors
who support my work
is more important
to me than all the gatekeepers
in the world of art
not to mention
other artist who don't fight
the good fight daily

fierce desperation
drove me to the flea market
doing 1000s of paintings
transformed me into a artist
and looking deeply into myself
forged the story
that is mine alone
at the Dark Bird Palace

in my world
i believe that without
a war to win as an artist
i would get no where
comfort and a sense of ease
serve the work of an artist poorly
i am a soldier
on the front lines of art
which means i take
all the bullets & verbal arrows
as well as the spoils
of victory
and also acknowledge
that all could be lost
at any moment

and so the painting
"A Year of Work"
speaks to
my core work ethic
which is desperate & relentless
as well as my precarious perch
which has created a ruthless pragmatism
in my use of materials for art
that also allows me to
paint extravagantly
& to continue to be
the desert iconoclast
who paints at a
small flea market
in high desert of New Mexico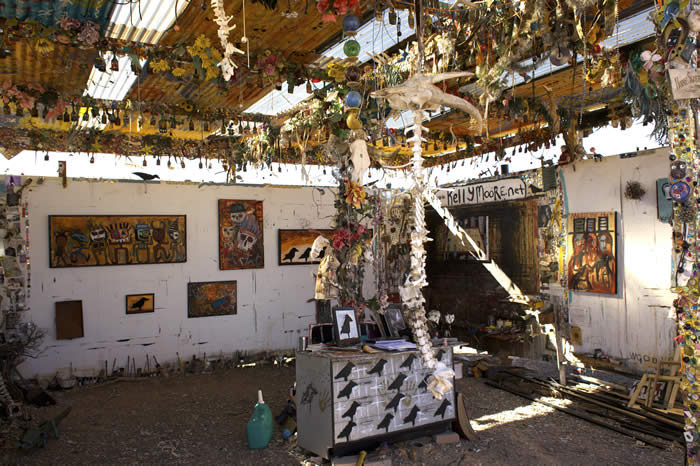 the Dark Bird Palace October 2014
he told me
he left $30 in quarters
in a pringles can by her bed
when he was done
he stole em back
but the dirty whore chased
him all the way back
to his broke down truck
but never forgit
life is a comma
its not a period
its a comma
and if you see
an exclamation point
just climb it like a
celestial ladder
straight into that ladies head
that asked me
what do you sell?
what do you sell?
i typed out my resignation
right that moment
right that moment
i quit like a nail
hammered straight thru to the other side
like a comma in the middle
of a sentence that cant stop
won't stop
I'm a run on sentence
moving right on down the line
straight to the dark bird diner
where i ate crow for a month
til i growed feathers and a beak
like a fish before it climbed
out of the water
and flew off in a fit
when it rained on the fish
rained on a fish
a fish hates
to get wet
hates rain
never ever rain on a fish
just like you never
wanna whistle in the ear
of a horse
its not horse whistler
its horse whispererer
it sounds like bones
blowing in the wind
i got so many bones
hanging in my shed
when the wind blows
it sounds like
the sweet dead cowboy blues
and its a comma
not a
period
next time bring
a folgers coffee can
they dont tip over
so easy

Autumn Dark Birds----SOULD
20 x 60 oily on a good bord
i am haunted
by my memory of Dark Birds
thru my years at the flea market
the sight of these outsiders
hoping around
watching out with one eye
sizing up an apple core
with the other
by the scratchy sound
of them talking to me
when im alone at my Shed
where on weekdays they feel safe
from the crowds
that dont understand them
safe from too much
attention out front

i am inspired by Dark Birds
as they sit a fence line
on a late summer afternoon
when a big thunderstorm cloud sneaks up
behind them
bringing thunder and lightning
and a big wind they use to
float on like a desert
ferris wheel

dark birds
stay at the edge of things
never in the middle
of things
Dark Birds are cautious
too much experience
to be naive about the world
but too much humor to be
cynical about the
lay of the land

i smile at the memory
of watching dark birds
on hot summer days
as they hop on the desert ground
dust flying up around them
as they pop up and down
like slow food popcorn

i day dream at the memory
of Dark Birds
flying over the bold
blue new mexico sky
looking like a dark rip
in the cosmos
a portal
into the animal cosmos
where i find the
dark bird inside of me
the painter who found
himself a home just outside of santa fe
at a flea market
which might as well be
a million miles away
from the tour buses downtown
NEW ART NEWSLETTTTTTR TO MORROW SIGN UP HEAR FOR DARK BIRD NEWS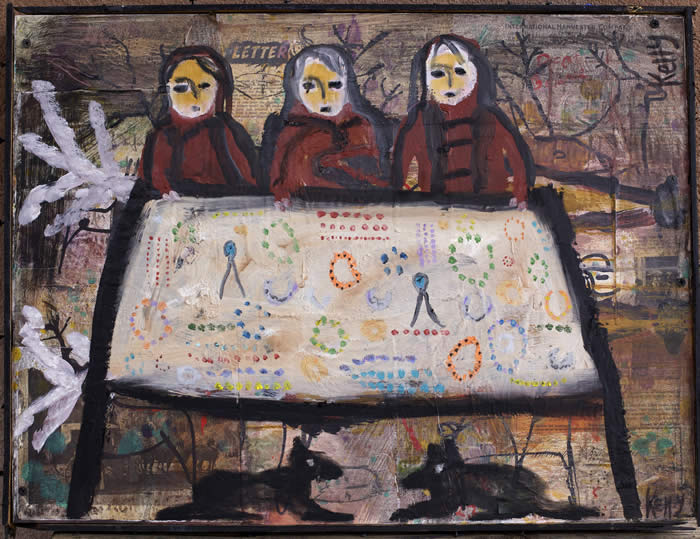 Flea Market Table---SOULD
i have no idea
how i arrived
at this place on the path
its as though my tale
has been dusting my trail
all along the
way

in a world of
constant change
i am a rusty hinge
with a bic lighter
that turns a can
of WD 40 into a
flame thrower

i want to play the game
i want to be smart & connected
i want to be in big art shows
i want to be famous
and on front pages
of art magazines
and theres not a shred of
evidence to support that
line of BS


dogs on a leash
a new happening at the flea
i cant help but notice
the canines all love
the beef jerky guy

tables of turquoise
tables of tools
tables of beads
tables of used books
and tables of
used VHS tapes
its so obvious when
you find the right place
to sell art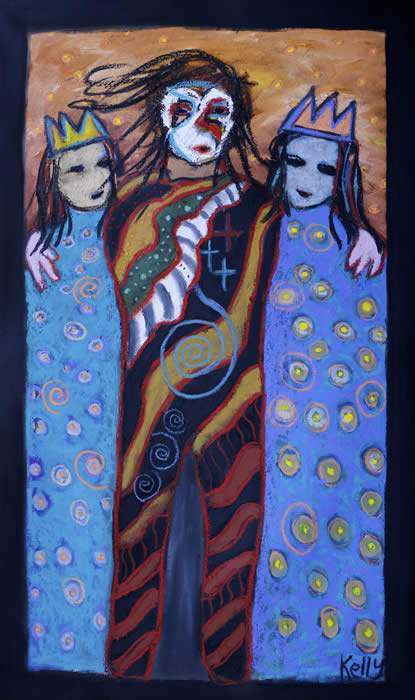 The Prosperity Painting---SOULD
big oily approx 65 x 40 inchesesees of manna
ya know
i dont have a tatoo on me anywhere
& i think im stuck in
1973 driving a 65 mustang
thats running out of gas
but all that
feels modern
compared to the flea market
we are still in 1573
which is yesterdays news
since yesterday i found
a dark bird skeleton
and instead of looking
this darkbird rexus flea marketus in the mouth
i put a saddle on it
and flew it right to the edge of town
where where i saw a long road of
coronados conquistadors marching towards Wal Mart
home of every day low prices
for spray bottles & WD-40
to keep your self cool & flexible
under that Don Quixote
up metal armour suite
just in case you go chasing any
windmills gone rogue
(somedays i just type and somedays i rite and sometimes i dont know what happens when i get behind the keyboard)
clik hear 4 a couple more paintings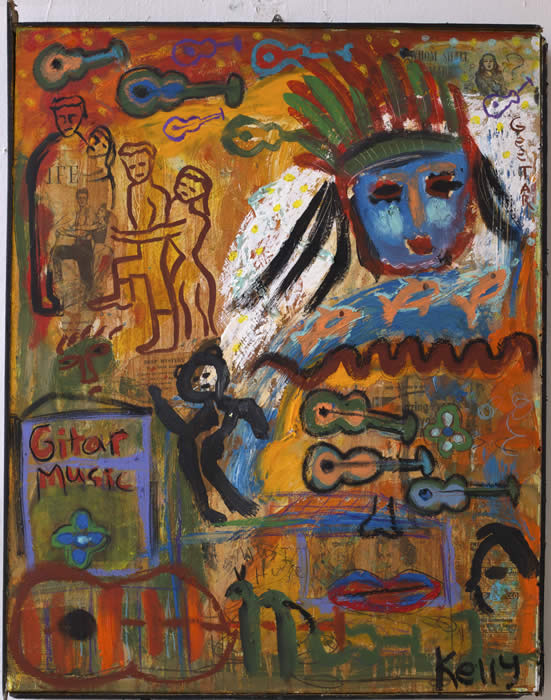 Guitar Music---SOULD
24 x 30 oily multicrappia framed fleabilly
OMG
i love your art
heres my website card
i do what you do
i will give you
50 cents on the dollar
for that painting
a backhanded bitch slap
disguised as an
art pilgrimage

in my dream
old Rod Stewart
still wearing tight pants
with saggy skin
blocked my way
as i tried to get thru
to the other side

later
waltzing with my shadow
on the front aisle
i took the lead
danced past the spice guy
turned at old pawn jewelry
& dipped at
"get over it"

yes im happy
to sign your book
how do you spell your name?
exactly like it looks now
on amazon used books
for 3.99

i tried to pirouette
but it turned into
an endless spin
that became a
a dark bird screwgun
that wouldnt
return my
call

selfies everywhere
some foto themselves
some paint themselves
some hate themselves
personally id rather
paint a dog in the desert
trying to get
lost

dark bird national bank
offered me a coffee mug
with my new account
i cant pour anything into it
but i can use it like
a fork
to eat crow

transcendent
my new painting
grounded in the
surreal real
of the flea market
doesnt really come close
to explaining the daily dose
of
inexplicable beauty
constant deja vu
sudden epipthanies
awful flashbacks
and other strange
coincidenses
at the dark bird palace
but its just a painting after all
and maybe if im lucky
it will help pay
for the most real of all ...
rent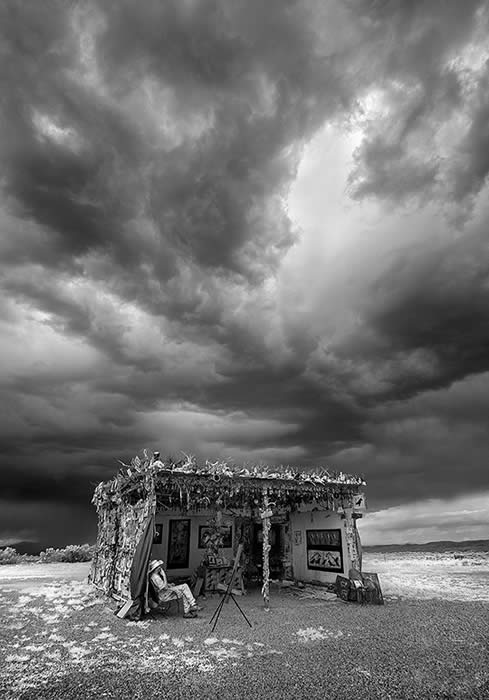 the Dark Bird Palace
foto by flea market photographer Klaus Priebe
whats a dark bird?
im asked this question almost daily
for some its just a black colored bird
but for others its a bit more
poetic....
for example
if you find yourself
5 miles outside of
the art capital of the southwest
off the main road
on the reservation
at a flea market
looking at some crzy guys art
in a weird shack
he calls the Dark Bird Palace
well
you just might be a dark bird
clik hear for a look at another new totem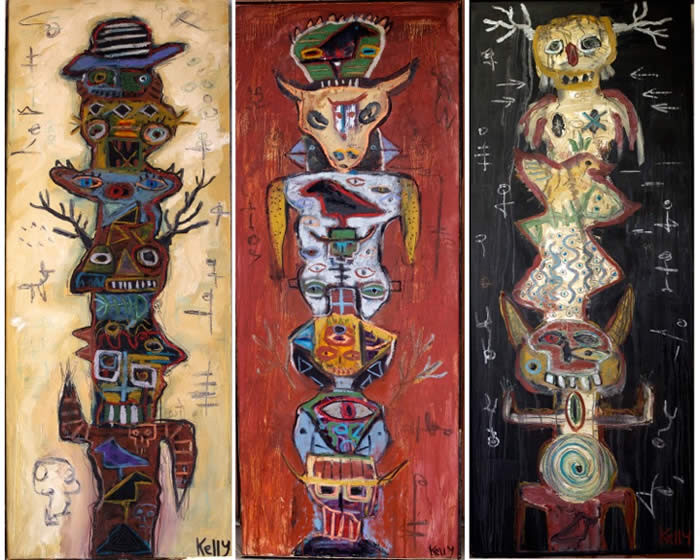 Three Totems---SOULD
72 x 60 on three good bords
twomorrows the art newslettr
got several new ones
join up if you want
two sea what eye got
plus some fotos of
desert treasure
(ok its my kinda treasure but who says a got skull aint valuable?)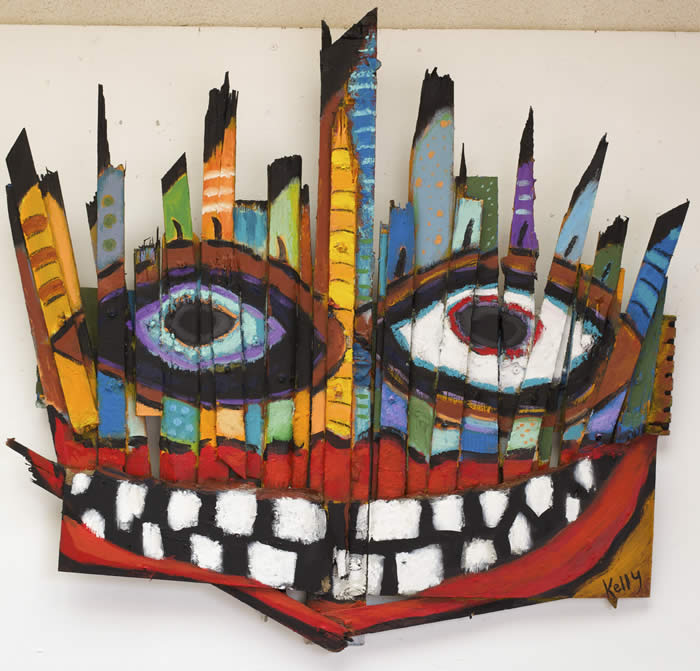 Lips----SOULD
approx 36 x 36 of lipsmackn multicrappia
less wolf
more rabbit
less whisky
more beer
less heat
more rain
words fail me
if you know
what i mean

mister
im an 8 year old cowboy from texas
do you want any
spearmint chewing gum?
i also have juicy fruit?
my most memorable
exchange at the flea
this weekend

an apple core
thrown onto
aisle J
same time
same place at the flea
how to train
a dark bird

i was invited to the mosque
to join in prayer
told that i might make
a good mullah some day
my beard
an invitation to 72 virgins
in paradise

a beautiful summer afternoon
with a nice cool breeze
blowing in a light mist
of uranium from los alamos
giving everything
that soft fuzzy glow
that my paintings
so often capture
about the land
of enchantment

clik hear for another couple from the flea market this weakend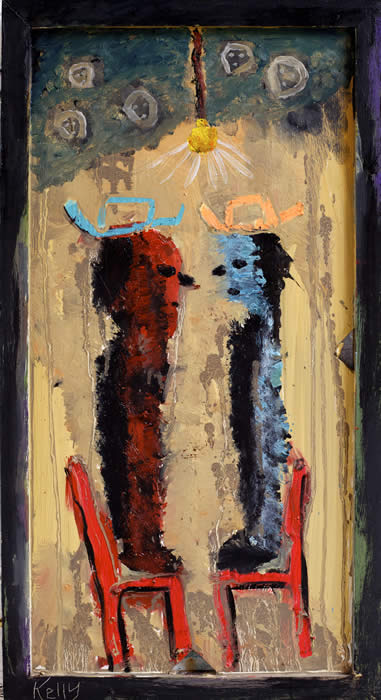 Illumination---SOULD
small oily on bord
july 14 2014
illumination
a 45 watt bulb
balance
standing on a
richety old chair
reflection
talking to myself
while a rooster crows
some place
far away

a cup of water
a river of stars
8 pounds of dust
shake gently
add salt
make a wish
the making of
a celestial being

at the shed
poor folks tell me
they are rich
wealthy folks tell me
they are common
unknown artist
await imminent discovery
the truly accomplished
smile like a cat
i stand there
and listen to it all
and wonder
if i should be writing
presciptions

an archeologist
of artista obscura
bought my star dust
asked if he could use
my art
as the flavor delivery device
my paintings his dorito
my dirt
the salsa

the Dark Bird Palace
my ragged
dirty aging shed
a flea market shrine
to folks
who love to live
or explore
just off the main road
of life
it wont last forever
but then again
none of us
will
clik hear four two more wild thangs two sea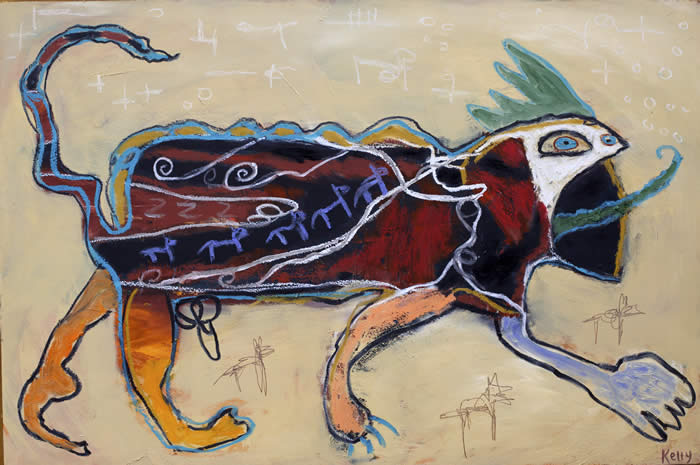 Chupacabra---SOULD
32 x 48 oily on a bord
painting the strange beauty
of a dark vision
seems my only way out
im the anti thomas kinkade
the painter of blight
(clik hear for another new painting "the strange beauty of a dark vision)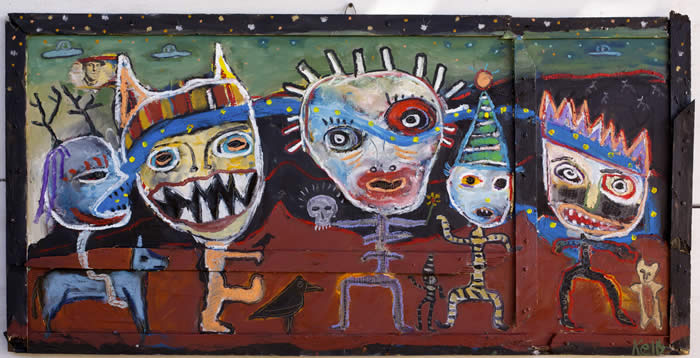 Beauty of a Dark Vision---SOULD
oily multicrappia on a bord or two or three
Dear God,
(if you text please let me know)
grant me the serenity
(aka money, power & destruction of all my enemies)
to accept the things I cannot change,
(sorry no can do)
The courage to change
(this sounds alot like that acceptance crap)
the things I can,
(yes im still working on that last dark bird painting)
And wisdom
(im more interested in power but if this is required i can try it)
to know the difference.
(FYI...i can do an animal sacrifice
like in the old testament
if this would speed things up…)
p.s…please get back to me ASAP we have tons of Shamans
here in santa fe that can take care of this for $99.99
CLIK HEAR & JOIN MY MONTHLY ARRT NEWSLETTR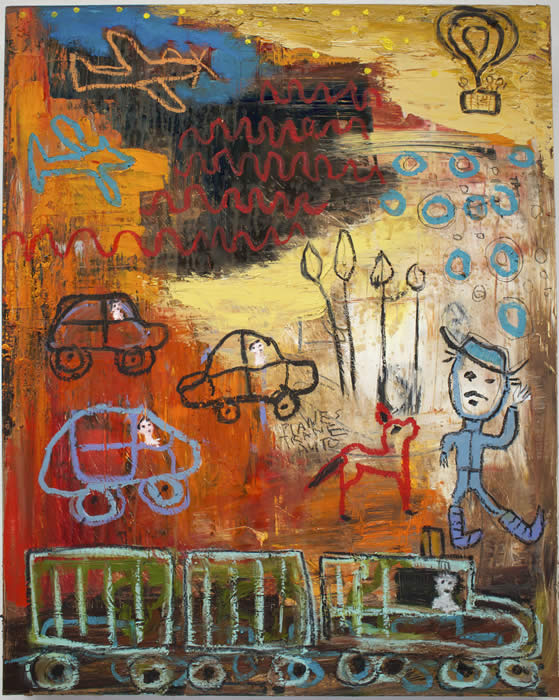 Planes Trains & Automobiles---SOULD
CLIK HEAR 4 SEVERAL MOORE PEACES OF FINE FINE ART SHURE TWO MAKE UR EATN ROOM FANCY
clik rite hear four moore artsttstststststssssnakes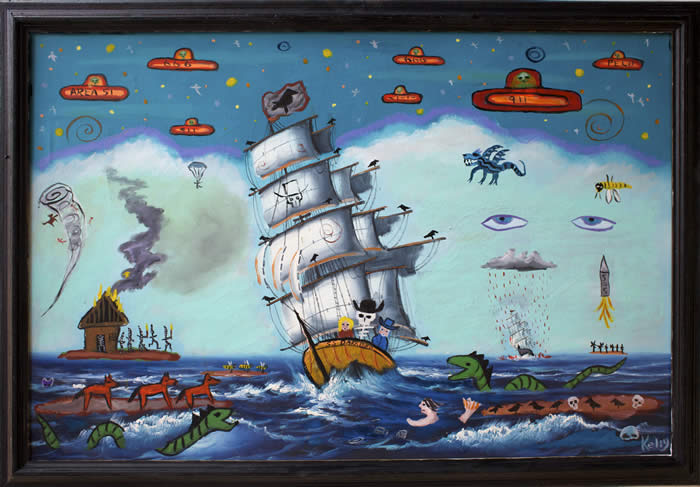 piggy back painting done over a thrift store painting i figured i could improve on greatlylylylyly
important art rule
i read yesterday...
"never talk or write
about your paintings
to the viewer"

another sacred cow
from the world of fancy art
that i smash every day
with my 5lb hammer
demystifying the artist
and $20,000 paintings
along the way
(my lower hinged mandible
as well as my double jointed typing finger
set me apart from most neanderartist
who can only grunt
and wave their arms wildly
while chasing the exotic
rare art collector across
the manna savanna)
but then again
i digress
and then
i digress again
and then agin
& agin
takin me further away
from the hanging
tree
(if this has distracted
your attention from
the preciousness of my painting
then just maybe
i should go back
and take a look
at how i can make it
more worthy of your
attention)
being that I AM
a chronic rule breaker
a formal ball buster
and a painting procedural discombobulator
that is
a full on bonified dark bird
i trust you will understand
why you've never seen my art
in a gallery or museum
and why i am
at a flea market
where i assure you
no one is
talking high concept
and deep metaphor
about
art
but oops there i go agin
typing at well over
45 words a minute
with only 12 errors more or less
(whos countn?)
and you've prolly already
forgotten the painting
"you know of course
that if you talk about your art
you will ruin the mystery
for the viewer
dont you?"
and what if a dark bird
was just a dark bird?
would that blow your mind?
(and sales price as well?)
and so i spend
the next 15 minutes explaining
that the naked assassin
lives under the volcano
and that the dead cowboy
drives a red truck
and that tricksters
are everywhere
at which point
the lady bought the painting…
(i hate mystery)
fundamentally
i believe in the exchange
between the artist and the viewer
where people see
who i am
despite my other worldly stream of consciousness
ideas that often erupt into a flea market boogie
which i have also been warned about
(important art rule # so & so
never ever dance in front
of the viewer of your art)
(couple of really good paintings left on weakly art..clik hear to sea whats left)
(fancy website design done by me and copyrighted by me so no one can steal my complicatd codes)